PLEASED AS CAN BE

Canaan Memorial High School soon-to-be graduate Bailey Swallow smiled all the way to the stage as he entered the school gym for the final time as a high school student on Saturday afternoon, June 9. (Rob Maxwell photo)
---
School Exploratory Committee Holds First Meeting, Establishes Guidelines
By Rob Maxwell
A group of twenty citizens and school officials from northern New Hampshire and Vermont gathered in the Colebrook Elementary School library on Thursday evening, June 7 to begin the process of looking into ways to increase educational opportunities for all area students with taxpayer costs in mind.
SAU 7 superintendent Bruce Beasley and ENSU superintendent Karen Conroy co-chaired the two-hour gathering of school board members and volunteer citizens who now comprise the Connecticut River Collaborative Exploratory Committee. Mr. Beasley opened the meeting by telling the group that a $72,000 grant will be sought to hire a program manager and to cover expenses that may be incurred by the committee in the coming months.
The formation of the exploratory committee stems from nonbinding polls taken this past March at annual school district meetings throughout SAU 7 and the Essex North Supervisory Union. The informal polls indicated an overwhelming desire for an area-wide committee to investigate ways to improve education and contain rising expenses in the face of rapidly dwindling school enrollments.
A steering committee had formed in the fall of 2012 to investigate the possibility of some form of regionalization, but stalled after several months of meetings. Ultimately that group was unable to reach a consensus on whether districts on both sides of the river should pursue some form of unified school system.
While the committee members at Thursday's gathering expressed their pleasure with the quality of their schools' students and staffs, they also voiced concerns about potential consequences of school regionalization such as extended bus times, retention of town identities, increasing costs and the need to prepare students for post-secondary education and for 21st Century employment after high school.
"It's really time to work together to improve education while lowering costs," said Pittsburg selectman Richard Judd, "and I, for one, would like to see more emphasis put on preparing students for employment in the building trades."
Mr. Beasley stated, "I think we need to find a way to close the opportunity gap that I see confronting our students. Right now we are competing for staff, competing for students and competing for dollars. Working together can increase student opportunities in extracurricular activities as well as academics." He also told the committee that he and Mrs. Conroy were applying for a grant on June 8, aimed at retaining the services of Carole Martin as program manager.
Colebrook school board chairman Brian LaPerle stated his opinion that the mission of the committee should be, "taking the time in the coming months to have something to bring to our school district meetings next March for them to consider." Canaan board member Frank Sawicki suggested inviting students to attend at least one committee meeting so members could gather input from them.
The group spent a large portion of the meeting discussing what Mr. Beasley and Mrs. Conroy called a code of ethics, which Mr. Beasley described as "the rules of behavior for the committee to agree on that will help us proceed in a friendly and respectful way." Input from around the table on this subject included listening to and respecting the opinions of others, being open-minded and, as Pittsburg board member Bob Ormsbee noted, "No idea is a bad one, and no question is a dumb one."
During this time, the group agreed that committee members should be discouraged from speaking publicly about internal disagreements that may arise during deliberations and that members could decide independently whether to speak with the press outside of the group's meetings.
After agreeing to hold each meeting to a maximum of two hours and to gather on the first Thursday of each month, Mr. Beasley allayed some concerns about the direction the committee might take. "This is an exploratory committee, not a regionalization or consolidation committee," he said. "Educating our kids should come first and cost effectiveness is a close second, but the ideas we put forward will come from the committee, not from the project manager."
(Issue of June 13, 2018)
---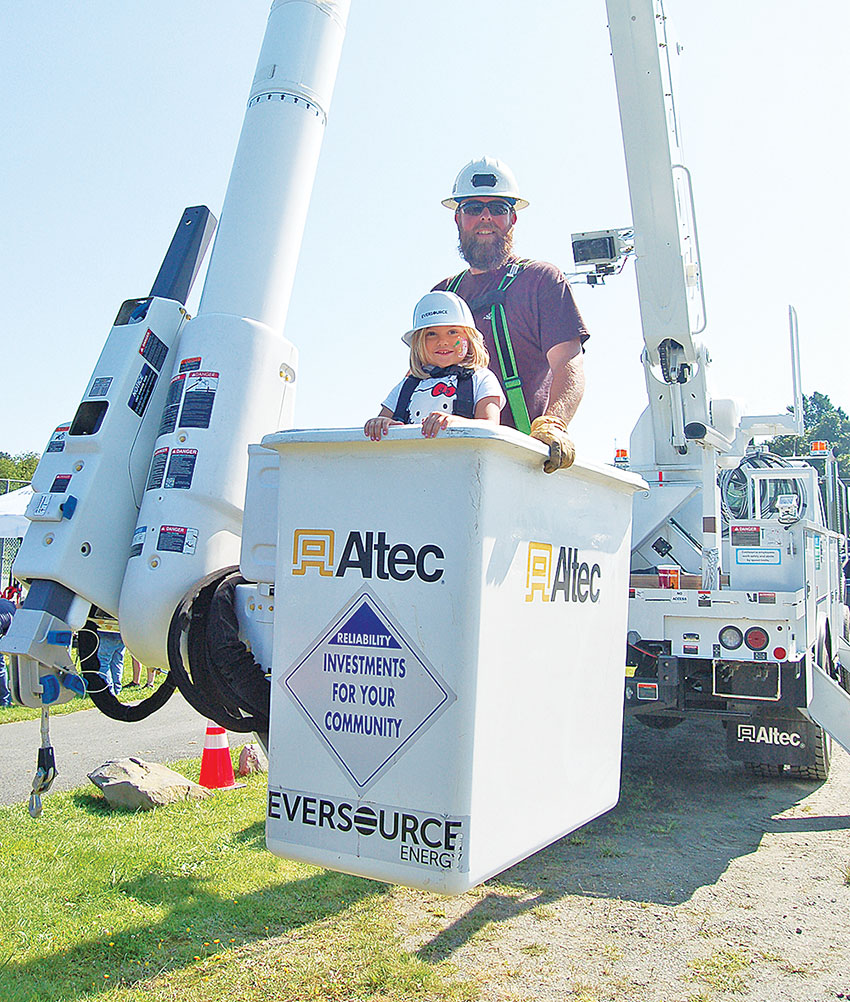 EXCELLENCE IN EDUCATION REWARDED

Longtime Colebrook Academy math teacher Richard Bond was honored to receive the Doris Barnes Retired Educator Lifetime Achievement Award during the 25th annual presentation of the New Hampshire Excellence in Education Awards (The EDies), held at the Manchester Downtown Hotel in Manchester on Saturday, June 9. (Courtesy photo)
---
Magalloway Votes to Begin Dissolution, Join Maine's Unorganized Territories
By Jake Mardin
In a meeting last Tuesday night, Magalloway citizens voted 9-5 to move ahead with the process of dissolution and to become a part of Maine's Unorganized Territories. The vote gives the state the go-ahead to draft a Deorganization Procedure (DP), and is the latest in a multi-step procedure the town must complete.
In an interview last month, town Board of Assessors Chairman Tom Rideout, said that a low and aging population and lack of people to fill town positions were the main reasons the town is looking into disorganization.
Also attending Tuesday's meeting were UT fiscal administrator Marcia McInnis; the Maine Revenue Services Property Tax Division's UT supervisor Lisa Whynot; UT state education director Dr. Shelley Lane; the Land Use Planning Commission's regional representative Joshua Brown; and David Duguay of the Oxford County Board of Commissioners. They provided the townspeople with information on what to expect during the process, and what will happen if the town joins the Unorganized Territories.
Ms. McInnis said the Deorganization Procedure is due 90 days from last Tuesday's vote, and the document will cover everything from services to disposition of any town-owned assets and where the town's children (currently numbering 11) will attend school. Once the procedure document is completed, it will be brought back to the town for a special review hearing, where voters will decide whether to accept the plan.
If the procedure is approved, it will go before the state legislature from where, if approved, a final town vote will take place. The town vote must be held in a general election and at least 50 percent of voters who participated in the most recent gubernatorial election must cast ballots. The measure requires a two-thirds majority vote to pass.
Ms. Whynot talked about some of the changes that would occur in terms of tax-related issues if Magalloway disorganizes. She said any current exemptions, such as homestead or veteran's exemptions, will carry though, but her office may ask for new applications. Any properties under current use will also carry over. If the final vote passes, Ms. Whynot said her office will compile a list of all town properties and determine their value.
The town will also be required to digitize its tax maps, and all town-owned properties—the town hall, fire station and transfer station building—must be disposed of, along with equipment. All town debts must also be paid in full, and utility services, subscriptions and insurance must be canceled.
Dr. Lane said that this year she is working with 76 school districts that serve 977 students. She has already been around the area, visiting schools in Rangeley, Errol, Bethel and Colebrook, and if the town votes to disorganize she will determine what school Magalloway students will attend. Her office will also take care of tuition, regular and special education and transportation, but does not provide transportation for after-school programs.
Dr. Lane told residents that the town will also have to withdraw from Regional School Unit RSU 78 before deorganizing. Students living in Magalloway currently attend school in Rangeley, and she said withdrawal of students is the responsibility of the town. When asked whether the decision on where to send students would be permanent, she said that it would be subject to change. She said that by becoming an Unorganized Territory, the town will lose its local input. She said that a child could go to another school if they had a "compelling reason," but the UT will not provide transportation to an alternate school.
Mr. Brown explained that his office is the regulatory agency for land use in the UT, handling things like building and subdivision permits. He said the commission's regulations and zoning ordinances can be complex, and encouraged citizens to call him with any questions.
Mr. Duguay, one of three Oxford County commissioners, told the gathering that emergency management, register of deeds, register of probate, county attorney's office and law enforcement services would not change if the town joins the UT. The county would also handle maintenance on local roads and bid out for plowing. He said ambulance protection would likely stay the same, while they would contract with a fire department. Magalloway currently has a fire department that would be disposed of as part of a move to the UT.
After the state and county officials left the meeting, townspeople talked among themselves for a few more minutes before voting 9-5 by a paper ballot to have the state come up with a Deorganization Procedure. The plan will have to be brought to the town 90 days after the vote, and a public hearing to approve or reject the procedure will be held.
(Issue June 13, 2018)
---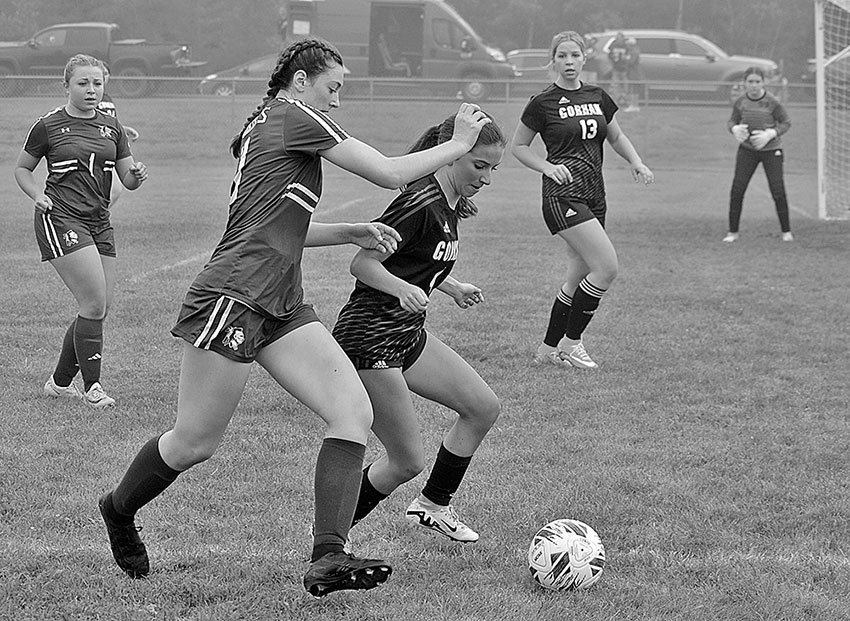 SQUARING UP

Colebrook's Callie Dauphinais moves to lay down a bunt against Epping during last Wednesday's Division IV semifinal round game at Plymouth State University, won by the Blue Devils 15-3. (Jake Mardin photo)
---
C.A. Girls Lose to Epping in Semifinal

Epping 15, C.A. 3 (6 innings)
The Blue Devils were unstoppable in last Wednesday's Division IV softball semifinal game at Plymouth State University, collecting 21 hits in a 15-3 win over the Mohawks.
Colebrook had the early advantage, scoring two runs in the top of the first. Taylor Siewierski led off with a single up the middle and advanced to third on a Callie Dauphinais sacrifice bunt and a Savannah Howe groundout. Siewierski scored on a single past third by Missy Collins, and Skylar Wharem scored Collins on a triple to left field.
In the bottom of the second, the Blue Devils tied the game with a two-run double by Jenna Lavoie and took a 4-2 lead when Erika Macleod drove in two with a double down the left-field line. Epping added a run in the bottom of the third to take a three-run lead.
Collins led off the top of the fourth with a triple to center and scored on a single by Wharem to make it a 5-3 game. The Mohawks were in a good situation to put more runs up, but Epping pitcher Belle Snyder shut them down. In the bottom half of the inning, Epping scored six times on seven hits to take a commanding 11-3 lead. Macleod had a two-run single and Becky Milbury, Snyder, Sarah Parenteau and Addy Bickford all hit for RBI's in the inning. In the bottom of the sixth, a two-run double by Macleod and RBI singles from Megan Marasca and Abby Walsh ended the game early.
In the win for Epping, Snyder allowed six hits, a walk and four strikeouts. On the other side, Wharem allowed two walks and struck out four. On offense, Macleod drove in six runs on three hits and Parenteau and Walsh both had four-hit games for Epping. For Colebrook, Wharem had a triple, two singles and two RBI, and Collins had a triple and single with one RBI.
Wednesday marked the final varsity game for Taylor Siewierski, Chandla Cooney, Missy Collins, Kendra Learned, Savannah Howe, Michaela Fournier, Callie Dauphinais and Kelsey Steward. Epping went on to win the Division IV championship on Saturday with a 6-0 win over Derryfield.
(Issue of June 13, 2018)
---
---