CATCHING AIR

Alex Rodevitz takes a jump on a snowboard as sledders make their way up the hill for another run, during Colebrook Academy's Winter Carnival events on Friday. Outdoor activities at Coleman State Park included sledding, hockey, sack races, snow volleyball and snowshoeing, while games and activities for those who preferred to stay indoors were offered at C.A. (Courtesy photo)
---
Massachusetts to Stick with Northern Pass, Use Maine Project as Backup
By Jake Mardin
The Massachusetts Department of Energy Resources stated last week that it will continue negotiations with Northern Pass to supply the state with renewable energy, while also inviting the New England Clean Energy Connect hydro project to enter concurrent negotiations.
The DOER had selected Eversource's Northern Pass project as the winning bidder to supply the state with clean energy by 2020. On February 1, the N.H. Site Evaluation Committee voted to deny Northern Pass' application for a Certificate of Site and Facility. The project had already obtained all necessary federal permits, and the state permit was the final piece needed before it could proceed.
Massachusetts' electric distribution companies, the DOER and an independent evaluator--chosen by the DOER and Massachusetts Attorney General's Office--decided on February 14 that conditional contract negotiations with Northern Pass would continue. They retained the option of ceasing discussions and terminating the conditional selection by March 27, and the New England Clean Energy Connect hydro project was invited to enter into concurrent conditional contract negotiations.
The announcement stated, "If contract negotiations are not successful with [Northern Pass], the electric distribution companies are in a position to proceed with the next best project that satisfies the policy directives," and ensure that the schedule for a March 27 contract execution and April 25 contract submission is maintained.
"We sincerely appreciate the challenge that Massachusetts officials and their electric distribution companies (EDCs) are facing as they strive to meet an aggressive goal of obtaining a new and significant source of clean energy within just a few short years," Northern Pass stated in a press release on Friday. "The February 1 decision by our state permitting authority to abruptly halt its deliberations and deny our application was a shock to everyone. Today's decision by the Massachusetts DOER, its independent evaluator and the EDCs strike a sensible balance by allowing negotiations with Northern Pass to continue, while establishing a backup protocol that can be initiated if necessary. From our perspective, the decision provides Northern Pass with the opportunity to make our case for a rehearing by our N.H. Site Evaluation Committee and a resumption of its deliberations. We now have a strong legal argument for a reconsideration by the SEC. There is a path forward."
New England Clean Energy Connect is a proposed project between Central Maine Power and Hydro-Quebec. The proposed 145-mile NECEC project would run from the Canadian border to a substation in Lewiston.
(Issue of February 21, 2018)
---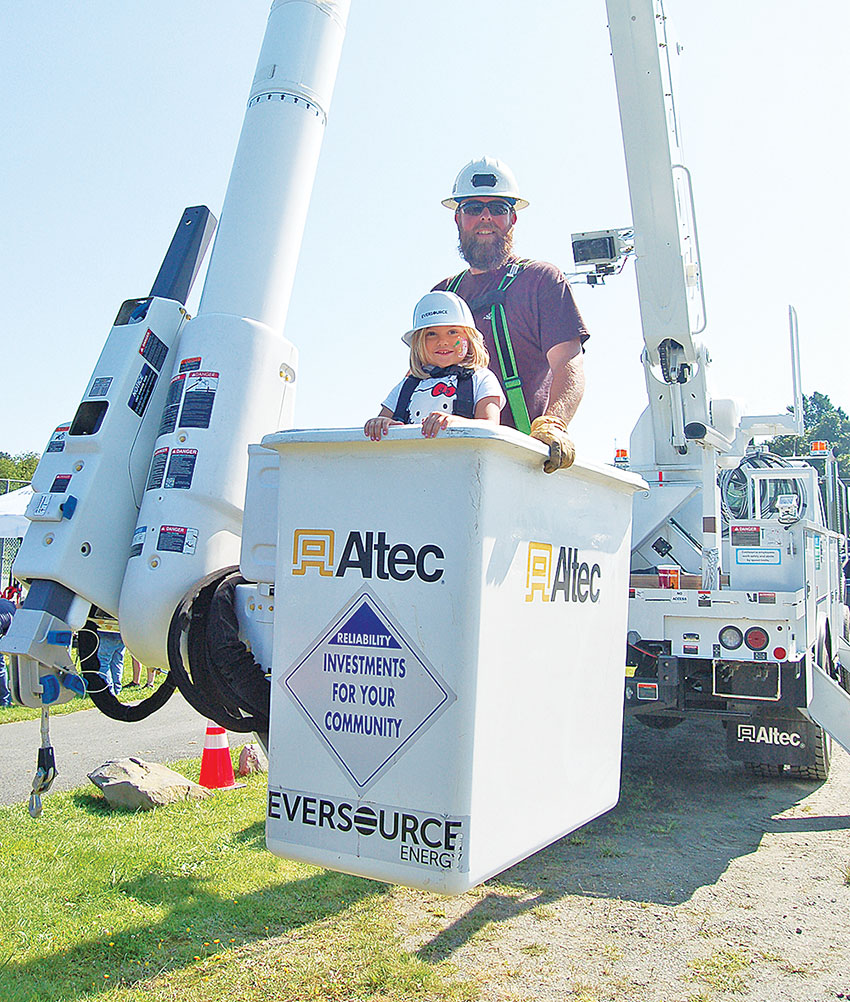 SUCCESSFUL FINISH

Carly Daigneault completes the stick drill under the guidance of coach Ken Hastings during the Colebrook Elementary School's last Learn to Swim and Skate session at the North Country Community Recreation Center on Thursday, February 15. (Alan Farnsworth photo)
---
Stratford Voters to Consider School Repair Project
By Rob Maxwell
Stratford citizens will be asked to consider major repairs at the school's front entrance and a teachers' contract in the school district budget, and town expenditures that are slightly lower than last year's when they attend annual meetings in March.
Voters will assemble in the school gym at 6 p.m. on Monday, March 12 for the annual school district meeting. They will be asked to consider a 2018-19 budget totaling $2,349,163, representing an increase of $62,519 over the current year.
Significant decreases in expenses for salaries, health insurance and professional services will be offset by large increases for special education tuition and the addition of contracted nursing services with Indian Stream Health Center.
The employment of several new teachers, shifting of a school nurse salary and a newly negotiated contract with teachers (should it be approved by voters as a separate warrant article), all contribute to a $660,982 proposal for salaries, which is down $64,018 from 2017-18. A new health insurance plan will lower the cost of premiums by $78,288, and contracting for occupational, speech and psychological services from the Northumberland school district will reduce those expenses by an estimated $69,942.
The shift of nursing services to ISHC will cost $59,251 and a significant increase in out-of-district special education tuition is estimated at $100,000. A separate warrant article asks taxpayers to fund half of $140,000 to repair the large concrete stairway that once served as the building's front entrance and is now used as an emergency exit, with the remaining $70,000 to be withdrawn from the Maintenance Trust Fund.
Estimated revenues include that withdrawal plus $158,500 in general revenue, and an estimated $100,000 in federal funds. Should the entire district warrant be approved, the assessed valuation property tax will increase from $15.85 to $17.71. If this holds true, a property owner with a $75,000 valuation will see a total increase of $139.72.
Stratford selectmen's assistant Suzanne Goulet said if voters approve the operating budget proposal and all special and individual warrant articles, the amount to be raised by taxes for the 2018 budget drops by around $21,141. "That means the tax rate will be just about the same as last year," she noted.
The selectmen propose $289,935 for general government, $92,321 for public safety and $141,000 for highways and streets. Of the public safety total, $38,475 is earmarked for police; although it does not operate a police force, the town has contracted with N.H. State Police to provide four hours of coverage every week. Citizens decided to raise this amount in last year's budget as a contingency, and the same amount is requested this year.
Overall, the town's general budget excluding warrant articles comes in at $751,870. Articles seeking funds to be placed in seven reserve funds total $57,000, with another $6,245 for various local health agencies. The bottom line on the appropriation side of the ledger shows a reduction of about $38,756 over last year's expenditures.
Estimated revenues are down a bit, from $432,608 to $414,993, the most significant contributing factor an estimated $31,211drop in licenses, permits and fees. Stratford citizens will gather at the Fuller Town Hall to consider the proposed budget and any other matters that come to their attention at 10 a.m. on Tuesday, March 13.
(Issue February 21, 2018)
---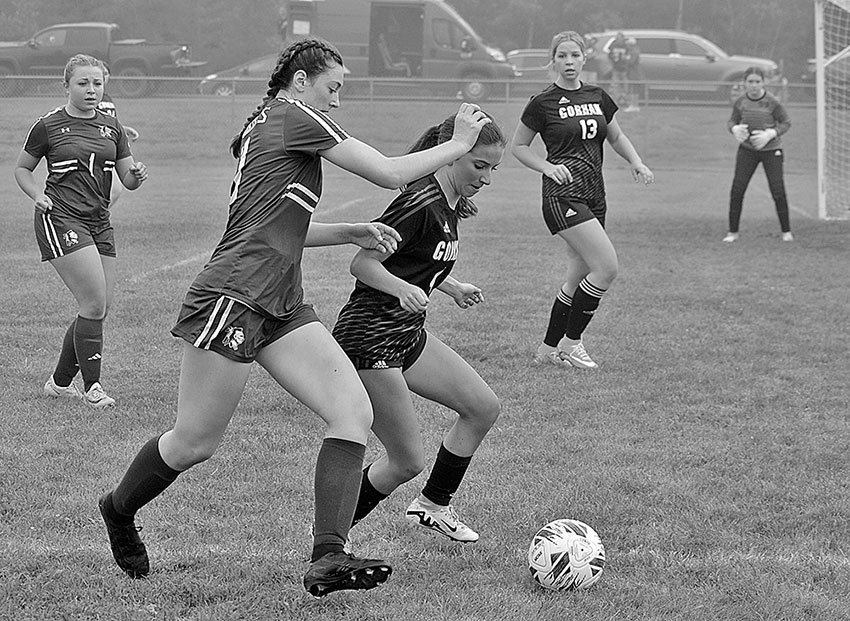 PRE-RIDE CHECK

Larry Meservey Sr., operations manager for MOMS of Lancaster and Groveton, shows Executive Councilor Joe Kenney some of the controls on a Polaris snowmobile before the councilor and N.H. Division of Parks & Recreation's Bureau of Trails annual District 1 Snowmobile Tour on Friday. The group left Coleman Estates in Stewartstown and rode up to the Border Patrol station in Pittsburg before stopping at the Pittsburg Ridge Runners clubhouse on their way back to Coleman. (Jake Mardin photo)
---
26th Annual New Hampshire SnoDeo Set for Friday & Saturday, March 2-3

The Swift Diamond Riders Snowmobile Club's New Hampshire SnoDeo will be back for its 26th year on Friday and Saturday, March 2 and 3.
This is the SnoDeo's second year in its new location behind the Swift Diamond Riders' warming hut on Diamond Pond Road in Stewartstown. In 2017, organizers battled wild temperature swings, challenging them to lay out the new site as planned, and they're hoping for more consistent temperatures and snow cover this year. "We went from five feet of snow on the site in mid-February, to mud and near 60-degree temperatures two days before set-up," said Kurt Muhlfelder, president of event promoted South End Media. "We were actually fortunate to get a flash freeze on set-up day. Unfortunately temperatures kept dropping to what we believe became the second-coldest SnoDeo ever. It made it very difficult to make things work the way we hoped."
Arctic Cat and Ski Doo return with the some of the largest fleets of snowmobiles they've ever brought for test rides. The SnoDeo is known as the first place in the Northeast where snowmobilers can test ride the next model year snowmobiles. There will be several models to ride at the show this year. Polaris and Yamaha will not participate in SnoDeo this year; the annual Polaris dealer convention falls on the same weekend and Yamaha said they were "repositioning regional assets." Neither company was able to support a local dealer providing test rides.
One of the big successes last year was converting the warming hut's groomer garage into a gathering place with vendors and an eating area. This year it will be known as the "BoltDepot.com Trailside," as new sponsor Bolt Depot bought the naming rights for the Trailside earlier this winter.
North Country Ford returns to sponsor the vintage tent, where SnoDeo visitors can see the history of snowmobiling and vote on their favorite machines.
Log Haven in Millsfield and New Hampshire Distributors will host the second annual Braaps & Brews beer tasting event to help raise additional funds for the Swift Diamond Riders Club and SnoDeo. Taking place from 3 to 5 p.m. on Saturday, March 3, Braaps & Brews will feature Newburyport Brewing Company from Newburyport, Mass., and Stoneface Brewing Company from Newington, N.H.
The Swift Diamond Riders Club is based in Stewartstown, and the annual SnoDeo benefits the club's trail maintenance work and other activities that promote snowmobiling in the North Country. More information is available at www.nhsnodeo.com.
(Issue of February 21, 2018)
---