LAST DAY ON COLEBROOK BENCH

Judge Paul Desjardins presided over court in Colebrook for the final time on Thursday, ending a career on the bench that lasted nearly 30 years. (Jake Mardin photo)
Judge Paul Desjardins Presides Over His Last Session at Colebrook Court By Jake Mardin

Judge Paul Desjardins presided over Colebrook District Court for the final time on Thursday, November 16, concluding a career of nearly thirty years on the bench. His final day was like the hundreds of others he experienced in the courtroom, as he heard a number of criminal, civil and family division cases.
Judge Desjardins grew up in Whitefield, and after graduation from White Mountains Regional High School he attended the University of New Hamp-shire. He majored in economics but decided to switch paths and pursue a law degree. His brother Tony was a political science major, and Judge Desjardins read his textbooks with interest.
After graduating from the University of Dayton School of Law in 1979, he was admitted to the New Hampshire bar. He interviewed for a job at attorney Phil Waystack's office, and based on Mr. Waystack's advice, he opened his own office in Whitefield. He said that at the time, there was no public defender's office, and he along with Judge Gary Boyle and Judge John Cyr "were kind of the public defenders for the North Country." He said when Judge Peter Smith presided in Littleton and someone asked for a public defender, he would point to one of the three men and assign them to the job.
At his general practice, Judge Desjardins handled cases such as criminal defense and marital law, and as time went on he did more with cases involving real estate, probate and municipal law before he became a judge full-time. Attorney Waystack suggested that he put his name in the running for a judgeship, and Governor John Sununu appointed him to the Lancaster District Court in 1988. Two years later in 1990 Gov. Judd Gregg appointed Judge Desjardins as a special justice in Colebrook, and in 1992 he was appointed as presiding judge, replacing the retiring Judge Lawrence Miller.
"When I first became a judge, pretty much all towns had their own court and when you were appointed, you basically served one town," Judge Desjardins said. Each court had a presiding judge and a special justice, who would act as a fill-in for the presiding judge. There have been other changes over the years, with family court taken out of district court, and marital law removed from the superior court's purview and put into district court, and where things are today, with the district, family and probate divisions all under the circuit court.
Judge Desjardins has worked with a number of staff members over the years and has seen several attorneys, law enforcement officers and others in his courtroom. "They've always been a pleasure to work with," he said. "I think they've appreciated my accessibility and my low-key temperament, I guess. You develop relationships with people." He said he was recently talking to retired N.H. State Police Detective Chuck West, who brought up the many times he appeared at the judge's dining room table when he needed a search warrant signed.
Looking back on his years on the bench, Judge Desjardins believes that he has never gone over 30 days on issuing a court order. "One of the things I've always prided myself on is getting my orders out in a timely fashion," he said.
Judge Desjardins said he knew that now is the time to move on. His brother semi-retired to Florida and built a retirement home, and during a recent visit north he returned to his former employer and moved back to Springfield, Mass. His brother called him and asked if he wanted to take over the mortgage payment, so Judge Desjardins and his wife will have a warm climate in which to decide what to do next. He said the plan is to split time between Florida and here, in order to spend time with their children and grandchildren.
Attorney Waystack offered some words about Judge Desjardins on Friday, saying that he "has distinguished himself as a fair, reasonable and caring judge for many years in the North Country and will be sorely missed. As a North Country person himself, he understands the needs of the people in the North Country and the many challenges that they face. He has a great demeanor and presence on the bench. In the many times that I or members of my firm have appeared in his courtroom, he has always treated every person with respect and listened carefully to their cases. It will be a tall order of business to replace him."
Judge John Boyle will preside over the Colebrook courtroom starting next month. Judge Boyle operated his own practice in Plymouth and was confirmed to the Circuit Court bench in August.
(Issue of November 22, 2017)
---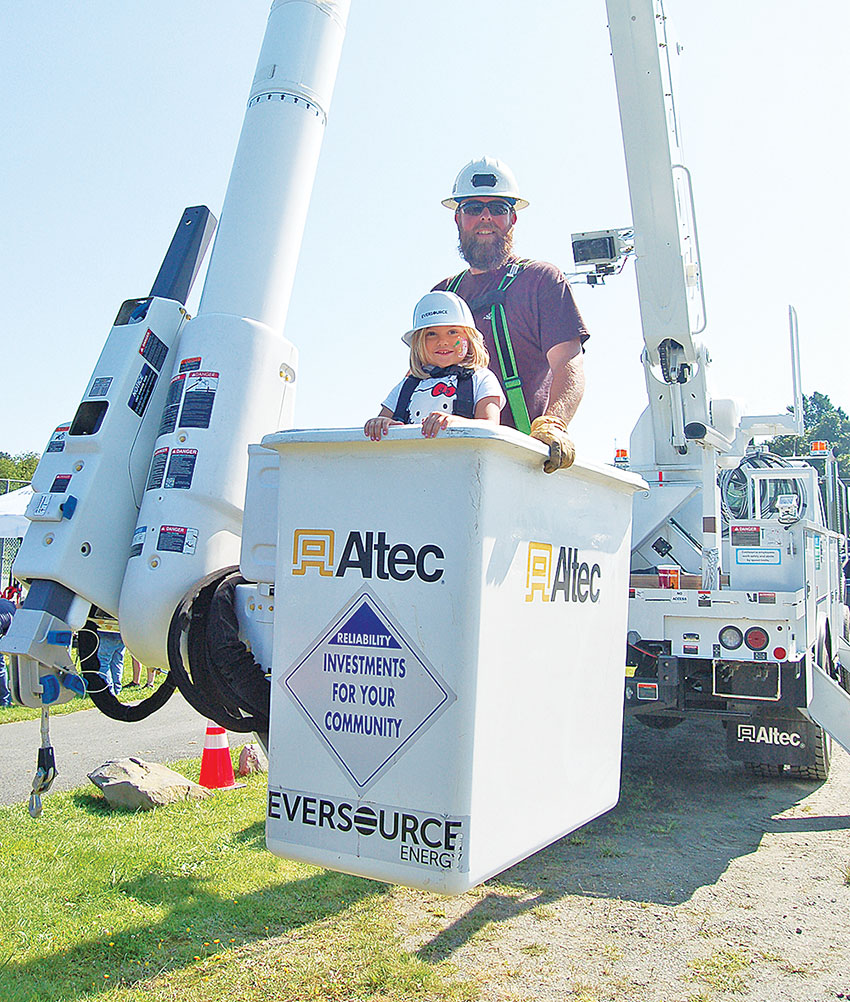 STEBBINS SR. INDUCTED TO SPEEDWAY HALL OF FAME

The late Bill Stebbins Sr. of Pittsburg was inducted into the Speedway 51 Hall of Fame during the track's annual banquet, held at the Town and Country in Shelburne on Saturday, November 18. Accepting the honor were his wife Dorothy and son Bill Jr., seen here with Hall of Famers Butch Mitchell (right) and Pete Marshall. (Photo courtesy of Alan Plummer)
Bill Stebbins Sr. Posthumously Named to Groveton Speedway's Hall of Fame
By Jake Mardin
One of the area's most respected and knowledgeable drivers and crew chiefs was honored at the Speedway 51 Banquet of Champions on Saturday, when the late Bill Stebbins Sr. of Pittsburg was inducted into the Speedway 51 Hall of Fame.
Accepting his induction at the Town and Country in Shelburne was his son, Bill Stebbins Jr., who competes in the Perras Ace Hardware Tiger Sportsman Division. Bill Jr. finished second in the division and was attending along with the other drivers and team members, not knowing that his father would be inducted. The evening started with promoter Dick Therrien paying tribute to Bill Sr., and during the Hall of Fame inductions, Bill Jr. and his stepmother Dorothy were asked to come up to the stage to accept the honor.
"It was amazing, and a mixture of being proud and humble at the same time," Bill said. During his speech, he said that for his father, it wasn't only about the competition, but also being able to help out fellow drivers and teams. When someone was in need of something, whether it be a part or some advice, it was common to say, "Go check Stebbins' trailer."
The Stebbins family's racing story began back in 1949 when Bill Jr.'s grandfather, "The Iron Duke" Richard Stebbins Sr., started competing on tracks in Con-necticut, New Jersey, New York, Penns-ylvania and Massachusetts. Bill Sr. started in 1979 and competed on tracks all along the east coast. Bill Jr. said one of his early racing memories was at age six, when his father won his first race at the Danbury Fair Racearena in 1980, competing in the Sportsmen Division.
After climbing out of the driver's seat, Bill Sr. worked as a crew chief, winning multiple races and titles with different drivers from Speedway 51 in Groveton--then known as Riverside Speedway--to Daytona, specializing in setup, and best known for his work in the modified series. He won a championship at the New London-Waterford Speedbowl and two titles at the New Smyrna Beach World Series in Florida, which consisted of nine consecutive nights of racing.
Bill Jr. said his father stressed commitment, and one piece of advice that stuck with him was, "If you're going to commit to something, you do it 100 percent. You either do it completely or you don't do it." This philosophy led to a streak when Stebbins Racing did not miss a points race in Groveton for 21 years. One championship came in 2001, with Mike Hughes of Canaan driving a Camaro in the Super Stock Division. That year, the team closed out the season by winning six of ten races.
Another point of emphasis with Bill, Sr. was respect for the other drivers on the track. "One thing he hated was blocking," Bill Jr. said, saying his grandfather taught his father to give somebody a lane, and if the other driver was faster, let them go and figure out why they were faster.
Preparation was also a key to success for Bill Sr., and he was not one to put a car away for the winter and bring it out a month before the season started. There was always weekly maintenance and a full-page list of items to check.
In an interview on Monday, Mr. Ther-rien talked about the respect he and the rest of the racing community had for Bill Sr. "He was the type of person you wanted to have at your track," he said. "He was always a great family person at the track and he was also a very respected person in the pit area. He was willing to share whatever he had in his trailer, including his parts and his knowledge."
He said that while sometimes he and Bill Sr. had their differences, they would always shake hands at the end. "He was a man of integrity and also believed in equality and fairness, and if he felt something wasn't fair or equal, he'd call you on it," Mr. Therrien said.
He also spoke about Bill Sr.'s experience. "He had a storied history of racing throughout New England," he said. "He knew the rulebook inside and out, and he knew the cars and mechanics inside and out."
He said that despite his illness in recent years, Bill Sr. was still at the track in race mode. "He's pull up beside me in his motorized wheelchair and grab on to me, because I was in a golf cart, and ask if I wanted to race," he said. "He was in his glory to be at the track and to be there with his family."
Current Hall of Fame members Pete Marshall and Butch Mitchell also inducted Freddie Mills, Mike Mills, Randy Potter and Ralph Stygles into this year's Hall of Fame class.
(Issue November 22, 2017)
---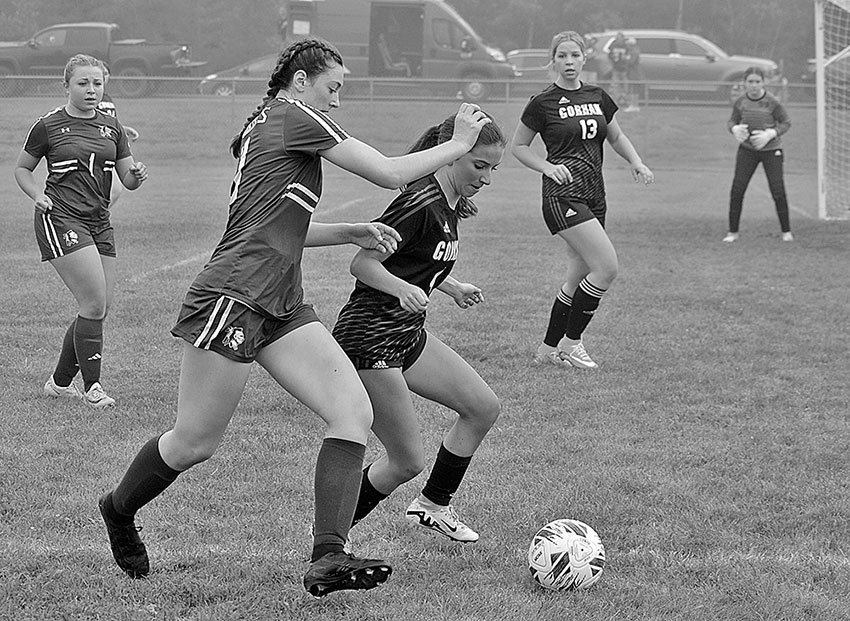 SEEKING SHELTER

Students at Colebrook Elementary School participated in Wilderness Survival Day with the Appalachian Mountain Club and The Nature Conservancy last Wednesday, learning skills such as dressing for winter conditions, making fires and building shelters, including the one occupied by Nicholas Medeiros (left), Dylan Eldridge and Madeleine Champagne. (Jake Mardin photo)

---
Santa Comes to Town on Sunday, Dec. 3

The Kiwanis Club of Colebrook will host its annual Santa Comes to Town event and the Christmas party for local children on Sunday, December 3.
Santa and Mrs. Claus will travel from the North Pole to Colebrook, where a Colebrook Fire Department truck will provide them with a ride to the Community Christmas Tree on the lawn of the Jenkins & Newman Funeral Home. They are due to arrive at 12:30 p.m. to light the tree and visit with children there to welcome them.
The Clauses will then continue to the Colebrook Elementary School gym for the Christmas party, which takes place from 1 to 3 p.m. During that time, children can have their picture taken with Santa and Mrs. Claus, and every child will receive a Christmas stocking full of goodies.
Key Club and Builders Club students from Colebrook and Canaan schools will be on hand to help children with Christmas crafts, face-painting, games and activities.
(Issue of November 22, 2017)
---