A GIFT FOR THE FIRE STATION

Vern and Harland Crawford recently presented to the Beecher Falls Fire Department this "Nail Art" depiction of the fire station, created by their brother Don of South Burlington.
(Courtesy photo)
---
Local Fish & Game Conservation Officer Injured in Snowmobile Mishap

N.H. Fish and Game reported that Conservation Officer Christopher Egan, 49, of Pittsburg, was injured in a snowmobile crash that occurred late Monday afternoon while he was patrolling on Trail 139, just north of the First Connecticut Lake Dam in Pittsburg.
Sgt. Glen Lucas said CO Egan was southbound when he saw two apparent violations by riders passing in the opposite direction, and he continued to an opening in the trail to reverse direction. "CO Egan told investigators that he was in the process of catching up to the snowmobiles in violation and navigating a bumpy stretch of trail when the incident occurred," Sgt. Lucas said. "While going over the bumps, he said that he lost his footing from the running board, causing his right leg to come off his snowmobile and come in contact with the trail, subsequently falling off the snowmobile and suffering a lower leg fracture."
CO Egan did not sustain any other injuries and was able to move himself over to the side of the trail and radio for assistance. Three Good Samaritans came upon the scene and rendered aid until the 45th Parallel EMS and Pittsburg Fire and Rescue personnel arrived. Other COs and N.H. State Police also responded to the scene, and CO Egan was transported to Upper Connecticut Valley Hospital for initial treatment.
State Police are investigating the accident. "N.H. Fish and Game Law Enforcement Division would like to thank New Hampshire State Police, Pittsburg Fire and Rescue and the 45th Parallel EMS for their care and professionalism," Sgt. Lucas said.
Specific injuries are usually not included in Fish and Game press releases due to privacy, but CO Egan asked for the information to be released, according to Sgt. Lucas. "He requested this in order to give the public a clear view of what happened and attempt to quell speculation and rumors of injury," he said. "CO Egan will need time to heal but is in high spirits and looking forward to coming back to work as soon as possible."
Cards or letters can be sent to CO Chris Egan, N.H. Fish and Game Department, Region One Office, 629B Main Street, Lancaster, NH 03584.
(Issue of January 20, 2021)
---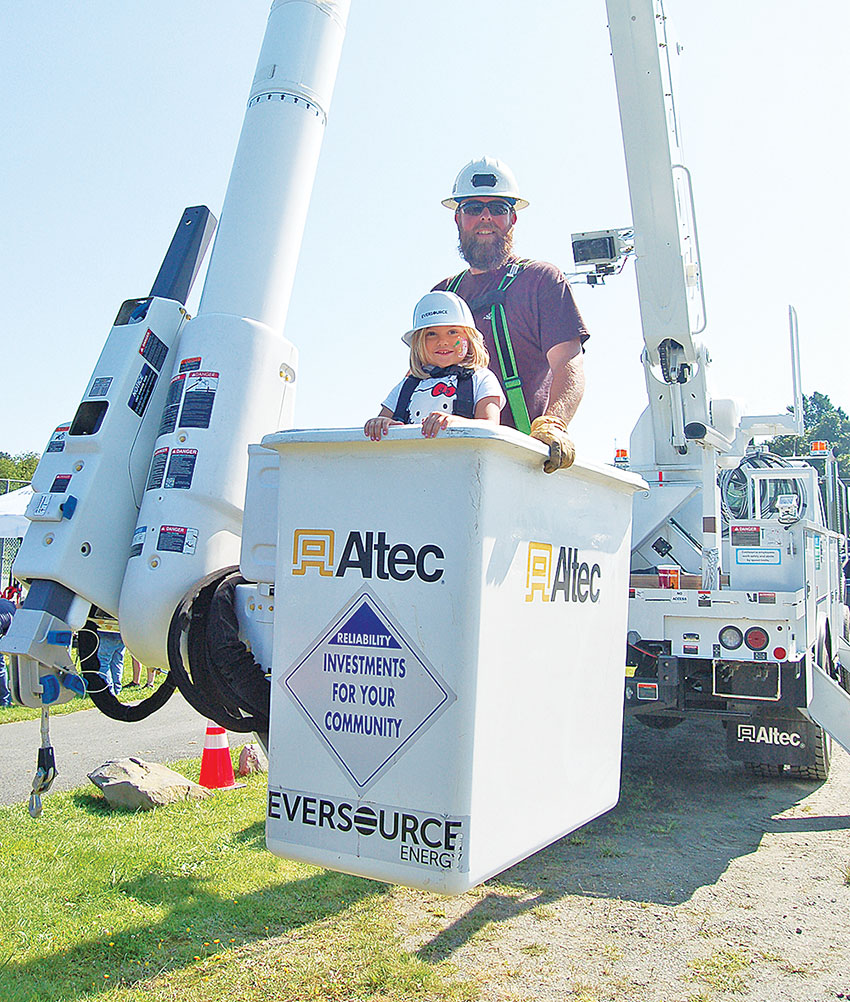 ALWAYS A WELCOME SIGHT

Krys Ouellette of Campton reached a milestone last Thursday, January 14, and has now been delivering Schwan's frozen delights on the company's northern route around Colebrook and Pittsburg for 20 years. Her visits bring good cheer year-round, as she always wears a big smile and just the right accessories for every season. (Karen Harrigan photo)
---
Grand Jury Indicts Colebrook Couple for Assault on Three-Month-Old Baby
By Jake Mardin
The two people charged with assaulting a three-month-old infant in Colebrook last April have been indicted on Class B fel-ony counts of second degree assault-dom-estic violence with strangulation and criminal liability for the conduct of another.
A grand jury convened last Wednesday at Coos Superior Court issued the indictments against Gerald Hope, 37, and Erika Weatherwax, 26, both of Colebrook, who are scheduled to be arraigned at Coos County Superior Court on February 5.
The indictments allege that Mr. Hope blocked the infant's mouth by spraying milk from a bottle directly into her mouth while lying prone on her back, causing the infant to experience impeded breathing. Ms. Weatherwax allegedly held the baby and recorded the incident on her phone.
Mr. Hope was previously charged with a Class A felony count of second-degree assault, a Class B felony count of felony reckless conduct-domestic violence and a Class A misdemeanor charge of endangering the welfare of a child. Ms. Weatherwax was previously charged with reckless conduct-domestic violence and endangering the welfare of a child.
According to an arrest affidavit, staff at Dartmouth-Hitchcock Medical Center found that the three-month-old child had multiple injuries, including a left upper arm bone fracture; two, and possibly three broken ribs; a spinal fracture; two likely fracture sites on the left shoulder blade; one site on the left forearm and right humerus; and an upper lip injury.
Mr. Hope is free on a $10,000 unsecured appearance bond and Ms. Weatherwax's bail is $2,500 personal recognizance. Both are due to be arraigned on February 5, with final pretrial conferences scheduled for March 1.
(Issue of January 20, 2021)
---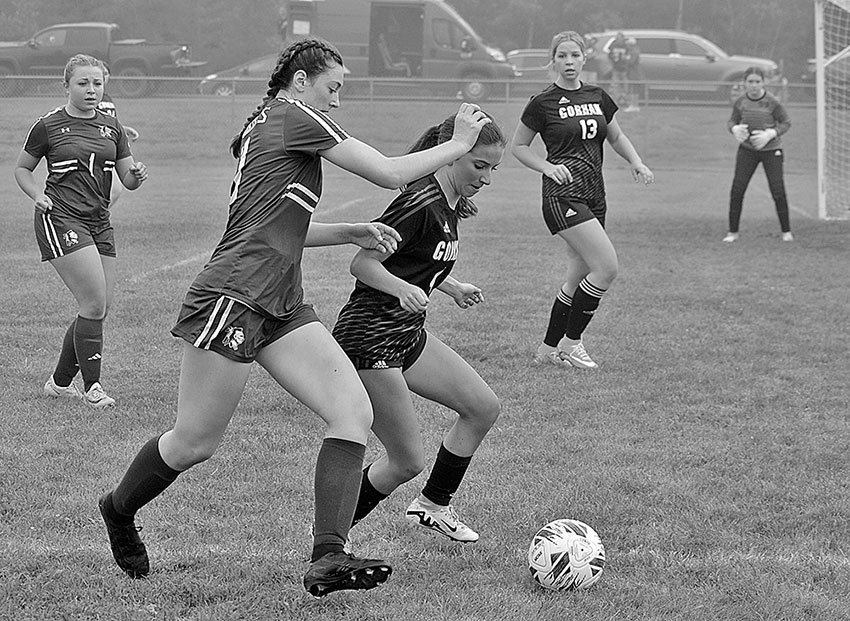 EXPRESSIONS OF THE TIMES

Members of the Connecticut River Artisans Group used their art to express their interpretations and thoughts on the effects and situations imposed on their lives during the pandemic of the past year. The works are currently on display in CRAG's gallery at Fiddleheads, 110 Main Street in Colebrook. More information about CRAG can be found on-line at www.connecticutriverartisans.com and on Facebook, or by calling 603-237-9302. (Courtesy photos)
---
Creative Solution May Be Required to Meet Glove Factory's Water Needs
By Jake Mardin
American Performance Polymers met remotely with the Colebrook selectmen recently to discuss their plans for the facility and the need for higher water and wastewater capacity.
Jon Ashley of Dubois & King said his company was brought on board to help with the plant's water and wastewater capacity needs. He said American Performance Polymers has an expansion plan with an "aggressive timeline" based on a grant from the U.S. Department of Defense.
One production line is currently manufacturing gloves, and three more are under construction. He said there will ultimately be ten of those machines, while two high-speed dip lines are being brought in from Malaysia and scheduled to come on-line in August.
Mr. Ashley said the high-speed lines will come with substantially higher water and wastewater flows. By the time the ten regular lines are up and running, he said the factory could be discharging 20,000 gallons of water a day, and asked whether the town is able to support that amount. Mr. Ashley said the company is also working to determine how much wastewater can be treated on-site and recycled, and said the goal is to reuse 80 to 90 percent of the discharge. He said Ron Guerin of CALEX Environmental has submitted wastewater samples to a company for testing to determine what treatment methods APP could use, and how much water they could recycle.
Factory operations manager Rick Tillotson further clarified the figures, stating that with ten lines and the high-speed machines in operations, the factory would be pulling in about 27,000 gallons of water a day. He said 25 percent would be evaporated and the rest is sanitary waste. Mr. Guerin said he is working on an updated permit to request additional capacity, which will include a month-by-month schedule and the anticipated additional capacity needed.
American Performance Polymers CEO Rich Renehan said the plan is moving at a rapid pace, and sees a good future for the company and town. "The goal of the factory is to be a long-term cornerstone employer of the region," he told the board.
He asked whether a town meeting warrant article would address the town's plan for improving its water processing facilities. "Let's put together a team between the company and town so that five years from now, we can say the water system is great, employees are happy with their stock ownership plan in the company, and that we're doing great things for the health care sector and military," he said.
Mr. Guerin also cited a need for the town to upgrade its capacity to continue to serve the town. "I think APP can attempt to cover some of their water needs by developing an on-site well to potentially take some burden off of the town, but to take the approach that APP is going to be an island is probably not a reasonable assumption," he said.
Town manager Sharon Penney said the town is seeing a small USDA regional grant and may look to APP for engineering funds, because the project is moving quickly and the town can't determine cost.
Mr. Renehan said APP plans a "robust recycling program" for its water, and if the town is able to secure a grant, he said the company may be able to front the money. He also said he would ask the state for additional assistance. "We want a robust town infrastructure to handle the amount of water we may be processing," he said.
Selectman Sue Collins said the deadline for the town warrant is February 5, and the water and sewer departments use enterprise funds, meaning they have to support themselves and are not Town of Colebrook general government funds. She said the water system is losing money and the sewer department is only recently beginning to catch up.
Mr. Renehan said his engineering team would work to pull together projections that are as accurate as possible.
(Issue of January 20, 2021)
---