HEADING OUT

Chris Brady and his team of Percherons were busy all afternoon giving horse-drawn wagon rides on Saturday, December 9 during the Colebrook Downtown Development Association's first-ever Snowflake Festival on Main Street. (Alan Farnsworth photo)
---
Coos Budget Shows 7-Percent Increase, Likely to Change Before March Vote
By Jake Mardin
The Coos County Commission and Delegation held a joint public hearing at the Coos County Nursing Hospital in Stewartstown on Monday to go over the proposed 2018 budget. The commissioners' proposed budget is projected to increase by 6.96 percent to $37,476,895, while the county tax is to increase by 3.79 percent to $15,656,005. However, those figures will change by the time the delegation votes on the budget, due to a decrease in health insurance costs and other revisions.
County administrator Jennifer Fish said the budget includes a two-percent cost-of-living adjustment for county employees and step increases for those who have not reached the top step. She said the budget reflects an increase of 25 percent in health insurance costs for the second half of the year, but late last week she received news that the "not to exceed" rate for health insurance will be 8.1 percent, which equals a reduction of $188,200 in the budget.
The nursing hospital budget is up by $482,116 to $11,200,220. The budget includes the purchase of new bariatric beds and a new fire alarm panel. Representative Edith Tucker (D-Randolph) asked about the census of the nursing hospital, and administrator Laura Mills said the budget was prepared using the average census of 74-75 residents.
The Berlin nursing home's proposed budget is up by $824,535, totalling $12,843,540. Administrator Louise Belanger discussed the progress made since the home became a skilled nursing facility in May. She said the home used to be covered only by Medicaid, but it now has 100 beds that are Medicare-certified. She said that from May to October, the home has generated $115,000 in revenue from long-term care and $387,800 on short-term rehabilitation.
The total proposed county department budget, which includes the administration, County Attorney, Sheriff's Office, Register of Deeds, and Department of Corrections, is projected to increase by $1,122,860 to $12,791,865, and $824,000 is slated for a new connection between the county water system and the West Stewartstown Water Precinct.
County Attorney John McCormick said the new drug court will likely start in February. He said he recently met with other members of the drug court team and things are moving ahead. He also reported that Felonies First, where felony cases immediately go to his office, has been going well with no major problems, and is speeding up the court process.
During a discussion of the Sheriff's Office budget, Sheriff Brian Valerino and Berlin police chief Peter Morency discussed a grant that would pay for a full-time member of the N.H. Drug Task Force to work exclusively in Coos County. The county and City of Berlin have been asked to raise $20,000 apiece as a match to fund the position, which is $100,000 total.
The 2018 Unincorporated Places budget was also discussed, and is projected to increase by $91,929 to $1,680,340. Both budgets will be voted on by the Delegation at the annual meeting in March.
(Issue of December 13, 2017)
---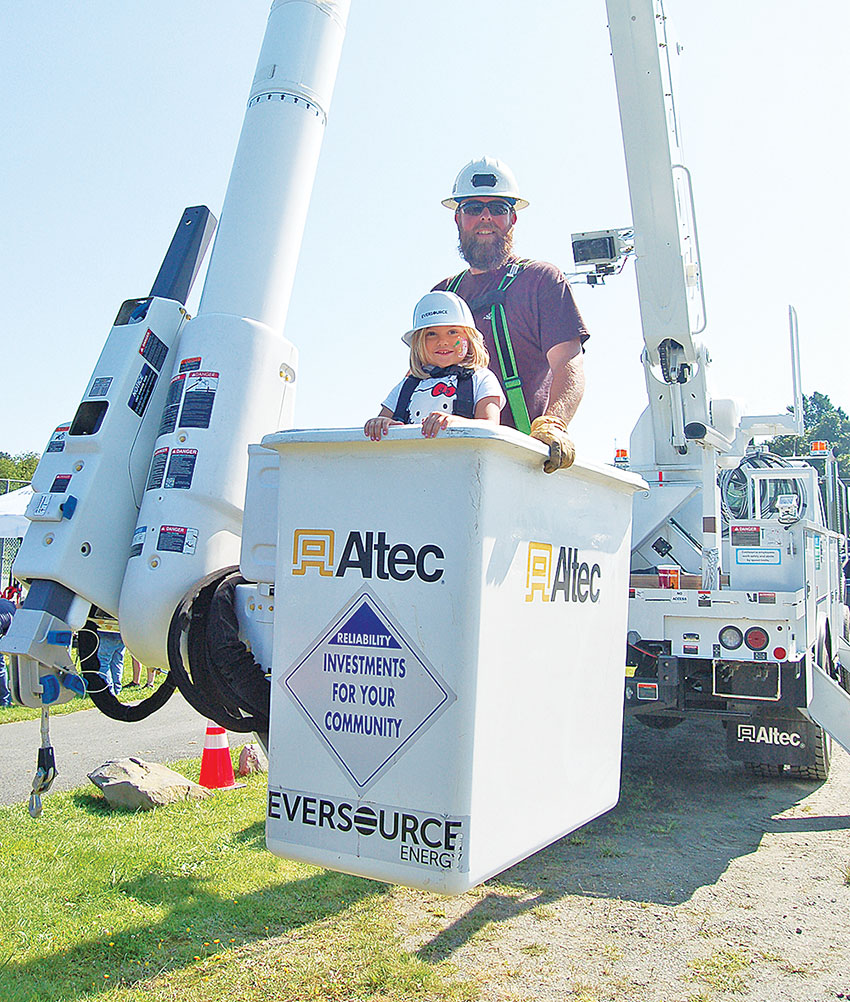 WAITING FOR CHRISTMAS

Willy and Bo Clement (Michael Inkell and Rory Shaw), with Clara (Shaylynn Fuller) and Mother (Shayanna Fuller) in the background, sing as Papa Clement (Zander Richards, right) works on his famous poem, in a scene from "'Twas the Night Before Christmas." The Colebrook Recreation Department Drama Club performed two sold-out shows at the Tillotson Center on Saturday and Sunday, December 9 and 10. (Alan Farnsworth photo)
---
North Country to See Construction of Six Cell Towers by End of January
By Jake Mardin
Six new towers that will be part of the Great North Woods Wireless cellular network are going up throughout northern Coos County, three slated to go on-line by the end of this month, and the remainder by the end of January.
The network currently has towers active in Pittsburg, Groveton, Milan, Errol and Stratford that carry Verizon and Sprint 4G LTE service. Great North Woods Wireless is putting up six new towers that will also carry Verizon and Sprint, and CEO Robert Parsloe said the aim is to fill in gaps between the other towers.
One tower will be built in Pittsburg near Route 3 between Back Lake and Lake Francis and will provide coverage all the way up to First Connecticut Lake. Another tower in Stratford will sit near Route 3 at the former Capital Well property between existing towers in Groveton and downtown Stratford, while another tower in Errol will be built near Lake Umbagog.
In Columbia, a new tower is going up on the Cloutier property on Route 3. New towers are also being built in Dummer and Stark. "Rest assured, the coverage is going to be dramatically better," Mr. Parsloe said.
He is confident that the Pittsburg and Stark sites, along with one other, will be on-line by the end of the month and they are pushing hard to have the remaining sites active in January. He praised the work done by local contractors and those from Maine, and said there are still future sites in the works.
"We're well into this phase and there are more sites to announce," he said, adding that they are in various permitting and siting stages. "When we're done this is going to be a very well-covered area," he said.
(Issue December 13, 2017)
---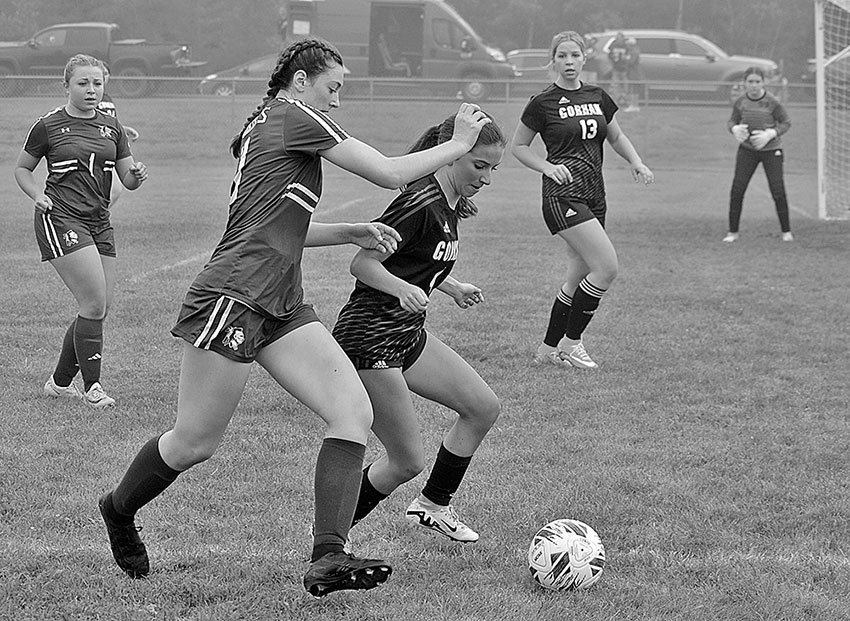 SUPER-DELUXE MODEL

The Stocking Stuffers team of Larry Bolton, Guthrie Peet, Ryan Ouimette, Brian Bissonnette and Mark Hammond, with Ben Adair in elf disguise, fielded a tricked-out bed that required nearly ten hours to build, to compete in the inaugural Snowflake Festival Bed Races on Academy Street in Colebrook on Saturday, December 9. (Alan Farnsworth photo)

---
Former Pittsburg Man Tried, Convicted of Murdering Orlando Woman in 2015
By Jake Mardin
A Florida jury found former Pittsburg resident Stephen Duxbury, 35, guilty on charges of first-degree murder, attempted sexual battery and burglary for the October, 2015 murder of Sasha Samsu-dean, 27, in her Orlando apartment.
According to an article by Gal Tziperman Lotan in the Orlando Sentinel, jurors listened to six days of testimony and deliberated for about four hours before returning a verdict on November 21.
Ms. Samsudean was killed after returning to her apartment north of downtown Orlando following a night out with friends. After her friends were unable to reach her, they reported her missing and Orlando police discovered her in her apartment. An autopsy determined that she had been strangled. Mr. Duxbury was employed as a security guard at the apartment complex where Ms. Samsudean lived.
According to the Daytona Beach News Journal, security footage showed Mr. Duxbury following Ms. Samsudean into the building earlier during the day, and investigators located his thumbprint in the apartment and collected DNA evidence. Prosecutors said he failed a polygraph test and gave police a different pair of shoes than those he had been wearing that night. His attorney, Aaron Delgado, told the Orlando Sentinel that there were too many questions left unanswered, including Mr. Duxbury's clothing not being tested for DNA evidence and "shoeprints attributed to Duxbury inside the apartment that appeared to match a size 9 Sketchers sneaker found in Duxbury's apartment, when he said he wore a size 10 1/2."
Mr. Duxbury was graduated from Pittsburg High School in 2002, and according to his LinkedIn profile, worked security for Delaware North at The Balsams from 2004-08 and served in the Air Force as a pharmacy technician from 2008-14 before joining Vital Security and Investigations in April, 2015.
After the sentencing, Mr. Duxbury's mother spoke to reporters. "There are no winners," Cindy-Lou Amey of Pittsburg said. "They've lost a child, and that's horrific. I just feel bad for them; I feel bad for us. It's important to be kind to everybody. There is a lot of hurt here." Ms. Samsudean's parents both likewise expressed sympathy to Mrs. Amey, who attended the trial
(Issue of December 13, 2017)
---

p>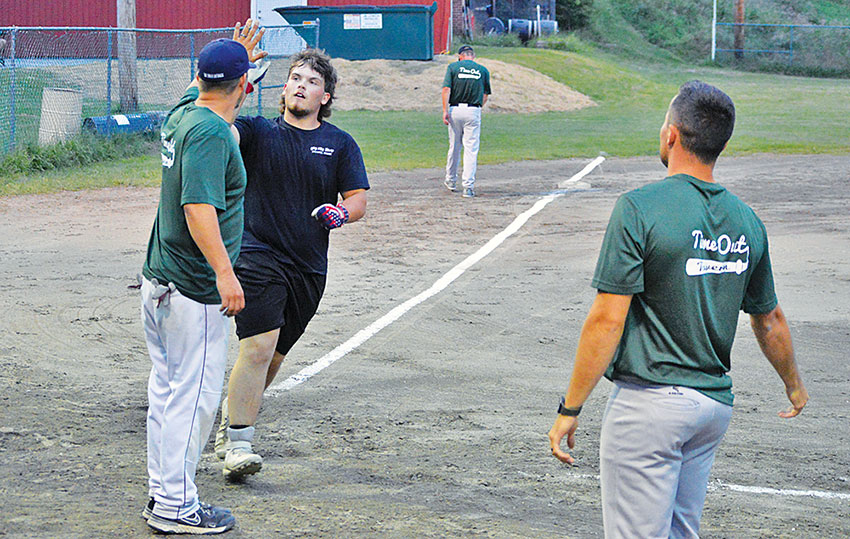 SINGING ABOUT THE CONSTITUTION

"The Constitution" was one of several songs that Stratford Public School students performed on Thursday, December 7 in "Schoolhouse Rock," modeled after the animated series that ran during Saturday morning cartoons from 1973 to 2009. From left to right are James McLain, Gabriel Simpson, Kayla Howard, Noah Gibney, Dellanie Corliss, Patience King, Adam Howland, Rebecca Lawrence, Autumn King, Brooklynn Berry and Carter Narducci. (Jake Mardin photo)

---
Early Deadlines for Both Papers During the Holiday Weeks

Due to both Christmas and New Year's Day falling on Mondays, early advertising and news deadlines are required for The News and Sentinel and The North Woods Weekly to ensure timely publication.
The deadline for news releases, letters to the editor, and engagement, birth and wedding announcements will be 12 noon on Thursdays, December 21 and 28. Advertising must be received on the two previous Fridays, December 22 and 29: display ads by 12 noon; and classifieds and paid copy items by 5 p.m.
If possible, setting up both weeks' ads ahead of time will help alleviate holiday stress for all concerned. Due to the tight schedule, we will not be in a position to accept late ads for either week.
(Issue of December 13, 2017)
---