DORF ON GOLF

The 22 teams participating in the Pittsburg Firefighters Association's annual Pasture Golf Tournament on Saturday got their starting instructions from Sandy Young, who gave a spot-on portrayal of the late comedian Tim Conway's Dorf character. (Ann Gray photo)
---
Interstate School Planning Effort to Gain Official Status at Aug. 15 Signing
By Rob Maxwell
Vermont Education Secretary Dan French and New Hampshire Education Commissioner Frank Edelblut will join members of the Connecticut River Collaborative Committee at the Canaan Schools library tomorrow, August 15, to grant state-recognized status to an Interstate Planning Committee.
In June, Essex North Supervisory Union superintendent Karen Conroy said that receiving this status can provide the committee with expanded resources, but in no way binds the committee or the involved school districts to an interstate school district in the future.
The Collaborative Committee has spent over two years working to formulate a proposed regional school system involving Columbia, Colebrook, Stewartstown, Clarksville and Pittsburg, the Canaan school district and the NEK Choice district. After Pittsburg voted to withdraw from committee activities in March of this year, the committee abandoned a model that would have called for preK-8 schools in Colebrook and Pittsburg, a preK-5 school in Stewartstown and a single regional high school in Canaan.
Pittsburg voters asked their school board to seek readmission to the collaborative committee in May, by which time the committee had modified its school model, retaining the planned high school in Canaan with a middle school for grades 6-8 in Colebrook and elementary schools in Stewartstown and Pittsburg. Pittsburg's readmission was accompanied by a shuffling of committee members, such that there are three new delegates from that district: school board members Lindsey Gray and Billie Paquette, and teacher David Covill (see graphic for complete list of committee members).
Mrs. Conroy said the committee will seek input from Mr. French and Mr. Edelblut on such topics as the possible effects on districts without operating schools, such as Columbia and Clarksville; clarification on ownership of buildings in an interstate district; the availability of legal assistance from the two states' education departments; and what effects there may be on state-specific scholarships, should students attend a high school outside their home state.
Mrs. Conroy noted that she has been in continued contact with officials from the Rivendell Interstate School District that consolidated schools in Fairlee, Vt., and Orford, N.H., some years ago. Plans are being made for Collaborative Committee members to visit Rivendell, to seek information on how it was created and how it is operating. New Hampshire and Vermont are the only two states in the country currently operating interstate school districts, and nearly identical language in both states' statutes dictates the legal process of forming and governing these districts.
Regarding tomorrow's ceremony, N.H. Education Department communications director Grant Bosse said on Monday that the department "is looking forward to exploring the possibility of a new school district in the best interests of local students. This will be the formal start of that process, and we will be largely following the guidance of local citizens throughout the process."
(Issue of August 14, 2019)
---

<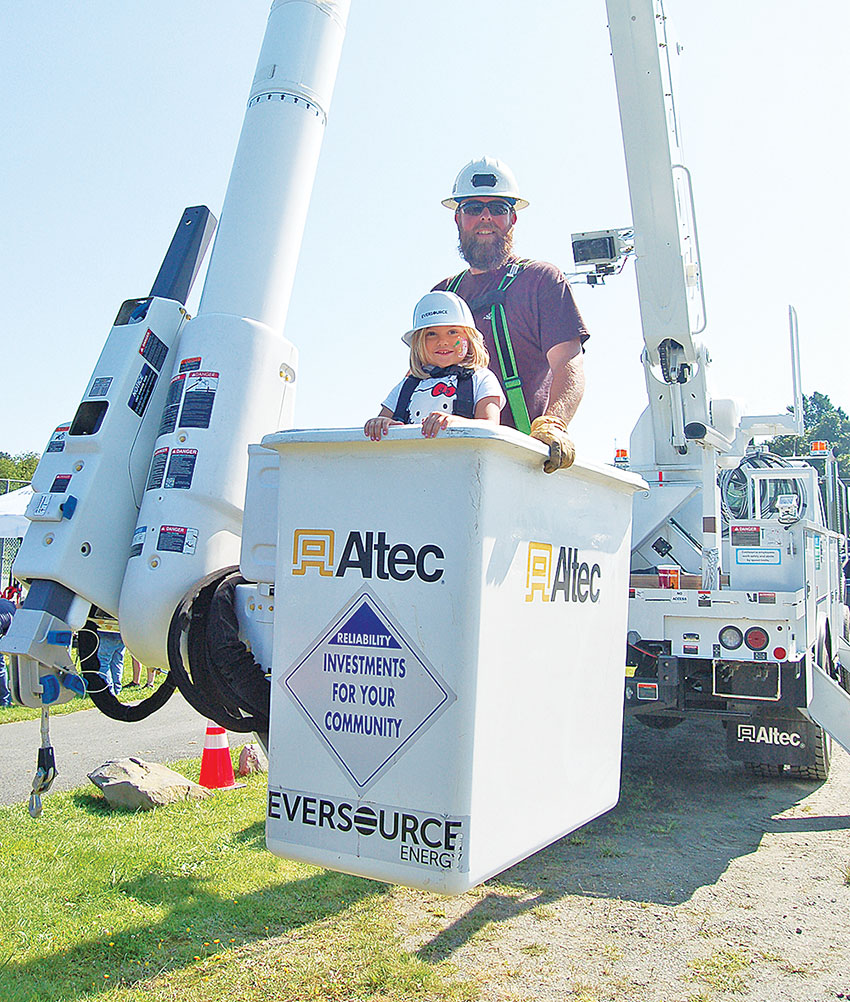 BOWING TO ROYALTY

With a flourish, James McLain as the Pauper bows to Symon Poplin as the prince, with Charlotte Wallace and Jared Elliott in the background, in a scene from the Children's Stage Adventures play "The Prince and the Pauper" on August 2. The week-long residency was part of Stratford's grant-funded summer school program, which has provided 27 days of programming to over 30 students in grades K-7 four days a week since July 1. (Courtesy photo)
---
Vt. Architectural Firm to Undertake Assessment of Canaan School Buildings
By Rob Maxwell
An architectural firm from Vermont has been commissioned by the Connecticut River Collaborative Committee to conduct a facilities assessment of the elementary and high school buildings in Canaan. Black River Design, headquartered in Montpelier, Vt., will soon begin an assessment estimated to cost $17,500.
An August 7 letter of intent from the firm outlines the evaluation's objective: "Understand the physical condition of the existing facilities. Identify life safety and ADA compliance issues. Document and prioritize the deficiencies. Establish a 'like new' replacement cost that place the Canaan Schools at a similar standard as the Colebrook School."
The Collaborative Committee has been investigating the improvement of education and ways to save taxpayer dollars for over two years in the face of dwindling enrollments and rising costs within the five SAU 7 school districts in New Hampshire, and the Essex North Supervisory Union and the NEK Choice school district in Vermont. The committee is currently working on a model that calls for a single regional high school in Canaan, a grades 6-8 middle school in Colebrook and primary schools in Stewartstown and Pittsburg.
An approximate $174,000 remodeling of the Colebrook Elementary School building on Dumont Street, approved by Colebrook voters last March, will be completed this summer to provide for consolidation of all grades on that campus beginning this school year. At public forums and annual district meetings from 2017-19, members of the public voiced concerns about the condition of the school buildings in Canaan, especially concerning the Americans with Disabilities Act, and who would assume the burden of paying for assessments and potential modifications to Canaan's two school buildings.
Several voters expressed concern at Colebrook's school district meeting in March that money spent preparing the CES building to accept grades 9-12 would be misspent, should those grades be subsequently sent to Canaan with another round of expenditures there. Former SAU 7 superintendent Bob Mills said, "Canaan has two buildings, neither of which is handicapped accessible and someone will have to pay for that. Will it be us?" Colebrook school board chairman Brian LaPerle told voters, "I would never come to you and ask you to help pay for a remodel of a building in Canaan."
According to Mrs. Conroy, "Both schools in Canaan are legally ADA-compliant, including accessibility from outside the buildings."
Mrs. Conroy said last week that the cost of the architectural assessment will be covered by a $60,000 grant recently awarded to the collaborative effort by the Neil and Louise Tillotson Fund of the New Hampshire Charitable Foundation. "A primary reason for undertaking the assessment is to find out how much modifications will eventually cost," Mrs. Conroy noted. Black River Design's LOI indicates that the firm will, "provide the District with a Preliminary Scope/Budget Summary to identify deficiencies, possible remedies, and associated costs."
(Issue of August 14, 2019)
---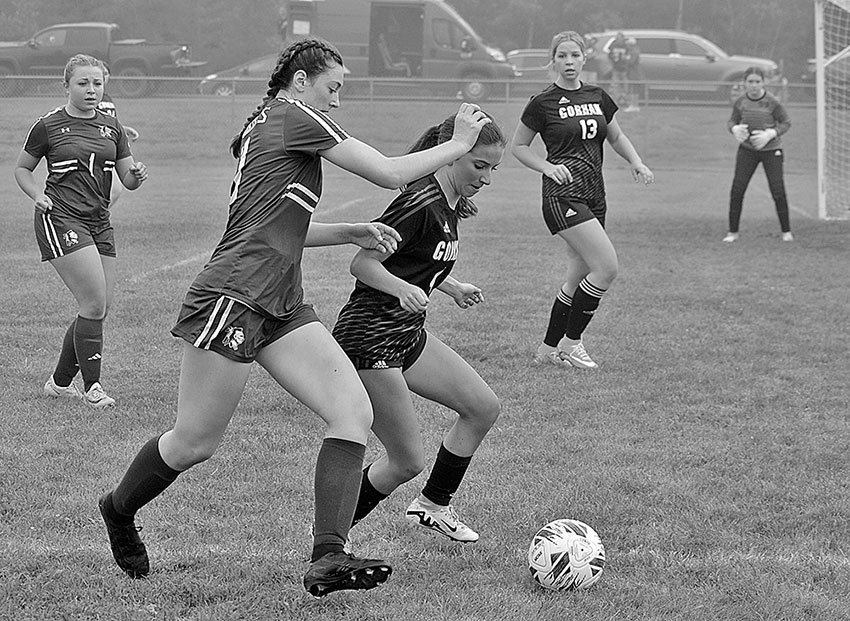 TOURING THE PROPERTY

Pierre Miron gave tours of the New Earth Organic Farm at La Cité Ecologique in Colebrook on Saturday during the 1st Annual N.H. Farm to Fork Festival. The tour took visitors through the diversified organic farm, showing the different varieties of crops and the methods used in production. (Jake Mardin photo)
---
First-Ever N.H. Farm to Fork Festival at Ecovillage Celebrates Local Foods
By Jake Mardin
La Cite Ecoloqique in Colebrook hosted the 1st Annual N.H. Farm to Fork Festival on Saturday and offered several tours of the ecovillage, workshops and other activities.
Throughout the day, guides Pierre Miron and Luc Lamirande gave tours of the property. Mr. Miron was the guide for the early tours and took visitors throughout the farm, including its various gardens. He explained that the first garden was approximately 20 by 40 feet in size, and was designated for growing food for the community. Since then the garden has grown and gained certification as organic.
The tour then moved to the wooded area, where shiitake mushrooms are grown. The mushrooms grow out of logs, which come from the ecovillage's sugar bush on the other side of the valley. Mr. Miron said they cut the trees down in March when the sap starts running, and cut them into 40-inch logs. Holes are drilled into the log every six inches, and are then filled with Shiitake sawdust spawn and covered with wax.
For the first year, the logs stay on pallets to give the seeds time to penetrate the log. The next step is to "shock" the logs, which involves submerging 40 logs at a time in a container filled with water for 12 hours. After the logs are taken out, it takes around 10 days for the mushrooms to emerge. Mr. Miron said the process usually starts in mid-June, and each log typically yields a half pound of mushrooms.
Mr. Miron then took visitors to the future site of a new section of the garden, which will have a raised bed. The gardens produce a wide variety of crops, and he said the ecovillage is always trying new varieties. Flowerbeds are used to attract pollinators, and he said wild bees usually do the job. The gardens yield plenty of produce, and deliveries are usually made to market every day.
There are multiple greenhouses on the property, and during the tour Mr. Miron explained two homemade devices, one that attaches to a vacuum to clean beans, and another that removes debris from crops. He said that they are always looking for ideas on what items can be built rather than being bought.
In addition to the tours, ecovillage residents and other local producers were on hand to conduct a variety of workshops. Benoit Leblanc held a juicing workshop, where he made juice using ingredients from the village's gardens, while Gloria Fortin gave a lesson on making sauerkraut and lacto-fermenting. Mr. Lamirande presented a workshop on growing shiitake and wine cap mushrooms, including a demonstration on how to inoculate logs, and Celesta Vaillant showed participants how to make their own ricotta cheese.
Joyce Brady of CJEJ Farm in Columbia gave a hoof-to-plate presentation that broke down the process and end result of processing a carcass, and explained the factors that influence live weight versus yield weight. Michael Phillips of Groveton gave a workshop titled "Fungal Consciousness: Embracing the Mycelium to Grow Healthy," where he explained how mycorrhizal fungi enhances plant life and how expansive fungal networks bring resiliency to ecosystems. Jacob Belanger, head cook at La Cite Ecologique, showed guests how to make homemade pesto, and David Belanger gave a solar energy tour to show how the ecovillage and farm integrate renewable energies to help offset their ecological footprint.
In addition to the tours and workshops, several vendors set up shop, and the event also included beer tasting, live music, wood-fired pizza and wagon rides.
(Issue of August 14, 2019)
---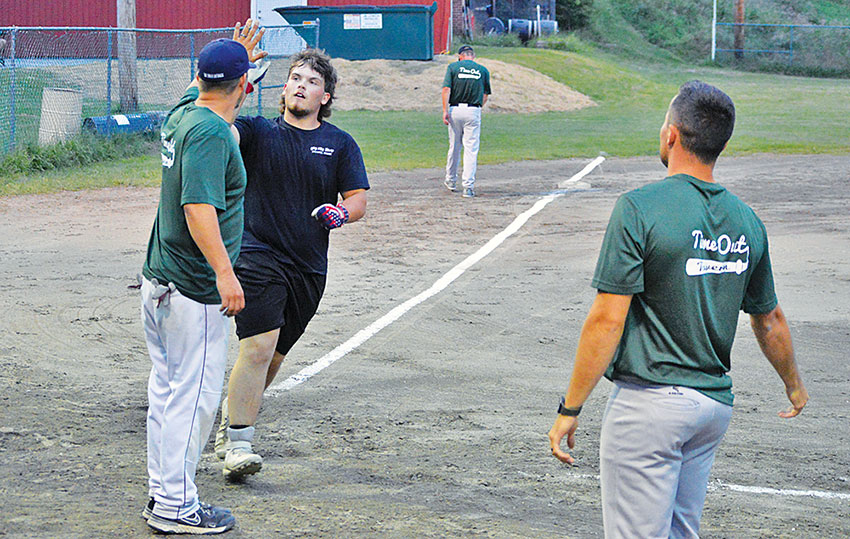 2019 CANAAN MEN'S TOURNAMENT GOLD BRACKET CHAMPIONS

North Country, sponsored by The Spa Restaurant and Outback Pub, defeated Valley Originals to win the gold division championship at the Canaan Men's Softball Tournament on Sunday. In from, from left to right are Mich Boisvert, Dan Pope, George Seigel, Luke Merrill, Ryan Hurd, Dom Meattey, Tim Purrington, Ryan Call and Justin Jarvis. Back row: Mike Tardy, Chris Pope, Patrick Bradanese, Hunter Judd, Anthony Havalotti, Robert Cavanaugh, Jeff Clough, Coach Eric Duquette, Kevin Trask and Ivon Clough. (Jake Mardin photo)
---