LEADING THE WAY

Northland American Legion Post 47 Commander Richard Baribeau (left) and George L. O'Neil American Legion Post 62 Commander Skip Covell lead a group of veterans through Colebrook Academy and Elementary School, on their way from a breakfast in the cafeteria to a Veterans Day presentation in the gym on Friday morning. (Jake Mardin photo)
---
'The Logger' & Patrick Ross on Their Upcoming Benefit Show in Canaan

Rusty DeWees says he's looking forward to his return to Canaan as "The Logger," this time taking the stage with fiddler Patrick Ross for an evening of comedy, music and stories on Saturday, November 30. The evening will also include a 50/50 raffle and food concessions, and it all starts at 7:30 p.m. in the Canaan School gym.
The show is a benefit for 15-month-old Ellie RosÚn--the daughter of Kristina (Gray) and Sam RosÚn, and the granddaughter of David and Lynne Gray of Canaan--who is fighting a rare form of brain cancer. Her aunt Melissa is putting together this family benefit event to help with Ellie's expenses.
"At five months old, Ellie was diagnosed with an aggressive, rare brain tumor--so rare that the World Health Organization has never seen this tumor before," Melissa explained. "In a matter of three days, she underwent two brain surgeries. Additionally, she has had a G-tube (feeding tube) put in, a shunt, central lines two times, and now a port for her chemotherapy treatment."
Ellie just celebrated her first birthday and has reached the halfway mark of her 73-week experimental cancer treatment, coupled with continued extensive genetic testing. Those who would like to learn more about Ellie and her journey may visit the EllieRstrong page on Facebook.
The November 30 event marks a return to Canaan for Rusty DeWees, having performed here a few times, and for Canaan native Patrick Ross. "First time in Canaan with my show I played The Northland," says Rusty. "Oh, my, it was packed with snowmachiners and we had a ball. Melissa has brought me back to be involved in the school, and this time I'm returning with a show for Ellie and her family. I look forward to seeing everyone--oh, and the show is great, with comedy and music, and local hero Patrick Ross."
Through his well-known character "The Logger," Rusty performs one-man shows that are best described as "Blue Collar Comedy" meets "Prairie Home Companion." The benefit show in Canaan is part of his ongoing Tiny Town Hall Tour, in which Rusty presents new original comedy along with classic Logger bits, singing and playing guitar, and working the crowd.
"There's never a dull moment when working with Rusty Dewees," says Patrick Ross, a fifth-generation fiddle player who has shared stages with Willie Nelson, Johnny Cash and Paul McCartney. "One of the funniest things about working with Rusty is how he's able to riff on the local flavor of whatever town we're in."
Patrick has been performing with Rusty for four years, and said, "Blending comedy with music has taught me how to take what I know about music and make it more three-dimensional, and not take myself too seriously." He also observed that the onset of winter is the perfect time for a comedy show. "During the time of the year when skies are gray, music and comedy make one of life's most potent elixirs."
He's performed at venues from The Grand Ole Opry to the Kennedy Center, but says he can't wait to play in his hometown. "Of all the places and theaters I've performed in my career there's something special about coming back to Canaan to entertain," said Patrick. "There are those who have been following my musical path since I was five years old. They get to see the evolution of a North Country boy and I get to share that experience with them in a way that doesn't happen in other parts of the country."
More information about Rusty DeWees and his Tiny Town Hall tour, including comedy clips and a full schedule, can be found at www.thelogger.com. The story of Patrick Ross' life in music, his recordings and plans in the works are available at www.patrickrossmusic.com.
Tickets for the November 30 show in Canaan cost $22 and may be purchased at Canaan Schools, North Country Marketplace in Colebrook, or Suzanne's Le Petit Salon in Clarksville, or on-line at www.thelogger.com. Details and sponsorship information are available from Melissa Gray at Canaan Schools, 802-266-8910.
(Issue of November 13, 2019)
---

<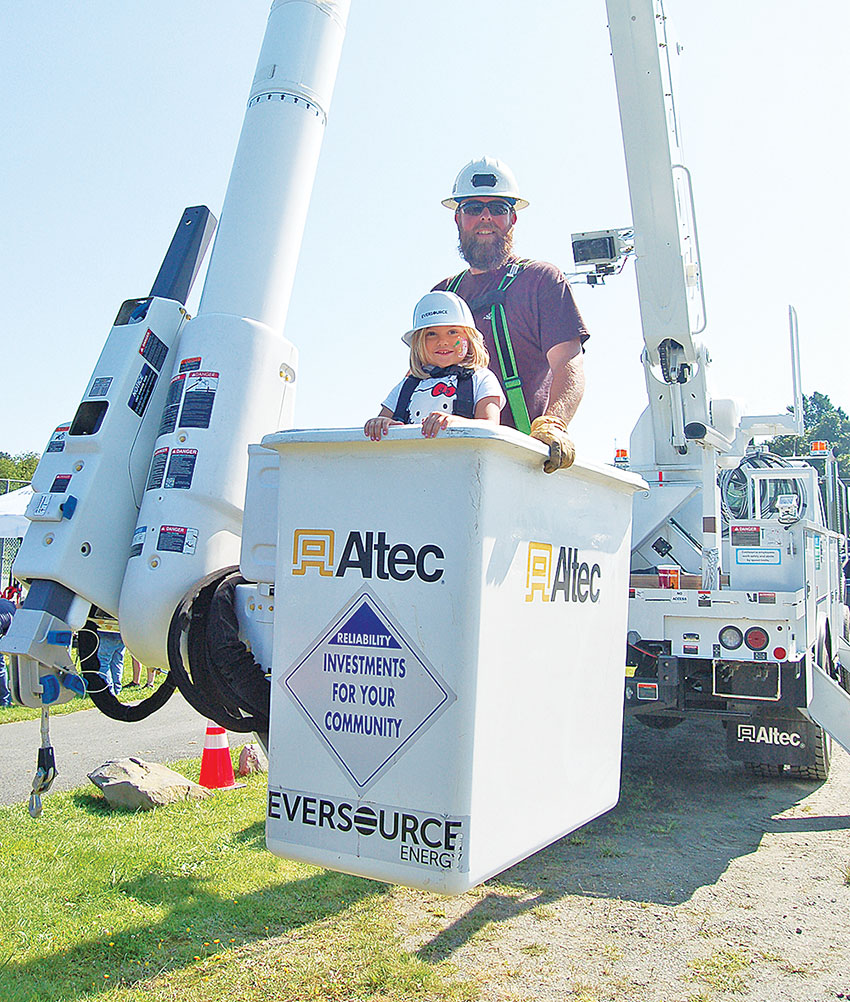 DHART CREW IN CANAAN

Members of the DHART (Dartmouth-Hitchcock Advanced Response Team) crew were in Canaan on Saturday for a ground training course sponsored by the Sons of the American Legion Squadron 47 and Timeout Tavern. From left to right are flight nurses Andrew Jones and Marja Makinen, pilot Chris McIntyre, flight paramedic Justen Stevenson and operations manager John Hinds. (Jake Mardin photo)
---
Local Responders, OHRV Clubs Turn Out for DHART Training in Canaan
By Butch Ladd
This past Saturday the Dartmouth Hitchcock Advanced Response Team (DHART) held a three-hour ground training session at the Timeout Tavern in Canaan, which was sponsored by the Sons of the American Legion Squadron 47. The class was presented by DHART operations manager John Hinds, with assistance from flight nurse Andrew Jones.
Mr. Jones is the son of former News and Sentinel columnist Leith Jones of Pittsburg, and has been a member of DHART since 2005. He is a former Army Huey mechanic and later served as an Army flight nurse. John describes Andrew as "the best of the best."
Those attending included representatives of the Pittsburg Police Department, Pittsburg Ridge Runners snowmobile club, the Beecher Falls and Colebrook fire departments, 45TH Parallel EMS, U.S. Customs and U.S. Border Patrol, Canaan Border Riders, Northeast Kingdom Snow Blasters, Brighton Snowmobile Club and Connecticut Valley Sno-Riders.
DHART is affiliated with facilities in Lebanon and Manchester in New Hampshire and Burlington, Vt. The team has four helicopters and three ground ambulances. DHART is part of the Northeast Air Alliance, which includes Life Flight Maine, Boston Med Flight, UMass Life Flight, LifeFlight NY and Hartford Life Star, and they work together closely. Forexample, if DHART is headed north, the team will advise Life Flight Maine and Boston Med Flight so they know other helicopters are out there.
There are four people on a flight--a pilot, flight nurse, paramedic and a communications specialist--and DHART helicopters are essentially a critical care unit on wheels. Their communications people monitor the weather 24 hours a day, and any one of the four people on board can cancel a flight at any time. The helicopter travels at about 160 miles per hour. Since its inception in 1994, DHART has flown over 2.5 million miles and transported 35,000 patients.
One of the key points that Mr. Hinds reiterated during his presentation was, "If you don't call we are not coming." He observed that DHART is underutilized, and said the team would rather be called and turned back rather than not be called at all.
DHART can fly in rain, snow or fog, but will not fly when ice pellets are in the sky or during thunderstorms. Safety is paramount, and the crew is always looking for power lines and things that could cause problems. Even a plastic shopping bag from the grocery store could present a huge problem for the helicopter and crew.
After the class spent two hours inside for the presentation and discussion, the DHART helicopter made the trip north and landed by the ball field, and everyone got to look inside, talk with the crew and ask questions about the operation and equipment.
(Issue of November 13, 2019)
---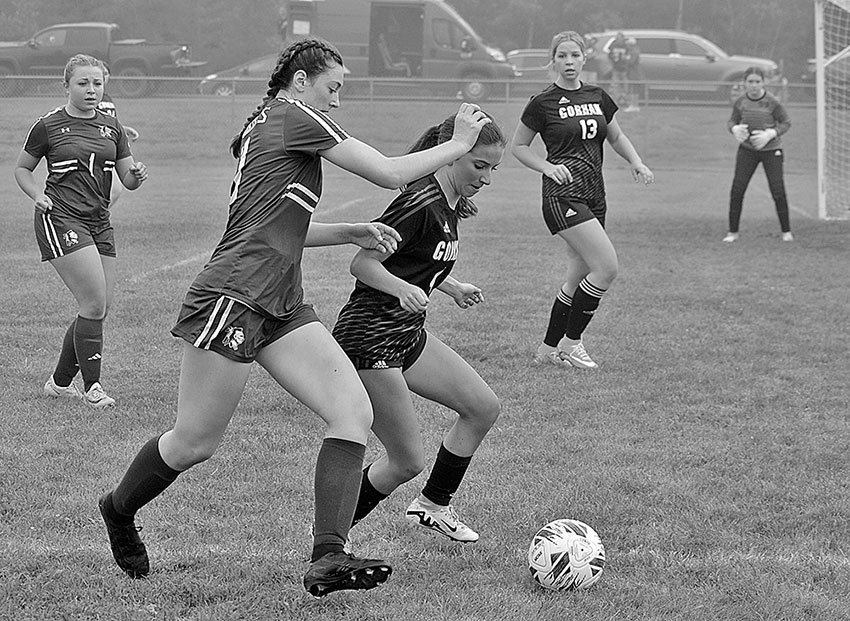 2019 NHIAA HALL OF FAME INDUCTEES

Mark Collins and Fred Bailey of Groveton were two of seven inductees into the NHIAA Hall of Fame's Class of 2019 during Sunday's ceremony. Front row (left to right): Doris Bosa (accepting on her son John Bosa's behalf), Donna Martineau and Dennis "Bucky" Tardiff. Back row: Dave Anderson (accepting on behalf of Robert "Red" Rolfe), Rick Forge, Fred Bailey and Mark Collins. (Courtesy photo)
---
NHIAA Inducts Groveton's Bailey, Collins into 2019 Hall of Fame


The NHIAA inducted seven new members into the Hall of Fame during a dinner and ceremony on Sunday, including former Groveton boys' varsity basketball coach and administrator Fred Bailey, and current boys' varsity basketball coach Mark Collins.

Also inducted in this year's class were John Bosa, a Keene High School graduate and former defensive end for Boston College and the Miami Dolphins; Rick Forge of Gilford, who won over 750 games as Somersworth softball coach and currently coaches girls' basketball at Gilford High School; Donna Martineau, who has umpired softball for 42 years and is a member of the New Hampshire Softball Umpires Association Hall of Fame; Robert Abial "Red" Rolfe, who earned the nickname "The Pride of Penacook" during nine seasons with the New York Yankees that included four All-Star selections and five World Series championships as a third baseman; and Denis "Bucky" Tardif, who won two championships as boys' basketball coach at Timberlane Regional High School and one championship as girls' varsity basketball coach, and served as Timberlane's athletic director.

Mr. Bailey attended school in Woodsville and was graduated from Plymouth State University with a degree in education. In 1968 he joined the faculty and staff at Groveton High School as a student teacher and JV basketball coach. The next year he accepted a full-time social studies position and remained an Eagle for the next 34 years, serving as a teacher, coach, athletic director, assistant principal and principal.

He began his varsity coaching career in 1971, the same year he became athletic director, a position he held until 1994. In the 1970s, he and his boys' varsity basketball team amassed a record and dominance that put Groveton on the basketball map, with three consecutive state championships from 1977-79.

Former Groveton varsity girls' basketball coach and fellow NHIAA Hall of Famer Gary Jenness noted that Mr. Bailey's greatest accomplishment as a coach may have been in the 1978-79 season. After winning his second straight championship he lost his entire starting lineup to graduation. With the loss of the pure shooters he had in the previous squad, he utilized the talents of his players to coach one of the best defensive teams of his career and won his third straight championship.

His tenure with Groveton came to an end after the 1980 season, but he still lent his skills and talents to the kids of the North Country, being involved in his children's AAU teams. When he finally hung up his whistle in 1988, he had amassed a career record of 240-63, and had only one technical foul called against him.

"Fred instilled in his players that hard work is its own reward and to never settle," states his induction bio. "He encouraged his players to try to be better, not just on the court but in life in general. He truly believed the old adage that winning is not as important as wanting to win and succeed. While he worked hard to get his players to embody these core values, one only needs to look at Fred Bailey the person and educator to know that he lived by the message he worked hard to instill into his players."

Mark Collins attended Groveton High School and was a four-year, three-sport athlete. He has coached youth basketball, soccer, baseball and softball in his hometown, and has been the boys' varsity basketball coach since 1988.

In his tenure as coach he has achieved a record of 440-203, and his teams have been characterized by their exemplary work ethic, dedication and knowing how to play as a team. His bio states that Coach Collins "would be the first to tell you that it is because of his team's dedication to become better athletes and not his abilities as a coach that have made Groveton a perennial power in Division IV basketball," and that "those who know Mark closely say he is a very sincere and genuine individual who prefers his players to get recognition, not himself."

Under his leadership, Mr. Collins' teams have won seven state titles, including two undefeated seasons and a 73-game winning streak from 1997-2001. In addition to coaching, he has been a mentor for countless young coaches in the North Country.

One of his closest rivals, Colebrook coach Buddy Trask, stated, "Mark's Groveton teams are always well-prepared, disciplined, and play hard-nosed, tough basketball." He went on to say that Coach Collins has done an outstanding job of adjusting his system to the student-athletes who come out to play year in and year out, and he knows how to get the most out of his players, with the proof being the number of championship plaques displayed at Groveton High School.

(Issue of November 13, 2019)
---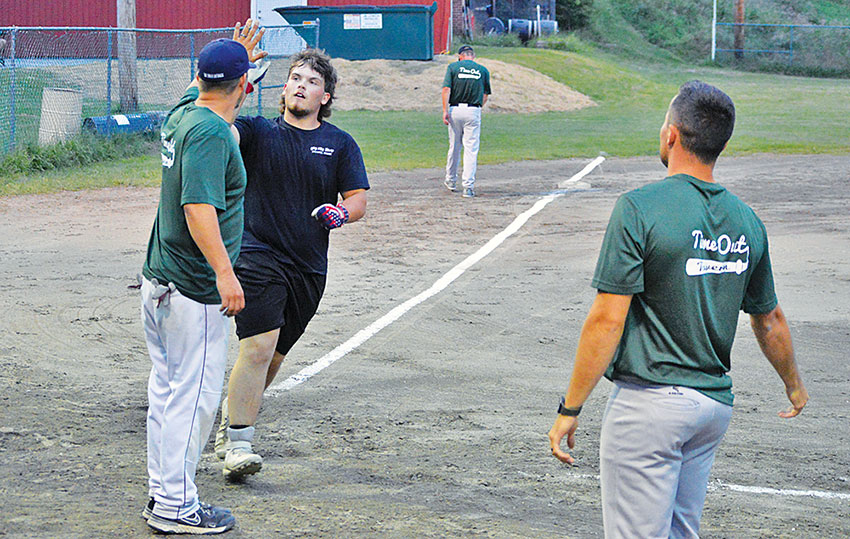 TALKING THINGS OVER

Veterans Jack Riendeau (Army) and Ed Lewis (Navy) had plenty to talk about as they enjoyed the Veterans Day breakfast served at the Monadnock Congregational Church in Colebrook on Monday morning. The annual event is organized by MaryAnn Woodard Neary, and served free to all area vets by a group of faithful volunteers. (Rob Maxwell photo)
---
---