HARD WORK REWARDEDO

Colebrook Academy graduated 26 seniors in its 124th commencement on Tuesday evening, June 13, and Billy Tallmage was obviously pleased to receive his academic credential from school board chairman Brian LaPerle after 12 years of hard work leavened with a good measure of fun along the way. (Rob Maxwell photo)
---
Police Seek Campton Juvenile after 11 Vehicles Stolen in Three States
By Jake Mardin
Police are still looking for a juvenile from Campton who they believe is behind a string of vehicle thefts committed around the area that started on Sunday.
A press release from N.H. State Police Troop F states that at around 9:41 p.m. Sunday, a vehicle accident was reported on Route 3 in Stewartstown by the old springhouse. When police arrived they found an abandoned vehicle that had been rolled over, and learned that the driver had fled on foot. The road was shut down temporarily to remove the vehicle, which police learned had been stolen from Clarksville.
Colebrook Police and U.S. Border Patrol assisted in the search for the driver, and in the meantime received a report of a stolen pickup truck from Stratford. The owner of the truck reported that another vehicle had been left nearby, which was also found to have been stolen.
The pickup truck stolen from Stratford was later located in a ditch on Bog Road. A State Police K-9 unit was used to search for the driver, and during that search another vehicle was reported stolen in Northumberland. That vehicle was later found crashed a short distance over the border in Maine, where two additional vehicles had also been reported stolen.
State Police believe a juvenile from Campton is behind the thefts and was last seen in Maine. The Campton Police Department is also investigating two stolen vehicles from that town, and are working with State Police to find the juvenile.
Canaan police chief Jeff Noyes also reported that a 2006 Chevrolet Colorado belonging to David Therrien was taken from his driveway on Halls Stream Road sometime between 11 p.m. on Sunday and 5:30 a.m. on Monday. The vehicle was later found in South Canaan on Route 102 with a flat tire, but otherwise in good condition.
The press release states that a total of 11 vehicles have been stolen in the three states. No further information had been released as of press time yesterday, and anyone with information that may be helpful may reach Troop F at 846-3333.
(Issue of June 21, 2017)
---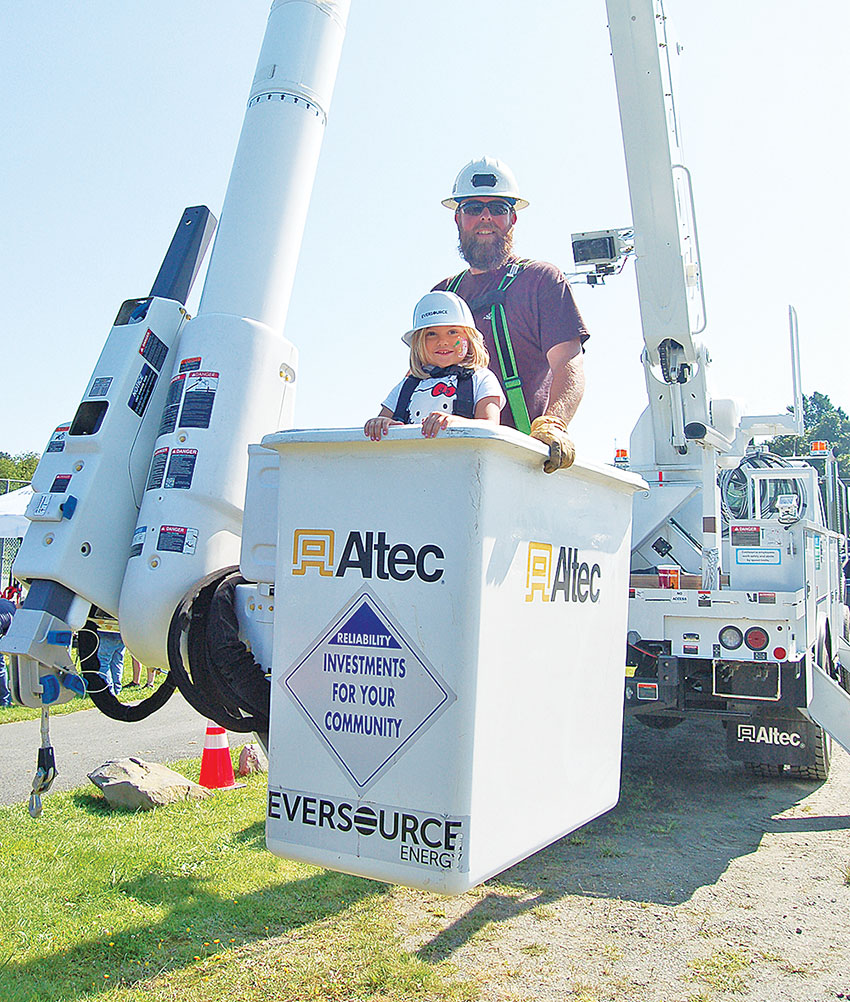 CHICKEN RUN

Don and Stacey Campbell keep about 90 hens at their place in Columbia, and they came up with an ingenious way to allow the egg-layers to travel from the coop to a large, free-range area about a hundred feet away, "without having chickens running all over the place," as Stacey put it. A chicken fence tunnel neatly connects the coop and range, and by the looks of things, the birds have adapted quite well to marching back and forth. (Rob Maxwell photo)
---
N.H. Supreme Court Backs Utility Assessments in Several Local Towns
By Jake Mardin
The N.H. Supreme Court has issued a ruling on appeals by Eversource Energy and N.H. Electric Cooperative regarding the assessed values on property they own. The ruling is favorable to several local towns, including Colebrook, Stratford and Stewartstown, and affirms the values reached by town assessors as opposed to lower valuations from the state.
The court's ruling affirms an earlier verdict by the N.H. Board of Tax and Land Appeals, with whom both Eversource and NHEC filed for 2011 and 2012 tax abatements. The board denied 16 of NHEC's 23 individual tax abatement appeals regarding its property in 11 towns for 2011, and 12 towns for 2012. Colebrook is one of the towns involved in the NHEC case.
Each town's selectmen are required to appraise the value of utility properties in their town, while the N.H. Department of Revenue Administration (DRA) also appraises value at the state level for purposes of the RSA 83-F utility tax. "For the 2011 and 2012 tax years, the municipal assessments of NHEC's property that are the subject of these tax abatement appeals were substantially higher than the DRA's assessments of the same property," the ruling states.
The BTLA held a consolidation hearing in early 2015 and heard testimony from NHEC's witnesses George Lagassa, a certified general real estate appraiser, and Scott Dickman, a certified appraiser employed by the DRA. Mr. Lagassa estimated the market value of NHEC's properties by reconciling the results of four valuation approaches: sales comparison, income, and two cost approaches.
Mr. Dickman used the unit method, in which "an appraiser first values all of a utility's property as a whole and then allocates that whole unit value to the individual municipalities where the utility's property is located."
The municipalities presented testimony from Avitar Associates CEO Gary Roberge, Frederick Smith of Brett S. Purvis & Associates, and licensed New Hampshire engineer George Sancoucy. Mr. Roberge and Mr. Smith both used the "reproduction/replacement cost new less depreciation (RCNLD)" method, while Mr. Sansoucy reconciled the results of four approaches: sales comparison, RCNLD and two income approaches.
The BTLA issued its order in July of 2015, granting seven abatement requests and denying the rest. The BTLA ruled on the granted abatements that "municipal assessors acknowledged or reached value conclusions reflective of a material degree of overassessment of the properties at issue." On the abatements that it denied, the BTLA "found that the Lagassa appraisals and DRA appraisals did not result in a credible opinion of market value," and ruled that NHEC had not met its burden of proof that the local assessments were disproportional.
Stratford and Stewartstown were two of the towns involved in Eversource's appeal. As the NHEC had done in its appeal, Eversource presented expert testimony from assessors who used the unit method. The municipalities called their own witnesses, who used their own methodologies to determine valuations. The BTLA issued the same order as it had in the NHEC decision.
For tax year 2011, Colebrook assessed two NHEC parcels at $2,949,400, while NHEC claimed a value of $1,575,900 on its abatement request. In tax year 2012, the town valued three parcels at $3,085,328 while NHEC claimed a value of $1,602,953.
Stratford has four Eversource parcels. From 2011-15, three were valued at a total of $39,200, while another parcel was valued at $1,500,600 in 2011; $2,843,100 in 2012; $2,860,800 in 2013; $2,833,800 in 2014; and $3,409,600 in 2015. If the town had not used a specialized utility assessor, the DRA assessment values for 2014 and 2015 would have been $1,411,613 and $1,484,183, respectively.
"Eversource always seeks to pay our fair share of taxes and is the largest payer of property taxes in the state of New Hampshire," Eversource spokesman Martin Murray said. "Ultimately, it is our customers who pay those costs, so we seek to ensure they are fair and reasonable...We remain concerned at the situation that the Supreme Court described as 'troubling'--the wide variance in some local assessments compared to the DRA's assessments."
(Issue June 21, 2017)
---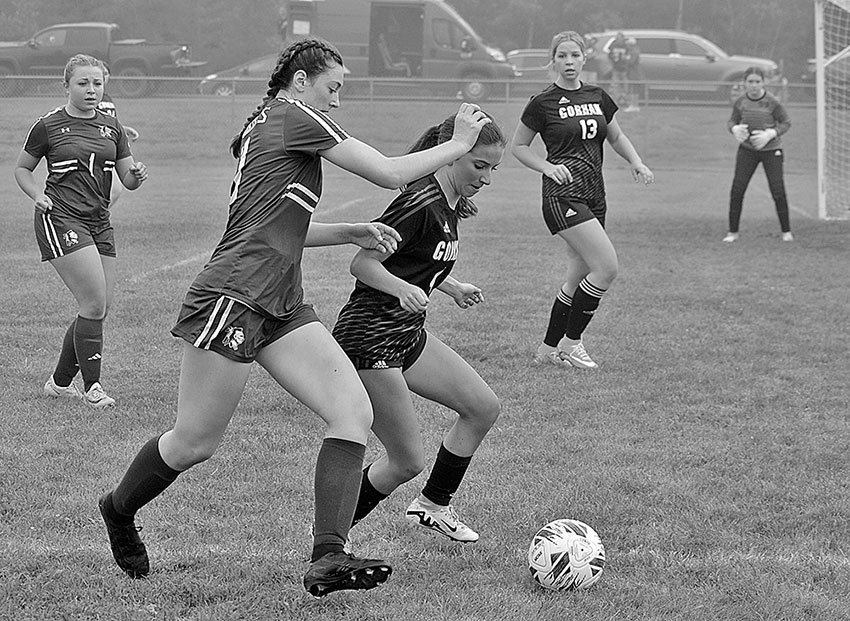 STARTING THE RACE

Runners take off for the 4th Annual NH-VT Covered Bridge Half Marathon and Relay, hosted by the Kiwanis Club in Colebrook on Saturday. Results are available at www.millenniumrunning.com (Jake Mardin photo)
---
Colebrook Main St. Work Delayed, to Begin Next Monday
By Jake Mardin
After a slight delay, work on Colebrook's Main Street water and sewer improvement project is slated to begin on Monday.
Last year, contractor J.P. Sicard, Inc. of Barton, Vt., installed water and sewer mains under Bridge and Colby streets, and water mains for approximately 85 percent of Main Street. This year they will finish the water mains on the north and south ends of Main Street, complete the Main Street sewer main, and build water and sewer services on Main Street.
Town manager Becky Merrow said the delay in the start of construction was due to negotiations between Sicard and the town over a change order. She said that during construction last year, fiber cable was found under Main Street. Because the town and engineers were unaware of the existence of the cable, its location was not identified on the bid plans. The terms of the change order were negotiated to account for additional work and associated costs required.
Sicard indicated that it would begin remobilizing equipment this week, and start construction next week. Their most recent plan, discussed at an April construction meeting, indicated that work would begin on the Main Street sewer main at the intersection of Bridge Street. Sicard is expected to update its project schedule for the project by the next construction meeting, which is slated for today.
(Issue of June 21, 2017)
---