REMEMBRANCE OF THE PAST

Colebrook Academy seniors Makaila Weir and Teagan Malcolm presented Commander David Lewis (USN ret.) of Colebrook with DVDs of their video project about Israel's attack on the USS Liberty, which occurred during the Six Day War in 1967, following a May 11 presentation at the Tillotson Center. Cdr. Lewis served aboard the Liberty as head cryptologist in charge of 195 men when it was crippled by a torpedo on June 8, 1967. With the 50th anniversary approaching, Makaila and Teagan created a presentation as their senior project. Cdr. Lewis plans to share his ten copies of the DVD with other survivors at a 50th anniversary memorial service on June 8 in Norfolk, Va. (Alan Farnsworth photo)
Students to Take Electives Away from Home Schools Under New Collaborative
By Rob Maxwell
School superintendents, principals and guidance counselors from Canaan Memorial High School, Colebrook Academy and Pittsburg High School gathered with a group of interested parents on Monday evening, May 15 at Stewartstown Community School, to discuss a plan developed by the school leaders to provide a wider range of course offerings to students in grades 9-12. The plan calls for some students from the three high schools to be transported to a school other than their own to attend two, 85-minute blocks of instruction every morning beginning next fall.
SAU 7 superintendent Bruce Beasley explained that the Connecticut River Collaborative came about in response to diminishing student enrollment, and requests from students, parents and employers to educate and train students to better meet the demands of today's work and college environment. Mr. Beasley noted that the effort began with a meeting with school board chairmen from the five districts in SAU 7 and the Canaan board in the fall of 2016, to address ways and means to expose students to course offerings not provided by their home schools.
Mr. Beasley and ENSU superintendent Chris Masson told the assembly that the goal of the program is to contain costs and expand student opportunities to take required classes and electives of their choice. "We've been talking about this for around a decade," said Mr. Masson, "but we haven't really been getting anywhere, so we're going to try again."
Mr. Masson said the task of devising a workable schedule of morning classes at the three high schools was given to school counselors Colleen Clogston of CMHS, Diane Fisher of C.A. and Dawn Pettit of Pittsburg School, who all explained to the gathering the courses their schools lack and those they can offer.
Mrs. Clogston observed that conversations with Canaan students indicated a desire for more science, technology, engineering and math (STEM) classes. "We would like to expand our classes in physical education, foreign languages and consumer science," she said.
Mrs. Pettit said Pittsburg does not currently have an in-house foreign language teacher, so students there have been taking telecommunication classes with Colebrook or on-line classes. "Many of our students feel they would prefer having a class with a teacher present," she said.
Mrs. Pettit added that the new initiative will give Pittsburg students opportunities to take Running Start classes in math and science, as Pittsburg does not presently have teachers with the required master's degree in education to teach at that level. Mrs. Clogston noted that Canaan can help in this regard, with two Running Start classes in English, two in science and four in math.
Mrs. Fisher explained that courses in robotics and other STEM-related subjects will be offered at C.A., and that students there have expressed interest in expanded classes in health care.
Mr. Beasley spoke about the logistics of transporting students back and forth every day to take two, 85-minutes blocks of courses, should they choose to do so. "It's important to note that any student who wants to stay at their home school can do so, and will be able to receive the credits they need to graduate," he said. "Those who want to take classes at other schools will be bused. No students will be going from one school to another using private transportation."
Mr. Beasley made it clear that students will be traveling from Colebrook and Pittsburg to Canaan, which will serve as a hub where they can remain for the morning or be bused farther north or south.
C.A. principal Mark Fiorentino told the group that students enrolled in the collaborative program who are tardy would not be able to attend morning classes away from their home school on the day(s) they are late, and that after a set number of occurrences, "there will be a very real possibility they will be pulled from the program. In the meantime, these students can be given Google Assignments to complete on the day they are late."
Mr. Beasley stated that no matter the proportion of students being sent from one school to another, "There will be no exchange of district money for at least the first semester next school year." However, he added that students taking Running Start classes will be subject to the $150 fee for each class.
A tentative schedule of morning classes distributed to those in attendance shows that busing of students to Canaan would begin as early as 7:35 a.m., with the second block of classes ending at 10:59. "Canaan will change block times from 80 minutes to 85 minutes to be in sync with Colebrook and Pittsburg," said Canaan Schools principal Deborah Lynch. Mr. Beasley added that school schedules have also been synchronized in terms of holidays, vacations and teacher workshops.
All the school officials who spoke on Monday expressed enthusiasm about the program's potential, and asked for patience from students and parents as the inevitable bugs and glitches are discovered and worked out. "This is a wonderful chance to provide more opportunities and experiences to our kids," said Mrs. Clogston.
Mr. Fiorentino spoke of a "school team building event" to be held this Friday, May 19, in which freshmen from Canaan and Pittsburg will spend the morning at C.A.; sophomores will gather in Pittsburg; and juniors will assemble in Canaan. "This is not mandatory, but the hope is that all the kids will take advantage of the opportunity to get acquainted with another school."
Further information about the Connecti-cut River Collaborative may be obtained by contacting the guidance offices at Canaan Memorial High School, 802-266-8910; Colebrook Academy, 603-237-8351; and Pittsburg High School, 603-538-6536.
(Issue of May 17, 2017)
---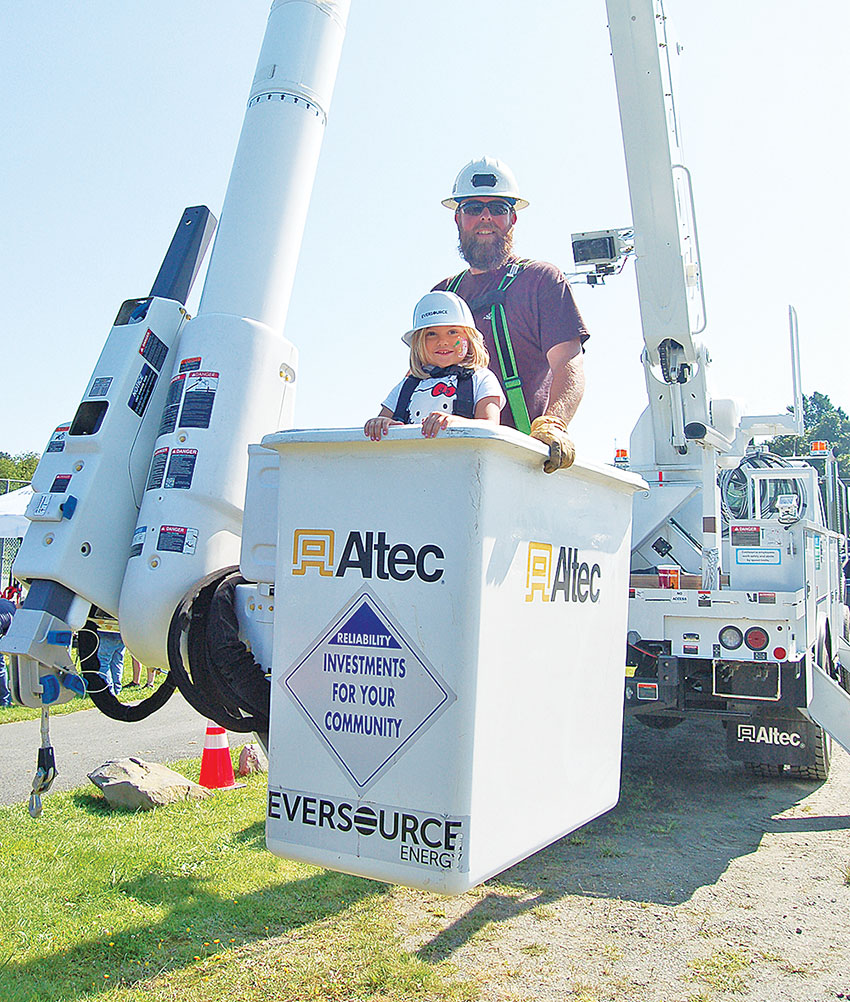 STUDENTS CELEBRATE POETRY AND MOMS

In the Canaan Rec Park on Friday, 1-3 grade students from Canaan Memorial School recited poems they wrote in tribute to mothers, grandmothers and other important people in their lives. Reagan Thibault is shown here presenting a rose to her grandmother Denise Thibault. (Jake Mardin photo)
---
Part-Time Police Officer & Road Agent Scarnici Files Suit Against Pittsburg
By Jake Mardin
Part-time Pittsburg police officer and elected road agent Vinny Scarnici has filed a lawsuit against the Town of Pittsburg in the U.S. District Court's District of New Hampshire, alleging that he was not paid for hours worked or overtime, and that he was underpaid while training at the N.H. Police Academy.
The complaint, filed by Christopher Meier of Cooper Cargill Chant of North Conway, states that Mr. Scarnici was hired on or about January 6, 2014 as a part-time police officer at an hourly rate of $13.71. Mr. Scarnici says he was required to attend the police academy and was paid for his time there on May 15, 2014.
"Instead of paying Scarnici his hourly rate for his hours spent at the academy, which exceeded 520 hours over the three months of training, Scarnici was paid a total of $750 for the entire three months of time worked during the training at the academy," the complaint alleges.
According to the complaint, Mr. Scarnici began working as an officer on May 9, 2014 and became the town's road agent on March 10, 2015. While employed in both capacities, the complaint states that the town "routinely and on multiple occasions...did not pay [him] for hours worked, paid [him] a flat fee for hours worked which was lower than his annual rate, and at times lower than an effective rate of the minimum wage and did not pay [him] time-and-one-half for overtime worked."
Mr. Scarnici is seeking damages for the alleged unpaid minimum wages and overtime wages, liquidated damages, attorney's fees, costs of the lawsuit, pre-judgement interest and any other damages, including wages or compensation owed.
On Monday, selectboard chairman Richard Lapoint said that the board has no response at this time. He said the board had not yet been served with the complaint, but has contacted its insurance carrier. The town has 21 days to answer the suit, not counting the day it receives the summons.
(Issue of May 17, 2017)
---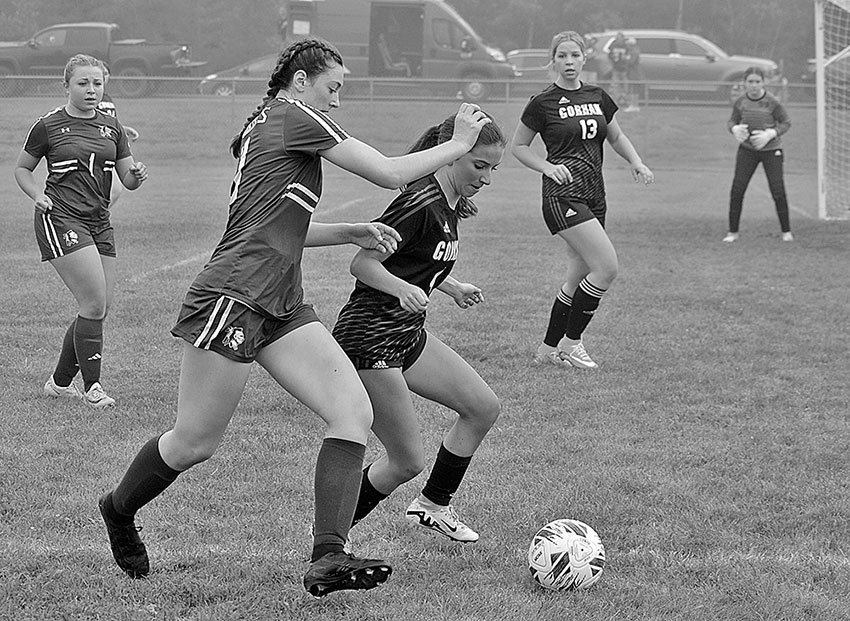 ALL ABOUT A BALANCED DIET

Isabelle Ducret, Edyn Tillotson, Bayli Bouvier and Meleah Rancourt listen as Joyce Brady explains what makes up the feed for Nubian goats, during a visit to the CJEJ Farm in Columbia by Girl Scout Daisy Troop 51175 on Saturday, May 13. (Alan Farnsworth photo)
---
Balsams Has $21.6 Million in Condo Sales, May Break Ground This Year

The Balsams Resort announced last Tuesday that over 100 individuals and families have placed reservations on pre-sale contracts representing $21.6 million worth of future sales since the fall of 2016.
A press release stated that reservations require a five-percent refundable deposit toward future purchase of condominium units in the Hampshire and Dix Houses, which will be the first structures to be renovated under the restoration and expansion plan. Regarding the time it took to reach nearly $22 million worth of future sales, Balsams spokesman Scott Tranche-montage said on Thursday that they are on target.
"There is always some uncertainty when you go to market with a very unique offering like this," he said. "But when you consider we only started taking five-percent deposits last fall, the response has been incredible. I don't know of any other real estate development project in New Hampshire that can say they will have reservations on $25 million worth of real estate before they break ground."
Lead developer Les Otten said in the press release that the response "validates his team's redevelopment vision and fulfills a promise he made to state officials in early 2014. When the state came to us and offered assistance through its Department of Economic Development and Business Finance Authority, I said our project would prove its viability by taking reservations on at least $25 million of real estate. With the deposits in hand and the number of prospective buyers currently showing interest, we are confident we'll meet our $25 million goal in a matter of weeks."
The first phase of the project is estimated to cost around $165 million and includes the renovation of the Dix and Hampshire Houses, the construction of a new hotel, conference center, Nordic baths and spa and expansion of the ski area.
A work force study prepared by PolEcon Research concluded that the resort would create 600 construction jobs during the first phase and employ around 400 people once The Balsams is operational, with the potential of creating more than 1,500 jobs once the build-out is complete, with wages averaging over $17 per hour.
"Closing in on $25 million in presales means we are that much closer to jumpstarting the North Country's economy by providing sustainable jobs while restoring and expanding this historic jewel of a destination," Mr. Otten said.
Developers hope to complete ongoing development activities, close financially and break ground this year. "If all goes as expected, we would like to have the Dix and Hampshire Houses open for the winter of 2018-19 and the first phase of the expanded ski area as well," Mr. Otten said.
(Issue of May 17, 2017)
---