COUNTY COOK-OFF WINNERS

Sam Villa, Maya Hook and Abigail Brown from the Early Risers 4-H Club of Columbia won the Grilled Cheese Cook-off during 4-H County Activities Day, held at Lancaster Elementary School on Saturday. The team now moves on to compete at State Activities Day in May in Manchester, and hope to advance to the New England final at the Eastern States Exposition (The Big E) this fall in Springfield, Mass. The team was judged on preparation, nutrition education, food handling and safety before, during and after competing, and on teamwork, creativity and taste. Their sandwich was made of provolone, sun-dried tomato, spinach and bacon, with fruit salad and green St. Patrick's Day yogurt on the side. (Courtesy photo)
---
Stratford Voters Approve 10 More Years at Groveton, Adding Choice Component
By Rob Maxwell
Stratford school board chairman Wayne Hall and board members Mike Lynch and Bruce Blodgett spent a little more than an hour dispensing with school district business on Monday evening, March 12 with assistance from moderator Clayton Macdonald, SAU 58 superintendent Michael Kelley and business administrator Patty Brown. Voters quickly approved $2,785.00 for school officials' salaries and $15,001 in additional cost attributable to the first year of three-year collective bargaining agreement before moving on to other issues.
After some discussion and an amendment proposed by Tim Brooks (subsequently withdrawn), voters passed Article 4 seeking $70,000 to be raised by taxation and another $70,000 from the maintenance fund for repairs to the front entry of the school now used as an emergency exit. Jeff Tirey of Tirey Associates told the group that the project would consist of replacing two sets of concrete steps and four granite windowsills, and refurbishing the existing wood columns.
Mr. Brooks moved to amend the article such that the entire $140,000 would come from the maintenance fund and after being informed that doing this would require a school board public hearing and special school meeting in the future, he withdrew his motion to amend. After a few more questions, the article passed unanimously.
Voters also unanimously approved $2,194,162 for the support of schools and raised $70,000 to be placed in the maintenance fund, with this money to come from the unexpended fund balance available for transfer on July 1.
Following discussion on school choice and the results of talks between the Stratford and Northumberland districts, voters passed an amended Article 7 asking for adoption of a 10-year extension to the district's tuition agreement. After spirited discussion, an 11-7 show-of-hands vote approved an amendment from Mr. Lynch, allowing Stratford high school students to attend a school of their choice on the condition that parents pay the difference (if any) between the tuitions for Northumberland and their chosen school, along with transportation expenses.
During the "any other business" segment of the meeting, citizens expressed appreciation to Mr. Lynch for his service to the town's school and Mr. Brooks commended school principal Sandra Adams and her staff for their work with students.
(Issue of March 21, 2018)
---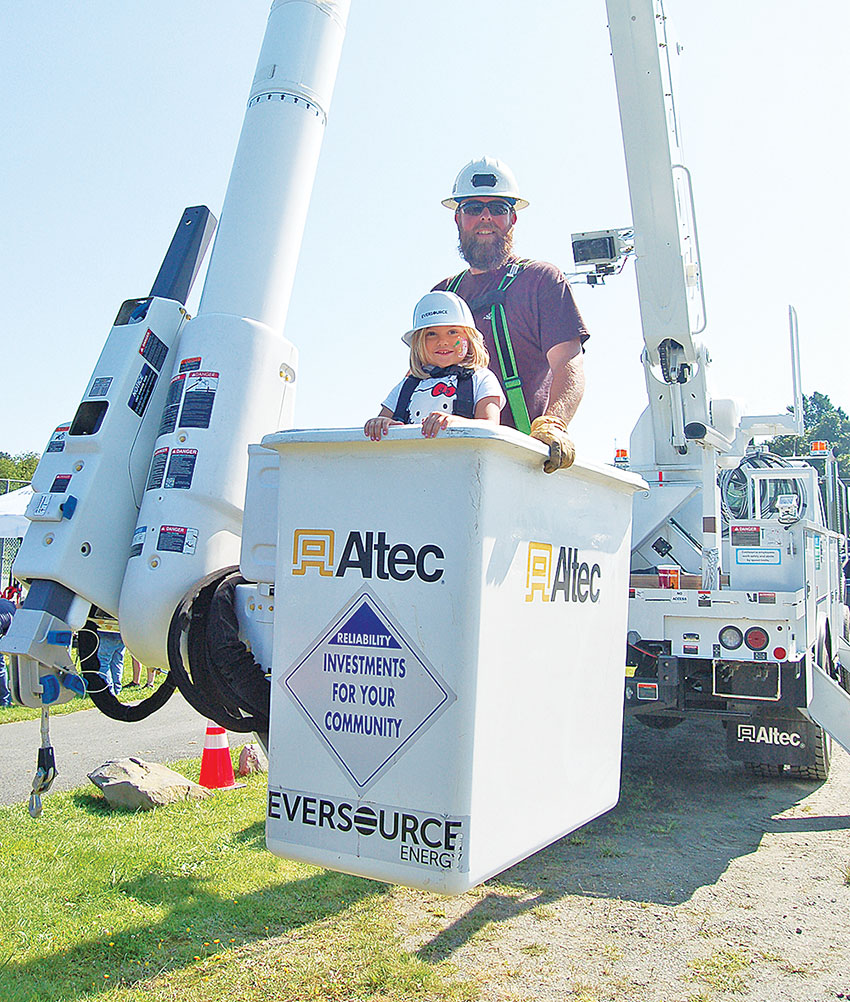 PLACING PINWHEELS IN MEMORIAM

Kelsey Steward places a pinwheel in the snow on Thursday, when Colebrook Academy students and faculty honored the 17 victims who died in the February 14 shooting at Marjory Stoneman Douglas High School in Florida. At a recent Student Council meeting, students and staff considered ways to honor the victims without staging a walkout, and came up with the idea of reading the names of all the victims and placing pinwheels in the snow to form the number 17. (Jake Mardin photo)
---
CASA & Black Bear Tavern to Host Chamber Event Thursday, March 29

Court-Appointed Special Advocates of New Hampshire will host a North Country Chamber of Commerce Business After Hours event at the Black Bear Tavern in Colebrook on Thursday, March 29.
"We are looking forward to welcoming the business community and other guests to our event," said CASA president and CEO Marty Sink. "This will be a terrific opportunity for Chamber members and the community to learn more about our organization and how we are working to support the children of the North Country." The Black Bear Tavern at River Edge Inn recently completed a major remodel upstairs and will offer tours of their newly finished rooms during the evening. Chamber president Mike Daley said, "Business After Hours events are not only great opportunities to learn more about area businesses, they are also wonderful networking opportunities. Chamber members and community members are invited to attend."
The event begins at 5 p.m. and will include appetizers, cash bar, door prizes and a 50/50 raffle. RSVPs are not required, but appreciated, and may be directed to the Chamber at office@chamberofthenorthcountry.com or 237-8939.
(Issue March 21, 2018)
---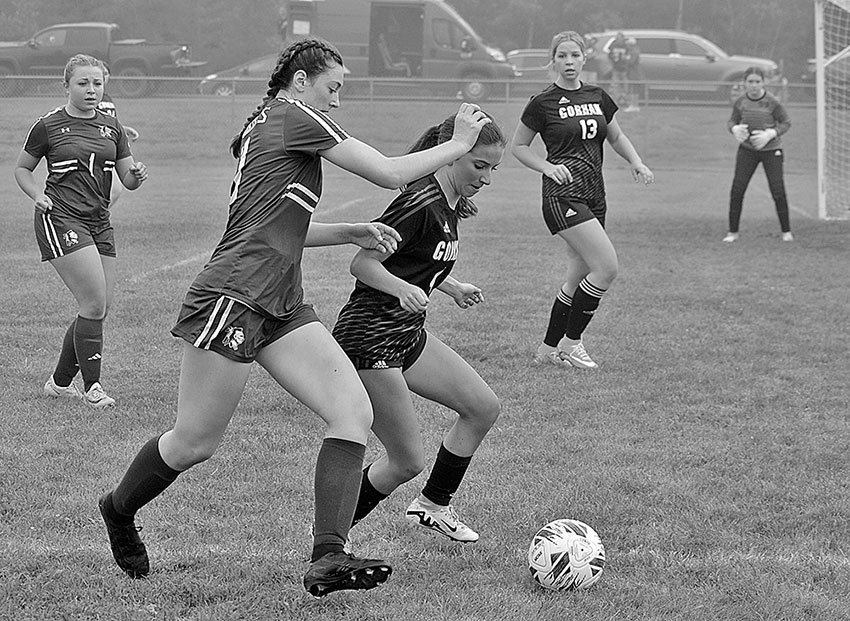 DRESSED FOR THE OCCASION

Cecil and Linda Hikel were wearing the green to watch the Seventh Annual Canaan St. Patrick's parade from the chilly sidelines on Saturday morning, March 17. (Alan Farnsworth photo)
---
Errol Raises Funds for Fire Truck, Assessment of Town Sewer System
By Rob Maxwell
Errol citizens gathered at their town hall on Saturday morning, March 17--with a large number wearing green in celebration of St. Patrick's Day--to address school district and town business in uncharacteristically rapid fashion. All articles on both warrants were approved with next to no discussion and voters made it home well in time for lunch.
Moderator Leslie Swanson gaveled the school district meeting to order at 9 a.m. and took about 30 folks through the 13-article warrant in a scant 20 minutes, with no questions asked of school board chairman Crystal Labrecque or board member Stacey Smith.
Voters approved $473,724 for support of Errol Consolidated School that includes $224,708 for regular education, $59,459 in tuition expense for three high school students and $56,944 for SAU 20. Voters also raised $1,105 for set salaries of district officers and $10,000 to be added to the building and grounds reserve fund.
The impact on local taxes from the morning's proceedings is an estimated increase of 46 cents for each $1,000 of valuated property. School principal Kathy Urso used the "any other business" portion of the meeting to tell the gathering that a school-wide focus on robotics culminated in a team of students garnering five of 10 first-place awards at a recent multi-school competition held at White Mountains Regional High School.
The annual meeting to consider Errol's town concerns came to order at 10 a.m. with selectmen Marc Poulin, Tod Lemieux and Larry Enman seated before a group of about 45 citizens. Within 90 minutes every article on the warrant stood approved with few comments or questions from the public.
Voters authorized the selectmen to seek a $30,000 grant for an engineering study of how best to upgrade the town's sewer system, approved purchase of a $325,000 fire tank truck, and raised $345,003 for the forest commission, all with no debate.
Selectboard chairman Marc Poulin explained that the article asking for up to $30,000 for the sewer system assessment is contingent on the availability of grant money from the state revolving loan fund. By statute, this article required a two-thirds majority by paper ballot, which voters gave by a tally of 30-7.
Article 2, asking for $198,625 for general government expense was approved after financial administrator Cheryl Lord asked for an amendment to adjust the Executive and Financial Administration line items up and down by $3,300, respectively, due to an accounting error. Voters approved $40,600 for revaluation of property, with $25,000 coming from reserve funds, and $59,760 for public safety.
They also raised $97,306 for the transfer station, welfare, parks and recreation and debt service on the fire barn, and $55,191 for the water and sewer departments.
The appropriation for the town forest commission has been a bone of contention during recent town meetings, but Satur-day's gathering approved the $345,003 item without debate. Forest commission member Pierre Rousseau noted after the meeting that next year's budget will include a final payment on the mortgage for the town forest property, which totaled $72,803 in this year's budget.
Voters quickly approved $325,000 for the purchase of a new fire department tank truck after chief Tom Freedman explained that the purchase would not affect local taxes, and would be dependent on obtaining a $309,524 FEMA Fire Act grant. "The 1985 truck we're using now was purchased from the Beecher Falls Department in 2010 when they deemed it inadequate for their use--and it was originally built for use as a commercial milk truck," Mr. Freedman said. "If the FEMA grant doesn't happen, we'll have to make do with what we have for now."
The meeting wound down with voters giving assent by paper ballot to allowing Keno games to be operated in town, with a portion of the proceeds benefitting full-day kindergarten, by a tally of 37-2. Mr. Poulin recognized retiring financial administrator Cheryl for her many years of work for the town and Ms. Swanson declared the meeting adjourned just before 11:45.
(Issue of March 21, 2018)
---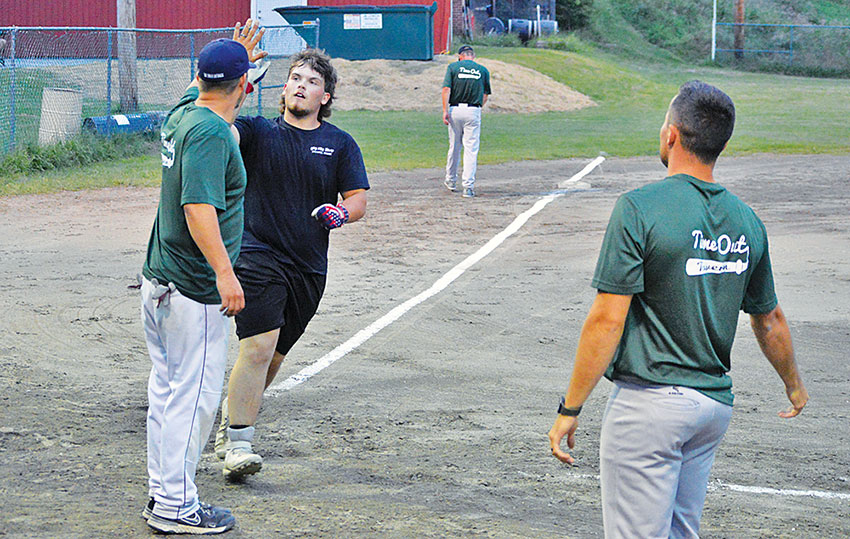 A VERY COOL PIPER

Fourteen-year-old Luke Thibault of Norton went for tradition despite frigid temperatures, piping in the Seventh Annual St. Patrick's Day Parade in Canaan on Saturday, March 17. (Alan Farnsworth photo)
---
C.A. Senior Taylor Siewierski Player of the Year in All-State Announcements

Several local players were named to the N.H. Basketball Coaches Association Division IV All-State Teams, including Colebrook's Taylor Siewierski, who was named girls' Player of the Year.
Girls' Teams
Coach of the Year: Terry Bonnette, Hinsdale. JV Coach of the Year: Kelly Hadlock, Littleton. Player of the Year: Taylor Siewierski, senior, Colebrook.
First Team: Angelina Nardolillo, freshman, Hinsdale; Laney Hadlock, junior, Littleton; Lily Kinder, senior, Woodsville; Katie Martineau, junior, Farmington; Evelyn Carleton, senior, Epping.
Second team: Kiana Martin, senior, Groveton; Lexi Walker and Madisen Dumont, juniors, Littleton; Delaney Wilcox, freshman, Hinsdale; Olivia Sarkis, freshman, Woodsville; Shelby Babin, sophomore, Mascenic.
Honorable Mention: Samantha Howe, freshman, Colebrook; Brooke Routhier, junior, Groveton; Alexis Matte, junior, Mount Royal; Reagan Jordan, senior, Newmarket; Molly Clough, senior, Woodsville; Jasmine Brown, sophomore, Littleton; Karly Cordwell, sophomore, Gorham; Oakley Lustenburger, sophomore, Epping; Shawna Lesmerises, freshman, Derryfield; Emilee Flanagan, junior, Nute.
Boys' Teams
Coach of the Year: Rob Bradley, Derryfield. JV Coach of the Year: Nick Farrier, Newmarket. Player of the Year: Cam Darrah, senior, Pittsfield.
First Team: Reese Swedberg, senior, Moultonborough; Anthony Senesombath, senior, Newmarket; Andrew Dubreuil, senior, Derryfield; Josh Woods, senior, Lisbon; Garrett Olsen, senior, Woodsville.
Second Team: Danny Kubkowski, sophomore, Littleton; Hunter Bullock, junior, Epping; Josh Whittier, senior, Pittsfield; Garrett Guerrero-Hadley, senior, Pittsfield; Cooper Davidson, senior, Woodsville; Craig Hounam, senior, Newmarket.
Honorable Mention: Austin Lesperance and Matt Mason, seniors, Groveton; River Baker, senior, Profile; Alex Normandin, senior, Mount Royal; Simon Cote, junior, Newmarket; Andrew Normandin, sophomore, Mount Royal; Brandon Harrington, senior, Lin-Wood; Ryan Boggio, senior, Hinsdale; Parker Briggs, sophomore, Littleton; Logan Ebare, junior, Farming-ton.
(Issue of March 21, 2018)
---