PARAGLIDERS RETURN TO TERRA FIRMA

The Granite State Skyriders brought their flying machines to Gifford Field in Colebrook over the weekend and Chris Davey and his co-pilot Tammy were happy to pose--and no doubt happy to have executed a perfect landing--with their two-seater after soaring north, high above the Connecticut River on Saturday morning. Group leader Carrol Werren described the gas-powered craft as, "hyped-up go-carts with parachute wings." (Rob Maxwell photo)
---
Hearing Tomorrow on Scott Mason'sNomination for Fish & Game Director
By Karen Harrigan
The New Hampshire Executive Council will hold a public hearing tomorrow on governor Chris Sununu's nomination of Stratford farmer Scott Mason to serve as executive director of the Fish and Game Department.
The hearing will be held at 10 a.m. in the Department of Health and Human Services' Howard Rec Building, 99 Pleasant Street in Concord. This is an opportunity for the public to comment on Mr. Mason's nomination, which was announced in mid-June.
"I'm looking forward to my hearing and serving the people of New Hampshire and especially the sportsmen," Mr. Mason said. Given that the Covid-19 pandemic has restricted many public meetings and gatherings, "I'm pleased that we were able to find a location and time for the hearing," Mr. Mason said.
"The big thing is, the North Country hardly ever gets a chance to have someone head a state department, and Fish and Game plays a major role in Coos County today," he observed. "To have an opportunity like this, I think it'll do the North Country some good. But it's a process, and we've got to get to the other side."
In 1994, Scott and his wife Heidi became one of the first commercial farm families to purchase a farm with an existing Fish and Game conservation easement on it. He managed Northwinds Farm in Stratford from 1994-2011, and resumed management in 2018 after an eight-year consulting arrangement with Elevare Communications on Eversource's proposed Northern Pass transmission line project.
Prior to starting his farm in Stratford, he worked as a dairy herdsman for Crescent Farm in Walpole and as a loan officer at the U.S. Department of Agriculture. He currently serves on several boards and associations, including the University System of New Hampshire Board of Trustees, the N.H. Milk Premium Fund Board and the USDA Farm Service Agency state board. He is also on the Coos County Farm Bureau and on the N.H. Farm Bureau's state policy, legislative and dairy committees. He is a former Stratford selectboard chairman and planning board member, among several other positions.
Included with his letter of interest were several references, including past Fish and Game Commission members Ted Tichy and Bing Judd, retired Fish and Game District 1 chief Lt. Wayne Saunders, N.H. Rep. Edith Tucker, and Berlin mayor Paul Grenier. In a letter of reference supporting the nomination, Mr. Tichy cited Mr. Mason's people skills as a key strength. "I have personally heard him testify in both the legislature and at contentious public meetings," Mr. Tichy wrote. "His ability to get his point across while defusing a tense situation tells me that he could successfully deal with the many stakeholders and various groups that the director would have to communicate with."
Rebecca Brown, executive director of the Ammonoosuc Conservation Trust, praised Mr. Mason's attention to detail while seeing the bigger picture of power transmission during his work on behalf of Eversource's Northern Pass project. "We were on opposite sides of that fight; ACT was an intervenor and a party to the Supreme Court case that upheld the SEC decision denying Northern Pass a state permit," she wrote. "Nonetheless, we were able to explore the issues and listen to each other with respect. And all during that time, despite our other differences, Scott was a valuable resource, generous in time and sharing of expertise, for my work conserving farmland and doing research on the agricultural economy in the North Country. He was also an important sounding board when I served in the Legislature (in the opposite party from Scott) and was on the Environment and Agriculture Committee."
Among vocal opponents to Mr. Mason's nomination is the nonprofit New Hampshire Wildlife Coalition, whose stated mission is to "foster stewardship of New Hampshire's fish, wildlife, and habitat by expanded public participation in decision-making and a sustainably funded Department of Fish and Game." The group posted the executive director's job description on its Web site, and on its Facebook page along with a statement that Mr. Mason "does not even come close to meeting the qualifications" for the job.
The coalition also points to his testimony this past spring against two bills, HB 1571 "to broaden the qualifications needed to serve as a Fish and Game Commissioner," and HB1504 to establish a committee to study the prohibition of recreational trapping. "We believe his eight-year experience as a lobbyist for the Northern Pass project also testifies to his lack of sensitivity to environmental issues," the statement reads.
Gov. Sununu's June 9 news release and Mr. Mason's letter of interest, resumé and references may be viewed on-line at www.governor.nh.gov, by selecting Press Releases under the News and Media menu. Executive Councilman Michael Cryans, who represents District 1, may be reached at Michael.Cryans@nh.gov.
(Issue of July 29, 2020)
---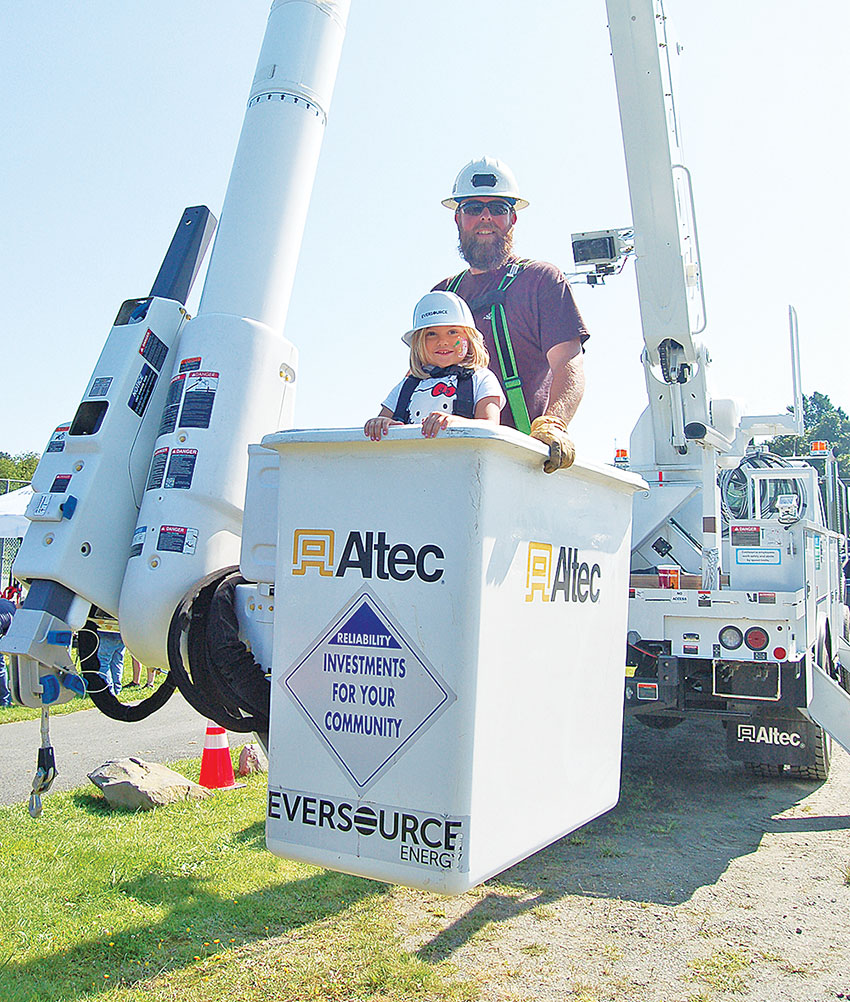 TAKING CARE OF BUSINESS

As usual, Scott Stepanian and Ray Gorman were having fun jawing about everything under the sun at the Colebrook Farmers' Market on Saturday. While the boys were honing their debate skills, Scott's wife Coralee was minding the store, selling lots of green stuff grown on the Bungy Breeze Farm in Columbia. The market is open from 8 a.m. to noon every Saturday in front of Colebrook Feeds on Colby Street, and new vendors are always welcome. (Rob Maxwell photo)
---
Lake Wallace Residents Ask Town for Help After Lengthy Phone Outages
By Jake Mardin
Work began last week to remove asbestos from Canaan Elementary School due to damage caused by a water leak that occurred in June. The repair costs, which include asbestos removal, replacing supplies and other items, total around $90,000 and are all covered by insurance.
Essex North Supervisory Union superintendent Karen Conroy said the flooding was caused by a broken plastic fitting on the toilet in the pre-K classroom. She said it was discovered on June 22, when head custodian Jim Reynolds arrived at the building at 5 a.m. and saw that the hallway was flooded. Ms. Conroy said about an inch of water spread throughout the building and affected six classrooms.
Water also went downstairs into the Advanced Integrated Manufacturing classroom and the boiler room. The flooding caused the asbestos tile to lift, which necessitated an immediate reaction. The school contacted environmental consulting firm Clay Point Associates and has been working with its president, Todd Hobson, who is coordinating the asbestos removal project.
Ms. Conroy said all water-damaged items had to be removed from the pre-K classroom due to guidelines for licensed day care providers, including bookcases and rugs. Most of the building is constructed of concrete blocks, but the sheetrock wall between the pre-K and kindergarten rooms had to be removed to prevent any mold concerns. Each classroom except for one had a list of supplies to replace--some contained boxes on the floor that were damaged, and some of the costlier items were a Smartboard that was down on the floor while walls were being painted, and a computer. Water from upstairs landed in the office area of the AIM classroom, where a wall was torn out and hardwood flooring was removed.
At its July 13 meeting, the Canaan school board voted to approve a bid submitted by Dec-Tam Corporation of North Reading, Mass., to perform the asbestos removal. The board approved a bid totaling $52,050 for the removal of all asbestos-containing materials from the classrooms and hallway on the main level of the school, and from the lower level hallway. At the same time, the board approved an alternate bid of $7,950 to remove asbestos from the multi-purpose room. Ms. Conroy explained that because of the high costs of bringing in an engineer and equipment, and because the company was already at the school, it made sense to take care of the multi-purpose room at the same time.
Along with the bid price, there are costs for Clay Point Associates and the replacement of supplies, and the school had to rent storage boxes. Ms. Conroy said the total cost is estimated to be around $90,000, and the school is working with Frontier Adjustors of Berlin to cover the cost.
The asbestos should be removed by this week, to be followed by air monitoring, installing new tiles and putting all of the items back in the classrooms. Ms. Conroy said they are on track to have the work completed by the time children return to the classrooms this fall.
(Issue of July 29, 2020)
---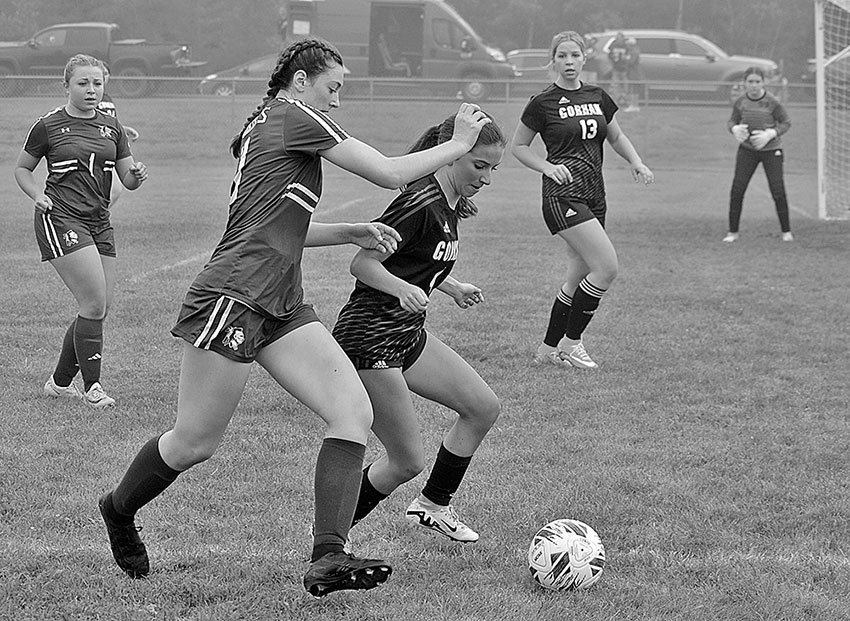 Paul stops walking for a moment

N.H. State Police Bomb Unit Safely Detonates Civil War-Era Cannonball
By Jake Mardin
A cannonball found in a local basement was safely detonated after it was turned over to police in Colebrook on Sunday afternoon.
The series of events began shortly after 1 p.m., when an individual walked up to N.H. State Police Trooper Jacob Derosa with the cannonball. Trooper Derosa contacted the Colebrook Police Department and, after a conversation with fire chief Brett Brooks, placed the cannonball well behind the town hall to avoid contact with the public. The incident was logged with the N.H. State Police Bomb Squad.
Police learned that the cannonball had come from the Northern Comfort Motel in Colebrook. "Jim had told me for years there was a Civil War bomb down there that his dad had taken from the Guard," said motel owner Lisa Kenny, referring to her late husband. "He knew he had to call the police or fire department, but never did it." Lisa said she was cleaning out the basement when she found it, and an acquaintance who was helping with the clean-out offered to take it to police.
NHSP Bomb Squad commander Sgt. Jeffrey Dade went to the town hall to assess the situation. He said cannonballs typically come in two varieties: either as big hunks of metal, primarily used by navies to poke holes in ships and sink kinds of medications. He wanted to get a second opinion, so he went to UMass Medical Center in Worcester, Mass., since he has a sister who lives in the area.
The doctors said, "You need to get off these medications, and start walking and exercising." Paul took his doctors' advice and proudly says, "I am not on any medication today."
His second bout of bad luck came when he was working part-time at Solomon's Store and fell and broke his leg. As Paul said, "The bone came completely out of the leg. They got me to Upper Connecticut Valley Hospital where they put the bone back, and I was shipped to Dartmouth." After steel plates and screws were installed, he was sent home to recuperate.
It wasn't long before Paul started using a walker to get back and forth on his road. Next, it was to the Canaan Post Office. He graduated to a cane and still kept walking. Finally he was back to using no walker or cane. When asked if it still bothers him, Paul says, "It does but I am not going to let it stop me."
Recovering from his injury might have been the stimulus to really get him going. Not only does Paul walk around Canaan and Stewartstown, but he hikes up Table Rock, Monadnock Mountain, Brousseau Mountain and Sanguinary Ridge.
Last week when he was hiking up Sanguinary he met two ladies in their 60s, a little younger than Paul. "We had a nice chat and they told me they had hiked all the 4,000-footers," he said. "I told them, you give me inspiration to try to do them, too."
On one of his trips up Monadnock he met a couple who were hiking to all the Vermont fire towers. "They were very impressed with Monadnock, and said it is one of the best-kept towers in the state," he said. "One of the reasons is that there is a group of people who take care of it when there are blow-downs."
He credits Dana Bartlett and Bruce Katz as being influences on him, as they are no strangers to hiking. One place he had never been is Brosseau Mountain, but after climbing it he marveled at its beauty.
One of the things that Paul loves about hiking is the quiet in the woods, and his favorite hike is Mount Washington and Tuckermans Ravine. "It can be 20 to 30 degrees colder at the top from the bottom, so I call ahead to check on conditions," he said. "I went on June 25 and went back on July 4, but there were so many people there I came home. I would love to be a guide there someday." He also talked to some hikers from Switzerland and the Netherlands and would love to hike there.
At the start of a Paul Thibeault day, he leaves his home across from the Canaan Post Office and walks up around the Coos County Farm and back, then walks over the railroad trestle at the dam. He drives to Colebrook and does the River Walk, which he likes. He might go up to the sugar shack at the Community Forest or maybe take a hike. He averages 12 to 15 miles per day. As one would guess, he walks in the winter as well.
He also loves to fish, and somehow finds time to throw a line in--it sounds like he might have some pretty good luck with that, too. When asked what advice he would give someone about walking or hiking, he said, "It helped me get off medications, I feel great and the best part about both is, it doesn't cost you a dime."
This last three months have been tough for everyone, but Paul hasn't let it get him down. And even if they don't do more than a dozen miles a day like he does, maybe Paul's story will inspire others to get started.
(Issue of July 29, 2020)
---