'FROZEN' FINALE

Young Anna (Kaelyn Fournier), Elsa (Ella Gilbert) and young Elsa (Isabelle Ducret) perform during the finale of the Colebrook Recreation Department Drama Club's presentation of "Frozen Jr.," performed on Saturday and Sunday at the Tillotson Center. (Alan Farnsworth photo)
---
Fire Damages Town of Colebrook's Kenworth Plow Truck, Injures Worker
By Jake Mardin
The interior cab of the Town of Colebrook's 2018 Kenworth plow truck was heavily damaged in a Friday morning fire.
Colebrook Fire Department and 45th Parallel EMS personnel were called to the town garage off Bridge Street at around 4:35 a.m. Road agent T.J. Rossitto said the town crew came in at 3 a.m. and the driver was getting ready to load when he saw smoke coming out from the cab area. According to town manager Sharon Penney, the employee received a burn to his hand but is otherwise okay. "We are very grateful that further personal injury did not occur," she said.
Mr. Rossitto said the town was fortunate that the fire occurred when the truck was being loaded and not when it was put away at night, observing that the garage could have burned down if that happened. Ms. Penney said the fire appears to be electrical in nature, but that is not official at this time. "We will work with Primex, our statewide municipal insurer, and other agencies to sort this out so that the town has a positive outcome."
Mr. Rossitto said the insurance adjustor will be in town to look at the truck and said he's not sure at this time whether just the cab or the whole truck has to be replaced. He said the town is waiting on a new truck that is supposed to arrive early in January, and that there could be an impact on plowing.
The truck was parked next to the sand dock and was being loaded with sand when the fire occurred, and the sander was damaged when the truck was pulled away from the building. At Monday's selectboard meeting, Ms. Penney said it is her understanding that Primex will also send up someone with a fire science background, and a Kenworth representative will also be there. She said they will go through the truck methodically, following a forensic protocol to determine exactly what happened.
(Issue of December 11, 2019)
---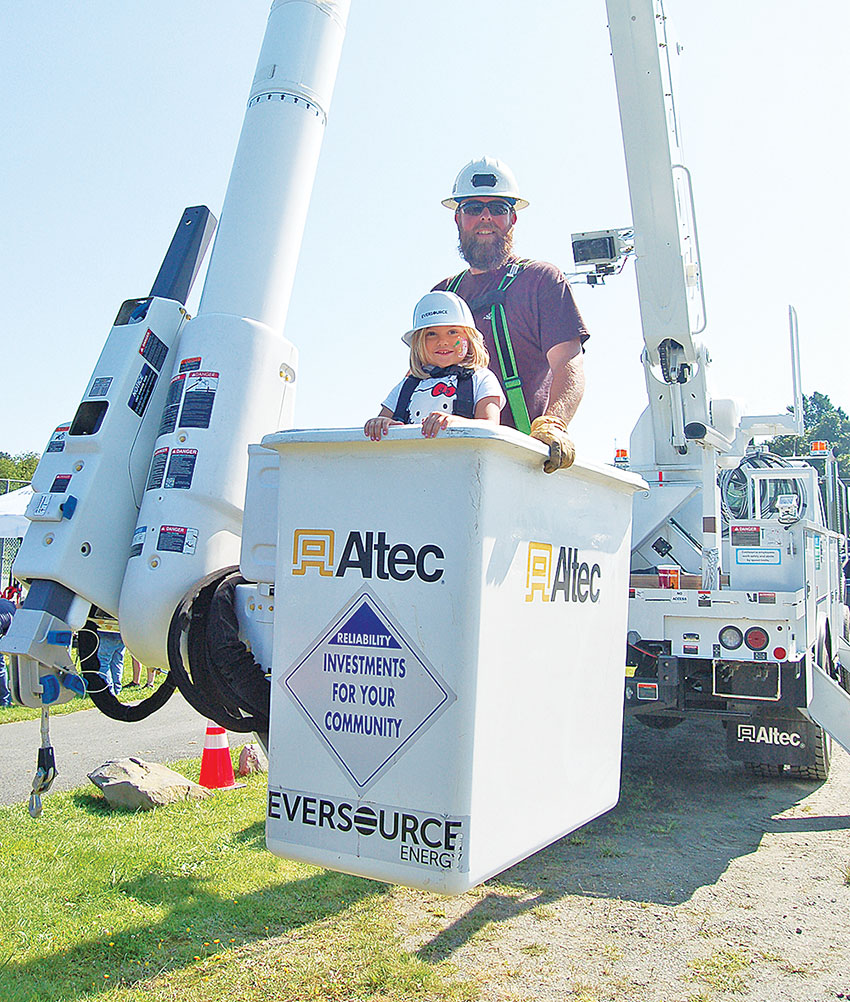 AIR NATIONAL GUARDSMAN RETIRES

Senior Master Sgt. Michael Collins of Columbia receives his retirement announcement from 243rd Squadron commander Lt. Colonel Clint Reed. (Courtesy photo)
---
Marion Blodgett Museum Restoration Project Receives Boost from LCHIP

The Cohos Historical Society in Stratford has received a $56,500 Land and Community Heritage Investment Program (LCHIP) grant, among $3.5 million in matching grants awarded to 33 projects across the state, to support the restoration of the Marion Blodgett Museum in Stratford Hollow.
"We are very appreciative of LCHIP's investment in the restoration of the Marion Blodgett Museum," said CHS president Jamie Davis. "The LCHIP award will enable the Cohos Historical Society to begin Phase 1 of the restoration of our museum to provide a resource and community center for our area."
Originally built in 1850 as a Greek and Gothic Revival meetinghouse, this church building continues to define the Stratford Hollow village. In the short term, the Cohos Historical Society must raise $50,000 for structural work, a new roof, storm windows and exterior painting. Long-term, it will need $250,000 for stained glass window restoration and interior finish work.
Thanks to the LCHIP grant and the help from the New Hampshire Preservation Alliance, Phase 1 will begin in the spring of 2020. "This project is a community effort, which makes our organization strong," Mr. Davis said. "We welcome as much community involvement as we can get to resurrect our beautiful historic town buildings."
LCHIP funds will support projects in each of the state's ten counties. This grant round was highly competitive, with over $7 million in funding requests compared to $3.5 million available for grants. "The LCHIP board of directors was particularly impressed with the variety and quality of projects seeking support this year," said chairman Amanda Merrill of Durham.
Grant recipients are required to raise a minimum of one dollar for each dollar provided by LCHIP. This year's awards of $3.5 million will be matched by more than $10 million that the project proponents will raise from other public and private sources, infusing a total of almost $14 million into the state's economy in direct project activity.
"The Cohos Historical Society joins both New Hampshire and Vermont at the 'bend in the river' to preserve our region's history," Mr. Davis said. "Our mission is to bring together our communities through educational speakers and community events. We believe that an understanding and respect of the past enhances our lives and builds stronger relationships for present and future generations." The Cohos Historical Society maintains a Facebook page, and may be reached at cohoshistory@gmail.com.
The New Hampshire Land and Community Heritage Investment Program is an independent state authority created by the legislature in 2000 with a mandate to ensure the perpetual contribution of natural, cultural and historic resources to the economy, environment, and quality of life in New Hampshire. LCHIP provides matching grants to New Hampshire communities and non-profits to conserve and preserve the state's most important natural, cultural and historic resources.
Past grants have been awarded in all parts of the state and in 167 of New Hampshire's 234 towns and cities; $46 million of state money has led to a total project value of more than $317 million. The money for LCHIP grants comes from fees on four documents recorded at the Registry of Deeds in every county of the state.
More information may be found at www.lchip.org or by calling 224-4113.
(Issue of December 11, 2019)
---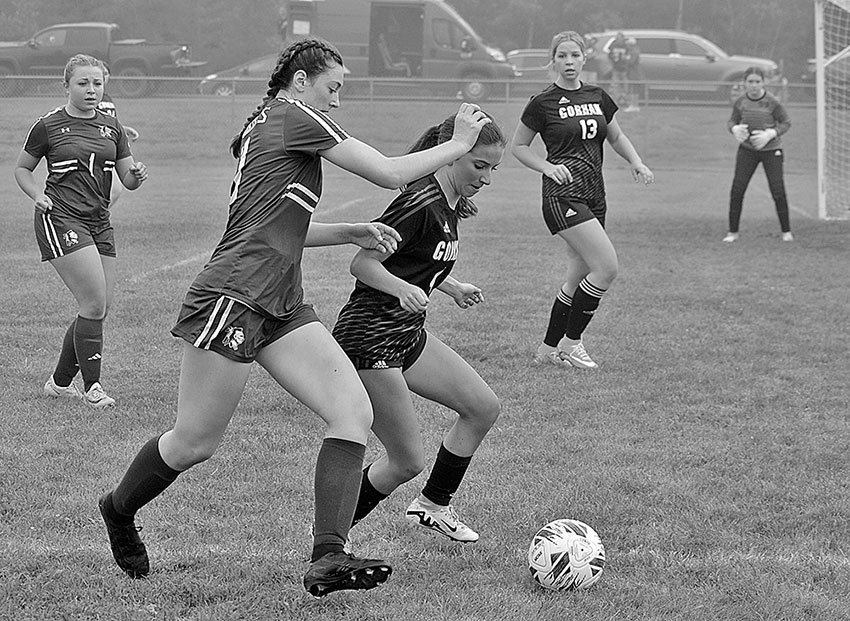 GRANT PRESENTATION

From left to right: Land and Community Heritage Investment Program (LCHIP) board chairman Amanda Merrill, New Hampshire governor Chris Sununu, Cohos Historical Society president Jamie Davis, and LCHIP executive director Dijit Taylor. (Courtesy photo)
---
County Delegation Gathers for Hearing on Proposal for $41.4 Million Budget
By Jake Mardin
The Coos County commissioners presented their proposed $41,399,784 2020 county budget to the delegation of the county's state representatives on Saturday, in a public hearing held at the Coos County Nursing Hospital in Stewartstown. The proposed budget represents an increase of $2,012,944 over the current year, and the estimated county tax is set to increase by $2,045,544.
In her opening remarks, county administrator Jennifer Fish said the unencumbered fund balance (surplus) amount has not yet been identified for 2019, and will be determined when the 2019 financial statements are closed in mid- to late January after all of the year's accounts receivable, accounts payable, encumbrances and accruals have been recorded.
The proposed budget does not include any Cost of Living Adjustment (COLA) for non-union employees or employees under the American Federation of State, County and Municipal Employees (AFSCME) collective bargaining agreement. The budget includes a two-percent COLA for employees under the SEA agreement, and the commissioners are currently in negotiations with the AFSCME. The budget also includes step increases for employees who haven't reached the top step on the county's salary schedule.
Every few years there is a 53rd payroll week in the budget, and 2020 is one of those years. Money is set aside every year to take the occasional 53rd payroll into account, and there is a $200,000 revenue offset. Health insurance rates have been budgeted for a 15-percent premium increase for the second half of the year, and there are several anticipated retirement payouts included in the budget. The water system upgrade project in Stewartstown has not been completed and remains in the budget, along with $388,044 for Integrated Delivery Network Funding. On the revenues side, the projected 2019 surplus to reduce taxes is $2 million and is included in the proposed budget. The estimated surplus is over $900,000 less than what was budgeted last year.
After the introductory remarks, the delegation went through the budget by department. County Attorney John McCormick said his office has had a great need for certified written transcripts, which he said are cleaner than recordings. He also talked about the push to go to E-filing and the ongoing criminal case stemming from the motorcycle accident in Randolph.
Register of Deeds Leon Rideout said his office is implementing a new program that secures all data in three different locations behind firewalls for added security.
County Sheriff Brian Valerino said the Drug Task Force grant that his office received has been very successful, allowing for several investigations throughout the county. He said he and Berlin police chief Peter Morencey are hoping to establish a permanent team. The other major item in his budget is the purchase of a new ATV.
During discussion about the county administration, Rep. Edith Tucker asked about the county house, which has not been occupied since former administrator Sue Collins retired, and county officials have discussed moving the administration offices from the nursing home to the house. The corrections department currently uses the house for training, and it would still be able to use the downstairs if the administrative offices are moved.
Ms. Fish estimated the annual cost of maintaining the house is around $6,000. She said there are six staff that would move to the house, and the estimated cost to renovate the house is around $200,000. Commissioner Paul Grenier said that with the extra revenue that would be generated by freeing up bed space at the nursing home, the house would be paid for in about two years. "It's not going to increase the operational cost of the nursing home," he said.
Mr. Grenier said he is not yet sold on moving the offices there, and said they have to look at the demographics to determine whether the higher census numbers are here to stay, or if they will be back in the low 70s in five or ten years. He added the discussion on what to do with the house has gone on for six or seven years, and it is time to make a decision-if it can't be used in a way that generates revenue, he said, it should be liquidated. "We've got to make a decision one way or another," he said. "If we don't convert it to offices, it's time to get rid of it."
The delegation also briefly went over the proposed $1,550,756 Unincorporated Places budget, which is down by $171,950. Mr. Grenier said the commissioners will continue to refine the budget until the delegation takes it up for a vote in March.
(Issue of December 11, 2019)
---
---