MAN DIES IN COLEBROOK FIRE

A fire at a multi-unit apartment building on Main Street in Colebrook on Sunday morning claimed the life of 53-year-old Douglas Holmes. Several other residents of the building had to be rescued from porch roofs, and one fell to the ground and was transported to Dartmouth-Hitchcock Medical Center with serious injuries. (Jake Mardin photo)
---
Colebrook Man Dies, Another Injured in Apartment Building Fire on Sunday
By Jake Mardin and Butch Ladd
One resident lost his life, seven had to be rescued from porch roofs, and one suffered serious injuries in a fall during a Sunday morning fire at a multi-unit apartment building on Cooper Hill in Colebrook.
The victim was identified as Douglas Holmes, 53, and the N.H. Medical Examiner's Office ruled the cause of death to be accidental due to smoke inhalation. The cause of the fire remains under investigation at this time.
The seven-unit building at 187 Main Street, across Route 3 from Northern Tire, originally housed the Catholic church and is currently owned by Gary Puleo. Colebrook fire chief Brett Brooks said the fire started in the rear corner of the building on the third floor, and that the building contained three apartments in front, three in back, and one in the basement.
The call came at 7:21 a.m., and the Colebrook Fire Department's Engine 1 led by Capt. Brad Woodard arrived on scene at 7:25. The Beecher Falls and Stratford Hollow departments were also called out, and the 45th Parallel EMS and Colebrook Police responded to the scene. Chief Brooks responded from the area of Route 26, and said the fire was visible the entire way down to the scene. Beecher Falls firefighters reported being able to see the fire when they took the corner on Route 3 near Tallmage Plumbing and Heating.
Lt. Dean Woodard-Neary was on Engine 1 and was one of the first firefighters on scene. "We rolled up and there was heavy black smoke coming from the roof," he said. "There were a lot of people on the ground and running around, and when we exited the truck we were told that there were several civilians on the roof of the building." He said there were four people on the porch roof at the left front corner of the building, two stories off of the ground.
Firefighters put a ladder up and got everyone down, and learned there was another group of people stuck on a porch roof at the rear of the building. Lt. Neary said two people were rescued from that area, but a third had fallen off and was being treated by 45th Parallel EMS.
Beecher Falls VFD Assistant Chief Doug Burns happened to be in Colebrook when the fire broke out, and went to the building to help get people off the roof. Five residents were treated at Upper Connecticut Valley Hospital, and the man who fell was transferred to Dartmouth-Hitchcock Medical Center in Lebanon for further treatment.
Andrew and Selena Owen, along with their roommate Nathan Barclay, said on Monday that they had awakened to flames spreading to their apartment. "We were the last ones to wake up," Selena said. "We tried to throw a spare mattress down to land on, but the flames were moving too fast. The porch was already in flames so we went on the roof. Andrew lost his footing as he was trying to get away from the flames and fell off the roof."
Selena said they "woke up to everyone screaming. Nate and myself were rescued by the fire department." When asked if they heard any alarms when they woke up, Selena said no. "The screams were the only thing we heard. Pretty much everyone in the building works at the rubber factory on Bridge Street." Selena said Andrew had surgery on Sunday night. "I am going to live in Groveton with my parents," she said, "but I need to find an apartment up here."
While the people on the back corner of the building were being rescued, another firefighter made entry on the second floor with a hose line to attack the fire. The department was notified that a person might have been trapped in the rear of the building and took a ladder to the north side. Lt. Neary said there was heavy fire coming from the windows on that side and fire from the rear.
"We made an attack on the fire on the rear side of the building to gain access to the third floor," he said. Once the fire was knocked down on the stairwell, crews made their way up the stairs and into the apartments on the third floor. "It was a very hot fire," Lt. Neary said.
Barbara Nedd lives across the street and said she was up drinking coffee when she saw cars slowing down. When she saw the building was on fire she called 911. "It was just flames," she said. "It was almost like an explosion." She said a Massachusetts firefighter pulled in and assisted at the scene.
Gary Puleo, the owner of the building, was at his camp at Diamond Pond where there is no cell service. He is also behind a gate, and when he saw a friend walking toward his camp he asked him what he was doing. "He said, 'Gary, you have to get to town, you have a building fire.'" Once at the scene, Gary said he was "distraught over this."
Following the rescues of the residents on the porch roofs, firefighters worked to make sure everyone was accounted for. One tenant of the building tried to call Mr. Holmes but got no answer, and tried to find him downtown but without success. Chief Brooks said he was eventually found upstairs toward the back of the building. When the department learned that there was someone inside, the N.H. State Fire Marshal's Office was notified. According to the dispatch log, police confirmed that there was one deceased at 8:22 a.m.
The Citizen Emergency Response Team (CERT) in Colebrook responded to assist in closing down the road. Firefighters had to cut a hole in the roof to clear smoke and improve visibility. Chief Brooks said Beecher Falls Chief Steve Young oversaw action on the back side of the building and CFD's First Assistant Chief David Woodard handled the right side of the building, while and Stratford Hollow firefighters entered the second floor to make sure the fire was out. Chief Brooks said the back porch was unstable, and rescue struts were used to make it safe for firefighters to stand on.
Chief Brooks said the fire was contained to just the house, noting, "We were lucky that it wasn't a windy day." A power line fell off the building and across Main Street, necessitating a call to the power company. The department also had the town turn on the second well pump to make sure crews had enough water.
The two middle apartments and the apartment at the end upstairs got the most fire damage, and efforts to battle the blaze were concentrated there. The rest of the apartments sustained smoke and water damage, and Chief Brooks said it would take a lot of effort to rebuild the building.
Chief Brooks said there did not appear to be any working smoke alarms in the building. "If that fire had been two hours earlier, we'd have had more fatalities," he said. "People were already up, and that was a good thing," he said.
Colebrook brought all of its equipment to the scene and about 20 firefighters. Beecher Falls sent two engines and 18 men and Stratford Hollow sent an engine, tanker and five firefighters. About 800 feet of 1.75-inch hose were used, along with 600 feet of four-inch hose, and Chief Brooks said around 10,000 gallons of water was used; Greg Marchand of the town water department said it could be up to 20,000 gallons.
At the scene, investigators talked to residents, took pictures and documented the scene, and Main Street was closed until about 10 a.m. Chief Brooks said several people came by with food, water and coffee for firefighters and residents. He also thanked fire and emergency responders and town employees from across the area for their help at the scene.
The American Red Cross is assisting the families of the six occupied apartments, and donations may be coordinated with the local Red Cross by calling 603-991-3537.
Local businesses are also stepping up to help the victims. Northern Treasures in Colebrook opened up the day of the fire to help several families get new clothing. Owner Mary Nugent Grant said the department asked her if she could open her store and four families came in that day for assistance. She said people have already come by to make donations. "People are just being wonderful," she said. Mrs. Grant said she can take clothing, shoes and linens, while Family Dollar next door is taking items like food, soap, toiletries and cleaning materials, and people with donations can stop by either store. One individual donated a storage unit where people can donate furniture, and anyone who is interested in doing so may talk to the manager of Family Dollar.
(Issue of September 30, 2020)
---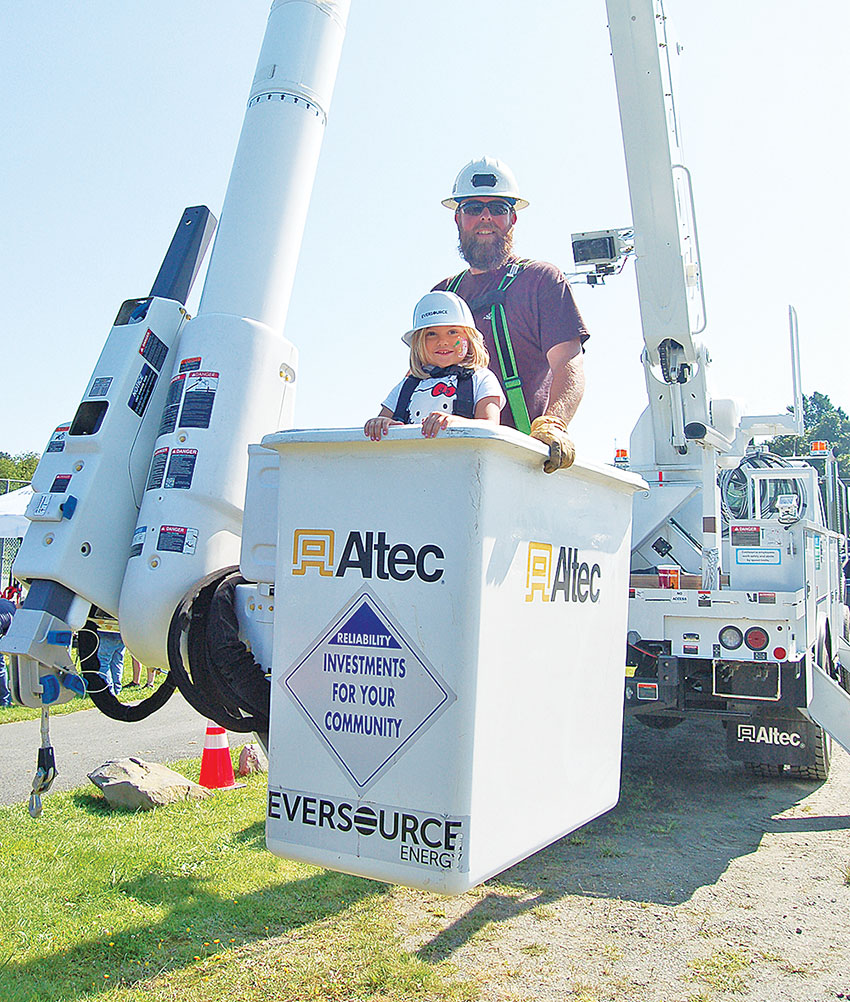 REMOTE CRIME SCENE

N.H. State Police and N.H. Fish and Game vehicles were parked alongside Magalloway Road in Atkinson and Gilmanton Academy Grant on Thursday, while investigators worked in the nearby woods. Officials say Armando Barron killed Jonathan Amerault in Jaffrey and traveled north with his wife, Britany Barron, to dispose of the body, which was found off Abbott Brook Road, about 20 miles from downtown Errol. Mr. Barron was charged with capital murder and Ms. Barron was charged with three counts of falsifying physical evidence. Both were arraigned on Friday and are being held without bail. (Jake Mardin photo)
---
Couple Charged with Jaffrey Killing, Disposing of Body in Local Woods
By Jake Mardin
A Jaffrey couple is charged with murdering a Keene man in Rindge and transporting his body to the unincorporated place of Atkinson and Gilmanton Academy Grant last weekend.
Armando Barron, 30, was arrested on Friday and charged with capital murder in the death of Jonathan Armerault, 25, by shooting him while engaged in the act of a kidnapping. His wife Brittany Barron, 31, was charged with three counts of falsifying physical evidence for altering, destroying, concealing or removing items of physical evidence when she believed an investigation was pending or about to be instituted.
Atkinson and Gilmanton Academy Grant is situated on the Maine border between Pittsburg and Second College Grant, and east of Clarksville. The scene in question sits roughly 20 miles north of downtown Errol.
An affidavit written by Detective Sergeant Stephen Sloper of the N.H. State Police Major Crime Unit detailed the events leading up to and including the murder and the aftermath.
Disappearance and Murder
According to Det. Sgt. Sloper, Mr. Amerault's mother reported on Monday, September 21 that her son was missing, and that she had not heard from him since the 19th. He had not shown up for work at Teleflex Medical in Jaffrey, and police did not locate him or his grey Subaru Impreza after conducting a welfare check at his home. Investigators learned that Britany Barron was also employed at Teleflex and had not reported for work that morning. Their contacts at Teleflex expressed belief that Ms. Barron and Mr. Amerault may have been in a relationship.
When interviewed by investigators in Berlin last Tuesday, Mrs. Barron stated that her husband had gone through her cell phone on Saturday, September 19 and learned she was having an extramarital affair. Upon making the discovery, he allegedly assaulted her inside their home, repeatedly striking her in the face and head. He allegedly pulled out a gun and placed it in her mouth, chipping a tooth, and strangled her with enough force for her to pass out.
In the overnight and early morning hours of the 19th and 20th, Mr. Barron allegedly used his wife's phone to text Mr. Amerault and lure him to the area of Annett Wayside Park, about 3.6 miles from the couple's home. When they met at the park, Mr. Barron allegedly assaulted Mr. Amerault, took a handgun and placed part of the grip into Mrs. Barron's hand and ordered her to shoot him. When she refused, Mr. Barron directed her to place her foot on Mr. Amerault's throat to kill him. She did so, but not with any force. Mr. Barron then ordered Mr. Amerault to get into the rear of his car through the back hatch and produced a small blade, which he ordered his wife to use to cut Mr. Amerault's wrist, which she allegedly did. The two then got into the front of the car, with Armando in the passenger seat and Britany in the driver's seat. She said she heard Armando turn around and shoot Mr. Amerault, and Armando allegedly told her he shot Mr. Amerault twice in the chest and once in the head.
Mr. Barron then ordered his wife to go back to their house to pack for camping, and to drive Mr. Amerault's Subaru with his body toward Errol and an area where they camped numerous times. Mr. Barron allegedly followed behind in his Jeep.
In the North Country
In Errol, Mr. Barron allegedly stopped at a store to purchase two tarps, lighter fluid, a container of scrubbing bubbles cleaner and a shovel, and they went into the woods off Abbott Brook Road. Once there, Mr. Barron allegedly ordered Britany to cut off Mr. Amerault's head so that he could not be identified through dental records, and he went to dig a grave. Fearing her husband, Mrs. Barron allegedly did as told, using a saw and smaller blade. The head was wrapped and put in a grave and covered with dirt. Mr. Barron then ordered Mrs. Barron to wrap Mr. Amerault's body in a tarp and drag it away from the Subaru. At one point, Mr. Barron went and bought a different shovel and also purchased groceries from LaPerle's IGA in Colebrook.
On Monday, he allegedly told Brittany that he intended to drive to Keene, where he would send messages from Mr. Amerault's phone to say everything was okay. He returned to the site shortly after and said he got word from his mother that police were looking for him. He ordered Britany to come with him to an area where there was cell service. He smashed Mr. Amerault's phone on a rock, and gave part of it to Britany. While driving southbound, she was ordered to throw part of the phone out of the window and Armando threw out the other part. She estimated the location of the phone to be somewhere between Errol and the campsite. Armando allegedly told her to send messages from her phone to tell people she was okay, and was leaving for a while to clear her head. He drove her back to the campsite and allegedly told her he had to go back home, "and told her that she better have the disposal of Jonathan's body completed when he got back on Friday." He left her with the Judge handgun he allegedly committed the murder with, along with a 9mm Walther pistol and left in his 2008 Jeep Patriot.
Discovery of the Scene
During the course of the investigation, detectives learned that three hunters were in the woods near Abbott Brook Road last Sunday. In an interview with detectives, one of the hunters said he was walking up what he classified as a logging road and came across a Subaru and Jeep driving up the road. He told the driver of the Jeep that he had a bear hunting bait site in the area, and the driver nodded his head and mumbled. The next morning, the hunters went back to see if the two vehicles were there. When they arrived, they saw the Jeep facing out from a campsite but did not see the Subaru. At 10 p.m., two of the hunters went back to see if the Jeep was there and to get the plate number. The Jeep was gone, but they saw a tent, camp chairs and a small shovel outside the tent. It did not appear to them that anyone was there.
Last Tuesday at 8 a.m., two of the hunters drove out to the campsite. When they arrived, they blew the horn and a woman walked out of the tent with a small dog. She was wearing sunglasses and they told her that they had a bait site 100 yards away, that there was no overnight camping, and she had to pack up and leave. She told them she did not know about the restrictions, and the hunters called N.H. Fish and Game after leaving the campsite to report the violation.
That same day, Conservation Officers went to the campsite and saw Mrs. Barron emerge from a beaten-down path to the right of the tent. She had a pistol in a pouch on her midsection. To the left of the tent they observed something covered by a large brown tarp. The tarp has sticks and branches on it in what looked like an attempt to camouflage the object under it. The officers told her she was trespassing and had to leave. When she packed her belongings and went toward an officer's vehicle, she allegedly said, "I'm in big trouble." Later on, officers responded to the site at her request so she could get the dog carrier, and they noticed drag marks in the mud. One of the officers saw a bound object wrapped in a second tarp that was in a small brook that appeared to be in the shape of a body. The woman was placed in handcuffs, and troopers later transported her to Berlin Police Department. Investigators who interviewed Mrs. Barron observed injuries to her eyes, neck, face and teeth consistent with the alleged attack by her husband.
Officers lifted part of the first brown tarp to look for a license plate and determined that the vehicle was Mr. Amerault's Subaru. Later, a New Hampshire State Trooper arrived to determine the condition of the object believed to be a body wrapped in the tarp in the brook. State Police Detective Jay O'Leary arrived to secure the site and help document the scene while the assistant deputy medical examiner (ADME) examined the body.
Further Investigation and Arrests
Last Tuesday evening while Britany was in Coos County, Det. Sgt. Sloper had a phone conversation with Mr. Barron. "I explained that I was helping the Jaffrey Police Department with the investigation into his wife's disappearance," he wrote. "When I asked Armando Barron if he would come in to the police station to speak with me, [he] became defensive and said he did not want to." Mr. Barron said he had last talked to his wife on Monday at 5 p.m. and that he could not come to the station because he was going camping in Errol. "He explained that he was going to a campsite where they had been going for years," Det. Sgt. Sloper wrote. "He said he was bringing their nine-year-old daughter to explain, what I interpreted as, that he and Britany may be getting a divorce." Det. Sgt. Sloper said he offered to meet Armando halfway, possibly in Bristol, and Armando said he did not want his daughter to see him talking to police. He then agreed to meet at the Jaffrey Police Department, but said it would take him two hours to get there. Investigators learned that Mr. Barron never went to the police station, and his phone showed him driving through Franconia and heading north. Investigators continued to ping his phone and comb the area, and learned he may have switched vehicles from the Jeep and was headed north from the Woodstock area through Gorham, Berlin, Dummer, and then to the Errol area. The Jeep was found that night at the Millipore Sigma employee parking lot in Jaffrey, and investigators went to 63 Main Street in Jaffrey early Wednesday morning with a search warrant. They learned that a gold 2008 Toyota Tundra belonging to Armando's stepfather was missing. Det. Sgt. Sloper called Sgt. Michael Cote of Troop F to give him the description of the vehicle and the path of travel of Armando Barron's phone. While on the phone, Sgt. Cote told Det. Sgt. Sloper he saw a gold Tundra drive by his location. He pursued the vehicle, stopped it, and found Armando Barron and his daughter. He was placed under arrest for the assault charges against Britany Barron.
Armando Barron's mother told investigators that she had discussed with her son stockpiling food due to COVID-19. She said they discussed burying food in Errol in a manner that animals would not get at it, and around 10 a.m., went grocery shopping at several stores, ostensibly purchasing items to bury the food at the campsite in Errol. NHSP investigators searched the Tundra and found loose, sandy soil, three bags of quick-drying concrete, two 40-pound bags of topsoil, a shovel, a five-foot metal frame and a blue tarp with what appeared to be more bags of either concrete or topsoil underneath it. There were no groceries or food. They confirmed that Mr. Barron had purchased the topsoil, buckets and quick drying concrete at Home Depot in Keene last Tuesday at 5:22 p.m.
Last Wednesday, Mrs. Barron showed investigators where Mr. Barron allegedly assaulted and shot Mr. Amerault. The following day, Chief Medical Examiner Dr. Jennie Duval performed an autopsy and concluded that the manner of death was homicide. Based on the information received, arrest warrants were issued and charges were filed on Thursday.
Armando Barron and Britany Barron both pled innocent to the charges during arraignments on Friday, and are being held in preventative detention. During Mrs. Barron's appearance, defense attorney Richard Guerriero told Judge Peter Bornstein that his client committed the crimes only because she feared for her life, and pointed out the injuries she allegedly suffered from Mr. Barron that were still visible on her face. Assistant Attorney General Scott Chase argued that Ms. Barron confessed to participating in the actions, including allegedly cutting Mr. Amerault, and that she had opportunities to seek help along the way to the scene or when she encountered the hunters. Judge Bornstein agreed and determined that she would be held without bail.
Jonathan Amerault
Mr. Amerault's obituary describes him as an avid outdoorsman who enjoyed hiking, snowmobiling, ATVing and skiing. Originally from Rangeley, Maine, he had climbed 66 of the region's 67 mountains over 4,000 feet, including all 48 in New Hampshire. He also hiked all but one of the 100 highest peaks in New England. He was graduated from Milford High School in 2013 and was a captain of the indoor track, outdoor track and cross-country teams, and was graduated with honors from Rochester Institute of Technology in 2018 with a bachelor of science degree in biomedical engineering. He was a fan of the Boston area professional teams and during high school volunteered at the Souhegan Valley Boys and Girls Club. A celebration of life will be held this Saturday.
(Issue of September 30, 2020)
---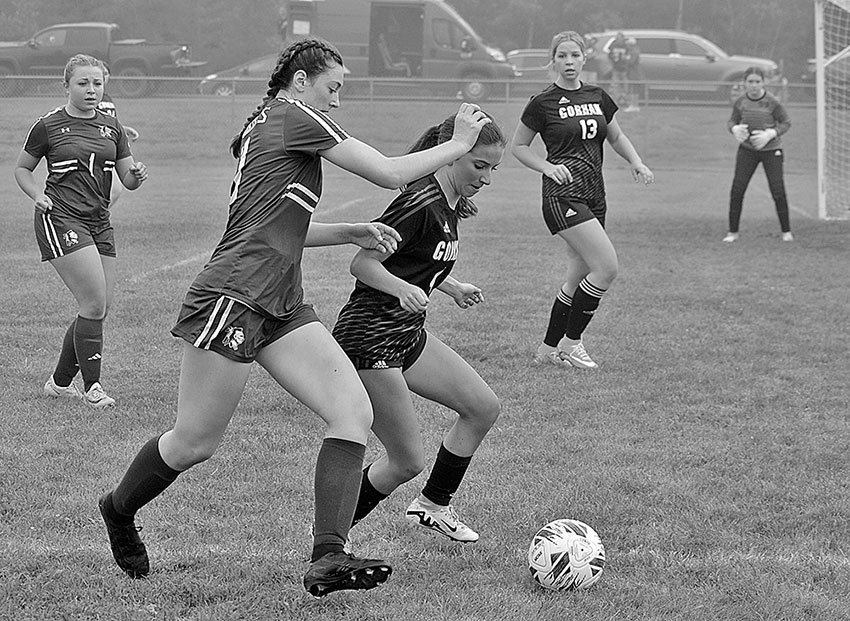 NEW FEATURE AT TOWN PARK

The public turned out for the Gold Star Mothers Dedication Ceremony at the Stewartstown town park on Saturday, hosted by the Town of Stewartstown in cooperation with Northland American Legion Post 47, and the names of nine local Gold Star Mothers and their sons were read aloud before the new plaque was unveiled. (Jake Mardin photo)
---
Beecher Falls Mural Unveiling Planned

The large-scale mural project coordinated by the Canaan Naturally Connected organization, Connecticut River Artisan Group and Beecher Falls business owner David Begin will conclude with an unveiling at 1 p.m. this Saturday, October 3.
Columbia native and nationally renowned artist Zach Johnsen painted the mural, which is being displayed on the back of the post office building in Beecher Falls. The 12- by 32-foot piece depicts scenes relating to the village's history, including log drives, the railroad and the Ethan Allen factory, along with scenes representing the present-day revitalization of Beecher Falls. 
The mural has been installed by George Carmel, Alec Boulanger, Justin Barlow and Dillon Begin in preparation for Saturday's unveiling. The project was funded by the Begin family, the Tillotson North Country Foundation, and the Neil and Louise Tillotson Fund of the New Hampshire Charitable Foundation. More information may be found on the Face-book pages of the CNC group and CRAG, or by calling 802-266-3687.
(Issue of September 30, 2020)
---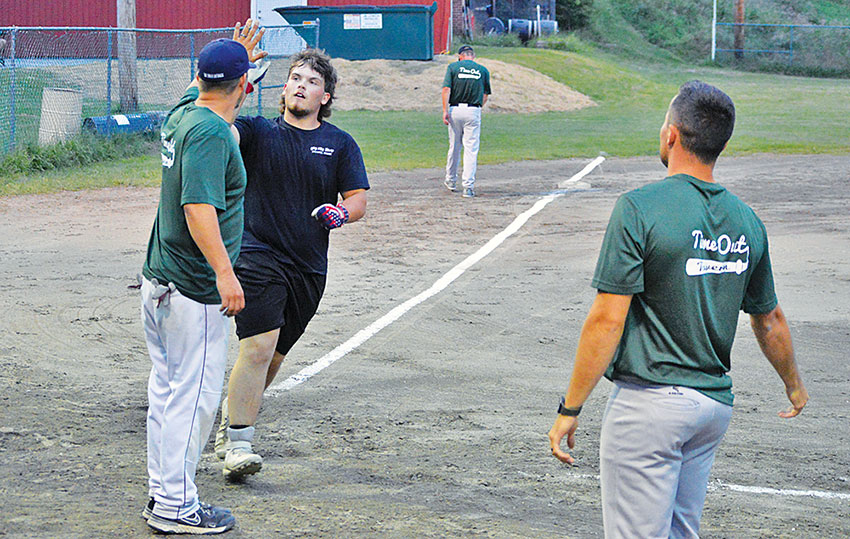 COOPER HILL BUILDING'S FIRST USE

The apartment house that burned this past Sunday was originally built in 1892 as St. Brendan's Catholic Church, as seen in this photo from Dr. Gifford's history book, until the church moved to its current Pleasant Street location in 1955.
---