READY TO REVISIT 1993

Over thirty Colebrook Academy alumni surrounded former principal and superintendent Bob Mills, alumni Angela Brown and David Collins as they hold the 25-year-old time capsule at the official opening on Friday, September 14. The Colebrook Area Historical Society collaborated with the school to unearth and open the time capsule prior to the Homecoming parade, and to promote their planning for the town's 250th celebration in the year 2020. (Alan Farnsworth photo)
---
---



Balsams Seeks Legislative Revision for County to Issue $28 Million Bond


By Jake Mardin

At their joint meeting last Wednesday, the Coos County Commission and Delegation received an update from lead developer Les Otten on the Balsams Resort project's status with the N.H. Business Finance Authority, and discussed a potential alternative plan involving the county and the amendment of legislation. Last month the Balsams withdrew its application for a loan guarantee from the BFA, issuing a statement that the conditions required did not allow the Balsams and its lender, Service Credit Union, to continue with the process. Developers said in a press release that the withdrawal "results from positions taken by the BFA on loan guarantee conditions that were unfortunately not contemplated by the Balsams, and are inconsistent with its historical understanding of the proposed transaction." In a statement, BFA chairman Dick Anagnost said the BFA "never denied the project, but only asked for assurances from the developer that were necessary to protect New Hampshire taxpayers from losing $28 million." He continued, "Unfortunately, since the developer wasn't willing to meet the normal and customary conditions that are required as part of the regular application process, we could not in good conscience risk taxpayer funds for a private venture with no assurances of repayment in the event the project was not successful." The Balsams and SCU had been working since 2017 to secure a $28 million Tax Assessment Bond with a State of New Hampshire Loan Guarantee. SCU would have issued the loan while the BFA's role was to review the application and decide whether to issue a credit enhancement to the Executive Council for approval. Passage of Senate Bill 30 in 2015 allowed for the use of the credit enhancement. The bill created a tax assessment district in Dixville, and property taxes paid on future Balsams real estate assets would service the loan. Mr. Otten said the Balsams team still wants to preserve the ability to create the tax assessment district. The current language in SB 30 requires the BFA's participation, and Mr. Otten said that the bill could be amended to remove the BFA participation requirement and allow for the county to issue the bond without a loan guarantee. Mr. Otten said there is no fiscal responsibility of the county for issuing the bond, but the process would allow for the tax assessment loan to be made by a lender who is providing the funds. "It would give an opportunity for the project to get built with the state's help," he said. He said he has been asked, "When is enough, enough?" with regard to the delays the project has experienced, and he said developers are not at that stage, citing the "time, money and considerable human interest spent to date." Commissioner Paul Grenier asked Mr. Otten how much capital exists, between equity and bank financing. Mr. Otten replied that there is a term sheet for $126 million for construction financing and $20 million in cash equity. He said that $146 million "can't be hard or visible" until the $28 million loan guarantee is set in stone. He said "time is of the essence" for the project, and noted that while there are currently $23.4 million worth of presales, that is down from the peak of $26.5 million. Mr. Otten explained that because the resort has been closed for several years and there is no cash flow, traditional bank sources were not available. The Balsams would be a "non-performing loan" for the first two years during construction. The $28 million loan guarantee is on top of the other capital and only comes into effect when the other $146 million has been used. Mr. Otten said the proposed amendments to Senate Bill 30 "are very moderate and have no financial impact," but added that any changes can't be made until the legislature's next session in January. N.H. Senator Jeff Woodburn, sponsor of SB 30, said the Balsams project is "vital" and "seems to have a very simple fix." Mr. Otten reiterated that he was not asking the county to guarantee anything, just to support the amendment allowing the county to issue the bond. "The risk would be taken solely by the buyer," he said, explaining that assessed tax dollars would first go toward paying off the bond, after which the tax revenue goes to the county. Commissioner Grenier also clarified that when Mr. Otten said the county would issue the bond paid by a third party, it is "not the county government per se," but rather, the commission acting as the Dixville selectmen (because it is an Unincorporated Place) in conjunction with the delegation, "which is the town meeting, so to speak."

(Issue of September 19, 2018)
---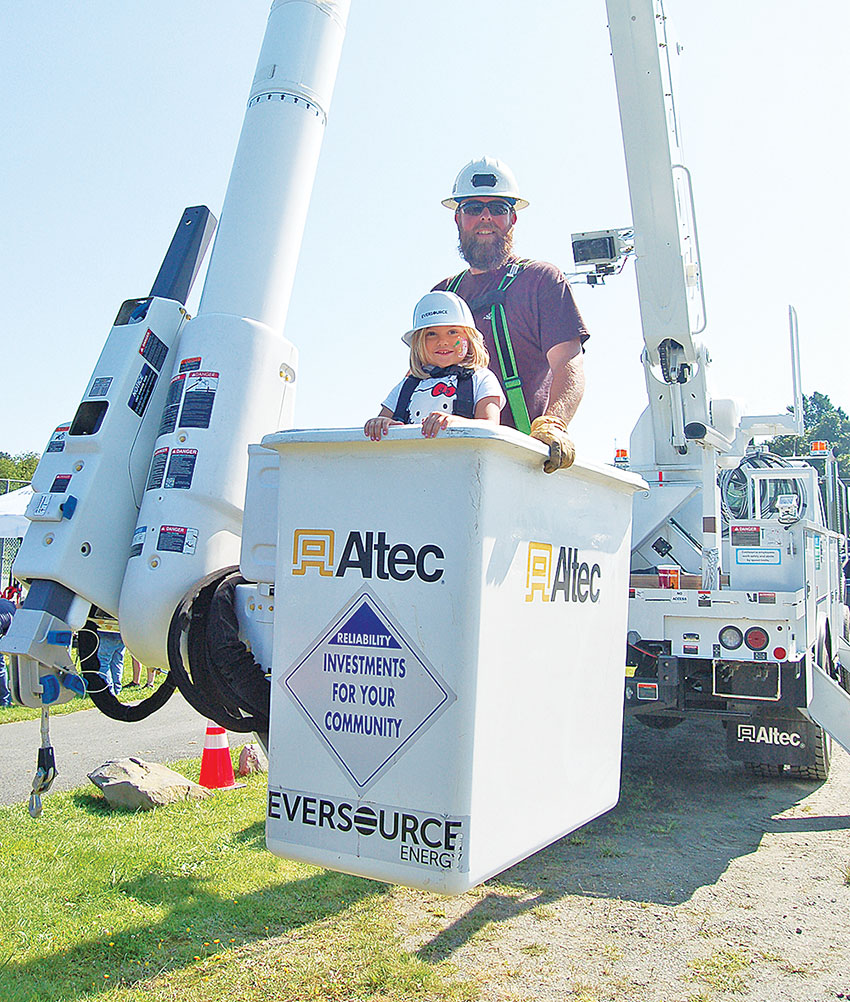 HIGH-FIVE FOR DAVE

During the C.A. Homecoming pep rally on Friday night, Colebrook Recreation director Melissa Shaw presented David Colby with the N.H. Recreation & Park Association's "High Five" Award. Dave was recognized for his volunteer time and efforts to coach and mentor children and teens in Colebrook's recreation and youth sports programs. (Alan Farnsworth photo)
---
Local Big Brother, Big Sister Program Training Mentors, Accepting 'Littles'

Big Brothers Big Sisters of New Hampshire's North Country board of directors met on August 13, and members have been recruiting and training mentors to be Big Brothers and Big Sisters while also interviewing kids to be matched within the next month. The board held a successful informational gathering at St. Paul's Episcopal Church in Lancaster in July, with over 50 interested people attending to learn more about the BBBS program. The group is working with SAU 36 to bring its program into the schools, and has an agreement with the Groveton and Stratford districts to allow site-based programs at their schools. All funding for these programs comes from local donations and grants, and those who would like to contribute may visit www.bbbsnh.org or send a check to program coordinator Dan Peel, 779A Percy Road, Stark, NH 03582. Anyone interested in becoming a Big Brother or Sister and mentoring a child, or who has a child to be matched with a mentor may contact Mr. Peel. He will attend local school open houses at Lancaster and Whitefield elementary schools, White Mountains Regional High School, and Groveton schools. He may also be reached by calling 603-430-1140, ext. 1026, or by e-mail to dpeel@bbbsnh.org.
(Issue September 19, 2018)
---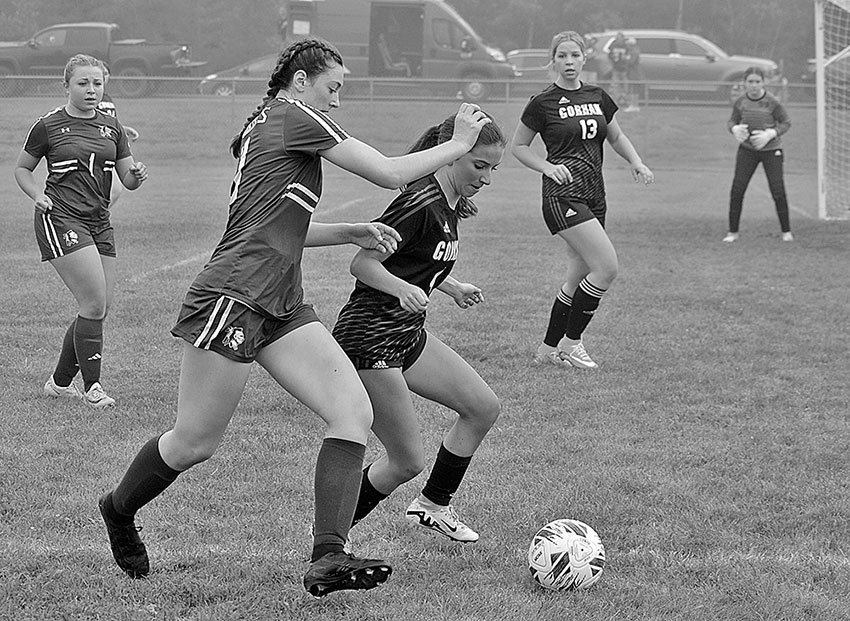 SMOOTH WATER

After getting a push from race volunteer James Lambert, Metallak Race paddlers Kenneth Wiley and Jaime Clogston glided off on the third leg of their eight-hour trek across the North Country's back country on a warm Saturday morning. (Rob Maxwell photo)
---
Annual Dixville Half Marathon, Relays & Walk Next Saturday

Final preparations are being made for this year's running of the Dixville Half Marathon, Relay Races & Fun Walk, being held on Saturday September 29. Early registration is open until Friday, September 21 for a lower fee, and only runners registered before this date are guaranteed a T-shirt on race day. Upper Connecticut Valley Hospital is this year's premier event sponsor, and new sponsor April's Maple has joined other longtime sponsors Tillotson North Country Foundation, LaPerle's IGA, VR Concrete, Colebrook Copy Center, The News and Sentinel, Hat's Off, Indian Stream Health Center, The Colebrook Chronicle, North Country Muscular Therapy, and Northern Human Services. Race-day registration begins at 9:30 a.m. at Coleman State Park, and the race starts at 10:30. Runners follow Diamond Pond Road to Route 26 and Colebrook, taking Pleasant and Main streets to reach the finish line at the North Country Community Recreation Center. The Fun Walk starts at 11 a.m. at Mile 10, on Route 26 just west of the intersection with Carlton Hill Road. Shuttle bus service will be available for runners and walkers. Spectators are invited to join the post-race festivities at the Rec Center finish line. Registration costs $40 for each runner, and goes to $50 after September 21; the fee is $20 for students with ID, and $20 for walkers. A limited number of T-shirts will be available for late registrants, or may be ordered with a $5 shipping fee. Information and registration forms are available at the Rec Center in Colebrook, on-line registration is at g2racereg.webconnex.com, or by calling 603-237-4019.
(Issue of September 19, 2018)
---