UNUSUAL BRUIN SIGHTED

Raymond Lacasse of Pittsburg captured some amazing photos of a female black bear and her three cubs on Sunday, and was startled to see that this cub's fur was mostly brown in color. N.H. Fish and Game bear biologist Andy Timmins said a certain percentage of black bears have this coloring, but it's more common out West. "I've seen some with similar coloration but never quite to this extent," he said. "This bear should maintain this coloring into adulthood." Mr. Lacasse said he's seen more bears this spring than in the previous 15 years combined, and Mr. Timmins agreed sightings are up. "Food crops last fall were good, which is why we're seeing increased reproduction--more sows with cubs," he said, but June is a lean time for bears and they're out looking for food. "The spring green vegetation is less attractive," he said, "and we're waiting on the berry crops to ripen."
---
Maine Man Dies in Motorcycle Crash
By Jake Mardin
A motorcycle accident that occurred on Route 16 in Wentworth Location on Sunday afternoon took the life of Brendan Provencal, 29, of Lisbon Falls, Maine.
N.H. State Police received a report at 12:40 p.m. of the crash, which Errol fire chief Brad Eldridge said occurred just north of the wildlife refuge headquarters. First responders found a single motorcycle with one rider seriously injured. CPR was initiated, and ambulance and fire personnel continued efforts for 30 minutes until Mr. Provencal was pronounced deceased.
Trooper Jacob Derosa stated that Mr. Provencal was northbound on a 2000 Suzuki when he crossed over the centerline and struck the guardrail on the west side of the road. "All factors are still being considered," he stated, "but it appears that speed and inexperience were major contributing causes of the collision." Route 16 was closed for several hours and re-opened shortly after 5 p.m.
Anyone who witnessed the crash or may have further information is encouraged to contact Tr. Derosa at 603-271-1170 or Jacob.derosa@dos.nh.gov. The Office of the State Medical Examiner also assisted at the scene.
(Issue of July 1, 2020)
---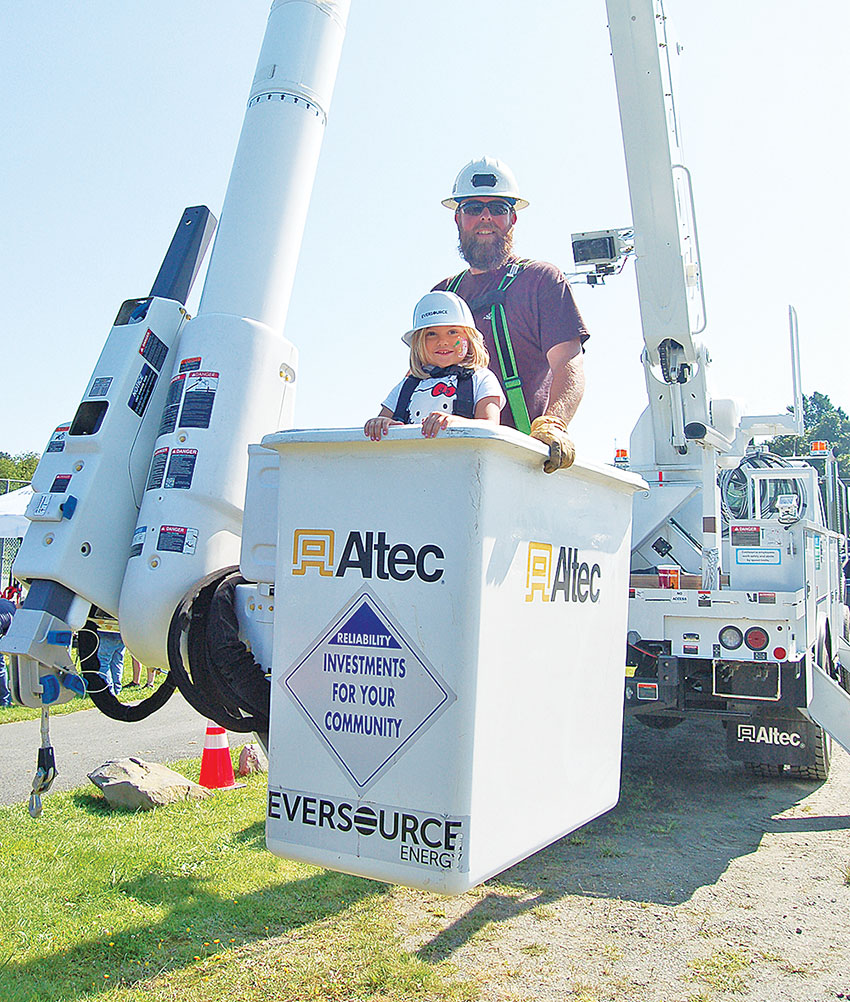 SENDOFF FOR SAU 7 STAFF

SAU 7 technology coordinator Clint Brooks (left), special services coordinator Mandie Hibbard and superintendent Bruce Beasley were the guests of honor at an outdoor farewell party at the office on Thursday. Mr. Brooks is retiring, while Mrs. Hibbard and Mr. Beasley are relocating out of the area. (Jake Mardin photo)
---
Three North Country Teachers Chosen to Receive Louise Tillotson Fellowship

Educators Keri Wade of Gorham Middle High School, Erica Hicks of White Mountains Regional High School and Patti Dugan-Henriksen of Groveton High School have received 2020 Louise Tillotson Teaching Fellowships, awarded by the New Hampshire Charitable Foundation to recognize their creativity, commitment to ongoing professional development, and extraordinary dedication to students.
This is the 13th year of the fellowship program, named for the late Louise Tillotson of Dixville, which aims to retain good teachers in North Country schools and recognize excellence in teaching. Awardees are selected each spring by a committee of past fellowship recipients, and each receives a $10,000 stipend.
These educators, along with their peers, faced the exceptional challenge of quickly shifting to remote teaching for the last three months of the school year, when the COVID-19 pandemic closed schools. "These challenging times have brought into sharp relief the incredible work that teachers do for our communities and our children every day," said Jean Clarke, who administers the fellowship program at the foundation. "The Louise Tillotson Fellowship committee is thrilled to recognize the outstanding and innovative work of these educators who have committed themselves to the students and families of the North Country."
Ms. Dugan-Henriksen of Lancaster, who teaches middle school science in Groveton, has embraced the idea that not all learning happens in the classroom and has worked to provide her students with opportunities to learn both from in-school projects and citizen-science endeavors in partnership with groups like N.H. Fish and Game and the Appalachian Mountain Club's A Mountain Classroom. She also serves as the on-site coordinator at Groveton Elementary School for the White Mountain Science (WMSi) STEM-Works Lab.
"Patti builds rapport with her students and treats them with respect, which fosters a culture for meaningful learning experiences," said Alice Pucci, Coos County education coordinator for the AMC. "She is consistently excited to bring new ideas, opportunities, and knowledge to her students. Whether she is using citizen science tools with students to track local trees and plants or connecting other teachers in the county to resources and trainings, Patti is proactive and utilizes the strengths and resources of the community to benefit others."
All three 2020 Louise Tillotson Teaching Fellowship recipients, like the educators recognized in previous years, strive to engage students in learning and shaping their own future paths.
"I love to see the look on a student's face when they suddenly 'get it' or when a student talks about science and is passionate about it," Ms. Dugan-Henriksen said. "I want to help students realize that they have the chance to be whatever they want to be, wherever they are or wherever they want to travel, and despite the many challenges some of them face. I want them to realize that determination and hard work, as well as a sense of humor, will take them far in life."
SAU 58 superintendent Dr. Ronna Cadarette called Ms. Dugan-Henriksen "a shining star who is very passionate about education, particularly science. She brings this enthusiasm to her students every day. This is just one more way our students have the opportunity to embrace science, be exposed to this incredible universe and experience the creativity, energy, and passion that Ms. Dugan-Henriksen brings to the craft of teaching. She exemplifies creativity and extraordinary dedication that the Louise Tillotson Fellowships honor."
(Issue of July 1, 2020)
---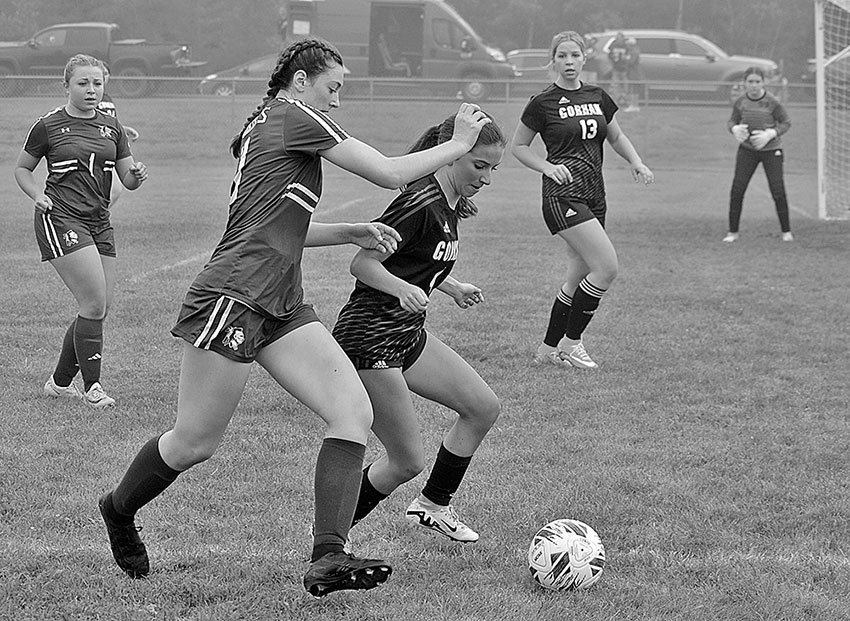 CANAAN AIM CLASS CREATION

Students in Kim Sweatt's Advanced Integrated Manufacturing program at Canaan Schools worked on a number of projects this past school year, and had an opportunity to use a variety of different tools. Thomas Halligan is shown here with his finished garden. Story and more photos on page 15. (Jake Mardin photo)
Hands-on Learning Experiences for Canaan Career Center Students
By Jake Mardin
Along with traditional classes, the Canaan Career Center gives students at Canaan Schools an opportunity to learn new skills in a variety of different settings. While staff and administration are busy preparing for a return to in-person learning this fall, Career Center classes had to be completed remotely this past spring.
Two of the classes offered are Advanced Integrated Manufacturing (AIM) and Business Administration and Technology (BAT). Kim Sweatt teaches the AIM program that was introduced last year, and Denise Wood instructs the BAT program, which includes an entrepreneurial aspect. The two classes will collaborate next year on establishing a school store.
The Canaan Career Center also offers Diversified Agriculture and Natural Re-sources, Building Trades and Restoration, and Fire and Emergency Medical Services. Chris Masson teaches the Diversified Agriculture and Natural Resources program, which gives students the opportunity to learn in a hands-on setting. The class has a sugarhouse and sawmill in the Canaan Community Forest where they can practice anything from chainsaw training to stopping brush fires.
In Eugene Reid's Building Trades and Restoration program, students learn job skills in carpentry and other construction industries, and their entire time is spent on site as they go from deconstruction to detailed finish work. ENSU superintendent Karen Conroy said the school owns the properties and sells them to put the money back into the program. Students are currently working on a home on Bridge Street in Colebrook thanks to a grant from the Tillotson North Country Foundation. They are also working on the Carr Farmstead in Canaan.
Beecher Falls Volunteer Fire Department member Todd Nichols teaches Fire and Emergency Medical Services. Students in the program learn skills necessary for entry-level work in those fields and get plenty of hands-on experience.
Ms. Conroy said in all the programs, she would like to see more female student enrollment. She said over the next decade, the U.S. will need 3.5 million advanced manufacturing jobs, but two million positions may be unfilled because there aren't enough people trained for it.
"I'm very passionate about the manufacturing program and the tie-in to the business side," she said. Ms. Conroy's background is in technology and she went into the male-dominated field of programming. She hopes that more young women take advantage of the courses offered at Canaan, and that anybody taking the courses can be entrepreneurs and start their own businesses. "We're really trying to look at providing opportunities with rigorous academic content," she said. With the AIM and BAT programs, she said "I'm really excited about what we're offering and how these two instructors have worked together to expand our opportunities."
This coming academic year, the school plans to have middle-schoolers participate in the program for nine weeks. "We really need to share this with our girls in the school to try and attract them to our program, and if we start at a younger age, it might help make them more aware." She said that if students are interested in it, they may continue as part of their personalized learning plan.
For the BAT program, Ms. Wood said the class has been adjusted to incorporate an entrepreneurship aspect. She met with John Holt, who chairs the White Mountains Community College business department, and they selected five courses that students would have to take if they went to any two- or four-year college for business. The courses fit in well with the entrepreneurial path, and over two years students can earn 15 credits from the Community College System of New Hampshire.
Ms. Wood is also starting up a Future Business Leaders of America (FBLA) chapter. Members will participate in a one-day leadership conference in the fall and meet students from around the state, learn leadership skills and perform community service. At a spring overnight conference, they will compete in an event of their choosing. Ms. Wood said some events are designated as being scholarship-worthy, meaning that if students place in the top three, they will earn scholarships from particular colleges.
"By the time they're done the BAT program, they'll have an entire semester of school under their belt, and if they take other Running Start classes, they can have the majority of their business program through the community college system finished," she said. "It's a huge leg up, and huge savings for a lot of families."
She cited as an example what happened when the school saw a need for updated logos for some of the CTE programs. She said Jonah Cote helped design and create new logos and saved them in different formats. He used Adobe Illustrator and met with each teacher to find out what they were looking for during the process.
Mrs. Sweatt said the AIM program introduces students to a number of different skills. "The idea is for them to be self-motivated and learn everything, and then pick one they like and move forward," she said. This past year, she has obtained a laser cutter, vinyl cutter, two 3-D printers, a 3-D scanner, a CNC carving machine and two drones.
The equipment didn't arrive until the end of November, so for the first part of the school year they did woodworking, and students got trained on the table saw, lathes and other machinery and made things like cutting boards, swings and rolling pins. The class got a crash course training on all of the new equipment, and became successful using all of it except the 3-D scanner.
For software, the class used Fusion 360 for drafting, along with Adobe Illustrator and Photoshop. Students came up with an idea and the plan was to go all the way to production, but school was shut down during the early part of it. They had been working on coasters and stickers for cell phones. Students designed hearts and put a message on them, and every student and teacher at the school and ENSU staff received one.
The drones came from the Donors Choose program, which helps teachers with items on their wish lists. While students were learning from home this spring, they produced their own robots using Erector sets.
The area where the AIM equipment is housed will become a makerspace made up of several stations, each geared to a particular skill such as drones, welding or laser cutting. This allows students and adults to think of an idea, whether it uses metal, plastic or wood, and build what they are thinking. "We want people to start turning their ideas into reality," Mrs. Sweatt said.
She said a makerspace can help get people engaged in critical thinking, learning how to make things and turning ideas into real products. "It would be great to be able to offer that to the community as well," she said, expressing hope that the school can offer classes to area adults. For this coming school year, the class will get a plasma table and welder, along with electrical, pneumatic and robotic equipment.
Both instructors are excited about the school store collaboration. "A lot of things go into a store that a lot of people don't recognize," Ms. Wood said. "There's maintaining inventory, knowing what to do when it gets low, how to price things out, cost analysis and more. "Mrs. Sweatt said someone can make a cutting board and factor it out to only cost $5 to $10 worth of materials and labor, but in their own shop will have to factor in things like electricity, property tax, and equipment maintenance. "They don't realize all of those hidden costs," she said.
Ms. Wood said while students bound for college can benefit from getting credits, students who struggle in a traditional classroom setting can also succeed in the CTE program. The school is also looking to add embedded credits to the CTE courses. For example, students in the fire and emergency services classes and building trades use a lot of math, while students in Diversified Agriculture need to use their science skills. The embedded credits would allow students in those classes to receive credits required for graduation, such as math and science.
(Issue of July 1, 2020)
---