DISNEY CHRISTMAS TRAIN

"Who Framed Roger Rabbit?" characters Jessica Rabbit (Jodi Young) and Roger Rabbit (Joel Young) were part of the "Disney Christmas" themed parade at the Snowflake Festival on Saturday in Colebrook, just one car in the Young family's crowd-pleasing train.
(Courtesy photo)
---
---
School Committee Forms Proposal, Plans Public Meetings in Early 2019
By Rob Maxwell
The Connecticut River Collaborative Exploratory Committee has unanimously agreed to focus its future efforts on a regional education model that would see students now attending high schools in Colebrook, Canaan and Pittsburg consolidated at a single campus in Canaan. This model, selected at the committee's meeting held Thursday, December 6 at Stewartstown Community School, also calls for Canaan students in grades pre-K through 8 to be distributed between Colebrook, Stewartstown and Pittsburg schools.
The exploratory committee is comprised of representatives from Clarksville, Colebrook, Columbia, Pittsburg, Stewartstown, Canaan and the NEK Choice school district, along with SAU 7 superintendent Bruce Beasley and ENSU superintendent Karen Conroy. The group has spent several months looking into ways to improve educational opportunities for North Country children while maintaining financial responsibility in the face of reduced school enrollments.
At Thursday's meeting, facilitator Carol Martin told the gathering that recent sub-committee work had produced three models for the distribution of students and she asked for the committee to "attempt to find unanimity on one of the three." After some discussion, the committee agreed that the plan called Model 11 would best serve the needs of all involved.
In addition to the single High School in Canaan, Model 11 would see Canaan's pre-K through fourth grade students going to Stewartstown, which would house those grades only. Students in grades 5-8 from Canaan would be distributed between Colebrook and Pittsburg, each of which would serve only grades pre-K through eight.
"I think it's important to have all the high school students in one place," said Stewartstown school board chairman Philip Pariseau. Canaan board chairman Dan Wade pointed out that this model balances out the "so-called winners and losers," and places Career Technical Education "in union with the rest of the high school."
Questions about possible renovations to the two school buildings in Canaan were addressed by Mrs. Conroy. "Funding for any work required at Canaan can be found," she said, "and Vermont Secretary of Education Dan French told me personally he is in favor of what's best for the region's students." She noted that Mr. French "has local roots on both sides of the river."
Mr. Beasley observed, "There's no perfect solution, but if there's an option that can have traction, I feel it is Model 11," under which "travel and other issues are addressed. I'm pleased to hear that we agree it's the best choice, so let's put our energy into it and move on."
From its inception, the committee has agreed that the results of its investigations would be presented to the involved school districts at their annual meetings in March. Kristen Brooks of Columbia asked if the target date for implementation of Model 11 would be 2020 or 2021, and Pittsburg selectman Richard Judd noted, "The longer you extend the process, the more interest in it you will lose."
Further discussion involved whether the plan should be presented as involving the formation of an interstate school district, or under some sort of tuition-based system. Mr. Beasley pointed out that consideration of what's involved in forming an interstate district should include the advice of legal counsel.
All in attendance agreed that three public forums should be held prior to March, to inform the public about the committee's progress and to gather input on Model 11. These three meetings will be held on Wednesday, January 9 at Canaan; Tuesday, February 12 in Colebrook; and Monday, February 18 in Pittsburg. The committee agreed that Mr. Beasley, Mrs. Conroy and a few committee members will develop a press release in advance of the first public forum to provide general information about the committee's progress and emphasize the importance of public attendance at the three meetings.
Pittsburg board member Bob Ormsbee suggested that each of the three forums should be chaired by a committee member from that meeting's town, which the committee agreed to. Ms. Martin asked for volunteers to form two sub-committees: one to develop each forum's format; and another to put together a list of as many questions as possible that may be asked by the public. The exploratory committee will meet again on Thursday, January 3 at Stewartstown Community School.
(Issue of December 12, 2018)
---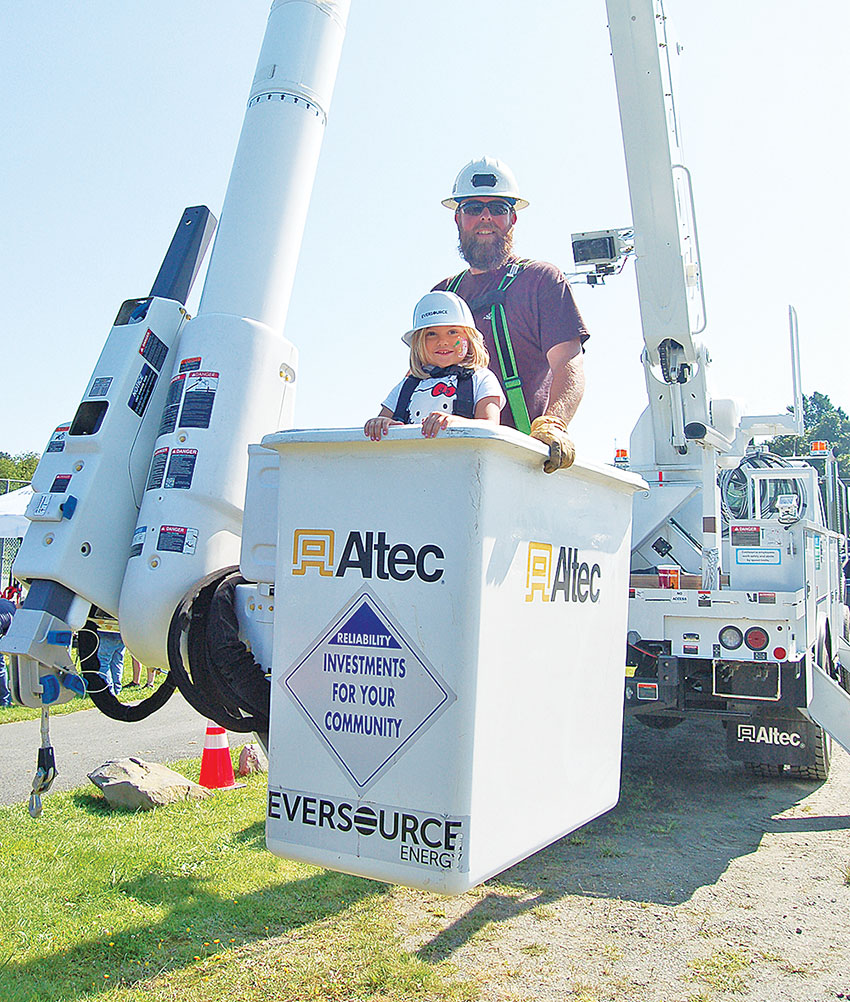 TALKING THINGS OVER

Stewartstown's Gage Grover told the white-whiskered gentleman from the North Pole that he has been a good boy all year long, and hopes to be rewarded with a new bike on Christmas morning. His visit was all part of the fun at Kheops International's annual Santa's Workshop for children, held at the Black Bear Tavern on Saturday. (Rob Maxwell photo)
---
Balsams Appeals to County Delegation for Law Change to Allow Financing Plan
By Jake Mardin
Les Otten and other members of the Balsams development team attended Monday's Coos County Delegation meeting to discuss amending Senate Bill 30 to create a tax assessment district, which he says is a necessary component of the project.
From 2017 until this past summer, The Balsams and its lender, Service Credit Union, had been working with the N.H. Business Finance Authority to secure a $28 million Tax Assessment Bond with a State of New Hampshire Loan Guarantee. In August, the Balsams withdrew its application for the loan guarantee from the BFA, whose participation was necessary to create the assessment district.
SB 30 became law in 2015, and allows an unincorporated place such as Dixville to create an assessment district, allowing real estate taxes to be used to pay back a portion of financing. Mr. Otten said assessment districts typically allow for property taxes' use to repay a bond, but the original draft of SB30 did not take into account town and county taxes. In the developers' proposed amendment, property taxes would be collected to repay the bond, and once the bond has been repaid, tax payments to the county would resume.
At Monday's meeting, Rep. Edith Tucker said that she has filed a Legislative Service Request (LSR) and a bill is being drafted. The bill's prime sponsor was former state senator Jeff Woodburn, who lost his reelection bid to David Starr of Franconia in November.
Mr. Otten said there has been significant investment in permitting, acquisitions and planning, and work with county officials on zoning matters. "We've now gotten ourselves to the point where financing is the issue of the day," he said. Delays, he said, have raised the project cost to about $175 million, and the bond would be for $28 million. He said there would be no financial risk or obligation to the county, because the tax assessment loan would be made to a lender who is providing the funds.
Mr. Otten said one question he has been asked frequently was why the development is so large, and he said it is to give people a reason to make a long trip to the resort and to be competitive with similar spots in New England. "I don't have as much confidence today as I had five years ago," he observed, but said he still remains optimistic that the project will move forward. "There is no chance if we don't pass this legislation," he said. Commissioner Paul Grenier also pointed to a state law stating that taxpayer responsibility isn't allowed. Newly elected delegation chairman Wayne Moynihan noted that SB30 is "enabling legislation" and that if passed, it would ultimately be up to the county to decide whether it will create the tax assessment district.
The discussion was opened up to the public, and Jamie Sayen of Stratford told the delegation that due diligence must be performed. He said that the part about the county or taxpayers having no obligation "must be ironclad." He also expressed concern about the Northern Pass transmission line project having contributed funds to the Balsams project in the past. Mr. Sayen suggested that the county have access to project financial documents, hire a risk assessment expert and ask someone from the BFA share their understanding about the issues that led the Balsams to withdraw its application.
Scott Stepanian, a former N.H. State Trooper whose wife is on the Balsams' sales team, spoke in favor of the project. He said as a former officer, he has seen the downside of an unemployed county, including drug and alcohol abuse. "Do your due diligence and let's get this thing going again," he said.
County commissioner Rick Samson read a statement critical of the proposal, saying that in 2015 he testified in favor of SB 30 but cannot support the proposed amendment. "Coos County is not in a position to negotiate a favorable deal for a private developer at the expense of our county's taxpayers," he said. "Our responsibility is to our residents, taxpayers and obligated duties as elected officials."
Mr. Samson said tax increment financing (assessment districts) is typically used for public infrastructure projects and not for private development. "To do so reeks of favoritism and improper routing of public money for private purposes." He said the county would have to hire an assessor and investment and valuation advisers along with an adviser to calculate what additional costs could arise. "In my view, the county should take no financial risk whatsoever on a speculative private project like this," he said.
After Commissioner Samson's comments, Mr. Otten said he has reached out numerous times to him by phone and e-mail to attempt to talk to him about the project, but has not been acknowledged.
(Issue December 12, 2018)
---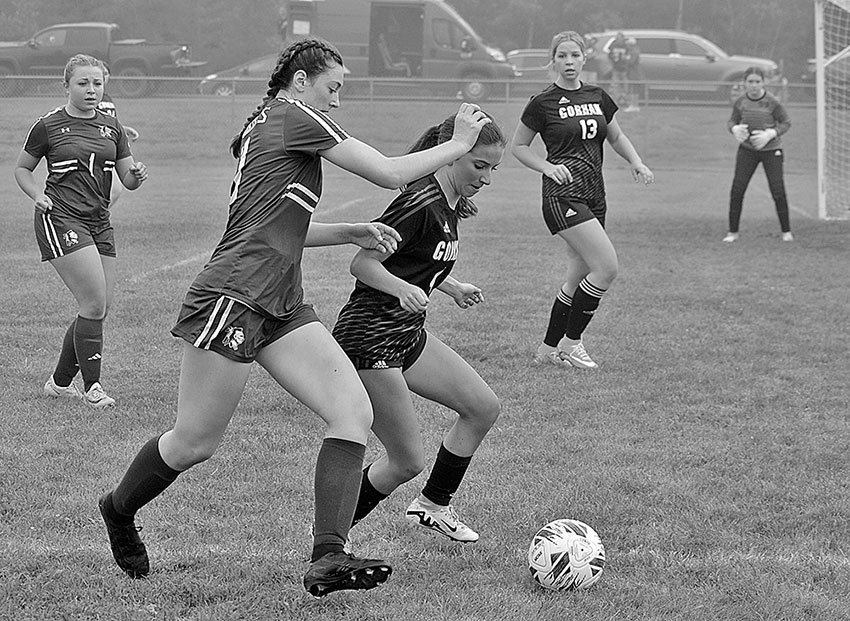 CHAMPIONS' REUNION

Milton Paradis, the lone member of Stratford High School's 1941-42 championship team, gathered on Saturday with players and coaches from Stratford's other state championship team, the 1993 Lions who were marking 25 years since that season. The 1943 alum was a decorated World War II combat veteran whose Seabees battalion landed one hour after the Marines at Iwo Jima. In front, from the left, are Brian Riff, Billy Burns, Mr. Paradis, Troy Burns and Josh Stone. Back row: Andy Coppinger, Scott McMann, Eric Hurlbert, Benji Blodgett, Jason Smith and Jamie Lesperance. (Jake Mardin photo)
---
CES Principal Dan Gorham to Retire at End of School Year


By Jake Mardin
After 35 years in education, Colebrook Elementary School principal Dan Gorham submitted his letter of retirement at the December 4 school board meeting. Mr. Gorham's last day will be June 30, 2019.
Mr. Gorham said he is seeking a career outside of education and will move to Arizona, where he recently purchased a house. "The long winters are starting to get to me and I am looking forward to a change," he said.
Mr. Gorham was hired as principal in 2012 after Mary Jolles retired. He was previously the assistant principal and athletic director at Gorham Middle-High School, and worked as a health and psychology teacher at Berlin High School and as an elementary physical education and health teacher at Berlin Public Schools.
Mr. Gorham said he is proud of the advancements the school has made the past seven years. "We have greatly improved our use of technology with the use of Chromebooks and Ipads, which has also improved student engagement," he said. "We have incorporated coding, 3D printing and drone technology into our curriculum. We have unified our reading and writing curricula and we have used data to improve student achievement. We have also worked hard on teacher collaboration to improve our school culture. I would compare Colebrook Elementary School to any other elementary school in the state as far as leading our students into a progressive 21st century education."
Mr. Gorham said this was a difficult decision to make with the possibility of CES and Colebrook Academy merging onto one campus. "I believe that merging the two schools would provide us with great opportunities to better our students' education and experience and I was looking forward to working with [CA principal] Mark Fiorentino and the Academy teachers. However, personally it is a good time to leave and I am looking forward to the change."
(Issue of December 12, 2018)
---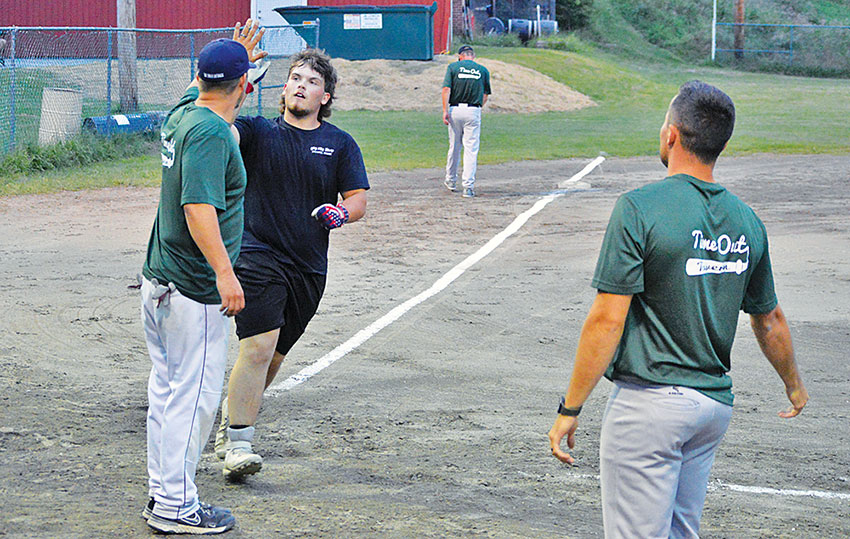 Pierces Publish New Book

---
Randy Pierce to Be in Colebrook This Saturday for Book-Signing


By Jake Mardin
Colebrook native Randy Pierce will be in town at Creative Natives this Saturday, December 15 to sign copies of his new book "See You at the Summit," which chronicles his life and accomplishments after going blind at age 22 due to a neurological disorder.
Mr. Pierce said he started talking about writing a book ten years ago after several people said he should do it. Three years ago he did some draft outlines, and after a health setback, he worked on it daily for the past year. He said when sitting down to write he didn't give himself a word count, but instead had a topic count.
"I wrote until I exhausted myself on a topic," he said. During some marathon sessions he would write for ten straight hours, but the majority of days saw him writing for two hours in the morning and two hours in the afternoon.
He worked on the book while also handling day-to-day activities as president of the non-profit he founded, 2020 Vision Quest. The organization raises funds for Future in Sight (formerly the New Hampshire Association for the Blind) and Guide Dogs for the Blind, provides educational outreach and inspires people to reach beyond their limitations. Mr. Pierce said that in the last eight years, he has spoken to over 83,000 students and over 250 corporations.
An accomplished hiker and marathoner who climbed all of New Hampshire's 4,000-foot summits in 2012, Mr. Pierce spent four days in September hiking the Andes Mountains in Peru. He is planning a hiking trip for next year that may involve Mount Chirripo, the tallest peak in Costa Rica at a height of 12,536 feet.
He also competes in the Boston Marathon each year, and on December 2 ran in the California International Marathon in Sacramento, winning the national B1 Division championship.
Mr. Pierce said he didn't set out to write a book that told people how to live their lives. "I just shared what my journey was," he said. "My message, I feel, is that we're all going to face adversity and we're all going to have a choice on how we're going to respond to that adversity. The choice has a bigger impact on our life than the adversity."
Mr. Pierce will be at Creative Natives in Colebrook to sign copies of his book this Saturday from 1 to 3 p.m. More of Randy's story and his work may be found on-line at 2020visionquest.org.
(Issue of December 12, 2018)