SPECIAL PRESENTATION

Kassandra Amey gives a rose to one of her biggest supporters and fans, her grandfather Roy, during the presentation of flowers at Pittsburg's graduation on Saturday. (Jake Mardin photo)
---
Court Documents Outline Investigation of Local Doctor's Prescription Practices
By Jake Mardin
Court documents unsealed last Tuesday revealed that Dr. John Fothergill is the subject of an ongoing criminal investigation into his drug prescription practices.
According to the documents, Dr. Fothergill, who currently practices at North Country Medical and Wellness in Colebrook, has been under investigation since 2015. No criminal charges have been filed against Dr. Fothergill at this time. The case is filed as USA vs. North Country Medical and Wellness at U.S. District Court-District of New Hampshire.
A court order granted the use of undercover agents and informants at North Country Medical and Wellness for a period of six months, starting in November when the order was issued. A declaration in support of the application was written by Task Force Officer Steven Hamel of the Drug Enforcement Agency, who was employed by the Colebrook Police Department as a detective, lays out the investigation into Dr. Fothergill.
According to the application, the investigation began in 2015 when law enforcement officers in Colebrook and neighboring jurisdictions contacted the DEA with concerns about what they believed to be excessive opioid prescribing by Dr. Fothergill at Indian Stream Health Center. During the investigation, interviews with current and former ISHC staff, pharmacists at Rite Aid and former patients allegedly revealed that Dr. Fothergill's prescribing of opioids was excessive.
After resigning from ISHC in 2017, he established North Country Medical and Wellness and is its sole physician. According to the application, Dr. Fothergill is authorized to prescribe Buprenorphine (Suboxone) products to a maximum of 100 patients.
The application included interviews with six confidential sources who worked at ISHC or Rite Aid and expressed concern about the prescriptions Dr. Fothergill was prescribing. One said that 80 percent of the files for his patients who were receiving narcotics contained no supporting documentation for the prescriptions they are receiving. They said one patient was receiving 1,008 pills a month, an amount seen for cancer patients, which this person was not. They stated they knew of eight different families who were receiving the same prescription and dosage every 28 days. After the source told one of his patients that they needed to get some diagnostic imaging and a urine sample to keep receiving their prescription, the patient refused to do so and was still prescribed narcotics by Dr. Fothergill, according to the application.
Another source said Dr. Fothergill typically saw either elderly or pain patients. The source noted that the elderly patients were not prescribed narcotics, but "100 percent of Dr. Fothergill's younger pain patients were on narcotics," and that "out of 100 patients receiving narcotics, only about 10 of those prescriptions were for legitimate medical purposes for patients who actually needed the prescription."
The source said one patient showed up at ISHC "so drugged out that he could not even speak." Over the objections of the source to not give the patient Demerol, Dr. Fothergill did anyway, allegedly stating, "Just give it to him to get him out of here." The source also stated that many of Dr. Fothergill's patients would undergo testing that revealed no problems or injuries, but they would continue to receive prescriptions.
Another source said that when Dr. Fothergill left ISHC, the clinic began a process to wean patients off high doses of opiates down to normal levels. The source said when Dr. Fothergill started North Country Medical and Wellness, many of his former patients began to recieve treatment at the new clinic. Another said that the patients who had been weaned down or off their medications were back to their former dosage after one visit with Dr. Fothergill at the new clinic.
The source also indicated that when Dr. Fothergill opened the new clinic, they observed patients arriving at Rite Aid with prescriptions at the higher dosage and quantity levels they were getting while he was at ISHC. They said patients who were weaned down to Oxycodone two or three times a day were pushed up to six 30mg Oxycodone pills a day. They said that if they called Dr. Fothergill about a prescription, in most cases he would be reluctant to listen.
The application cites an analysis of prescriptions filed at Rite Aid in a one-month period in 2018, showing that Dr. Foth-ergill wrote 27 percent of all Fentanyl prescriptions, 38 percent Hydromorphone, 25 percent Hydrocodone, 65 percent Metha-done, 56 percent Morphine IR, 55 percent Morphine ER, 36 percent Oxycodone/ APAP, 44 percent Oxycodone, 29 percent Oxycontin, and he was the only prescriber of Suboxone, writing 56 prescriptions.
The application also includes an analysis of Medicare and Medicaid claims, and states that some patients received prescriptions despite not having seen Dr. Fothergill since he worked at ISHC, or being prescribed controlled substances without seeing him for an office visit.
In a controlled drug buy on April 25, the DEA allegedly bought eight Suboxone strips from a patient of Dr. Fothergill, made four more buys from April to June of Suboxone strips and Subutex pills, and from August to November made seven more controlled purchases from Dr. Fothergill's patients for Percocet, cocaine, Dilaudid pills and Suboxone strips.
In the application for the order authorizing the placement of undercover agents and informants, U.S. Attorney Scott Murray states that "because North Country Medical and Wellness treats patients for substance use disorders, and because Dr. Fothergill is specifically authorized by the DEA to prescribe Suboxone to a limited number of patients dealing with addiction, Dr. Fothergill and NCMW are regarded as a part 2 program. Federal codes state that law enforcement or prosecution who believe that employees or agents of a part 2 program are engaging in criminal behavior can apply for the use of undercover agents or informants."
To do this, the court must find that "there is reason to believe than an employee or agent of the part 2 program is engaged in criminal activity, other ways of obtaining evidence of the suspected criminal activity are not available or would not be effective, and the public interest and need for the placement of an undercover agent or informant in the part 2 program outweigh the potential injury to patients of the part 2 program, physician-patient relationships and the treatment services."
Dr. Fothergill did not respond to an attempt to reach him for comment. He told the Caledonian-Record last week that he is cooperating with the investigation. "There is nothing for them to find," he said. "They haven't found anything and they won't."
(Issue of June 12, 2019)
---

<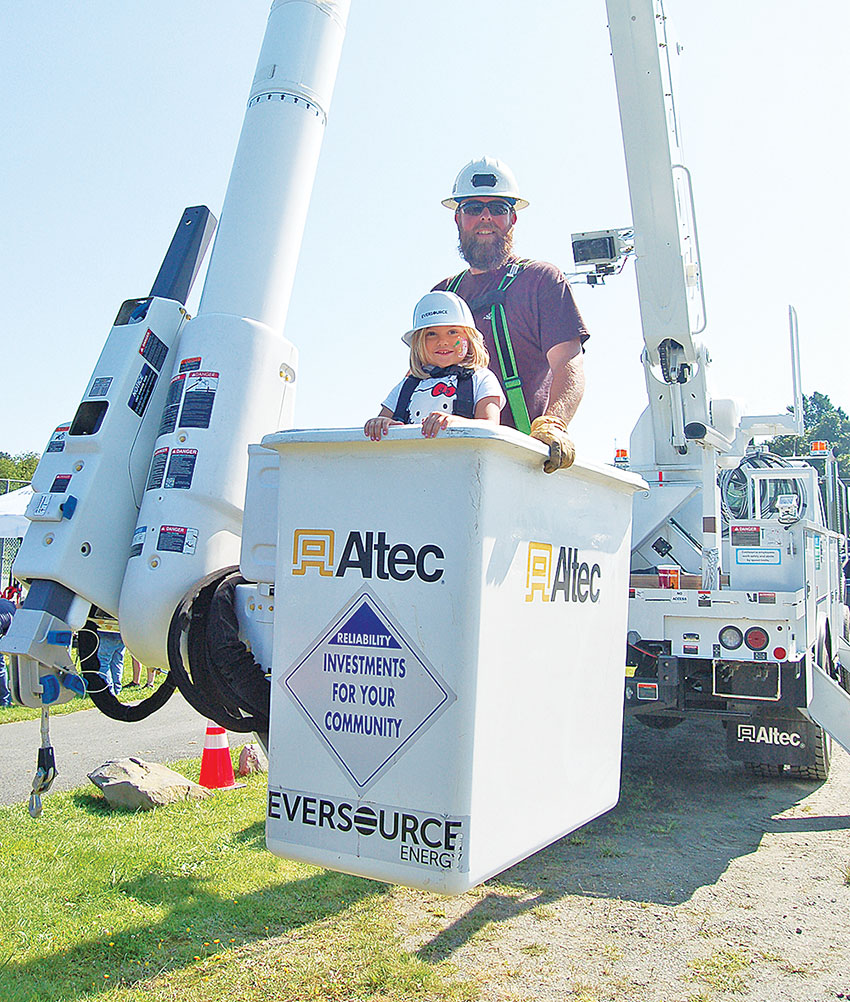 PLEASED AS CAN BE

Stephen Bashaw couldn't help but grin when presented with his diploma from Canaan school board chairman Dan Wade, with assistance from ENSU superintendent Karen Conroy, at commencement exercises on Saturday afternoon, June 8. (Rob Maxwell photo)
---
Home Depot Grant & Volunteers Help Canaan Legion Post with Improvements


The Vershire Center of Colebrook, a division of Northern Human Services, will celebrate fifty years of providing services to individuals with intellectual disabilities in the North Country by hosting an open house on Friday, June 21 from 11:30-2:00 p.m.

Vershire Center, originally the Ver-Shire School, opened its doors at its current location on Depot Street in March of 1969. Through the five decades of serving people with varying disabilities, Vershire Center has gone through a lot of changes including several name changes, the faces of participants and staff, and growing and expanding upon the services provided.

When the Vershire Center first began, much of the staff and clients' activities throughout the day took place within the four walls of this establishment. Over the course of time, the individuals served have integrated into their communities in many ways. Most hold jobs, and are now well respected, contributing members of the surrounding small towns.

As part of marking this golden anniversary, Vershire Center will host an open house on June 21st at the Colebrook location of 24 Depot Street, and all are welcome to drop by to say hello. As part of the festivities, Vershire Center will provide a barbeque with hot dogs, chips, cookies and beverages. The day will include music, door prize drawings, and an opportunity to visit with the staff and individuals served by the center.

Those with questions, or who wish to learn more about what the Vershire Center does, may call 237-5721 for information.

(Issue of June 12, 2019)
---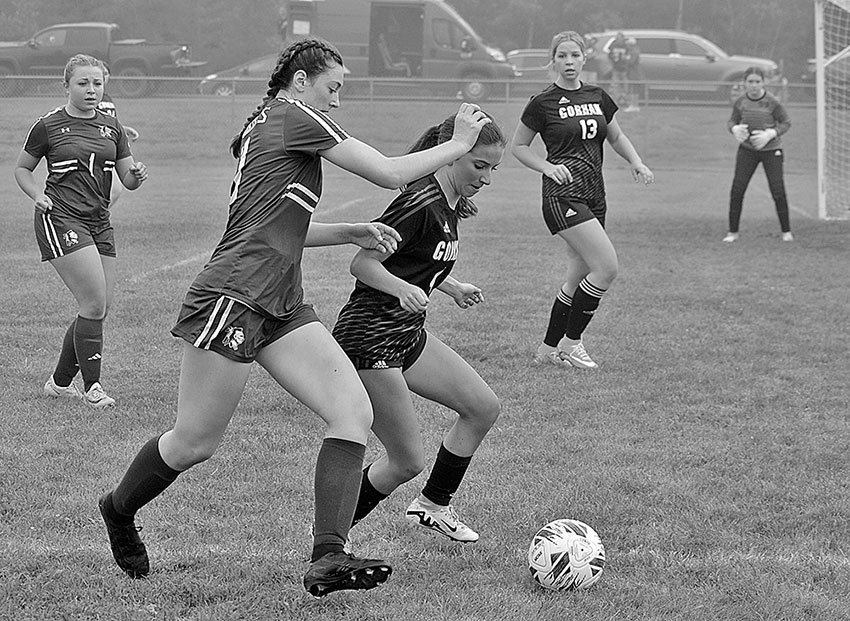 CELEBRATING RETIREMENT

Colebrook Academy business teachers Alicia Boire (left) and Ginette White were presented with shirts commemorating their retirement during a farewell party held at the Colebrook Country Club on Thursday afternoon. (Jake Mardin photo)
---
Kiwanis Club Plans Colebrook's July 4th

The Kiwanis Club of Colebrook will once again host July 4th events in Colebrook, starting at dusk on Wednesday night, July 3 with a fireworks display at the athletic fields. The rain date for the fireworks is the next night, July 4 at dusk.
Events on Thursday, July 4th start with a pancake breakfast served by American Legion Post 62 at the Monadnock Congregational Church from 7 to 10 a.m. The breakfast offers all-you-can-eat pancakes, bacon, sausage, coffee, juice and milk to start the day off right.
The annual Fishing Derby for Kids 12 and Under starts at 8 a.m. at McKinnon's Pond on South Hill Road, off Route 145. Prizes are awarded for the biggest and smallest fish, first fish caught, and first to reach the limit.
This year's parade theme is "Cartoon Characters," and the Kiwanis Club is issuing a challenge to all area businesses, organizations, families and residents to show their spirit and enter a float into this year's parade. The parade will step off at 11 a.m., with line-up on Colby Street starting at 10:30.
At 12 noon the Kiwanis Chicken Barbeque will be served on the Colebrook Academy Lawn. Diners should be sure to get there early-the Kiwanis' secret sauce ensures that the barbeque sells out every year. There will be live music, a kids' menu and activities, and parade prizes will be announced at 1 p.m.
More information about the Kiwanis Club of Colebrook may be found at www.colebrook-kiwanis.org.
(Issue of June 12, 2019)
---