MAKING HER CHOICES

Evelyn Levang shows off the two new books she selected during the Children's Literacy Foundation book giveaway, offered Thursday during the Colebrook Public Library's program with author Eric Pinder of Berlin. (Alan Farnsworth photo)
---
Colebrook Proposes Limiting ATV Use of Roads to Reach Trails from Homes
By Jake Mardin
The Colebrook selectboard will hold a public hearing on the adoption of an OHRV/ATV permit and use ordinance in the courtroom at town hall at 5 p.m. this coming Monday, August 9.
The purpose of the permit, which can be found at www.colebrooknh.org under the "select board" tab of the "town government" header, is "to establish standards for the use of OHRV and ATV motorized vehicles in the Town of Colebrook."
The ordinance stipulates that written permission to travel on roads not specifically designated for OHRV and ATV use in order to reach trailheads will be granted only to those who own property in town and have no other way of reaching the trail system.
Owners of unoccupied land where no dwellings exist are limited to a maximum of two permits per parcel. There are no maximum limits for those whose land contains a residence, but permits are limited to those whose names are on the deed or reside at the location.
"If a property deed in an abutting town grants a right-of-way from that property to a property in Colebrook, which property itself has access to a road approved for OHRV and ATV travel in Colebrook, an application for a permit will be considered by the board after applicant provides a copy of such deed with the claimed right-of-way specified in the deed," the ordi nance states.
Written permission forms will be in effect for a minimum of 12 months, but will also expire the following April 15. For example, a permit granted on April 1, 2022 will expire on April 15, 2023, and a permit granted on April 20, 2022 will expire on April 15, 2024. Permits do not grant general access along the length of the road beyond what travel is required for trail access, and must be carried and presented to law enforcement upon request.
The proposed ordinance also includes rules for parking along town roads. "There shall be no parking along the length of any road for the purpose of loading and/or unloading OHRVs and/or ATVs," the ordinance states. The Colebrook Police Department is authorized to implement a system of enforcement of the ordinance and collect penalties for violations, and the road agent may install signage to alert users to the ordinance after consulting with the police chief.
(Issue of August 4, 2021)
---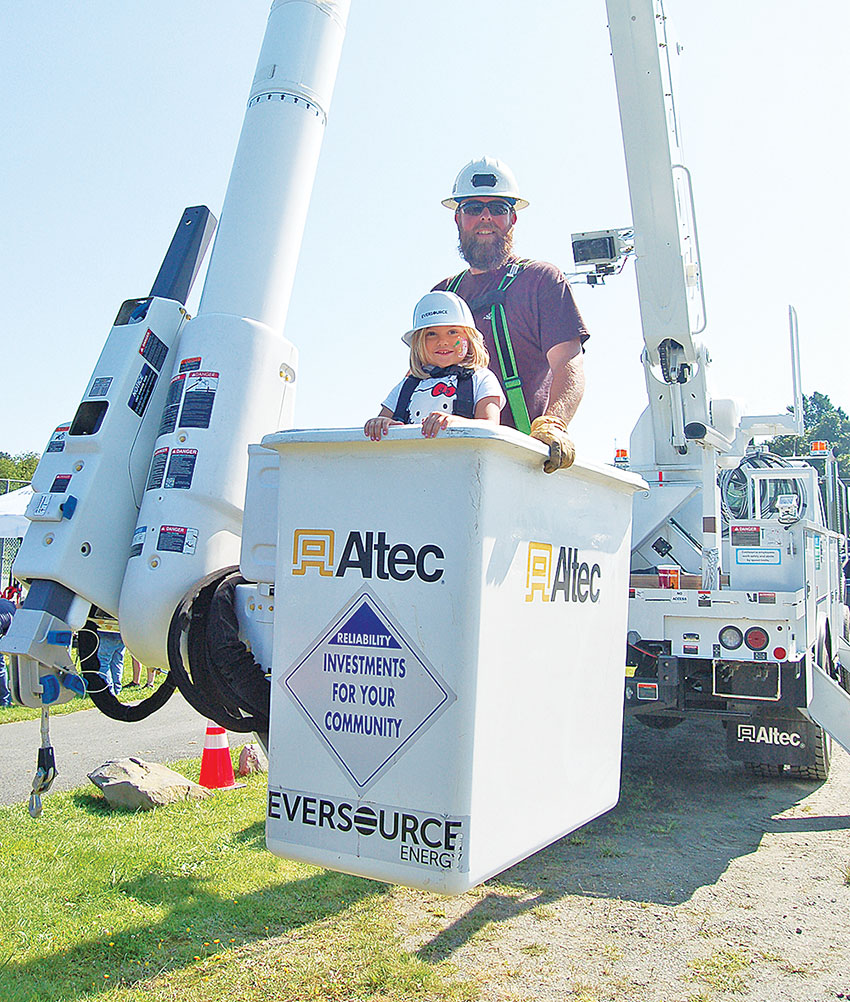 ON TO THE NEXT STAGE

Fans gather to see Travis Pastrana as he leaves the service area at JML Trucking in Errol on Saturday to take on the next stage in the New England Forest Rally. Pastrana had his Subaru WRX STI in position for a win but rolled it over in the penultimate stage. Details about the event can be found at www.newenglandforestrally.com. (Jake Mardin photo)
---
State Approves Sale of Granite Reliable Wind Farm to Tusk Wind Holdings
By Jake Mardin
The New Hampshire Site Evaluation Committee issued a draft order last week to approve ownership control of the Granite Reliable Wind Farm to Tusk Wind Holdings.
The 99-megawatt wind farm consists of 33 Vestas V-90 wind turbines, an electrical substation with nearby maintenance building and lay down yard, an interconnection switching station, collection line, an electrical interconnection line and approximately 12 miles of roads that were constructed for the project, and 19 miles of upgraded existing access roads. The wind farm is situated in the unincorporated places of Dixville, Ervings Location, Millsfield and Odell, and the town of Dummer. The facility entered commercial operation in 2012.
If approved, ownership will transfer from BAIF U.S. Renewable Power Holdings LLC, a subsidiary of Brookfield Renewable Power, and Freshet Wind Energy LLC to Tusk Wind Holdings, LLC, which is a subsidiary of NextEra Energy Partners. The NHSEC issued a certificate of site and facility to Noble Environmental Power, LLC in 2009. At that time, Noble owned a 75-percent share of the membership of the wind farm and Freshet owned 25 percent. Noble's membership share was transferred to BAIF in 2011. BAIF then acquired a portion of Freshet's ownership interest, resulting in the current ownership shares of 89.5 percent for BAIF and 10.5 percent for Freshet.
Under the terms of the purchase and sale agreement dated April 17, Tusk would receive all of the membership interests, and the facility will continue to be owned and operated by GRP.
In its draft decision, the SEC determined that Tusk "has adequate financial, managerial and technical capabilities to assure the continued operation of the facility." All of the conditions set forth in the original certificate will remain. The financial terms of the sale were not published, and the SEC granted a motion to consider the purchase and sale agreement to be confidential.
(Issue of August 4, 2021)
---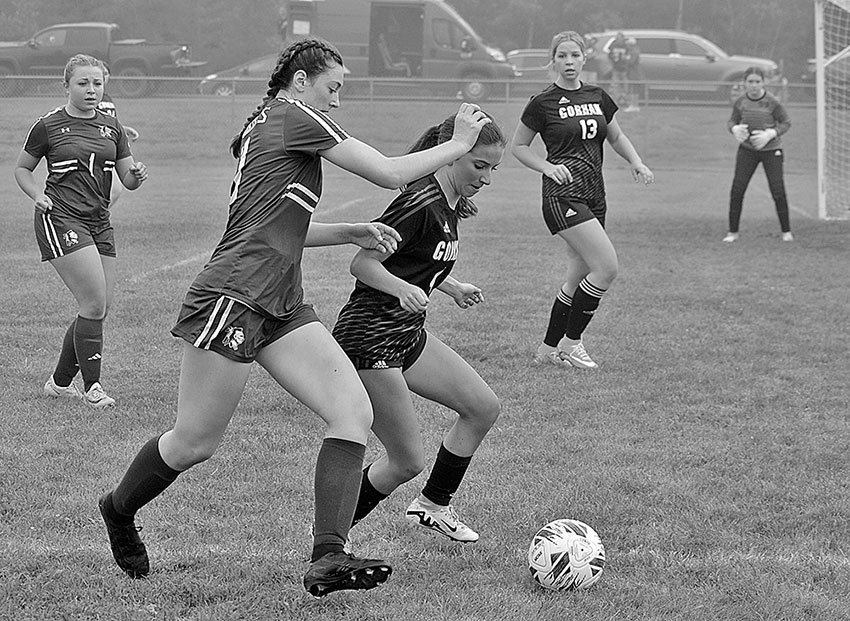 TALE FROM A LOCAL AUTHOR

Eric Pinder of Berlin reads one of his books I'd Rather Be Riding My Bicycle for an attentive young audience during his visit to the Colebrook Public Library on Thursday July 29 as part of the summer reading program "Tales and Tails." (Alan Farnsworth photo)
Coos Delegation Approves Use of ARPA Funds for Projects in Colebrook, Berlin
By Jake Mardin
During its quarterly meeting in Lancaster last Monday, the Coos County Delegation approved using American Rescue Plan Act funds for several municipal projects, including one in Colebrook. This was the first time the delegation had met in person since the start of the pandemic, and all prior meetings were held remotely.
The county received a little over $3 million in ARPA funds and voted to allocate half for the county and the other half equally between its three districts.
Colebrook selectman and county commissioner Ray Gorman presented Colebrook's proposed sewer main rehabilitation and pump station design for Edwards Street. According to a project summary prepared by CMA Engineers, the Edwards Street pump station's sewershed includes the Colebrook Homeowners' Association mobile home park and adjacent properties to the south, and Corliss Lane and Upper Connecticut Valley Hospital to the north. The pump station was originally installed in the 1970s and is at the end of its service life. The town has had problems with gravel entering the wet well and going through the pumps. The town opened a downstream sewer manhole and observed standing water, meaning there is significant groundwater coming into the sewer system as it crosses Beaver Brook. CMA Engineers recommends installing a new sewer main and manholes from the Corliss Lane manhole to the collection sewer manhole at Edwards Street.
The delegation voted unanimously to allocate $229,000 for the project, with the funding capped at that amount. The delegation also unanimously approved $250,000 for the City of Berlin for engineering design of water and sewer access along the Route 110 corridor. Berlin city manager Jim Wheeler explained that the proposed extension is approximately 1.75 miles along the Route 110 corridor past Jericho State Park to the top of the hill. In addition to the extension, a major upgrade of an existing pumping station and water storage tank is also needed. He said multiple landowners along this stretch of highway have made investments over the years, including a residential subdivision, brew pub, restaurant or retail potential with a newly constructed 6,000-square-foot building, a commercial development opportunity for a gas station and convenience store, a 7.85-acre parcel zoned for hotel development, and a large RV campground with 157 hookups. He said access to water and sewer is needed to unlock the potential of the area.
Michelle Moren-Grey appeared on behalf of the Coos County Broadband Committee to ask for $200,000 in ARPA funds for a consultant to identify implementation projects for fiber Internet connections. She said to understand what a potential network would look like, the committee has to know what areas have service and whether the existing level of service is acceptable. The delegation unanimously approved the request.
Outside of the ARPA funds discussion, Representative Dennis Thompson of Stewartstown brought up a possible future funding request for transportation of American Performance Polymers employees by Tri-County CAP. Rep. Thompson said he'd spoken with the director of TCCAP, who said they currently have a van based in Colebrook that also covers Columbia, Stewartstown, Clarksville, Stratford and Pittsburg. "APP would be willing to provide monies for a plan that could provide their help some combination of transportation on a couple of their flex shifts," he wrote in a letter to the delegation.
(Issue of August 4, 2021)
---
---
---
The News & Sentinel
6 Bridge Street, PO Box 39
Colebrook, NH 03576