IN THE NATION'S CAPITAL

In a whirlwind trip on Sunday, Milton Paradis of Stratford traveled in a group of 25 World War II and Korean War veterans with Honor Flight New England to visit their war memorials in Washington, D.C., and Arlington National Cemetery. His friend Jim Lee was among 35 volunteers who accompanied the vets on this 59th trip that Honor Flight New England has taken since it was founded in 2009, and said it was "an incredibly moving experience for the vets as well as the volunteers." Vets travel at no cost, and the organization (www.honorflightnewengland.org) is funded completely by donations. Mr. Paradis, now 96 years old, served in the Seabees during World War II. (Courtesy photo)
---
County Approves Employee Stipends, Hoping to Mitigate Staffing Shortage
By Jake Mardin
In an effort to address staffing shortages at the two nursing homes and retain employees, the county will use up to $500,000 in American Rescue Plan Act funds to pay stipends to nursing home employees as well as staff at the County Attorney's office, Department of Corrections and Sheriff's Office. The delegation approved the measure during its joint meeting with the commissioners in Lancaster last Wednesday.
The weekly stipend will last for eight weeks through the end of October. Employees who work over 30 hours will receive an extra $200 a week, and employees working 24-29 hours will receive $100 a week.
Coos County received an allocation of $3,065,372 in ARPA funds and divided it into four categories: one as a county-wide category and the others divided by the county's three districts. The delegation previously approved $200,000 in the county-wide allocation for a broadband roadmap strategy and implementation plan, leaving a balance of $1.3 million.
Coos County Nursing Hospital administrator Laura Mills spoke about the proposal and the difficulties that both the Stewartstown facility and the nursing home in Berlin are facing. "Nursing home work is not easy," she said. "The work is physically demanding, the hours are long, and employees of the nursing home are at risk for injuries and illness. COVID showed us just how true this part is. LNA work is the most physically demanding and LNAs have the highest workers' comp claims of any profession."
She added that most hourly nursing home employees are required to work every other weekend, and low wages for long-term care workers mean many are leaving the industry. "Our starting pay for housekeepers, laundry aides, activity aides, and dietary aides is $11.72 an hour and starting pay for LNAs is $14.09 an hour," she said. "Dunkin', McDonald's, Wal-Mart, etc. are paying $15 to $17 an hour to start. American Performance Polymers in Colebrook was advertising $17 an hour to start, plus an additional $60 a week for showing up on all shifts. Ethan Allen is advertising 'weekends off' to try to recruit employees from the industries that must work weekends. Every business in the North Country is hiring. We are all competing for the same employees. Employees can choose where to work and even try different careers if they wish. It is an employee's market."
Ms. Mills said 39 employees have left since the outbreak at the Stewartstown facility ended in December. "Reasons included retirement, relocating, resigning due to physical health, and resigning over personal issues," she said.
Six resigned in the past month after hearing that Centers for Medicare & Medicaid Services would require COVID vaccination for all nursing home employees. "We do not have that mandate in place, yet several employees chose to leave after hearing the possibility we could have one soon," she said. "We still have a number of employees that will probably leave once that mandate is in place." Under new guidelines announced on Thursday, CMS will require COVID-19 vaccinations for most health care facilities that receive Medicare or Medicaid reimbursement.
CCNH in Stewartstown is budgeted for 53 full-time equivalent LNAs, and has only 24. The hospital also has 13 of 19 full-time licensed nurse positions filled, and the dietary, housekeeping and laundry departments face similar shortages.
"With all these strikes against us, we need to be able to offer something to encourage our current staff to stay, and possibly recruit new people or bring back some that have left," Ms. Mills said. "Raising wages partway through the year is difficult. Union negotiations may be involved and our budget is set. By using ARPA funds to provide a weekly stipend for all our nursing home and corrections staff, we could offer competitive pay to compete with other industries. This could buy us time to address our low wages in a future budget."
Berlin nursing home administrator Lynn Beede echoed Ms. Mills' comments, saying that she has been in the long-term care industry for many years and has not seen the situation at this level.
Sheriff Brian Valerino says he uses 12 part-time deputies on a regular basis and tries to put them all around the county. Rep. Robert Theberge noted that part-time deputies were not included in the original proposal, and asked County Attorney John McCormick for his thoughts.
Earlier in the meeting, Attorney McCormick had addressed the two boards about the current situation in his office. He presented a thick stack of file cards and said they are backed up due to staffing issues. He said the case load is double what it was last year and said one of his assistant county attorneys is leaving. Mr. McCormick added that his office is seeing a lot of drug cases, and that he's concerned some of the bigger cases are not getting the attention they need because the staff is bogged down.
Rep. Dennis Thompson of Stewartstown said he wanted to see the matter handled through the budget and not with ARPA funds, and felt that the stipend proposal was a stop-gap measure. "We have to look at long-term solutions to this problem, not short-term," he said. He said he had no problem with giving stipends for a shorter length of time while figuring out a more permanent solution.
Commissioner Thomas Brady said he would like to see the matter handled through the budget process, but the board would have to determine if there is money in this year's budget to do that. If not, a supplemental budget would be required.
After further discussion, the delegation voted 9-0 to approve stipends for the two nursing homes, Department of Corrections, full and part-time sheriff's department staff and the county attorney's office for eight weeks at an amount not to exceed $500,000. The boards will review the issue at their October 26 meeting.
(Issue of September 15, 2021)
---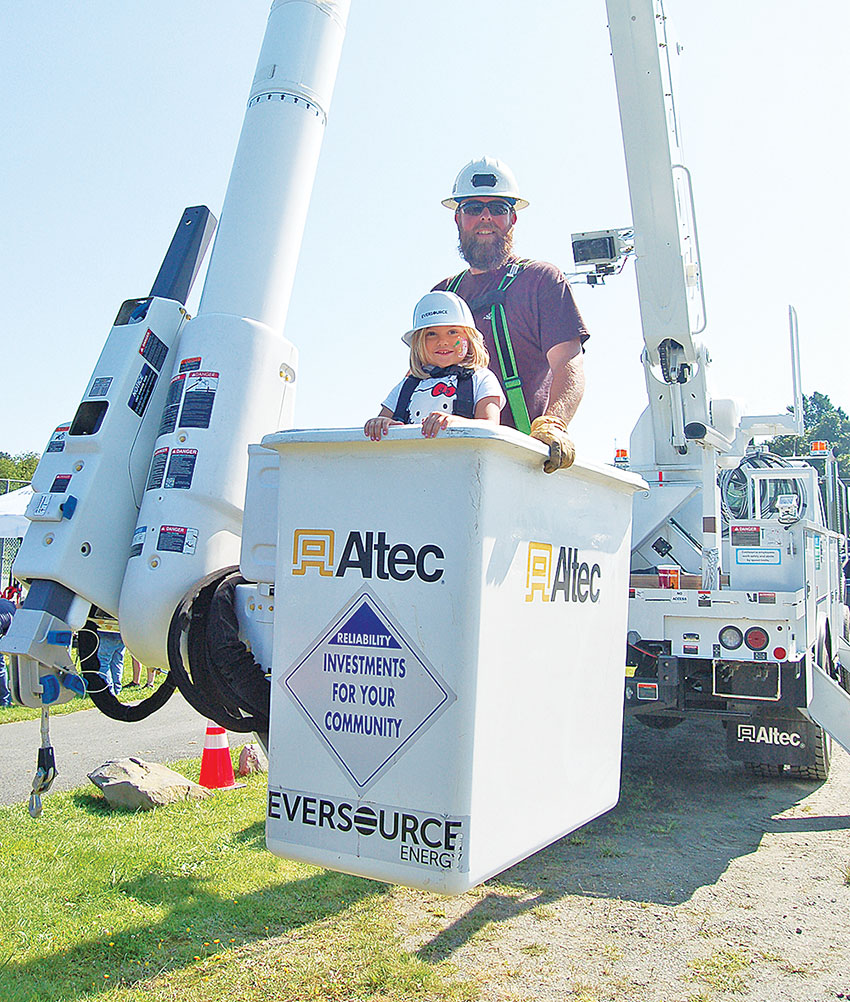 9/11 REMEMBRANCE WALK

Area firefighters, 45th Parallel EMS personnel, Legionnaires and residents gathered to take part in the 2nd Annual 9/11 Remembrance Walk on Saturday, September 11, twenty years after the terrorist attacks in New York City and Washington. The walk consists of 3.43 miles to honor the firefighters who lost their lives in the line of duty that day. Leading the way are Pittsburg firefighter Philip Rondeau, and organizer Chaplain Dean Neary, CFD Ladder 6 Lieutenant. (MaryAnn W. Neary photo)
---
Caleb Caregivers Expanding to Offer Free Services to Colebrook Area Seniors
By Karen Harrigan
Caleb Interfaith Volunteer Caregivers recently received a $10,000 grant from the New Hampshire Charitable Foundation that will allow for expansion into the Colebrook area, where currently services available to seniors are limited.
Executive director Barbara Payer is meeting with local groups this week to introduce Caleb Caregivers to the community and recruit volunteers. She explained that Caleb is making this move in partnership with Upper Connecticut Valley Hospital, which will provide space from which to operate.
A nonprofit organization, Caleb has been helping to enhance independent living for seniors over 60 by providing free services in the North Country since 1995. These services include transportation to medical appointments, shopping, light housework, yard work, pick-up and delivery of food and prescriptions, and daily reassurance phone calls.
Caleb currently serves nine towns--Lancaster, Littleton, Whitefield, Bethlehem, Twin Mountain, Dalton, Groveton and Jefferson--and now will have a presence in Colebrook. Caleb volunteers have served over 150 clients with the help of 30 volunteers over the past year, despite the challenges that Covid presented.
"We see a specific need to provide free care in Colebrook and surrounding towns," said Mrs. Payer. "It is vital to seniors' overall well-being to have accessibility to health care and to shop locally for food and personalized items. Our goal is to reach and serve every senior who needs a hand, while forming a team of committed volunteers and program instructors to help make a significant difference in the lives of our elderly."
Mrs. Payer met with town officials this past spring, and will speak with the North Country Chamber of Commerce and the Kiwanis Club of Colebrook this week. She's hoping to recruit ten volunteers, having already connected with some UCVH volunteers during their annual dinner in June.
UCVH president and CEO Scott Colby expressed appreciation for the time that Caleb Caregivers volunteer to offer rides throughout northern Coos County. "Reliable transportation is a growing concern for our patient population, and these volunteers will help people get the care they need close to home."
Often older patients don't have a way home when released from the hospital, and the ambulance transports them. Mr. Colby noted the importance of keeping costs low for trips from the hospital after a short visit. "A ride home from UCVH with Caleb Caregivers is much more appropriate for most cases, and this way we don't need to burden an ambulance crew or incur unnecessary expenses for our patients."
Seniors in need of services may call Mrs. Payer at the main office number, 603-788-3585. She may also be reached at calebcaregivers@gmail.com. More information about Caleb Interfaith Volunteer Caregivers, including how to donate and become a volunteer, may be found on-line at www.calebcaregivers.org.
(Issue of September 15, 2021)
---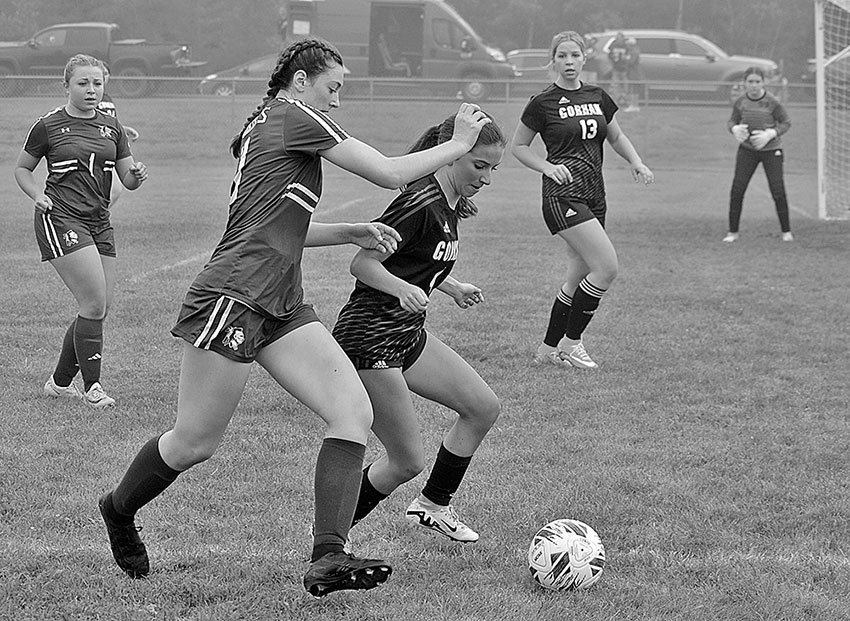 BEST DRESSED HONOREES

The Pittsburg Fire Association Team presented a $100 Buck Rub Pub gift certificate to the Liberty Belles team, who were judged Best Dressed at the Pasture Golf event in Pittsburg on Saturday. From left to right are April Lemay, Judith Masson, Megan Prehemo and Julie Giroux. (Ann Gray photo)
---
NEK Broadband Enters Partnership Aimed at Moving Project Forward

The NEK Community Broadband Communications Union District, commonly referred to as NEK Broadband, took a major step toward bringing fast Internet to all addresses connected to the electrical grid in the region during its board meeting on September 9.
The district, made up of 45 member towns in Essex, Caledonia and Orleans counties, approved a joint partnership with Mission Broadband, the National Rural Telecommunications Cooperative, and Waitsfield and Champlain Valley Telecom (WCVT).
"The new partners bring extensive experience building and operating rural fiber-optic Internet networks that will greatly benefit this large project," stated a press release issued yesterday by NEK Broadband. "This strategic partnership will bring high-speed fiber-optic Internet service to unserved and underserved addresses, with access to less than 25 Mbps download and 3 Mbps upload Internet speeds."
NEK Broadband plans to build a fiber-optic network that can deliver Internet service speeds up to a gigabit per second to approximately 20,000 underserved households, which will require construction of more than 2,500 miles of fiber-optic cable. Although the goal is to complete the project in five years, there are many variables, such as availability of materials and skilled labor, that are beyond local control, and it could take up to seven years to complete. New service is expected to be available in some areas by the end of 2022. The partners will leverage state and federal grant funding available to Communication Union Districts for Internet improvement projects.
"Creating a universally available, fast, reliable and affordable Internet option as soon as we can is critical to meeting the economic, educational, health and social needs of our residents and businesses," said Christa Shute, NEK Broadband's interim executive director. "This partnership brings real-life expertise and commitment to the development of public fiber infrastructure by combining our local resources with a third-generation, family-owned Vermont Internet service provider and a telecom cooperative with national reach."
The three chosen partners jointly submitted one of seven responses to NEK Broadband's request for partnership that was released in June. The process of interviews and related fact-finding was performed by a subcommittee of NEK Broadband governing board members.
NEK Broadband is currently working through the details of planning, design and engineering for various stages of the project. The organization is actively applying for state and federal grants, having recently received $276,000 for pre-construction work.
The NEK Community Broadband Communications Union District is a not-for-profit municipal entity that was formed in March of 2020, and now includes 45 member towns including Brighton, Brunswick, Canaan, Guildhall, Maidstone, and the Unified Towns and Gores. Updates on planning and construction progress may be found on-line at www.nekbroadband.org and on the Facebook page "nekcommunitybroadband," and board meetings are on-line the second Thursday each month.
(Issue of September 15, 2021)
---
---
---
The News & Sentinel
6 Bridge Street, PO Box 39
Colebrook, NH 03576