BIG HONOR FOR RAY GORMAN

Ray Gorman of Colebrook poses with Sky, one of many American Brittany dogs he has guided to success as a field trainer, breeder, club official and contributor. His accomplishments will be formally recognized in February when he is inducted into the Brittany Field Trial Hall of Fame at a ceremony in Grand Junction, Tenn. (Jake Mardin photo)
---
Ray Gorman of Colebrook Selected for Brittany Field Trial Hall of Fame
By Jake Mardin
American Brittany dog field trainer, breeder, club official and contributor Ray Gorman of Colebrook will receive the ultimate honor in his field in February, when he is inducted into the Brittany Field Trial Hall of Fame during a ceremony in Grand Junction, Tenn.
The American Kennel Club calls the American Brittany agile and energetic, and describes the breed as a "stylish and versatile gundog." Gorman said he grew up "like the classic North Country guy" as a road hunter or walker, and had recently married when he was out on a hunt and shot three birds. He found one but was unable to locate the other two. "I decided it was time to get a bird dog," he said.
A guide in Pittsburg presented him with a Brittany, and he learned how to train it after joining a bird dog club. He later bred that dog, and one of the dogs it produced was Ray's Pride of Coos, also known as Buck, who was Ray's first competition dog. "I can say with confidence he was one of the finest dogs to ever come out of New England," he said. "He was an absolute natural."
Buck was one of many dogs trained by Ben Lorenson, who helped Ray train several of his champions. Another trainer he has worked with is Dave Hughes, and he said he wouldn't be going to the Hall of Fame without their influence and guidance.
Ray observed that a successful bird dog "needs a strong desire and the instinct to point, and to be smart and biddable." He has owned or co-owned nationally placing dogs, including champion Seumac's Sky King and runners-up Ray's Pride of Coos and TBF's Hot Roddin' Howser, along with Coos Rylee.
He still has Seumac's Sky King, and co-owns him with Dr. Roger McPherson. The two men also trained him, along with Dave Hughes. Seumac's Sky King has attained the title of National Amateur Champion and was a runner-up National Open Champion. "He's won in Michigan, Connecticut and all over the south," Ray said. "He has tremendous style on point, he's very biddable and runs like a deer."
He said he has been fortunate to have many good dogs, and that the area offers ample opportunity for training. "Training on wild birds is a real advantage, and with the grouse and woodcock populations up here, you can really make a nice dog." He said he trains for a minimum of ten hours a week, and the time period from around August 1 to September 1 is when he is getting the dogs ready for competition.
An average weekend field trial will have 100 to 150 dogs competing, but the nationals will include 50 to 100 dogs, with the competition lasting several days. Ray explained, "The dogs need to hunt and find birds, point with style-which is having a high head and high tail so they look like a statue-must have manners and not chase other birds, not move once they are on point, honor another dog's point and run to the front with speed and style."
Ray's list of accomplishments in the American Brittany community is lengthy. He has been a director with the American Brittany Club for 12 years and is on the nominating, ethics and judging committees. He helped establish the National Gun Dog Championship and is involved with many aspects of Gun Dog Nationals.
He said one of his proudest accomplishments is establishing the New England Grouse and Woodcock Championship at the Northern New Hampshire Bird Dog Club in Kilkenny. The grounds were secured by the late John Lanier, and a group headed by Ray, Lloyd Murray and several others has kept it going.
He also considers it an honor to serve as a judge. "When you judge the Grand National Grouse and American Kennel Club Nationals, it's a tremendous honor and show of respect," he said. "You're judging the best dogs in North America."
Ray learned two weeks ago that he was elected for the Brittany Field Trial Hall of Fame, which he calls "a show of respect from your peers." The criteria for a person inducted into the Hall of Fame include being a club official, judge or reporter, an owner, breeder or handler, a patron and demonstrating superior sportsmanship.
More information about the sport, the National Bird Dog Museum and the hall of fame can be found at www.brittanyfieldtrialhalloffame.com.
---

<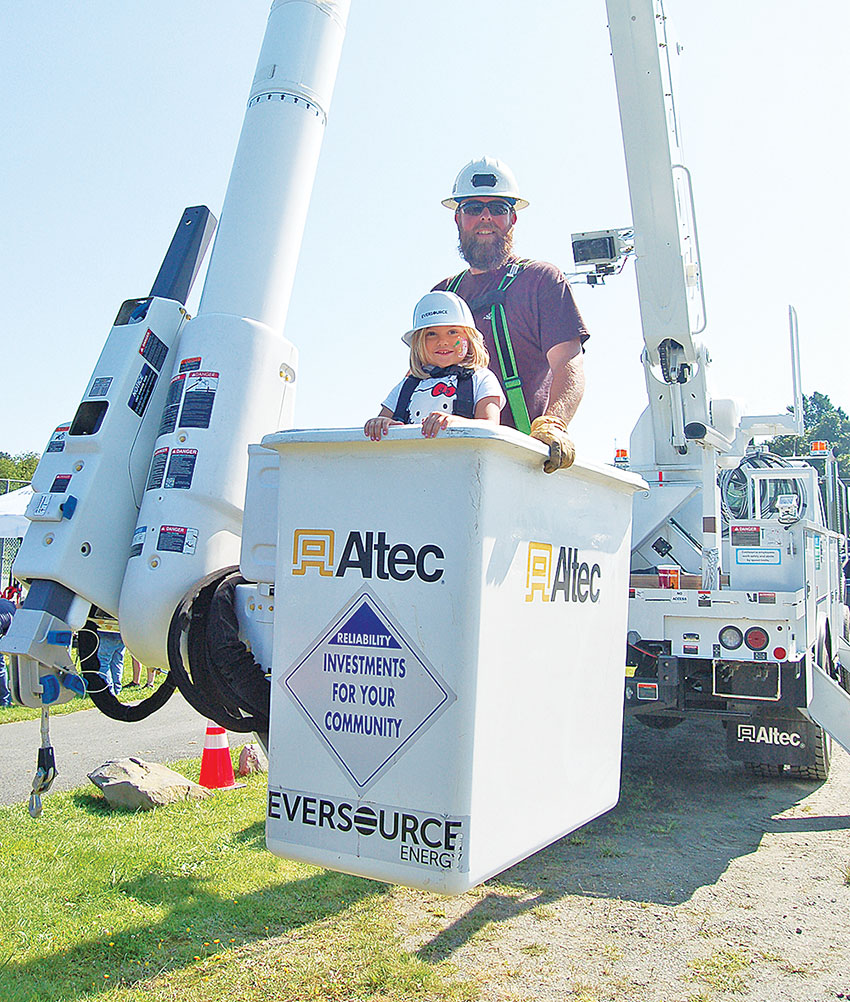 DOSEY-DO POODLES

Debbie Phillips and Ezra, with Joanne Hurst and Maudie, re-create a square dance routine that they regularly practice with the Tailwaggers, an eight-member demonstration team of dogs from Sussex, New Brunswick, for the talent show during the 19th Annual Crabapple Downs Poodle Family Reunion, held in Columbia on Sunday, September 15. (Alan Farnsworth photo)
---
Anglers Caught with Over Twice Two-Day Limit of Trout in Stewartstown

Two Massachusetts men were charged with possessing greater than two days' limit worth of trout after N.H. Fish and Game Conservation Officers found them in possession of 45 brown and rainbow trout in Stewartstown on Saturday.
According to Sgt. Glen Lucas, he and CO Chris Egan were on patrol on Route 3 when they saw a fisherman heading toward the Connecticut River near Tallmage Plumbing and Heating. They caught up with him and his companion at the river and received permission to look in a cooler, where they found 17 trout hidden under food. The men admitted to having more fish back at the Ledges Motel, where they were spending the night. Sgt. Lucas and CO Egan went back to the room and found another 28 trout in various bags.
Sgt. Lucas said the fish limit for one person is five fish a day, and a person is allowed to have only two days' worth of fish (10) in their possession at any given time. As a result of the investigation, Gene Galuska, 69, of Southwick, and Charles Galuska, 58, of Brookfield, were both charged with possessing greater than two daysí limit of fish. Each was fined $248 and lost his fishing license for one year. The fish will be donated to local families and churches for those in need.
Sgt. Lucas said overtaking of trout takes opportunities away from other anglers. "That's a lot of fish that could have been caught by someone else," he said.
(Issue of September 18, 2019)
---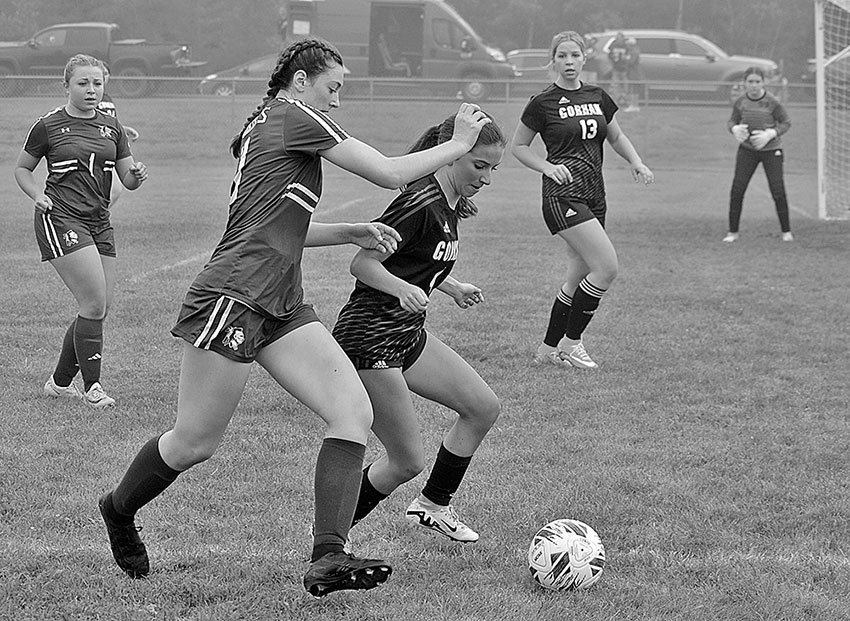 OFF THEY GO

A crowded field of competitors began their trek on the demanding Metallak Race Sport Course on Saturday morning, starting off at Mohawk Falls in Colebrook. The course tested each racer's ability to cycle, run and hike over some rugged terrain, including portions of the Cohos Trail. The 51-mile Endurance Course drew 53 racers, and 25 competed on the 28-mile Sport Course, as individuals and on tandem or relay teams. (Rob Maxwell photo)
---
Annual Heritage Tour for Middle School Students Cancelled for 2020

Junior high students from six school districts in northern New Hampshire and Vermont will not take the Heritage Tour trip to Washington, D.C., Philadelphia and New York City next spring, after chief chaperone and organizer Dan Mackin announced he was unable to take on the job this year.
Mr. Mackin notified the Kiwanis Club of Colebrook, which underwrites the insurance costs for the annual five-day bus trip to historic and cultural sites-that after leaving his teaching position at Stratford Public School, it would not be possible for him to continue the leadership responsibilities. Kiwanis president Mary Jolles said that a search in August for a new trip organizer and head chaperone proved unsuccessful.
Students in grades 6-8 from Stratford, Colebrook, Canaan, Stewartstown, Pittsburg and Errol schools have been taking the springtime tour since 2004, when funds left over from traveling Vietnam Veterans' Wall Memorial visit to Colebrook in 2003 were used to help finance the first trip. Mrs. Jolles noted that the project has grown over the years, and recently 42-48 students have been making the journey every spring with financial help from the Tillotson North Country Foundation and fund-raising by the students themselves.
Mrs. Jolles said that because reservations for accommodations and venues must be made months in advance, after failing to find a replacement for Mr. Mackin the club decided to cancel the trip for this year.
"Whoever takes on the organizer and chaperone job must be approved by the Kiwanis Club and all six school boards," said Mrs. Jolles, "and we talked to three candidates without finding a replacement for Mr. Mackin." Mrs. Jolles added that the club discussed the possibility of hiring an outside agency to assume control of the trip, but abandoned this notion upon learning that the cost would be prohibitive.
Stewartstown Community School principal Jennifer Mathieu expressed her disappointment over the cancellation. "This is a huge loss," she said. "The Heritage Tour has been a great opportunity for many students-for many, the opportunity of a lifetime. It gave kids exposure to historical, cultural and social experiences that cannot be replicated in a classroom."
Mrs. Jolles said the Kiwanis Club will make an effort to find a suitable chief chaperone and organizer in time for the tour to resume in the spring of 2021.
(Issue of September 18, 2019)
---
Some Changes This Year for Colebrook Homecoming Events

Colebrook Homecoming activities will take place next Friday and Saturday, September 27 and 28, with some changes coming to the event for this year.
Homecoming weekend kicks off on Friday at 6 p.m. with the parade, and the theme for this year is "Decades." The parade starts at the lower parking lot of Colebrook School on Dumont Street, travels up Colby Street to Main Street, turns south and then back to Colby Street via Bridge and Monadnock streets. The parade route ends at the snack shack entrance, where the floats will be displayed on the field for the pep rally. This year's Grand Marshal is Dana Bartlett, a longtime supporter of Colebrook athletics.
At the field, the Homecoming King and Queen and the rest of the court will be announced, along with the float winners. There will also be music, games, a bonfire and fireworks, and the snack shack will be open. "One of the things the Colebrook Booster Club felt was that we really wanted to highlight the new campus," said club president Butch Ladd. "The goal was to keep everything right there and have more fireworks, music and food and offer more activities."
On Saturday morning, both varsity soccer teams will gather for breakfast at the Monadnock Congregational Church. Junior high soccer games against Groveton will be played at 9 a.m., followed by the varsity girls' game at 11 a.m. and the varsity boys' game at 1 p.m.
(Issue of September 18, 2019)
---
---