IT WORKS!

Sienna Grondin and Jessica Nadeau try out their invention, a bubble machine they recently made with Little Bits circuits during library class at Canaan Schools. (Courtesy photo)
---
Otten to Reside in Dixville, Clearing the Way for Midnight Primary Vote
By Jake Mardin
Dixville will retain its midnight primary vote, after Balsams developer Les Otten announced last week that he is moving there, which will give Dixville the required number of officials necessary to conduct the election. Dixville now joins neighboring unincorporated places Millsfield and Hart's Location for midnight voting on Tuesday, February 11.
"Midnight voting in Dixville is a tradition that dates back to 1960 and I feel strongly that it should continue," Mr. Otten said. "It is truly an honor to be a part of that tradition, to cast a ballot to elect a nominee for president in the hallowed ground known as the Ballot Room." The Ballot Room as it was no longer exists, but developers have said it will eventually be rebuilt in the new hotel.
Dixville moderator Tom Tillotson confirmed with the Associated Press that the election in Dixville would go forward after Mr. Otten's announcement. Before the move, Dixville was one short of the five officials required to hold a legal election.
Midnight voting in Dixville began in 1960 when Balsams owner Neil Tillotson arranged to have it held at the resort, and it has been held every four years since then without interruption. This year it will be held at the Hale House, which is also Mr. Otten's home.
"I lived here in 2016 on the Balsams property and was proud to have cast a ballot then," he said. "It will be an honor to vote again at midnight this February 11."
Just down the road on Route 26 at Log Haven Restaurant, voters in Millsfield will participate in the primary. Millsfield's participation in midnight voting predates Dixville's, going all the way back to 1936. According to an article by New Hampshire Public Radio's Casey McDermott, Genivieve Nadig (later Annis) started the tradition and held the vote at the garage shop studio at her home. After a period of not having a midnight vote, the tradition was revived in 2016 at Log Haven. The year prior, Secretary of State Bill Gardner visited the unincorporated place and asked them to participate in the 100th anniversary of the primary, and following the signing of House Bill 1400, which added Millsfield to the law governing early closing of polls, they were all set to go forward.
(Issue of January 15, 2020)
---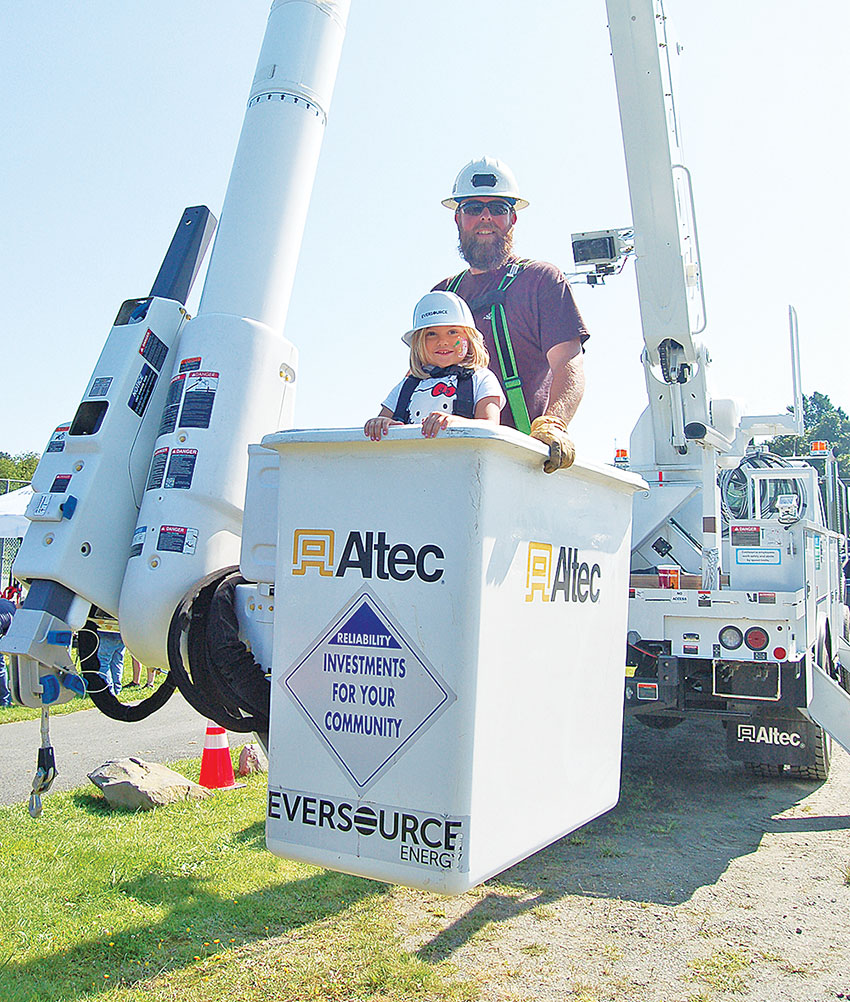 LAST DAY ON THE ROAD

At age 83 and after 34 years, Annette Boynton made her last deliveries as a rural mail carrier in Canaan and Lemington on Friday. (Karen Harrigan photo)
---
Longtime Rural Mail Carrier Annette Boynton Bids Farewell to Her Route
By Karen Harrigan
When Annette Boynton used to see rural carrier Arthur Sage from Averill out delivering the mail, she thought it was a job she'd like to have for herself someday. "So I did," she said. "I started in August, 1986."
Annette's last day was Friday, concluding nearly 34 years of delivering mail on the Canaan post office's southern route behind the right-side wheel--which she says she actually prefers to the left--in a series of six vehicles. Her current car is a 2006 Subaru Forester that has more than 188,000 miles on it, thanks to a 42-mile round trip on her daily route.
"I start at the school, then go to the mobile home park, Canaan Hill Road, the bottom of Canfield Road, then down 102 to Lemington," she said. "On Tuesdays I stop at the town clerk's office--way back, it was Jeannette Ellingwood, now it's Beth. Nice girls. Then I deliver on my way back, and after coming back I go to Beecher Falls."
Annette said she never had any trouble getting around, and got stuck only once. "I drove front-wheel-drive at first and I though it was great, but it's not anywhere near as good as all-wheel," she said. "I got stuck my first year, and for some reason I was at the far end of Sims Hill Road. I thought please, Lord, help me, and then here comes Joe Daley."
She once assisted a Massachusetts driver who got stuck on Todd Hill and "didn't have so much as a shovel," she said. She helped him get unstuck with a traction mat that she had in her car. "Always do," she said. "And salt, a shovel and a blanket--you have to be ready. I told him next time you come to Vermont, bring a shovel."
The road of life has provided its share of bumps for Annette, too. Her family immigrated to the U.S. from Canada when she was young, and school was a struggle at a time when she was still learning English. She met her late husband Harvey while working as a nurse's aid at the county hospital, kept the home fires burning while he drove truck for Ethan Allen, and has survived two bouts with cancer.
Annette's daughter Terrie said her mother started on the postal route shortly after she left for school. "Once I went off to college, she was bored," Terrie said. "I was her 'career' until that time." She said Annette "has always sacrificed her wants and needs for others, which many can attest," and called her a great role model.
Donald Fillion was Canaan's postmaster from 1983 until he retired in 2009, and was there when Annette started. "I'm the one who brought her in off the street and hired her," he joked. "That was before they had any serious rules."
He called Annette a "meticulous, thorough and conscientious" employee, who loves people and loves her job. "Sometimes it's hard to carry the mail--the weather, the road conditions." Don said there was never a doubt that Annette cared about her customers. "That's all her people, you know."
When asked if she'll miss delivering the mail, Annette said, "Of course!" She expressed gratitude to all of her customers over the years, and called her coworkers at the post office "my angels."
Those who would like to congratulate Annette on her retirement may send cards to her attention at the Canaan Post Office, 350 Christian Hill Road, Canaan, VT 05903.
(Issue of January 15, 2020)
---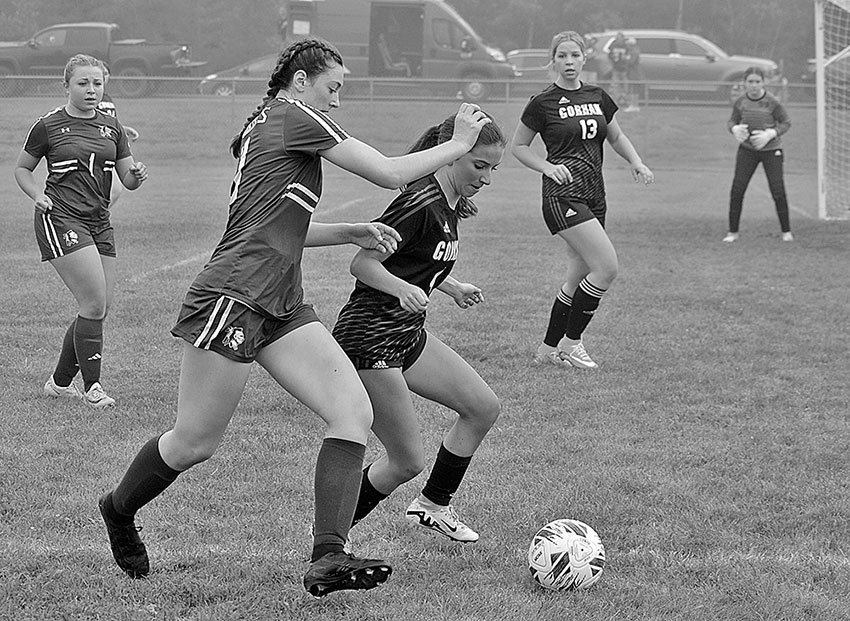 GLIDING TO THE HOOP

Pittsburg-Canaan's Amanda Hughes goes in for a basket against Profile during last Tuesday's 57-29 win at home. (Jake Mardin photo)
---
Citizen Emergency Response Team Seeks More Volunteers in Colebrook
By Jake Mardin
Colebrook's Citizens Emergency Response Team (CERT) is looking for new members to join the group, whose volunteers provide assistance during incidents such as fires, traffic accidents and other emergencies.
"The CERT team is pretty well established now," said Colebrook emergency management director Wayne Frizzell, observing that its leader David Brooks "has done a good job keeping it all together." Mr. Frizzell said there are usually eight active members on duty, and the team needs more help.
In addition to responding to emergencies and helping fire departments with things such as traffic control, the team also arranges for shelter during emergency situations. Mr. Frizzell said if a shelter is needed, CERT will work with the emergency management team to open one up. The process also includes registration and security, and making sure there is food and water. "It's not as easy as opening the front door," he said.
The nature of the job allows for people with different skill sets to be involved. Mr. Brooks said everyone has their own niche, with some being good with things like traffic control and others more helpful on the clerical side. Mr. Frizzell noted additional CERT members will especially be needed this year due to the town's 250th anniversary celebration, which will make the annual 4th of July parade a much bigger event than usual.
CERT would like to schedule a 20-hour training course, and anyone who is looking for information is welcome to attend the team's next training session. It will be held at 6 p.m. on Wednesday, January 22 at the Colebrook fire station.
The course will cover a variety of topics, including basic first aid, flagging, light search and rescue, and fire safety. Mr. Frizzell said the team will work to accommodate different schedules, and he and Mr. Brooks both said the course will teach skills that can be used in everyday life.
As a member of the Colebrook Fire Department, Mr. Frizzell said CERTs presence has been welcomed at several instances. He said one example was during the fall storm that blew down trees throughout the area. The storm caused damage across a wide area requiring closure of several roads; members of CERT were called upon to stay at some of those areas, which freed firefighters up to go to other locations rather than keep personnel and equipment there. "It's very valuable to the fire department to have CERT in place," he said.
The town purchased the fire department's old rescue trailer and CERT uses it to store 50 cots and 60 blankets donated by the Red Cross, chainsaws, power generators, flagging supplies and signs. The team has also received search and rescue training from N.H. Fish and Game and training from Primex on injury prevention and chainsaw safety. The team is also working to obtain funding for a water purification system that can be used in the event that the town has a problem with the water supply.
"It's a great way to give back to your community," Mr. Frizzell said. "The group of volunteers we have now is fantastic. You call, and they come."
Anyone 18 years or older is welcome to attend the January 22 training session. Anyone looking for additional information can contact Mr. Frizzell at 603-331-1985 or Mr. Brooks at 603-915-0332.
(Issue of January 15, 2020)
---