WATER HAZARD

Scott Laurent of Laconia provided this photo of his friend Matt Soucy, helping to free a sled from the water on Trail 140 in Pittsburg on Saturday. The two men stopped to help some riders in trouble and Scott said, "We did manage to get it out with all the man power we had." This site was well north of the intersection with Trail 112, and another big trouble spot was on Trail 140 just south of the 112 intersection. The Ridge Runners did not close the trails, but did ask riders to minimize travel during the weekend. Several sleds were submerged and the club's Facebook page is full of photos of retrieval efforts.
---
Kevin Lassonde Returns to Old Position as Chief of Pittsburg Fire Department
By Jake Mardin
Kevin Lassonde of Clarksville is once again chief of the Pittsburg Fire Department, following the department's annual election last Wednesday. He resumes the position held by Lindsey Gray, who did not run for reelection after serving as chief for the past year and as interim chief prior to that.
Chief Lassonde previously served as chief from 2011-16. He started with the department in 1997 and has held several positions, including captain and lieutenant, and was deputy chief from 2008-11.
Arnold Gray was elected as assistant chief, a position he held when Mr. Lassonde first served as chief. Previous assistant chief Dwayne Covill was elected deputy chief.
"I want to extend my appreciation to the members of the department who kept it at the level that it's been and to the tremendous effort put forward by Chief Gray, who did a phenomenal job," Chief Lassonde said.
Lassonde is also the president of the Northern New Hampshire Mutual Fire Aid District, which consists of 17 towns from Pittsburg to Twin Mountain and supports a mutual aid agreement among all towns to provide manpower and equipment when needed during emergencies.
He is also a member of the Granite State Fire Service Support Team, an organization that assists fire departments and firefighters' families dealing with line-of-duty and non-line-of-duty deaths and funerals, and is a part-time, on-call fire inspector with the N.H. Fire Marshal's Office.
"My biggest goal right now is to have a smooth transition back into the position of chief, basically get back on track and pick up from where I left off and keep moving forward with the achievements the department has made and continues to make," Chief Lassonde said, noting that he had some projects under consideration when he left in 2016.
He said the department is doing well and has 25 members. "We have very well-trained and well-educated members from all walks of life and all levels of skill," he said. "Whatever is laid out in front of us for a call, generally we have vast knowledge of a little bit of everything."
(Issue of January 17, 2018)
---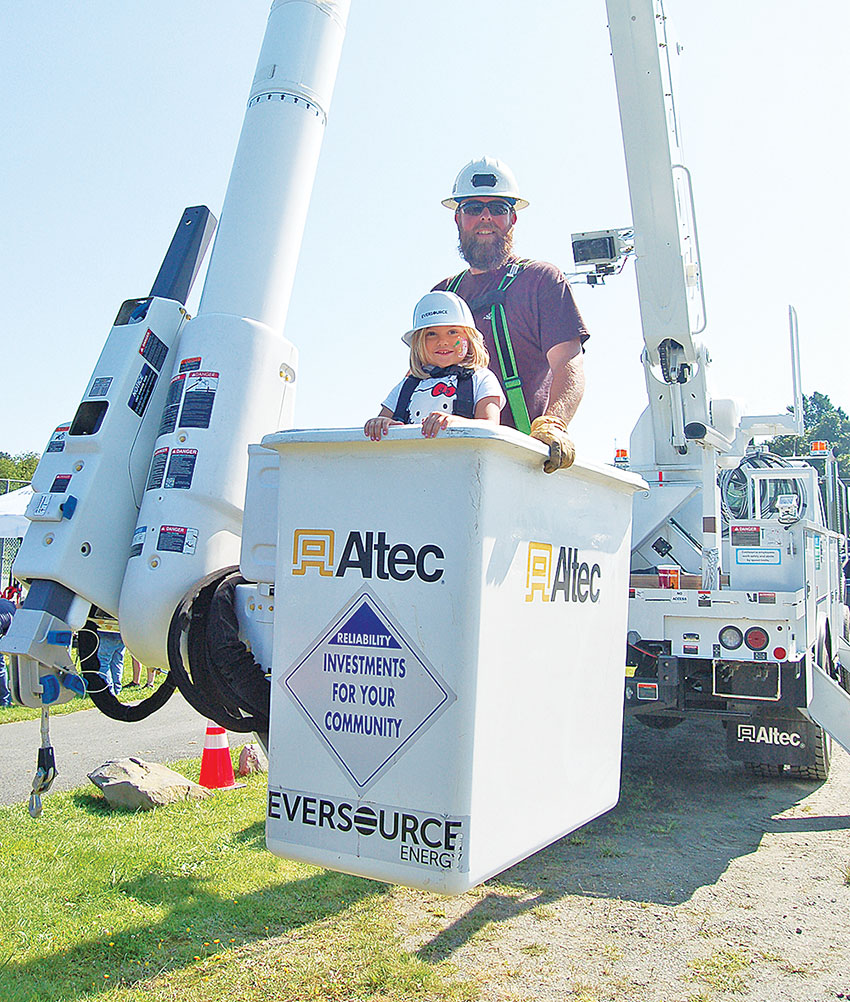 DRIVING TO THE HOOP

Canaan-Pittsburg's Daemon Jaimes moves to the basket during the Seth Savage Memorial 3rd and 4th Grades Basketball tournament in Stratford on Sunday. (Jake Mardin photo)
---
Coos Commissioners Debate Properties, Including Administrator's Residence
By Jake Mardin
The Coos County Commissioners discussed various pieces of county property during their monthly meeting in Lancaster last Wednesday, including the county house and forestland.
The discussion begain when Commissioner Rick Samson asked what is currently being done in regards to the county house. The house sits on the southern end of County Farm Road in Stewartstown and was traditionally used by the county administrator. After the retirement of previous administrator Sue Collins in 2012, current administrator Jennifer Fish said she did not plan to live in the house.
Since Ms. Collins moved out the house has remained vacant, but has been used by the Department of Corrections for training. During discussion at the October meeting of the Coos County Delegation, Corrections superintendent Ben Champagne said all needed resources are available at the house, and it is used once a month. He spoke in favor of continuing to use the house for training instead of holding it at the U.S. Border Patrol station in Canaan.
A delegation subcommittee prepared a report on the house to the full delegation and commissioners. The subcommittee advocated keeping the house and asked the commissioners to "continue to make good use of the house." At the delegation meeting, Rep. Bing Judd spoke in favor of selling the house, stating it has cost the county $34,000 over the last five years to maintain.
Commissioner Samson outlined different options for the house: sell it, rent it, use it as a day care for county employees, or as housing for traveling nurses. He is not in favor of moving the county offices from the nursing hospital to the house, as Unincorporated Places funds were used for the offices' current location. He also said $10,000 of the $34,000 spent on the house was for a new well.
At Wednesday's meeting, Commiss-ioner Paul Grenier urged selling the house, stating, "Our county footprint is too big." He noted that from a business perspective, any county-owned property in Stewartstown--with the exception of the nursing hospital and House of Corrections--should be sold, including the county barn, woodlots, fields and the house.
Rep. Wayne Moynihan spoke in favor of further study, saying that determining a mission using strategic planning could answer questions. He felt that "a good number" of delegation members would attend dedicated meetings to discuss the topic. Commissioner Thomas Brady said more joint meetings between the commission and delegation would be beneficial, and would keep the conversation moving in hopes of reaching a decision.
Mr. Champagne agreed that "it does no good to do nothing with the house," but said the costs to heat and power it are minimal and the Corrections staff are making use of it. "It's an asset right now, not a liability," he said.
Mr. Grenier said that by reducing the county's footprint, proceeds from the sale of property could be used to pay off debt. He pointed out that revenues aren't increasing at the nursing hospital, calling losses of $3 to $4 million annually unsustainable, and questioned what things would look like 10 to 15 years from now with an aging baby boomer population and a lack of young people in the area.
Mr. Brady said that selling the house and land doesn't knock down the debt. "That's a drop in the bucket compared to what's causing our problem," he said.
Mr. Samson said the board had a good discussion. "Everyone in this room is vested in this county," he said, and called the idea of overall planning a good one.
Human resources coordinator Julie Brunault said it so important for everyone to remain positive. "I've been with the county for 30 years and it's been good to me," she said. "We have a commitment to the elderly. We have to be able to look long-term." Mr. Brady agreed, but said in order to keep positive, they need to understand the problems they face so they can be corrected. He said that as part of that process, there were things that would sound bad because of the deficit, but such conversations will be required to allow things to move forward. Sue Collins, who served for years as county administrator, said the reason for the deficit lies with the state legislature, which has continued to cut the rates to nursing homes. She said when she started working at the county, the nursing hospital made a profit because it was getting decent rates. Mr. Brady said "the system is stacked" against the county because they don't know what is going to happen and are always in a position to react.
(Issue January 17, 2018)
---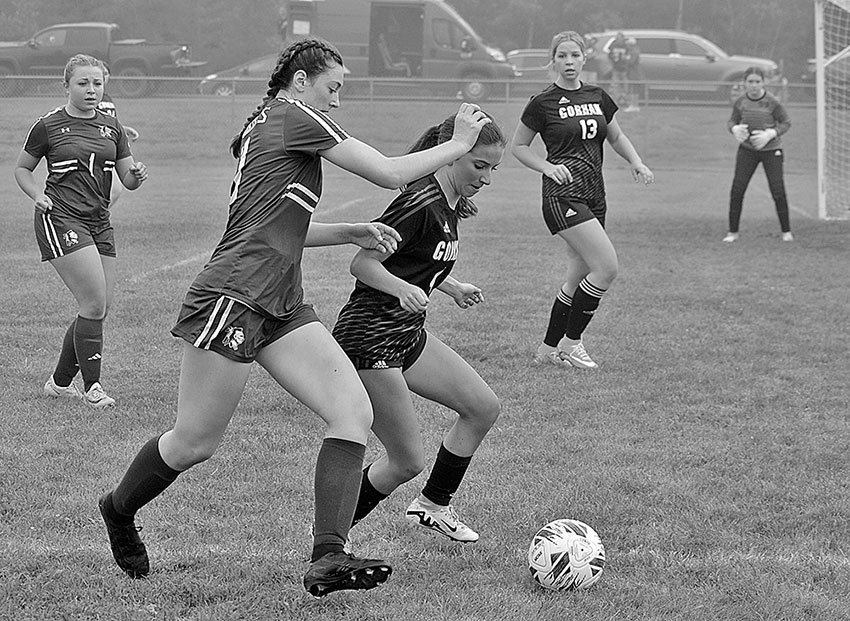 CLOSE-RANGE SHOT

Groveton's Bethany Whiting gets off a layup over Spartan Makenna Force during the Eagles' home game on Friday. In a hard-fought contest, White Mountains won 50-47. (Jake Mardin photo)

---
Riders Can Travel on Maine, N.H. & Vt. Trails on Reciprocal Weekend, Jan. 26-28

The tri-state reciprocal snowmobile weekend in New Hampshire, Vermont and Maine takes place from Friday through Sunday, January 26-28, giving riders a chance to explore new trails in northern New England. The Tri-State Reciprocal weekend occurs annually in January or February, provided that the neighboring states continue to participate.
The following are the ground rules for the weekend:
-- All snowmobiles legally registered in New Hampshire may operate in Vermont and Maine during the reciprocal weekend. All other Vermont and Maine snowmobile laws and rules must be complied with, including Vermont's mandatory liability insurance, safety education certification (if born after July 1, 1983), and youth operation requirements.
-- All snowmobiles legally registered to ride in Vermont and Maine may operate on New Hampshire trails during the three-day open weekend. To be legally registered in Vermont, snowmobiles must display a valid Vermont Association of Snow Travelers Trails Maintenance Assessment, also known as the Trails Pass. All other New Hampshire laws and rules regarding the operation of snowmobiles must be adhered to, such as speed limits and youth operation standards.
Information on snowmobiling in New Hampshire is available from N.H. Fish and Game at www.ride.nh.gov; the N.H. Bureau of Trails, at www.nhtrails.org; or the New Hampshire Snowmobile Association, at www.nhsa. com.
Snowmobiling rules in Vermont can be found on the Vermont Association of Snow Travelers' site, www.vtvast.org, and information on snowmobiling rules in Maine are available from the Department of Inland Fisheries and Wildlife, at www.maine.gov/ifw.
(Issue of January 17, 2018)
---