GOING OVER THE GEAR

Lieutenant Dean Woodard-Neary of the Colebrook Fire Department shows Colebrook kindergarteners what firefighter's gear looks like during a demonstration last Wednesday, as Chief Brett Brooks looks on, as part of the National Fire Prevention Week education effort. (Jake Mardin photo)
---
SAU 7 Works to Recruit Substitutes, Prepare Staff for Different Scenarios
By Jake Mardin
The school year is back in full swing, with in-person instruction taking place at all local districts. As the year advances, some schools are looking for additional staffing help.
SAU 7 superintendent Dr. Debra Taylor said the previous administration has looked at ways to increase staffing levels, including full-time faculty and substitute teachers. "It's been a challenge in the North Country, not just in New Hampshire, but across the border in the Northeast Kingdom," she said. She said that as the pandemic continues, the SAU "has been working on ensuring we have a strong backdrop of substitute teachers in the event our staff become ill."
She said she wants to maintain in-person instruction as much as possible. SAU 7 has advertised for teachers, substitute teachers, paraeducators and bus drivers for Colebrook, Stewartstown and Pittsburg. She said the substitute teaching positions have been posted for some time; on occasion they have a need for a long-term sub who may be needed for two weeks or a month. "This is not a brand-new issue for us, but we're trying to get the word out as much as possible so we have a group that can support us in case of illness on our staff," she said.
Dr. Taylor said the SAU has all of its regular bus drivers in place, but occasionally requires substitute drivers. "We generally have a few who can fill those roles, but not right now," she said, and while some paraeducator positions remain open, some were filled just last week. "We are in a good place right now, but I want to take this opportunity to really increase the number of individuals that are available to us in the event we have an illness," she said.
Because of social distancing guidelines, schools aren't in a position to combine classes or have one teacher take over for another.
Dr. Taylor said the school year has gone well so far since the first day of in-person instruction on September 8, for which she credits the work different groups undertook to prepare for the fall. There were groups that focused on facilities, health care, curriculum, remote learning and social and emotional work. Before returning to school, teachers attended sessions on health and safety protocols and social and emotional learning.
Based on observations from administrators and in-person visits, Dr. Taylor said students and staff have adapted "remarkably well" to the changes. She said students from preschool up to seniors in high school seem to be working comfortably.
Before school started, maintenance workers took a good look at the schools' HVAC systems, cleaned all of the ducts and readjusted them to make sure enough external air was coming through. New cleaning protocols were implemented, including a full daily sanitization of the facilities and multiple cleanings for restrooms and other high-touch areas.
After going into remote learning last spring with no warning, the SAU examined current technology tools and brought in professionals to help staff acclimate to the change. "When school resumed this year, other than the masks and distancing, at this point I would say that you would not really notice that things are different," she said.
Dr. Taylor said as the year goes on, there could be a point where the schools have to close, and she said staff have prepared protocols for numerous scenarios. For example, there may be a situation where only one class would have to go remote, or another situation might call for the implementation of hybrid learning.
Another positive development this fall has been allowing student-athletes to compete in soccer and cross-country events. "That has been going very well as we closely follow health and safety protocols for travel," Dr. Taylor said. "We made an agreement with the region that our students would not travel below the notch. We've been playing all North Country teams, and that has been very helpful."
Despite the changes on how things are done, Dr. Taylor said she is pleased with how staff are handling it. "The one thing I'm so proud of is our extraordinary staff," she said. "They have just been incredible in our efforts to respond to the crisis. Occasionally we've had to overcome some challenges, but folks have been really focused on working collectively as a team to do the best to support our students."
SAU 58 superintendent Dr. Ronna Cadarette sent out a letter on Thursday to update families and the public on what has happened during the school year. "In the midst of a pandemic, I also count my blessings to be visiting classrooms full of students and educators engaged in face-to-face learning," she wrote. "The ability of our students and staff to adjust to social distancing protocols and safety measures has been very smooth, and even better than anticipated."
She also discussed sacrifices staff members have made and the need for substitutes. "I know staff are forgoing visits with family, weddings, funerals, vacations, holidays and countless celebrations throughout the school year to uphold their professional contracts," she wrote. "Our substitute pool is very thin, and we scramble to support regular absences due to routine illness and family priorities."
Essex North Supervisory Union superintendent Karen Conroy said Canaan is currently set on staffing. "We've been very fortunate this year and all positions were filled early, so we haven't had to put any ads out for additional positions," she said. "We're very thankful for the number of substitutes we have lined up as well."
She said staff members are staying close to home, and it may be due to travel restrictions in place in Vermont. She believes students are glad to be back to in-person instruction, and wearing masks hasn't been much of an issue. She said while staff usually start the school year with high energy, there has been some fatigue and anxiety due to the social distancing regulations. "We take frequent mask breaks outside where we can be six feet apart," she said. "That in itself is a new challenge for teachers." Mrs. Conroy said preparations have been made in the event the schools have to switch to remote learning. "We're doing a lot of professional development and starting sessions after school for staff to make sure they are comfortable with the tools," she said. Business technology teacher Denise Wood is a certified Google instructor and has been providing professional development sessions for teachers. The school has one-to-one devices for all students and is in the process of getting Google Classroom set up.
(Issue of October 21, 2020)
---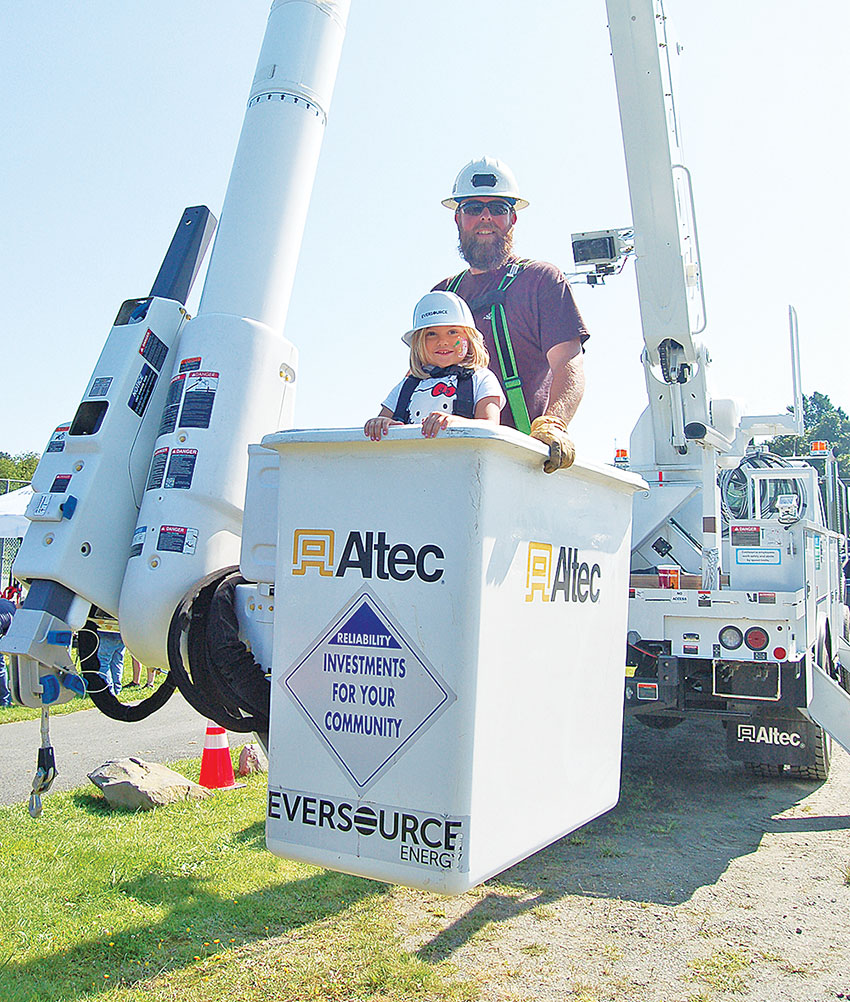 CAP'S FIRST DEMO FLIGHT IN THE BOOKS

Last week, retired Air Force Col. Bill Moran gave Mt. Washington Squadron Civil Air Patrol Cadet Liam Alnwick of Gorham his first orientation flight, which included preflight inspection, takeoff, use of the aircraft controls, and resulting aircraft movement and landing, and they passed by the Mt. Washington Observatory to demonstrate the relationship of flight and landmarks below. Families and youth interested in learning more about CAP can visit www.gocivilairpatrol.com; information about the Mt. Washington Squadron is available from Brian LaPerle, 603-331-2256 or brian@northerntire.com, or from John Tholl Jr., at 603-837-2278 or jetjr2@msn.com. (Courtesy photo)
---
Weeks Medical Center, AVH Establish New Birthing and Delivery Services

Weeks Medical Center and Androscoggin Valley Hospital have established a new delivery services partnership for obstetrics and gynecology (OB-GYN) patients in the North Country. Effective October 1, a new team-based approach was established between the two hospitals to assist with pregnancy planning, prenatal care, birthing needs, delivery, post-birth needs, and all gynecologic care.
As part of the new service, Dr. Krzysztof Plociennik and Dr. Brianne Teaboldt will provide obstetric and birthing delivery services at AVH in Berlin, and Dr. Plociennik will also provide gynecology services. Primary care providers John Ford, MD, Amber Schmidt, DO, Elizabeth Sweeney, DO, and Jayne Tarkleson, DO, will provide prenatal care, consultation and pediatric care at the Weeks clinics in Lancaster, Whitefield and Stratford. Julie Hohmeister, APRN, WHNP-C, is available for outpatient women's health and gynecology services at the Weeks clinic in Whitefield.
This new partnership between Weeks and AVH is designed to take care of all OB-GYN needs for North Country residents and keep care local. The new partnership is the result of Dr. John Ford retiring from delivery services.
"We want to thank Dr. Ford for his 25 years of care in delivering babies in our region," said Weeks CEO and president Mike Lee. "Dr. Ford has delivered hundreds of babies and has helped several generations of children get their start in life, as well as keeping mothers healthy and safe. We're so grateful for the dedicated, exceptional care he has provided to all his patients. We also are grateful that Dr. Ford will continue to see patients for prenatal care, birthing consultation, and primary care for many years to come."
Patients interested in planning for childbirth, pregnancy care, birthing and delivery services and gynecology services should call 603-788-5095 for more information or to schedule an appointment.
(Issue of October 21, 2020)
---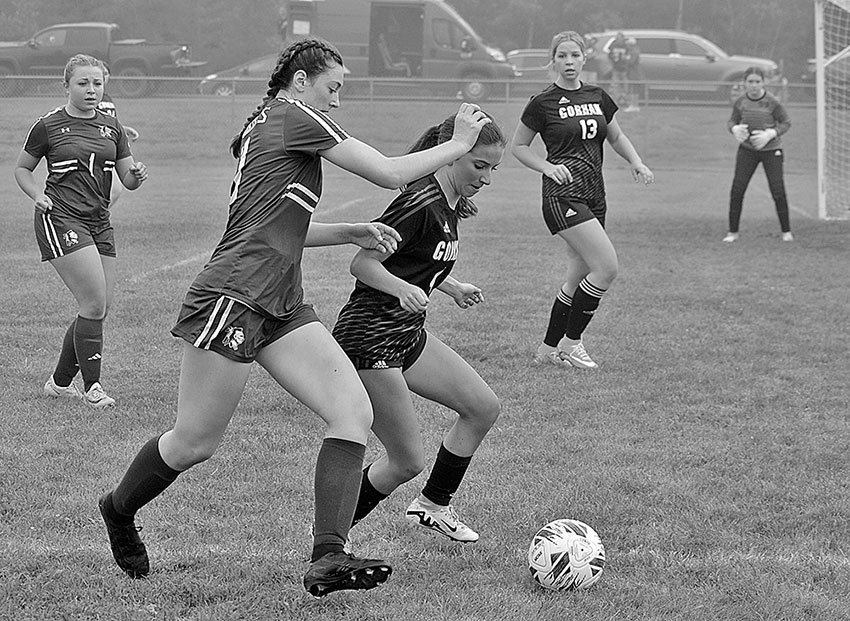 ONE BIG BEAR PAW

Paul Carter was hiking in Columbia last week and saw this bear track, which he photographed with his foot for a size comparison, and looks to belong to a pretty large bruin.
---
Lancaster Marketing Project, Updates to Be Presented to the Public Tonight

Lancaster residents are invited to learn about an ongoing marketing project to answer the question, "How do we talk about Lancaster?" during a presentation tonight, October 21 at the town hall.
The project is part of a multi-faceted community revitalization effort that the Northern Forest Center has been working on with the town for the last few years, the most visible part of which is the current rehabilitation of the prominent Parker J. Noyes building on Main Street.
The presentation about the project, its conclusions, and the proposed language and designs to represent Lancaster will be shared in a public meeting tonight at 5:30 p.m. The Northern Forest Center and a volunteer committee have engaged a marketing consultant, Nimble Forces of Vermont, to help refine how everyone communicates about Lancaster, its story, amenities and assets, and its strengths.
The goal of the project is to create shared language that everyone can use in future conversations and communications by the town, by local businesses recruiting new workers, by real estate professionals attracting new residents, or anyone promoting Lancaster as a great community in which to live and work.
For everyone's safety and comfort, masks are encouraged and seating is subject to social distancing practices. More information may be found by visiting www.northernforest.org; choose "Community Vitality" and "Lancaster" from the "Programs" pull-down menu.
(Issue of October 21, 2020)
---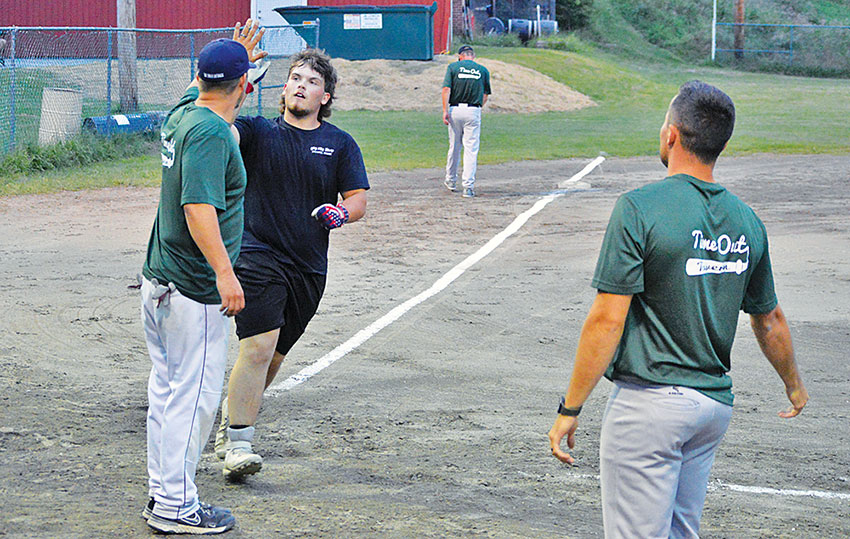 DRIBBLING UP THE FIELD

Colebrook's Haley Rossitto takes the ball up against Woodsville during last Monday's home game, which the Engineers won 5-0. (Jake Mardin photo)
---
Regional Soccer Playoffs and Winter Sports Announced
by Jake Mardin
The New Hampshire Interscholastic Athletic Association on Monday announced guidance and pairings for open soccer tournaments, and gave the go-ahead for winter sports.
The 2020 NHIAA Soccer Committee Tournament is set up as an open tournament by division, and each school was invited to opt in based upon its comfort level with participating in a statewide competition. Based on the feedback from member schools and the success of regional scheduling during the regular season, the soccer committee divided each division into four regional groups, based on its location in the state and proximity to each other. Schools were placed in the tournament bracket to maximize the number of teams competing, and team positions were randomly generated.
Proximity to one another was the presiding factor in setting up the brackets, and regular-season records were not considered. Any team who opts out of the tournament will be withdrawn from its bracket, and its opponent will automatically advance to the next round.
Local Playoff Schedule
Note: all start times are TBA, and school Web sites will have up-to-date information.
Division IV Girls (Region Two)
Littleton will travel to Canaan to take on the Yellow Jackets on Tuesday, October 27. The winner will travel to Gorham on Thursday, October 29. Colebrook will play in Groveton on Thursday the 29th. The quarterfinal round is set for Sunday, November 1, and the quarterfinal winner will go to the semifinals on Thursday, November 5 to face the winner of Region Three. Region Three will host the game, and includes Lin-Wood, Lisbon, Moultonborough, Woodsville and Profile. The final is scheduled for Sunday, November 8.
Division IV Boys (Region Two)
Pittsburg-Canaan will host Groveton on Monday, October 26, and the winner will go to Littleton on Wednesday, October 28. Colebrook will go to Gorham on Wednesday, October 28. The quarterfinals are scheduled for Saturday, October 31, and the winner will go to the semifinal against the winner of Region Three on Wednesday, November 4. Region Three will host the semifinals, and consists of Franklin, Moultonborough, Lisbon, Woodsville, Profile and Lin-Wood. The final is scheduled for Saturday, November 7.
Winter Sports
The NHIAA Council unanimously approved winter sports for the 2020-21 school year and waived the regular-season scheduling by-laws, which require schools to play a minimum number of games in their division to qualify for the postseason. The action mirrors what took place this fall to allow schools to develop regional scheduling. As with fall sports, winter postseason events will be conducted in an open format.
Skills and drills activities conducted in accordance with all "Amateur and Youth Guidelines" and Phases 1 and 2 of the NHIAA reopening guidance may begin starting Monday, November 30. The first date to practice all winter sports is Monday, December 14, and the first date to play is Monday, January 11. The last date to play is to be determined.
(Issue of October 21, 2020)
---