A TOWERING SUNFLOWER

Dennis Laperle uses a yardstick and an eight-foot supporting stake to measure the height of the almost eleven-foot-tall sunflower growing in his garden in Colebrook. He planted it in Florida in April and transplanted it here in early June upon his return to Colebrook. Dennis' sunflower is still short compared to the world's record-holder of 30 feet, one inch in Germany. (Alan Farnsworth photo)
---
Students Taking Classes at Neighboring High Schools Under New Collaborative
By Rob Maxwell
As the 2017 fall semester approaches, local school superintendents Bruce Beasley and Karen Conroy provided more details about a program under which students will take electives and regular course offerings away from their home high school campuses.
The Connecticut River Collaborative initiative was rolled out at a public informational meeting, held last May in response to interest expressed by students and parents from Pittsburg High School, Canaan Memorial High School and Colebrook Academy to provide ways to better prepare students for post-secondary careers or further technical or academic education.
During a joint interview on Tuesday, August 8, the two administrators said that 26 students have enrolled and will be bused to attend morning, block-scheduled classes away from their home schools this fall. "I would have thought that having a dozen students taking advantage of this opportunity would be considered a win," observed Mr. Beasley of SAU 7. "The number we have so far shows that parents and students are reacting positively to what we are offering."
To date, two students from Pittsburg will travel to Canaan every school day for morning classes; five students from C.A. will go to Canaan; and another three will go to Pittsburg. Sixteen Canaan students have enrolled in the program, with 11 going to Colebrook and five traveling to Pittsburg.
Mrs. Conroy of the Essex-North Supervisory Union noted that two C.A. students will spend the entire day at CMHS, in order to take advantage of Career Technical Education classes in the afternoon after attending two block schedule classes in the morning. Another two C.A. students are participating in the CTE program in the afternoon, for a total of four, along with one Pittsburg student.
The superintendents said buses will depart from Colebrook and Pittsburg at 7:35 a.m. bound for Canaan--which will serve as a transportation hub--while students from Canaan will take the returning buses to Pittsburg or Colebrook in time to begin block one morning classes. "As things stand right now, all students (except for the two from Colebrook spending the day in Canaan) will return to their home schools around 11:30," Mr. Beasley reported.
He added that as of now, all transportation of students will be done by buses owned by each respective school district, "although due to strong student interest in this opportunity, administrators are continuing to review transportation options as local buses may be at maximum capacity."
Mr. Beasley stated the collaborative program will expand opportunities for students "to be part of things like robotics, college composition, forensics and business law, among many other course offerings with increased flexibility of scheduling. Based on economic forecasts done by the New Hampshire Center for Public Policy, declining student enrollment in our area will continue and reduced funding means we need to think differently about how we get kids career- and college-ready."
Mrs. Conroy noted that students can still enroll in the collaborative program "right up until the day before school starts," and she urged that students from Colebrook and Pittsburg take advantage of Canaan's Running Start classes that would allow them to accumulate up to 47 credits from White Mountains Community College.
Mr. Beasley said students enrolled in the collaborative have thus far signed up for classes in physical education, business law and pre-calculus to be held in Pittsburg; forensics, personal finance, algebra and world literature in Canaan; and 11 different classes in Colebrook, including small engines, robotics, earth science and sociology. "There is potential for this to continue into the second semester," said Mr. Beasley, "but we'll see how things go this fall."
Information about the Connecticut River Collaborative may be obtained by contacting the guidance offices at Canaan Memorial High School, 802-266-8910; Pittsburg High School, 603-538-6538; and Colebrook Academy, 603-237-8351.
(Issue of August 16, 2017)
---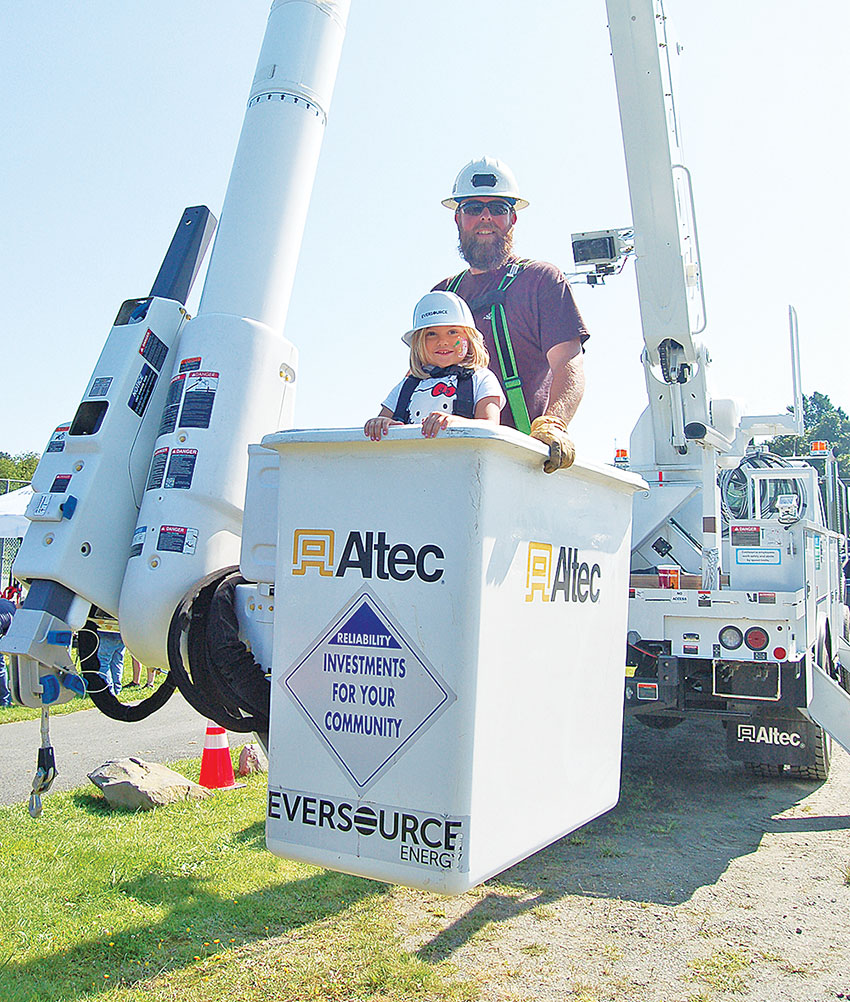 SAYING HELLO, AND UDDER BUSINESS

Saturday's Pasture Golf Tournament in Pittsburg was anything but a serious affair, as teams from around New Hampshire took part to support the Pittsburg NH Firefighters' Association. Bessie the Cow, a.k.a. PFD firefighter Peter Keyser, greeted one and all to the Indian Stream Country Club for the day's nine holes of play. (Rob Maxwell photo)
---
Northern Pass Clears A Hurdle: DOE Issues Final EIS for Line as Proposed
By Jake Mardin
The U.S. Department of Energy issued the Final Environmental Impact Statement (FEIS) for the Northern Pass transmission line yesterday, finding that the line as proposed is the preferred alternative.
"We are extremely pleased that DOE has completed its FEIS and greatly appreciate the years of hard work by all of the experts involved in this thorough review of Northern Pass," said Bill Quinlan, Eversource president of operations in New Hampshire. "As this clean energy project continues to advance through the final stages of the New Hampshire permitting process, we are encouraged to have reached this major federal permitting milestone. We are now another step closer to realizing the many benefits Northern Pass has to offer New Hampshire and the region."
The FEIS analyzed the impacts of the proposed alternative along with ten other alternatives and the "no action" alternative. The DOE will use the FEIS to help determine whether it will issue a Presidential Permit, which is required for project crossing international boundaries. Northern Pass has also applied for a special use permitto cross portions of the White Mountain National Forest, and the forest supervisor will use the FEIS to inform his or her decision-making; current supervisor Tom Wagner recently announced that he will retire next month. The DOE will announce its final decision in a Record of Decision in the Federal Register after the Environmental Protection Agency publishes a Notice of Availability.
The Northern Pass proposal consists of a 192-mile transmission line crossing from Canada into Pittsburg and ending at the Deerfield substation, with about 52 miles of line to be buried under roadways.
The FEIS states that above-ground infrastructure will result in visual impacts, but less so than four other alternatives considered, and could have adverse effects on tourism and recreation. There would be moderate impact on vegetated habitat due to the clearing of about 40 miles of new corridor in the northern section. There would also be moderate long-term effects on wetlands, with about two acres of direct impact, 170 acres of temporary impact and 36 acres of secondary impact.
"The issuance of the final Environmental Impact Statement signals that the federal permitting process is nearing completion," said Northern Pass spokesman Martin Murray. "At the same time, the New Hampshire siting process
is ongoing. We anticipate we will receive both our federal and state permits by the end of the year."
At the state level, the state Site Evaluation Committee adjudicative hearings are still taking place, and the SEC is expected to make a decision by the end of the year.
Jack Savage of the Society for the Protection of New Hampshire Forests, a vocal opponent to the proposed transmission line, said the DOE's finding "was not a surprise." He noted one thing that caught his attention in the FEIS is that "the whole National Environmental Policy Act process requiring the creation of the EIS is meant to look at alternatives, and in this particular case they never looked at any alternative to the crossing of the border other than what the applicant proposed." Specifically, Mr. Savage said, neither a Quebec-Vermont or Quebec-Maine crossing was considered.
He also said the authority to site the project in New Hampshire lies with the SEC. "To date, I think it's fair to say that there's been enough doubt cast upon a lot of the testimony from Northern Pass' own witnesses that I think the outcome at the SEC is very much in doubt," he said.
(Issue August 16, 2017)
---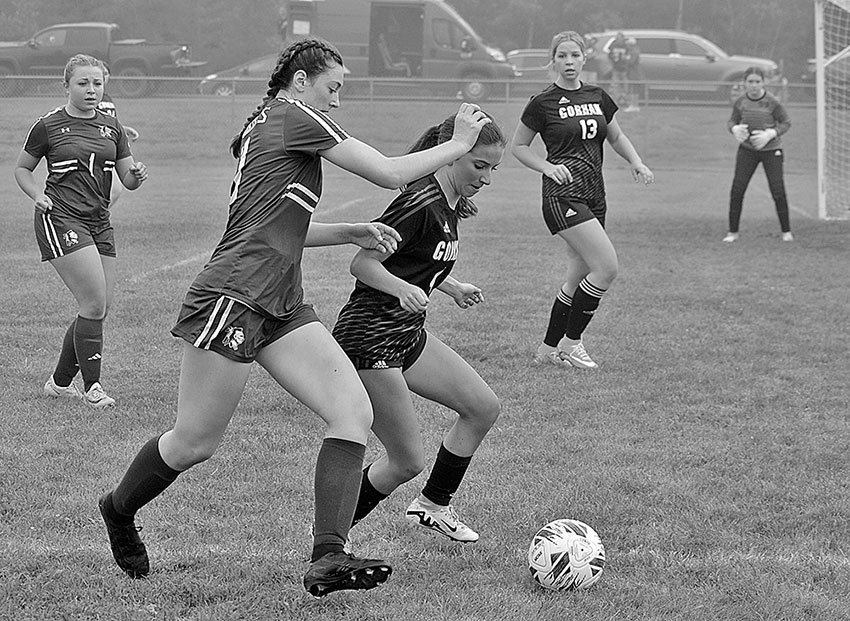 LUNCH BAG ASSEMBLY

Sharon Clough and Reverend Kate McCann fill food bags for the "Got Lunch!" program in the Monadnock Congregational Church vestry on Monday, August 7, before the bags are picked up or delivered to registered local families.  (Alan Farnsworth photo)
---
Proposed Wireless Partners Cell Tower Would Fill Coverage Gaps in Columbia
By Jake Mardin
Wireless Partners, Inc., of Maine plans to expand its cellular footprint in the North Country with a proposed tower on the Cloutier property on Route 3 in Columbia. The 190-foot tower would fill in coverage gaps along Route 3 between Stratford and Colebrook.
Todd Rich of Wireless Partners spoke with the town's board of adjustment about requested variances, during a public meeting on Thursday. The zoning board had previously held a joint meeting with the planning board, and the application was deemed incomplete. At Thursday's meeting, Mr. Rich provided more information that was requested by board members, such as photo simulations of the tower located across the road, and north and south along Route 3.
One of the variances requested was to change the area of the fall zone from a diameter twice the height of the facility. Mr. Rich said Wireless Partners wants to lease a 100- by 100-foot compound and have the fenced-in area at 75 by 75 feet. Another variance was sought regarding the regulation that wireless towers may not project higher than 20 feet above the average tree canopy. Mr. Rich said if the tower were built to that specification, another tower would have to be built to provide the same service as a single, 190-foot structure.
Also discussed was the fact that Route 3 is designated as a Scenic Byway. Mr. Rich said the project would be subject to N.H. Historic Preservation Alliance approvals along with other state and federal regulations.
When asked whether the tower would cover other areas of town, such as Jordan Hill and Meridan Hill, he said it is hard to tell at this time, but he looked at coverage maps and said there would be a "great increase." He said the goal now is to provide coverage along Route 3 as close to the border as possible, but there is a plan in the next phase of the project to put another tower northeast of the site currently proposed.
Board member Bob Baker said he feels that the proposed tower location is "uniquely located" and that the site constitutes one of the least visible locations for a tower of 190 feet. He spoke in favor of putting a condition on the permit stipulating a 200-foot "buffer zone" where the trees and other vegetation currently at the location would remain after the tower is built. The motion was approved and the application will now go back to the planning board for final approval.
(Issue of August 16, 2017)
---