2ND LIEUTENANTíS FIRST SALUTE

Tyler Griffin of Colebrook was honored that Command Sgt. Major Brad Cross, a native of Canaan, attended his graduation from West Point on May 27, and gave 2nd Lt. Griffin his first salute after his commission as an Army officer. The flag in the background had flown over the Capitol, and then-U.S. Senator Kelly Ayotte sent it to Tyler's younger brother, Bryan, the day he returned from his deployment to Afghanistan in 2014. Tyler was happy to use this flag for the commission ceremony, as Bryan is now in Iraq and could not be there himself.
---
Lemington Wins Act 46 Appeal, Votes on Joining NEK School Choice District
By Rob Maxwell
After successfully petitioning for property tax relief from the Vermont legislature, Lemington voters cast their ballots at the town hall yesterday, July 18, "for the purpose of joining the NEK Choice School District." Essex North School Union superintendent Karen Conroy said last week that an informational meeting held on Thursday, July 13 in Lemington indicated a favorable and positive response to the town joining the newly formed, unified, multi-town school district.
The Vermont legislature enacted the Act 46 Education Law in 2015 that calls for Vermont districts without schools to merge into single districts, overseen by one school board under a single supervisory union. Its goal was to reduce education expenses and level out fluctuations in tax burdens from town to town, caused by unexpected increases of student enrollment. Nine towns in the Northeast Kingdom voted at their annual meetings in March to form the NEK Choice District, with Lemington voting against the proposal.
In rejecting the proposal--which was approved by Norton, Bloomfield, Brunswick, East Haven, Granby, Guildhall, Maidstone, Kirby and Victory--Lemington voters objected to a provision in Act 46 that called for annual property tax rates to be "throttled" from going up or down by no more than five percent annually. An unexpected addition of five students in the Lemington district in 2016 effectively doubled the town's tax rate for the 2016-17 school budget year, and voters said they feared the five-percent throttle would unequalize their tax rates in comparison with other NEK Choice District towns.
A petition to the legislature from concerned Lemington residents seeking relief from this situation resulted in an amendment to legislative action that would set the Lemington tax rate at an average of the other participating towns beginning in the 2018-19 school year. If yesterday's vote turned out in favor of joining the NEK Choice District under this amendment, the unified, single district will have 10 towns and an 11-member school board, with one representative from each participating town except Kirby, which will have two members based on population.
At a ceremony held in Canaan on Wednesday, July 12, eight members of the new Choice District school board were sworn into office, and they will begin their duties when the district begins operation on July 1, 2018. In the interim, Mrs. Conroy explained, a facilitator will help them prepare for the 2018 target date.
The NEK Choice District has submitted a letter to the Vermont Agency of Education requesting membership in the ENSU, which Mrs. Conroy says will be deliberated at the August 15 meeting of the Vt. Board of Education. Thus, the Choice District would come under supervision of ENSU with a board comprised of three members from the Canaan district and three members from the NEK District.
"The mood at last Thursday's meeting was very positive," said Mrs. Conroy. "Lemington was concerned with un-knowns, such as the impact of future numbers of students and other variables. Hopefully, merging with other towns will decrease the dramatic changes they have been experiencing from year to year."
The results of yesterday's vote will be published next week.
(Issue of July 19, 2017)
---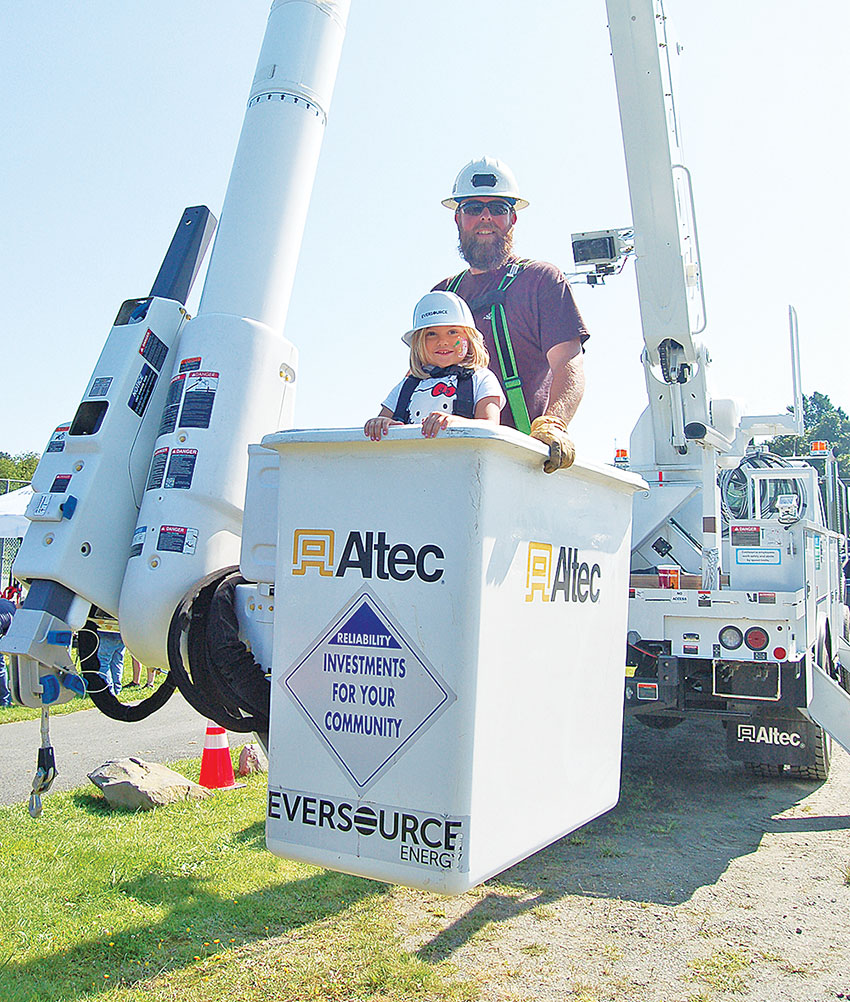 FOLLOW THE YELLOW BRICK ROAD

Wicked Witch of the West Terry Kimball put her flying broomstick aside in favor of a more modern from of conveyance, transporting visitors along the Yellow Brick Road from the parking area to the Emerald City during Sunday's "Wizard of Oz" themed Family Day Picnic at CCNH in Stewartstown. Clockwise from Terry's right are Lyanne Leigh, Sally Jarest and Gail Fisher. (Rob Maxwell photo)
---
Public Input Sought in Planning Effort for Recreational Trails in CoŲs County

One-stop shopping for everything a user needs to know about all kinds of North Country trails--on the Web, in an app, on kiosks, and in brochures. That's the vision of North Country Council, the entity charged under state law with planning for the future development of the northern third of New Hampshire.
In 2014, lead planner Tara Bamford completed work on the council's first comprehensive public input-based regional plan. Strategies identified in the plan, adopted by representatives of the region's towns, include a focus on increasing livable-wage jobs and attracting more young families by building on the region's strengths, and increasing the production of wealth from the region's natural resources.
Included in the plan is the recommendation to "increase the economic value of the region's wide variety of world-class trail systems through coordinated planning and marketing." Ms. Bamford outlined the steps needed to reach this goal: inventory and map trail systems; bring trail groups together to address needs and opportunities; and identify action steps to improve connectivity and expand systems where needed.
"New Hampshire's North Country really is the Trails Capital of the East," Ms. Bamford pointed out. "Whether you're looking for day hikes or backpacking, winter sports such as skiing or snowshoeing, mountain biking or cycling on the region's Scenic Byways, paddling, motorized sports, or even horseback riding or riding on the back of a dogsled, we have it here. When you take in some of the nearby opportunities in our neighboring states, the choices are even broader. We just need to do a better job of working together and getting the word out."
With funding from USDA Rural Development, the Neil and Louise Tillotson Fund, and the N.H. Department of Resources and Economic Develop-ment, North Country Council is taking a first step toward this goal, focusing first on Coos County. North Country Council planners are inviting everyone with an interest in Coos County trails to join them for a discussion at 2:30 p.m. on Monday, July 31 at White Mountains Regional High School in Whitefield.
The session will begin with a presentation on what is known about Coos County trails based on a review of available reports, studies, plans, Web sites, and from interviews with about 50 trail stakeholder groups. Working together as a group, participants will then have an opportunity to join the work to develop the vision that will guide future planning steps. Users of all kinds of trails in Coos County are encouraged to come help North Country Council identify priority needs, issues and concerns.
Those planning to attend are asked to RSVP by contacting Ms. Bamford at tbamford@nccouncil.org or 603-444-6303, ext. 26.
(Issue July 19, 2017)
---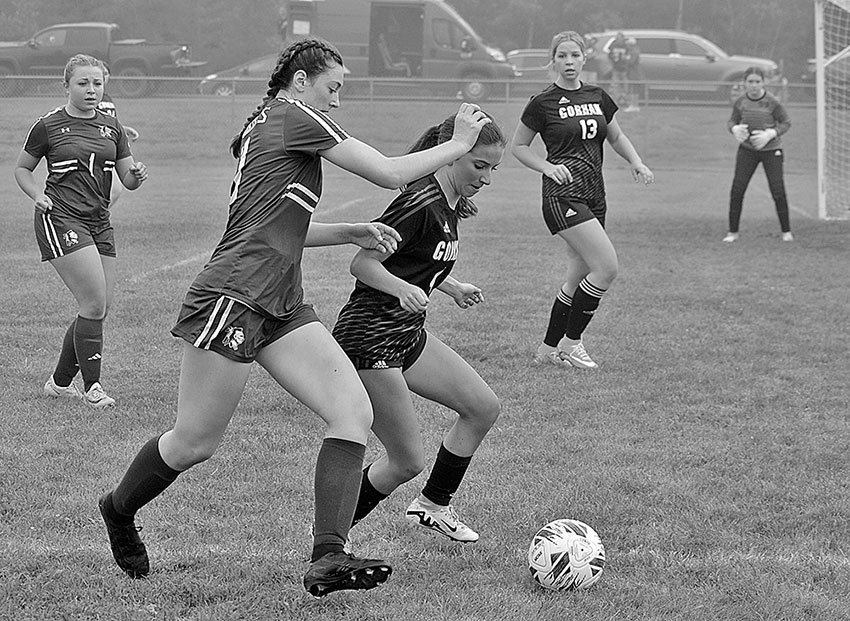 THAT OLD GANG OF MINE

Donna Laughton, Ryan Eames, Melanie Gray, Marsha Biron, Joan Coats, Sharon Lane, Brenda Thatcher, Tanya Crawford and Kyle Haley posed for a photo at the retirement party for retiring Colebrook kindergarten teacher Mrs. Coats, held on Sunday, July 16 at St. Albert's Presentation Hall in West Stewartstown. (Alan Farnsworth photo)
---
Australian Show 'Murder Uncovered' Plans Episode on Christopher Wilder
By Rob Maxwell
Australian television producer Duncan McNab took some time away from a fact-finding tour of New England and New York last Wednesday, July 12 to talk a bit about an upcoming episode of his network's "Murder Uncovered" series that will focus on the life and death of serial rapist and killer Christopher Wilder.
After a cross-country killing spree of young women and girls in early 1984, Wilder was shot and killed by N.H. State Trooper Leo Jellison at Vic's Getty service station in Colebrook.
Mr. McNab is a former policeman and now works for the 7 Network in Australia, where the "Murder Uncovered" programs premiered in 1996. He noted that each episode "tells a true crime story told a bit differently, in that we try to focus on the families and other people directly involved with the victims of the criminal we focus on in each episode. Violent crimes often bring together a diverse range of people for brief moments of time who would not have had contact with each other under normal circumstances, and that's what we attempt to focus on."
He added that one of his responsibilities is to travel to numerous locales in order to find information and talk with people associated with each episode's crime, "with luck, people that have not been dealt with by the media before."
Duncan said the shows are not meant to be sensational. "We try very hard to deal with the human aspect of each crime and not with the grisly details." He observed that he is currently traveling to locations in New England and New York trying to dig up new facts and speak with people involved with the final days of Wilder's rampage across America.
"There is also some indication that Wilder was the perpetrator of a pair of abductions and murders in his home country that remain unsolved, so we will be looking into that also," he said.
Mr. McNab says the program sometimes use re-enactments, and he will be considering locations for filming during his travels in America. "There was a very compelling moment when one could suppose that Wilder and Trooper Jellison came face-to-face, each of them knowing who the other one was and what was very likely to happen next," he said. He added that he hopes to interview Mr. Jellison and Wayne Fortier who was also a State Trooper at the scene of Wilder's killing.
Duncan said a film crew will be dispatched to America with the possibility of a segment being shot in Colebrook. He asks that anyone who witnessed the struggle between Wilder and Trooper Jellison, or who may have encountered Wilder shortly before his being shot, to please contact him at dmcnab@me.com.
(Issue of July 19, 2017)
---