RECOGNIZED FOR 100 POINTS

Colebrook Academy varsity soccer coach Katie Parker presented senior Taylor Siewierski with the game ball after she reached 100 career varsity points during last Wednesday's home game against White Mountains. Siewierski reached the milestone with 61 assists and 39 goals. (Jake Mardin photo)
---
Forest Service Agrees to Northern Pass Burying 11 Miles in National Forest
By Jake Mardin
The U.S. Forest Service last week issued a draft decision recommending a special use permit be issued allowing Northern Pass to bury approximately 11 miles of line along existing roads within the White Mountain National Forest.
"This proposed decision by the U.S. Forest Service continues to move Northern Pass forward so that it will have all necessary state and federal permits to begin construction by mid-2018," said Eversource New Hampshire president Bill Quinlan. "It is consistent with the key findings of other permitting agencies, including the Department of Energy, the N.H. Department of Environmental Services and the N.H. Department of Transportation."
The decision was written by WMNF forest supervisor Thomas Wagner. "The project corridor along N.H. Routes 112 and 116 would be located in existing roadway corridors that are not existing transmission routes but do make use of previously impacted lands from highway construction and maintenance," he wrote.
Mr. Wagner noted that the proposed route was amended in 2015 from an original route that proposed an overhead line through the forest. "The resulting proposed route was a reasonable alternative for me to consider, since it was already imbedded in portions of the alternatives in the draft Environmental Impact State-ment," he wrote. "Burial of the transmission line through the WMNF resolved Forest Plan consistency issues related to visuals and effects on the Appalachian National Scenic Trail."
He wrote that he considered alternatives that would bury the line on the WMNF along Interstate 93 through Franconia Notch. The total length would be shorter than along Routes 116 and 112, but would go under the single lane in the notch. "The Interstate in this section is unique in the Interstate Highway System," he said. "Its construction was restricted to a single lane in each direction as a result of a settlement agreement among multiple parties to protect the values associated with Franconia State Park. In addition, both the FHWA and NHDOT have expressed safety and traffic concerns with this potential transmission route."
He said construction in the notch could take two years to complete and result in disruption to the visiting public. "I believe the longer crossing by the transmission line of the WMNF along N.H. Routes 112 and 116 is a reasonable way to transmit electrical power through the WMNF in a minimally impactful way when considering all available alternatives," Mr. Wagner wrote. "I fully understand and acknowledge that there will be short-term, construction-related impacts to natural and cultural resources on the WMNF, visitors to the area and private lands and properties located along Routes 112 and 116."
He acknowledged the effect his decision would have on the WMNF and areas north and south of the land. "While I know some of the forest's stakeholders that I have worked closely with during my tenure will be disappointed in my decision," he stated, "I feel I have made this decision consistent with my responsibilities under applicable laws and policy."
The Forest Service's decision comes on the heels of the DOE's issuance of the final Environmental Impact Statement concluding that the proposed route is the preferred alternative. On the federal level, a Presidential Permit still has to be issued. On the state level, the Site Evaluation Committee process is ongoing, and the date for a final decision has been pushed back by six months to March 31. Thirty-one additional adjudicative hearings have been added to that process, spanning from October to December.
(Issue of September 13, 2017)
---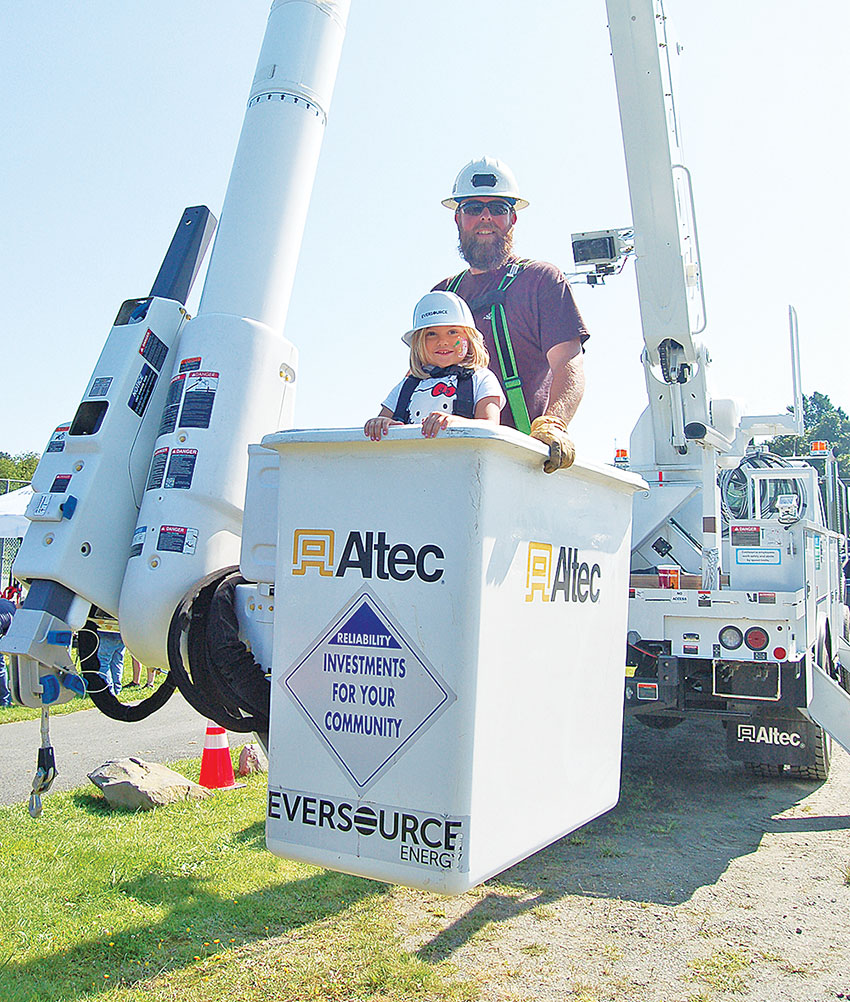 NORTH COUNTRY REPRESENTED ON CHAMPIONSHIP TEAM

MJS Construction of Massachusetts won the 2017 Modified Pitch Men's National Championship in Wausau, Wisc., on September 3. From left to right are Luke Merrill of Pittsburg, Bryan Hood and Greg Allain of Berlin, Kevin Trask of Colebrook and Mike White of Lisbon. (Courtesy photo)
Luke Merrill, Kevin Trask on USA Softball Men's Championship Team
By Jake Mardin
Two local men's softball players can call themselves national champions, having played on the team that won the 2017 USA Softball Men's Modified National Tournament in Wausau, Wisc., on September 2.
Luke Merrill of Pittsburg and Kevin Trask of Colebrook both played for MJS Construction based in Wakefield, Mass., as did Greg Allain and Bryan Hood of Berlin and Mike White of Lisbon. All five of them--along with the the rest of the roster--played on teams at the Canaan Men's Softball Tournament last month.
"What you get in the Nationals is the best ten-man modified teams in the country," Merrill said of the tournament. "Think of it as Canaan on steroids. It is one of the hardest tournaments to win." Nineteen teams played in the tournament, and Trask said there were former professional players from all levels and current Division 1 and 2 players. One notable was Danny Almonte, who led his team to a third-place finish at the 2001 Little League World Series before it was determined he was too old to be in the league.
Despite the high level of competition, MJS Construction tore through the tournament, their closest game a 12-7 win over the Press Box Blue Sox, who won the tournament three years ago. On their way to the trophy, MJS Construction also beat defending champions The Blue Ducks and the Boston Sharks, who won two years ago. In the championship game against the Sharks, MJS put up 11 runs in the first inning against one of the best pitchers in the tournament, and went on to win 16-1 in three innings.
"For us to have 20 guys mostly from small towns in New Hampshire is a cool thing," Trask said. "We meshed. We were a team and it showed, on and off the field. That's what it's all about." He also praised Merrill's play, saying he's "been a stud the last two big tournaments," and calling him "the best player to ever come out of the North Country, period."
Both said they look forward to defending the title at next year's tournament, with the location to be announced later this fall. "It's a memory I will never forget," Trask said. "Not too many people in our neck of the woods can call themselves National Champions. Our group can, and it is such a good feeling."
Six MJS players were named to the USA Softball All-American Fast Pitch First Team: infielders Allain and Merrill; outfielder George Siegel; utility player Michael White; catcher Michael Selig; and pitcher Steve Rook. Pitcher Tom Cashman was named to the All-American Second Team.
(Issue September 13, 2017)
---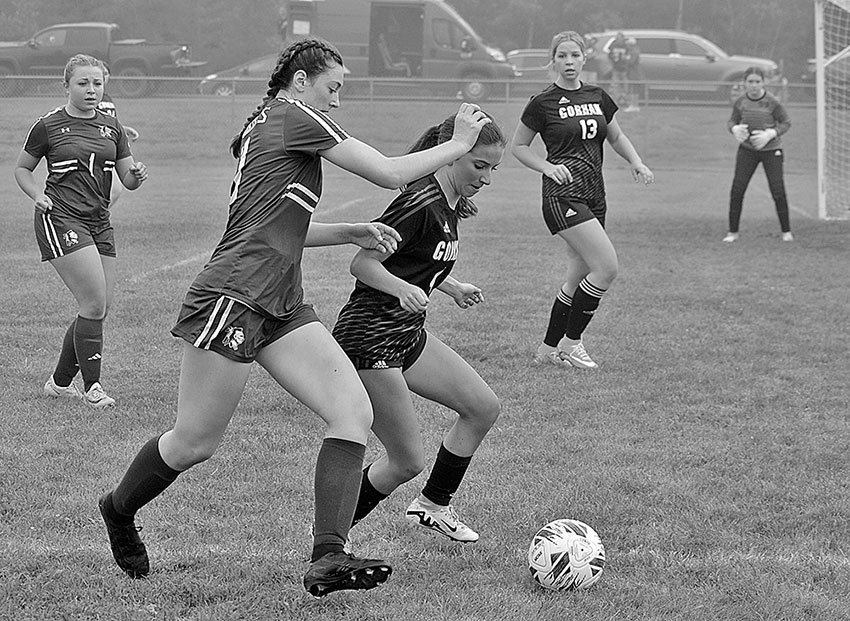 BUDDY BENCH DEDICATION

Andrew, Yvan, Luke and Sharon Belleville try out the new Buddy Bench following the dedication and unveiling on Friday, September 8 at Canaan Elementary School. The Buddy Bench is a nationwide gift program aimed at helping kids fight loneliness and foster friendship on the playground by providing benches where students can sit together to find a buddy or playmate. The Joseph Middlemiss Big Heart Foundation provides a gift of one Buddy Bench per month to schools under a nomination and selection process, initiated in Canaan by the Belleville family. (Alan Farnsworth photo)
---
Harrigan to Receive Richards Award from NH Audubon

Longtime columnist and observer of the natural world John Harrigan of Colebrook will receive the Tudor Richards Award during New Hampshire Audubon's Annual Gathering on Saturday, September 23. The day-long event will be held at the Alnoba retreat center in Kensington, and is open to Audubon members and non-members alike.
Mr. Harrigan is familiar to residents throughout New Hampshire as the author of the column "Woods, Water and Wildlife," which appeared for 41 years in the New Hampshire Sunday News and was one of the longest-running statewide columns in the country. Through these weekly essays and his "North Country Notebook" column that appears in various weekly publications, he has helped countless readers learn about the natural world.
He will be honored along with biologist Dr. Pamela Hunt and volunteers Kevin and Joanne Jones at the annual event. The featured speaker is Tom Wessels, author of Reading the Forested Landscape, Beyond Progress, the newly released Granite, Fire and Fog: A Natural and Cultural History of Acadia National Park and other ecological works.
Mr. Wessels will also lead a forest investigation field trip on the Alnoba grounds, including a tour of a solar installation and a workshop about solar power. Other morning field trips include coastal and inland birding walks in search of fall migrating species. A paddle on Pow-Wow Pond will provide evidence for why it is designated as an Important Bird Area.
The day will include a farm-to-table buffet luncheon, a brief business meeting and a silent auction. Further details may be found at www.nhaudubon.org under "Events" or by contacting Ruth Smith at rsmith@nhaudubon.org. The registration deadline for the luncheon was this past Monday, September 11.
Founded in 1914, New Hampshire Audubon's mission is to protect New Hampshire's natural environment for wildlife and for people. New Hampshire Audubon protects thousands of acres of wildlife habitat and is a voice for sound policy on environmental issues.
(Issue of September 13, 2017)
---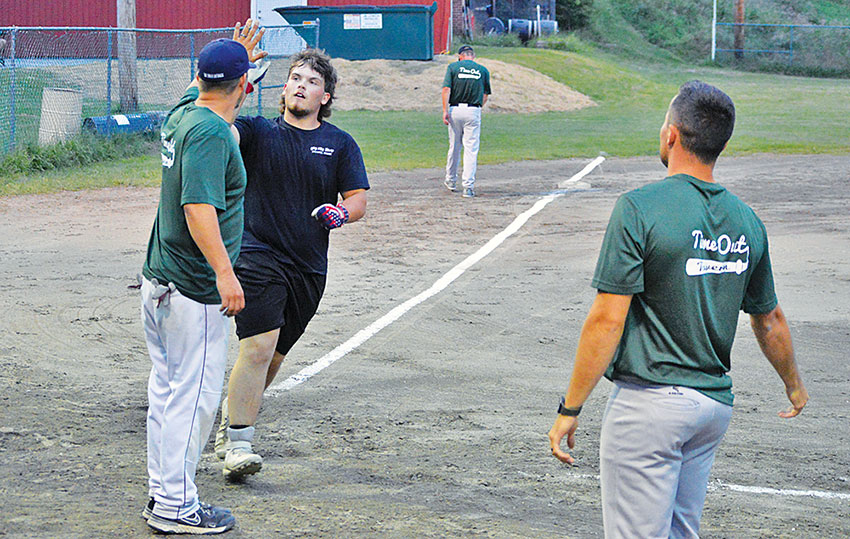 TWO RIVERS RIDERS

Seven-year-old Lyvia Rexford, seen here with brother Evan and part of the Colby clan riding Miles for Millie, completed the entire 20 miles of the Two Rivers Ride for Cancer on Saturday. (Courtesy photo)
---