SUGAR ON SNOW

Elizabeth Page enjoyed lots of sweet, sticky, sugar on snow during the annual sugaring-off party at her grandfather Lindsey Gray's sugarhouse in Clarksville this past Sunday, April 23. (Ann Gray photo)
---
Otten Predicts $25 Million in Advance Real Estate Sales at Balsams Resort
By Jake Mardin
Members of The Balsams Resort development team met with the Coos County commissioners in Lancaster last Wednesday, with Les Otten telling the board that he is "fairly encouraged that we are on a path to success."
Mr. Otten discussed what has taken place since he came on board in 2014 and said $7.1 million has been spent thus far. Regarding the resort's real estate options, he said over 95 "founders" have made non-binding, five-percent deposits representing approximately $20 million in future real estate sales, and developers predict a total of $25 million in pre-sales within the coming months. The sales are non-binding, he explained, until the N.H. Attorney General's Office issues final approval.
Mr. Otten said that in the initial stage of redevelopment, the resort will generate an estimated $3 million in tax revenue. He also went through the benchmarks that have been reached in the last three years, such as receiving final site plan approval from the Coos County planning board for the Dix and Hampshire houses, obtaining permits to withdraw water from the Androscoggin River for snowmaking, and approval of an assessment district. Future steps include gaining approval from the N.H. Business Finance Authority for a state-guaranteed $28 million loan and final site design approval for the Lake Gloriette House.
Mr. Otten also pointed out the results of work force and feasibility studies, which he said showed that "what we were considering doing was all within the realm of reality." He said it appears the economy will not shift toward a recession, but rather, good economic growth will boost the project. He noted that the ski area received over 310 inches of snow this winter.
Mr. Otten also said that the resort has received over 600 job inquiries, over 200 wedding requests and "hundreds of requests" for conferences. Developers are scheduled to talk with the Coos County Delegation at their quarterly meeting in Berlin on Friday.
(Issue of April 26, 2017)
---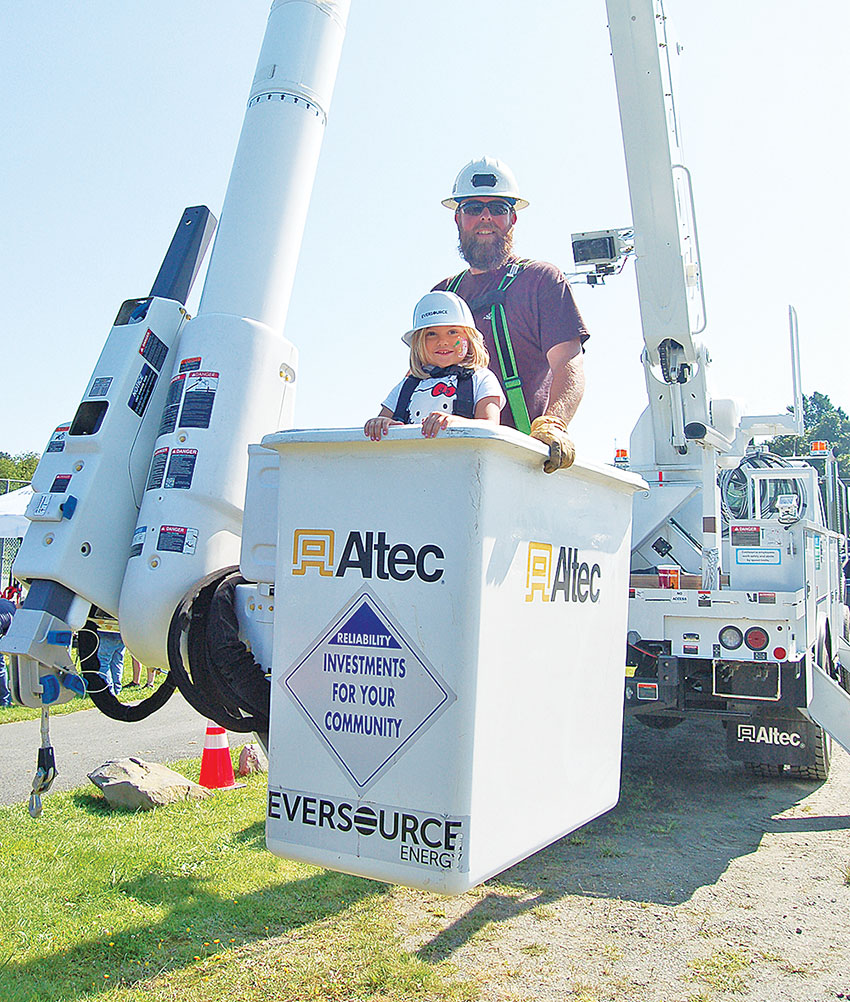 PUDGIE AND FRIEND

Colebrook native Lisa Jeffers poses with a display of her new book Pudgie and His Great Big Feet and a Pudgie doll, which will be available at a book-signing on Saturday, May 13 at the Moose Muck Coffee House in Colebrook. The book is for sale at Fiddleheads and on-line from Barnes & Noble, Apple iTunes, Kobo, Google Play and Amazon. (Alan Farnsworth photo)
Local Author Lisa Jeffers Publishes 'Pudgie' Picture Book for Children
By Alan Farnsworth
Lisa Jeffers, a local health care worker and Colebrook native, is preparing to add another exciting chapter to her life as a published author with the release of her first picture book Pudgie and His Great Big Feet.
Pudgie is the story of a little guy trying to earn money to attend a local circus, but constantly getting into trouble with each new job because of his great big feet--but eventually he succeeds because of his big feet. The message she wants to convey is that "children, especially those with challenges, should not give up; that everyone has something to offer. God can take that big challenge and turn it into your greatest blessing."
While the new book's release is a recent development, the idea for the character dates back years ago when Lisa's youngest daughter, Jenny, had little dolls with big feet that she used to make up stories about. Lisa realized that those adventures might make a good story, so she jotted down some ideas and put them away. Over the years she would sometimes take out her notes and add more thoughts.
Last summer Lisa found herself with some extra time on her hands due to some down time at work, so in June she started working on the story some more. But this time the characters, their names and scenarios began to come together and Pudgie was born.
While working on the story this time, she began to consult with her neighbor, writer and artist Judi Calhoun. Judi proved to be very helpful not only in bringing form to the book by critiquing it, but also helping Lisa find the right publisher.
With the help of Darlene Smith at the Colebrook Copy Center, she produced a sample copy and submitted it to prospective publishers. Over the years Lisa had occasionally submitted her book to publishers, only to be rejected. But this time with Judi's help, she was almost immediately successful with only a few minor changes from the publisher.
Her book was released about two weeks ago and is presently available locally at Fiddleheads on Main Street in paperback for $12.95. It is also available on-line from Barnes & Noble, Apple iTunes, Kobo, Google Play and Amazon, where it has received at least one five-star rating.
To help promote the book Lisa ordered a Pudgie doll on-line from Budsies, a company recognized on the television show "Shark Tank" for creating custom dolls. There is also a video book trailer available on YouTube.
She plans to hold a book signing from noon to 3 p.m. on Saturday, May 13 at the Moose Muck Coffee House in Colebrook. And while she is enjoying the excitement of promoting the release of Pudgie and His Great Big Feet, Lisa says she may consider writing the further adventures of Pudgie.
(Issue of April 26, 2017)
---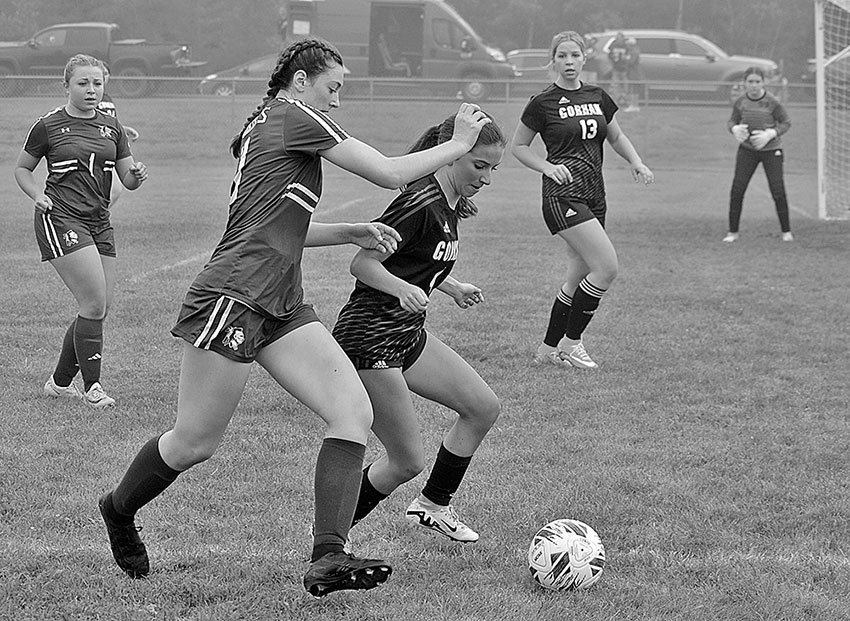 COMMUNITY SERVICE AWARD

Lecturer Haven Haynes, Jr. presents the Mohawk Grange Community Citizen of the Year Award to Donald Dickson and his wife Joan of Colebrook during the Monday, April 17 meeting at the Grange hall in East Colebrook. The Dicksons have provided many years of service and support to the Chamber of Commerce, the Kiwanis, the Garden Club, St. Stephen's Episcopal Mission and other local organizations. (Alan Farnsworth photo)
---
Headwaters Citizens Committee to Meet Saturday, May 6

The Connecticut Lakes Headwaters Citizens Committee will meet at 10 a.m. on Saturday, May 6 at the Pittsburg fire station.
The committee was established in 2002 under RSA 12-A:9-b to provide advice to the New Hampshire departments of Resources and Economic Development and Fish & Game on their management of the working forest conservation easement and state-owned properties in the Connecticut Lakes Headwaters area. The state, in cooperation with The Forestland Group, provides high-quality recreational opportunities consistent with a state-held Forest Legacy Easement.
More information may be found on-line at www.nhstateparks.org, or by calling 603-271-3556.
(Issue of April 26, 2017)
---