SAYING A VERY BIG THANK-YOU

Students and staff from Colebrook Academy and Colebrook Elementary gathered in the school gym on Friday, November 9 for a ceremony honoring the military service of local veterans. At the conclusion of the Veterans Day program, the first-graders held up this banner they'd made, that stretched all the way across the gym.
---
---



Town Still Seeking Permission for Water Meter Replacements


By Jake Mardin

The Town of Colebrook has sent out a second round of letters to property owners within the precinct requesting temporary permission to enter buildings to install new water meters, as part of the town-wide meter replacement project starting in the coming month.

The precinct covers the area roughly from Route 3 north near Piper Hill Road to almost the southern end of South Main Street; Route 145 to the area around Lewis and Woodard; all of Bridge Street; and out on Route 26. Josh Bouchard of CMA Engineers estimateds that about 650 residential and commercial meters will be replaced.

Stiles Company, Inc. of Massachusetts is supplying the Badger Water Meters and New England Backflow of Auburn, N.H., will install them. There is no cost to property owners or to the town, thanks to grants from the Northern Borders Regional Commission and the N.H. Drinking Water Groundwater Trust Fund, the latter created from the Exxon-Mobil MTBE gasoline additive settlement.

The meters have a 20-year warranty and new billing software will allow for remote reading, without the need for town employees to go on site. Users can also go on-line to view their usage in real time, and users and the town can receive alerts for situations like overuse or a break in the water line. Mr. Bouchard said installation should take an hour or two, but in some instances could take longer depending on variables such as location.

Town manager Sharon Penney said the meter replacement project is a big part of the town's due diligence to improve the capacity and delivery of the water system and to troubleshoot leakage.

The water and sewer improvement project is also scheduled to wrap up for the season this week. Work has been taking place on Park Street to move the sewer line from the Academy side of the street to the Strike Zone side, and water and sewer supervisor Brian Sullivan said the switch should improve water flow on the street. JP Sicard is contracted to return in early June to finish the water and sewer on Parsons Street, sewer on Park Street, and water on a portion of Titus Hill Road.

As with the meter replacement project, the infrastructure improvements were made possible by many cross-leveraged grants, including USDA Rural Development, the N.H. DES State Revolving Fund and the state Drinking Water/Ground Water Trust Fund. The five components of the infrastructure work, all totaling $8 million, consist of the Main Street water and sewer improvements; the sidewalk and reconstruction of Main Street; water meter replacements; water and sewer services beyond the right of way on the core Main Street Project; and additional improvements to the wastewater treatment facility and sewer pumping stations.

"We're very grateful to all of the agencies that are funding is," Ms. Penney said, also expressing thanks to residents for their patience during the infrastructure replacement work.

(Issue of November 14, 2018)
---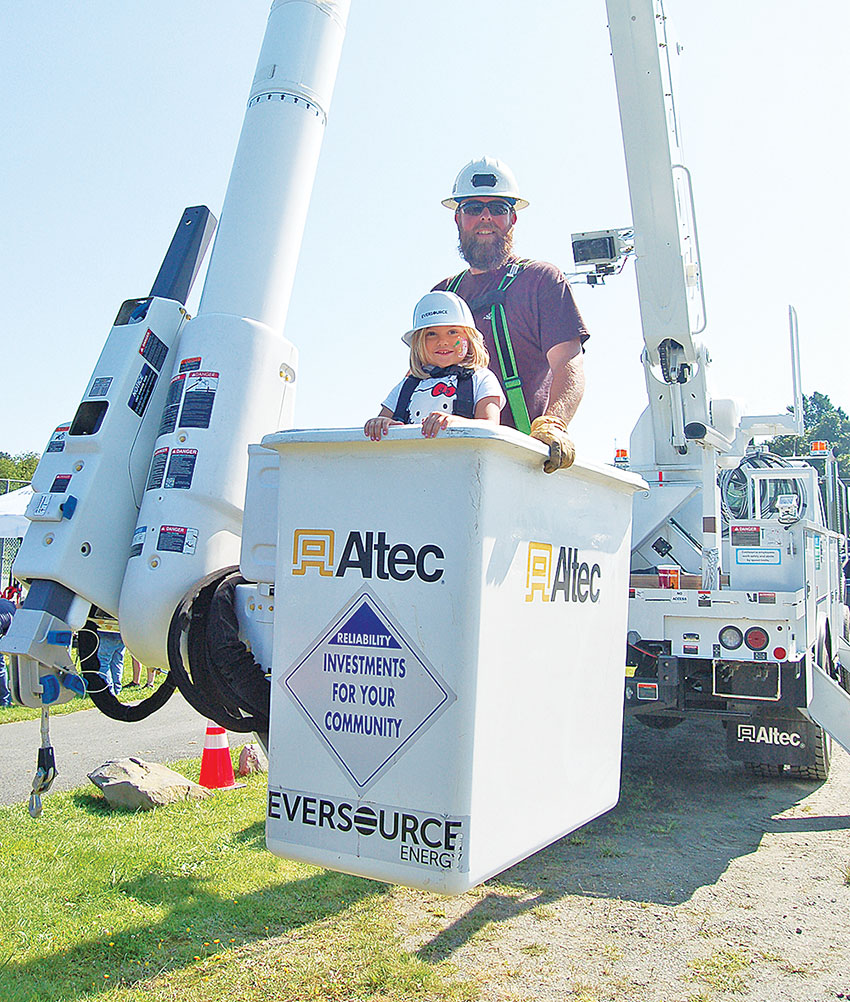 VETERANS AND CLASSMATES

Navy veteran Neil Perro and Army veteran Donald Dickson got together at the annual Veterans Day Breakfast on Saturday at the Monadnock Congregational Church in Colebrook. Besides serving their country, both gentlemen were graduated from Colebrook Academy in 1950. (Rob Maxwell photo)
---
Poached, Abandoned Moose in Stratford Being Investigated

New Hampshire's Operation Game Thief is offering a $1,000 reward for information leading to the arrest and prosecution of whoever shot an adult cow moose and left it to rot at Sugarloaf Pond in Stratford on October 20.
According to a Fish and Game press release, the moose was shot in the chest and after it was wounded, the shooter approached it and delivered a final shot to the head at close range. The offender "did not make any attempt to salvage anything from the moose, instead leaving the moose to rot, wasting hundreds of pounds of meat," the release states.
Sgt. Glen Lucas of Fish and Game Region 1 is investigating the case. After consulting with him, the OGT board of directors issued a $1,000 reward for information leading to the arrest and prosecution of the poacher.
Anyone with information is asked to call the Operation Game Thief Hotline at 800-344-4262; Sgt. Lucas at 603-419-0193; or report the information on-line at www.wildnh.com/ogt. Hotline callers may remain anonymous if they wish. As of Monday, no arrests had been made in the case.
(Issue November 14, 2018)
---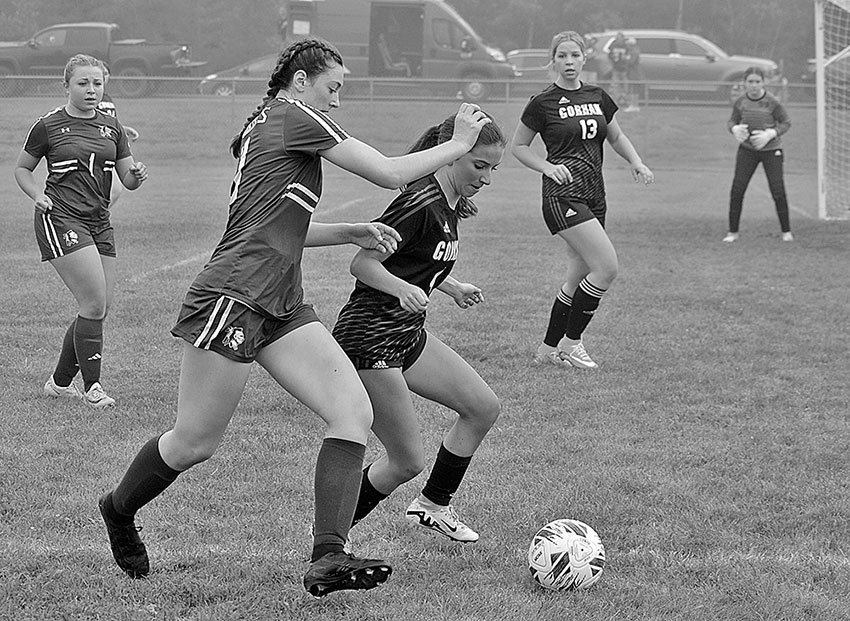 VETERANS DAY VISIT

Girl Scout Troop 59331 took a trip to the Coos County Nursing Hospital in Stewartstown for Veterans Day to meet the residents, get a tour, play turkey bowling, interview staff and meet a veteran. In front, from left to right: Delia Clogston, Alexa Amaral-Dewolf, Ryli Lebel, Meleah Rancourt. Middle row: Alanna Holmes, Savannah Lebel. Next row- Shaylah Haynes, Shaylynn Fuller, Laci Lebel, Jessica Falconer. Back row: Winona Erickson, World War II veteran Glen Perry, Simone Biron and Fay Hall. (Courtesy photo)
---
Full Occupancy Results in Waiting List for CCNH
After a long period of operating at levels well below full occupancy, at the Coos County Nursing Hospital in West Stewartstown staff are now dealing with an unexpected influx of residents such that all of the facility's 82 beds are occupied. This circumstance has created a backlog of local people with various levels of care-related needs waiting for admission.
CCNH administrator Laura Mills said last week that as recently as November of 2017, the facility had a resident census of 68 before a substantial number of people--many with dementia-related conditions from Coos County, other New Hampshire counties and Vermont--filled the hospital's available private and semi-private rooms.
"Right now we have 60 residents from Coos County, 17 from Vermont and five from other places," said Ms. Mills. "Of those 82 residents, 60 are women and 22 are men, and this discrepancy is due in large part because women generally live longer than men and women more often provide home care for their spouses than men are apt to do for their female partners."
Ms. Mills added that because CCNH for many years operated at levels under full occupancy, it was in the hospital's financial and humanitarian interest to admit residents from nearby towns in Vermont. "It was more beneficial to our county's taxpayers at that time to try to fill as many beds as possible," she said. Because CCNH puts an emphasis staff-wide on the care of residents with dementia-related illness, a smaller number of people from other New Hampshire counties have been admitted recently.
Financially speaking, Ms. Mills reports that residents with the means to do so and regardless of their home of record are currently required to pay $300 a day for care until their personal funds reach $2,500. At that point, the hospital receives funding from New Hampshire-sponsored Medicaid according to a formula determined by the state.
"The per-day amount set by Medicaid is now $214," said Ms. Mills. "this creates a deficit that is assumed by Coos County taxpayers."
CCNH's medical director, Dr. John Fothergill, pointed out that the recent increase of residents has not changed the quality of care provided at the facility, and that the nursing and support staff are taking things in stride. "Demographics show we're dealing with an older and sicker population, while our quality of care scores show an equal or better quality of care than most comparable hospitals," he said.
Ms. Mills said there is no current policy concerning the order in which people waiting for admission is determined. "It's complicated by the number of men and women in need, by the necessity of private or semi-private rooms, and the level of care required for each individual," she said, "but it is possible that if the hospital remains at full occupancy, an accommodation for Coos County residents can be found."
(Issue of November 14, 2018)
---

p>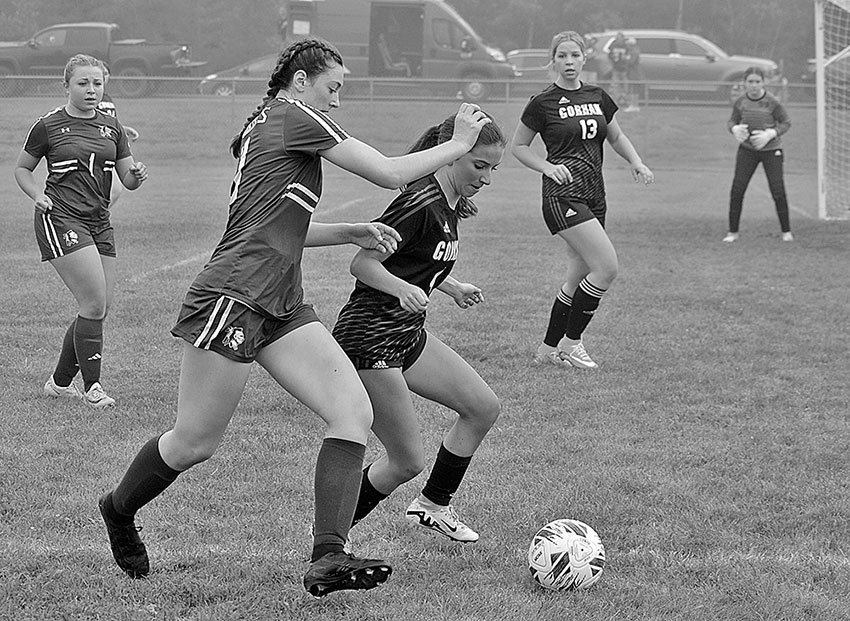 PROPER FOLDING OF THE FLAG

During a Veterans Day presentation at Canaan Schools on Friday, Robert Rice and Richard Baribeau of Northland American Legion Post 47 fold the flag while SAL member Peter Bunnell looks on, and Walter Noyes explains the meaning of each fold. (Jake Mardin photo)
---
Early Deadlines for Thanksgiving Issue
Next Wednesday's paper must be sent to press early due to the Thanksgiving holiday. Our deadine of 12 noon Monday for display advertising will apply to all other ads as well: classifieds, notices, Cards of Thanks and In Memoriams.
We will not be in a position to take late ads for next Wednesday's Sentinel, but time-sensitive items can still be placed in the North Woods Weekly on Friday, and if received by close of business on Monday.
Our usual press release deadline of 12 noon this Friday will be firm--no items will be accepted on Monday unless arranged in advance with the editor. Thank you for helping us to meet our holiday printing deadline.
(Issue of November 14, 2018)
---