CELEBRATING THE CLASS OF 2020

The Colebrook Schools Booster Club, Don Noyes Chevrolet and the Kiwanis Club of Colebrook teamed up to purchase these signboards from the Colebrook Copy Center that are displayed on the front lawn of the school along Main Street, recognizing the seniors who will graduate this Friday. Don Noyes Chevrolet and the Kiwanis Club of Colebrook are also working to recognize the senior classes of Canaan and Pittsburg high schools. (Jake Mardin photo)
---
Inmate Found Dead in Cell at Coos County Jail from Apparent Suicide
By Jake Mardin
The N.H. State Police and the Coos County Department of Corrections are investigating the death of an inmate that occurred this past weekend at the Coos County House of Corrections in Stewartstown.
Jail superintendent Benjamin Champagne issued a press release stating that Charles Merrow, 43, of Lancaster, was discovered hanging in a cell at 8:27 p.m. on Saturday. Corrections officers began performing emergency medical treatment until 45th Parallel EMS arrived at 8:36 p.m. Emergency personnel attempted life-saving measures until Mr. Merrow was pronounced dead at 9:02 p.m.
Mr. Merrow was being held on an order of preventative detention issued by Coos County Superior Court for charges of DUI-second offense, felon in possession of a dangerous weapon, reckless conduct, burglary, and theft by unauthorized taking.
State Police and corrections officials are investigating the incident, which is believed to be the first such incident at the Stewartstown facility. Mr. Champagne said yesterday morning that they are still awaiting an autopsy report.
(Issue of June 3, 2020)
---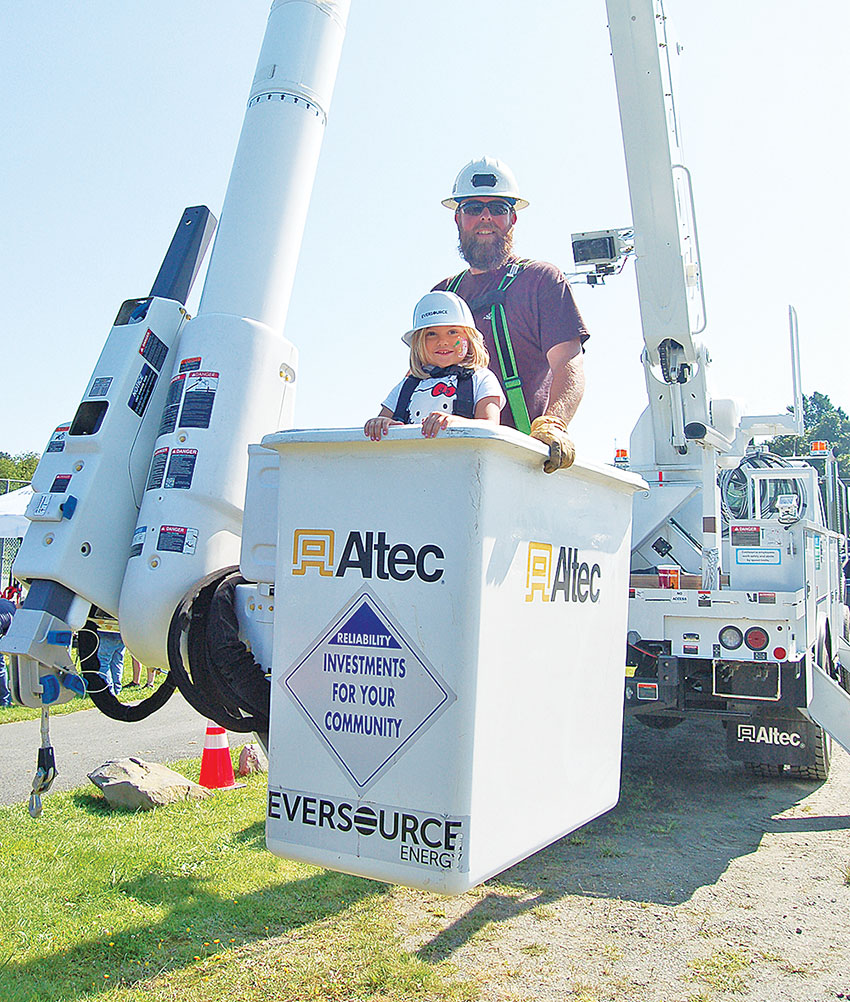 THANKS FOR FAITHFUL SERVICE

George L. O'Neil American Legion Post 62 Commander Skip Covell, right, presented a certificate of appreciation on Friday to Bruce Bean, recognizing his years of service honoring veterans by decorating their graves with flags in Wentworth Location and Magalloway, Maine. Bruce took over this task from Dean Howard, who was a World War II veteran of Iwo Jima. Dean was an uncle to Bruce's wife Joanne Vaughn Bean, whose family lived in Colebrook. Jessica and Leslie Champagne have assumed the task of decorating the graves in future years, with thanks from Bruce and Joanne for assuming this patriotic task. (Courtesy photo)
---
Colebrook Couple Charged with Assaulting Three-Month-Old Infant
By Jake Mardin
A Colebrook couple is facing criminal charges stemming from the alleged assault of a three-month-old child in Colebrook in April.
Gerald Hope, 36, is charged with Class A felony second-degree assault, Class B felony reckless conduct-domestic violence, and Class A misdemeanor endangering the welfare of a child. Erika Weatherwax, 25, is charged with reckless conduct-domestic violence and endangering the welfare of a child.
An arrest warrant affidavit prepared by Colebrook Police officer Cole Noyes states that he received a call from the N.H. Division for Children, Youth and Families on May 1 regarding a three-month-old child. A doctor at the Indian Stream Health Center had reported a suspicious injury by an unknown perpetrator and medical neglect for delaying treatment, according to the affidavit.
"A scheduled three-month checkup was missed a week prior with both parents, who later acknowledged that [the child] had some kind of arm injury and needed medical attention, but skipped the appointment anyway," Officer Noyes wrote.
The infant was seen at ISHC on April 30, when the doctor advised the child must be taken to Dartmouth-Hitchcock Medical Center for evaluation. Ms. Weatherwax and the child's grandmother took the child to DHMC, finding that the infant had multiple injuries, including the left upper arm bone fracture that had been diagnosed at ISHC and was two weeks old or older.
In addition to that fracture, Officer Noyes stated that the child had fractures or bone injuries to multiple other sites including two, and possibly three, ribs on the left side, one spinal fracture, likely two fracture sites on the left shoulder blade, one site on the left forearm and right humerus, and an upper lip injury.
Because the infant had "multiple injuries, potentially of various stage of healing with no explanatory plausible trauma history," he wrote, "physical abuse is the most significant consideration and explanation. Additionally, [the parents] not seeking medical care for this child much earlier as a prudent person would do constitutes medical neglect."
During the DCYF's involvement, Ms. Weatherwax produced a video showing the child "laying on her lap and dad, Gerald Hope, spraying milk out of a bottle into [the child's] mouth as [the child] is crying, choking and gasping for air." According to the affidavit, Ms. Weatherwax filmed the incident but did not stop Mr. Hope.
In an interview with authorities, Ms. Weatherwax said she did not know how the child received the injuries, and said Mr. Hope "would grab [the child's] arms when feeding and place them behind [the child's] back," according to the affidavit.
Mr. Hope was also interviewed and said he put the infant's arms behind her back because she would put her fingers in her mouth. He said he was trying to feed the child and did it one to three times, and it was possible he did it too rough one time. Mr. Hope also claimed the infant's arm was sticking through the side of the crib one morning, and that the lip injury came from a bottle, and medical personnel disputed both claims.
Members of DHMC, DCYF, CPD and others discussed the injury in a conference call. "It was a group effort and overwhelmingly and unanimously was sought that these injuries were caused by a non-accidental incident and most likely child abuse," Officer Noyes wrote. "Medical experts spoke to the force and trauma it would take to get these injuries."
Mr. Hope and Ms. Weatherwax were served warrants and arrested on Thursday. They were arraigned at Coos County Superior Court the following day, where pleas of innocence were entered on their behalf. Mr. Hope was released on a $10,000 unsecured appearance bond and Ms. Weatherwax was released on a $2,500 unsecured appearance bond. Both are required to schedule a court check-in once a week to speak with an officer and to have no contact with each other or the infant.
(Issue of June 6, 2020)
---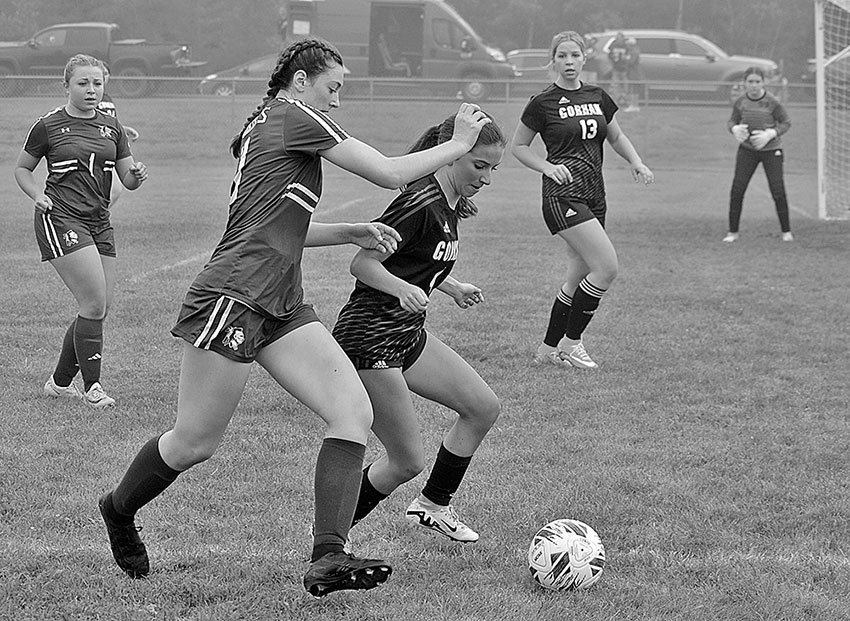 COLEBROOK SOFTBALL SENIORS

Colebrook's senior softball players were recognized at the ballfield last week. From left to right are Mackenzie Scherer, Johnna Timmsen and Ryleigh Rainville. Not pictured are Adrienne LaPerle and baseball players Daegan Riff, Nevin Paquette, Colin Shaw and Malik McKinnon. (Courtesy photo)
---
High School Commencement Events Planned; Changes in Canaan

Area high schools have commencement exercises planned for the Class of 2020 this next week, all under current health guidelines and all subject to change based on state orders. The Northeast Sports Network will live-stream the Colebrook, Canaan, Pittsburg and Groveton graduation ceremonies at www.nsnsports.net, and will produce DVD keepsakes as well.
As for eighth grade promotion and graduation events, Colebrook will do something in the fall and Errol Consolidated School held events on Monday evening for its two graduates.
Stratford Public School families will drive their graduates up to the doors of the multi-purpose room between 1 and 3 p.m. on June 15 to receive their promotion certificate and awards. Staff will offer a few words and the event will be recorded on video for keepsakes.
Stewartstown Community School's eighth-graders and their families will likewise have a drive-up experience, taking place in five-minute intervals starting at 5 p.m. on Thursday, June 4. Each will receive a bag containing the promotion certificate and gifts, and may put on a cap and gown to pose with a congratulatory banner for photos.
Colebrook Academy
The seniors of Colebrook Academy will receive their diplomas in an outdoor commencement in the lower parking lot planned for 6 p.m. on Friday, June 5, with a rain date of 11 a.m. on Saturday, June 6.
Each senior has five guest tickets and the ceremony will include the traditional Valedictorian, Salutatorian and Third Honors speakers, along with recognition of scholarship and award recipients, and presentation of diplomas and gift bags. Whipple Studio will provide professional photography.
Each graduate and family will be assigned a table, and family members are asked to wear masks upon entering and exiting. Everyone attending graduation will be screened for fever.
After the ceremony, the Colebrook Police Department will lead a "Senior Wheels" parade down Dumont Street to Colby Street and Main Street, where the public is welcome to recognize the graduates at a distance. Seniors and their families are encouraged to decorate their vehicles for the parade.
Canaan Memorial High School
An invitation-only, outdoor graduation ceremony will be held at 11 a.m. on Saturday, June 6 in the front parking lot of Canaan Schools. Although announced earlier that families would remain in their cars, plans have since changed and outdoor seating will be provided.
Each senior is issued up to 25 seats and each family group will sit six feet away from others. Families should also keep in mind the recommendations for travel, for any guests coming from outside Vermont.
Participants, including staff, family and graduates will be advised that anyone with COVID-19 symptoms must stay home. Masks and hand sanitizer will be available to anyone not having them at the entrances as well.
A parade will follow the graduation, and anyone choosing to watch the parade is asked to follow state guidelines for group gatherings of 10 people or fewer using proper precautions. Students and families will take Route 102 north, turn right/south on Route 114, left on Powerhouse Road, left on Route 253, and right/north on Route 114. The parade will turn around at the intersection with Route 141 leading to Canada, heading south again on Route 114 back through Canaan, crossing into New Hampshire and turning right/south on Route 3 next to The Spa. The parade will turn right at the second/southern entrance to County Farm Road and pass by the Coos County Nursing Hospital before returning to Canaan and dispersing.
Class Night activities are being pre-recorded and will be available for viewing at 7 p.m. on Thursday, June 4 via the Class Night event link on the Canaan Schools calendar.
Pittsburg High School
Commencement exercises for Pittsburg School's graduates will also be held on Saturday, June 6, taking place on the softball field behind the school at 2 p.m. with a rain date of Sunday, June 7.
Each senior has five tickets for family members to attend, and distancing and other safety measures will be taken.
Groveton High School
An outdoor graduation for Groveton's senior class will take place rain or shine at 6 p.m. on Friday, June 12 at the Northumberland Recreational Fields. Everyone will remain in their cars, except for the graduates when they receive their diplomas and scholarship awards one at a time, and a parade through town will follow.
Senior photos with caps, gowns and diploma cases will be taken on June 11 on the stage in Ryan Memorial Gym, with staggered entry and exit over six hours.
(Issue of June 3, 2020)
---