FULL-GEAR PUSHUPS

Students in the Canaan Career Center Fire & EMS program engaged in physical fitness wearing full personal protection equipment and self-contained breathing apparatus (SCBA) at the Beecher Falls fire station. The first of a four-part series on the CTE program, along with more photos, appears on page 14. (Courtesy photo)
---
---
Proposal to Abolish Stratford Planning Board Puts Flood Insurance at Risk
By Rob Maxwell
A proposal to abolish the Stratford planning board will be presented to town voters on election day in March, and two town officials say its passage would result in suspension of the town's National Flood Insurance Program.
Planning board chairman Rachel O'Meara and selectman Clayton Macdonald said New Hampshire's Office of Strategic Initiatives spokesman Samara Ebinger advised them, "At some point the town will be suspended from NFIP by the National Emergency Management Agency if the planning board is abolished."
The question will be put to townspeople for a ballot vote, the result of a petition brought earlier this year by Stratford resident Otto Whelen and signed by 57 registered voters. The six-member planning board currently oversees and updates municipal floodplain ordinances required for continued lower-cost homeowner flood insurance available to those residing on an established floodplain.
Ms. O'Meara said that she and Mr. Macdonald became aware of the possible loss of NFIP insurance within the past few weeks after going through past town reports that prompted the inquiry to Concord.
"NFIP flood insurance coverage cannot be purchased and policies cannot be renewed in a suspended community," states the response from Ms. Ebinger.
"Right now, there are seven NFIP flood insurance policies in Stratford and those would be affected. If the policy is required as a condition of a loan, the lender will still require flood insurance on the property but the property owner will need to get a policy through the private insurance market instead of through NFIP. Usually this will be more expensive."
Ms. Ebinger's statement also notes that additional ramifications could include loss of the ability to obtain federal grants or loans for development in identified floodplain areas administered by agencies such as HUD, the EPA and the Small Business Administration. Also at risk would be federal disaster assistance for flood damage and mortgage insurance or loan guarantees from the Federal Housing Administration and the Department of Veteran Affairs. Ms. O'Meara and Mr. Macdonald voiced their hope that voters will consider the impact for individual families and the town, should the planning board be abolished. "From my perspective, the planning board is the mechanism we have to responsibly plan for the future," said Mr. Macdonald. "There are some families making use of the NFIP and they might not be able to purchase private insurance, and that could negatively affect their mortgages." Ms. O'Meara added, "In a small community people take care of each other and municipal ordinances can help do that. Abolishing the planning board may leave some citizens high and dry, but it could also see some without the means to protect their property."
When contacted on Sunday, Mr. Whelen declined to comment about his petition or the flood insurance question. Polls will open at Fuller Town Hall at 10 a.m. on Tuesday, March 12, and will close at 7 p.m.
(Issue of February 13, 2019)
---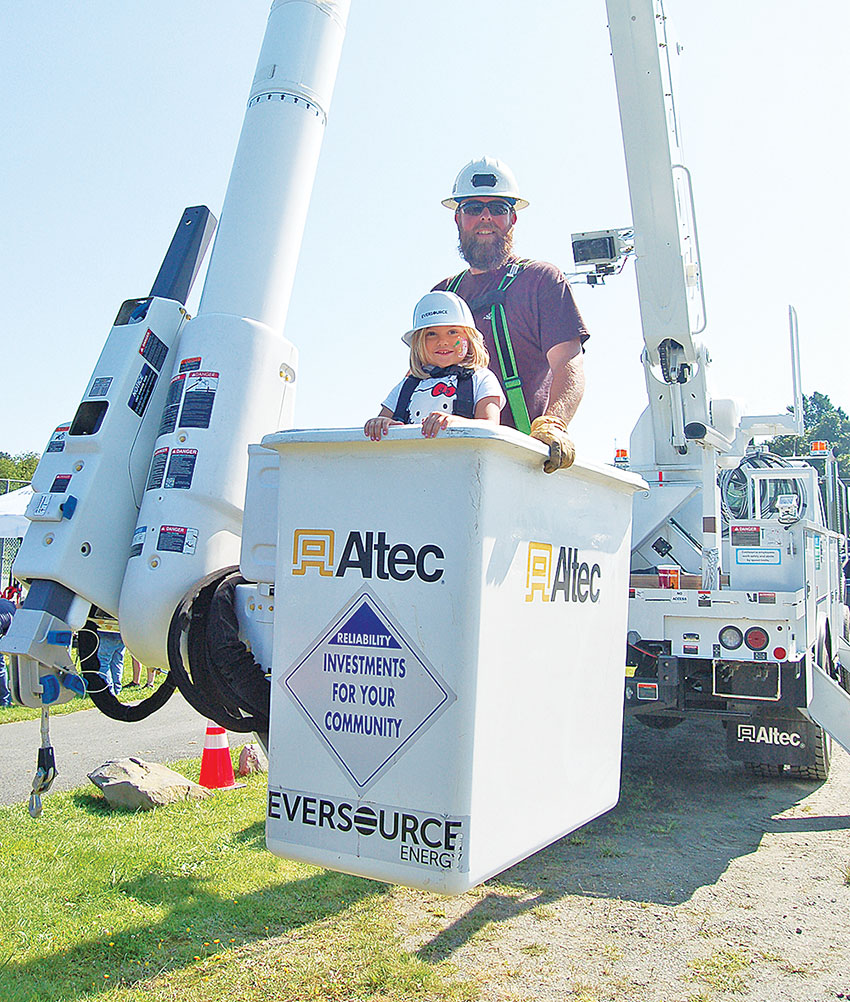 THREE FIRSTS FOR GRONDIN RACING

Francis Grondin (left) of Stewartstown won first place in the 340 fan-cooled class, John Wade (center) of Canaan first place in the stock mini class, and Francis' daughter Sophie Grondin won the women's class in the Lisbon Stump Jumpers vintage races in Lisbon on Saturday, February 9. (Photo courtesy of Dan Wade)
---
Pittsburg Town Budget Hearing Draws Packed House to Discuss ATV Issues
By Jake Mardin
Monday's Pittsburg town budget hearing drew a large crowd of townspeople, mostly due to a petitioned warrant article that would ban ATVs and OHRVs on all roads, similar to articles that have been petitioned to warrants in other local towns. The town office was packed with residents, with many standing in the conference room and outside the door.
Selectboard chairman Richard Lapoint said the town's attorney has advised that passage of the article would be non-binding, because current state law gives local boards the authority to open or close a road to OHRV traffic. "You can't create a town ordinance that supersedes state law," Mr. Lapoint said. He and fellow board members Richard Judd and Curt Shaw said they do not support the article.
Mr. Lapoint also spoke about the OHRV-related bills sponsored by N.H. Representative Wayne Moynihan, one of which (HB 498-FN) would prohibit OHRVs on town roads. He also submitted several other bills on matters such as safety and fines. Mr. Lapoint said he is opposed to HB 498-FN, saying that if roads were closed by state law, control would be taken from local communities.
Mr. Lapoint noted that he has three ATVs, lives on a town road and doesn't want to trailer his machines to different locations, and that closing the roads would have a negative impact on businesses. He urged local ATV clubs to continue to work on establishing trails that don't use town roads, and said that when the roads were first opened for ATV travel, they were meant to be connectors. He and the other board members also expressed concerns about safety, and Mr. Lapoint observed that some of Rep. Moynihan's bills "have some good stuff in there."
One resident of Day Road said last year a group of riders rented a cabin and constantly sped up and down the road with modified exhausts. He said he called the police department and got no response. Mr. Lapoint said that there is a shortage of Fish and Game officers and the police department is undermanned, with staff away from the office a lot of the time.
Mr. Judd said that if anyone has a problem and doesn't hear back from police to come to their board meetings on Monday and let them know. He also said they can call the dispatch center in Colebrook, which has the ability to reach an officer by radio.
A full report on Pittsburg's town budget proposals and the rest of the warrant will appear in next week's issue.
(Issue of February 13, 2019)
---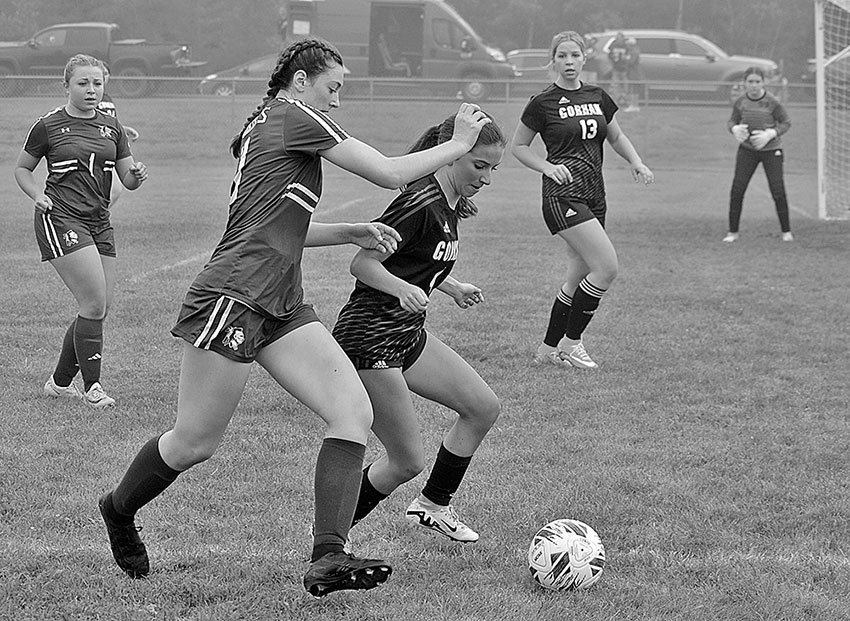 WORKING IN THE BOOTH

Chris Calyer and Colebrook teacher Ray Hebert go over details on the sound board for two mini-productions during the Stagecraft Workshop presented by Pittsburg School graduate Tracey Sullivan and her husband Chris Corley on Saturday, February 9, at the Tillotson Center. Twenty-two local students spent the day learning how to prepare and produce two five-minute productions. (Alan Farnsworth photo)
---
Consolidation of High School and CES on Colebrook School District Warrant


By Rob Maxwell
When Colebrook voters gather at the elementary school on Thursday, March 7, they will consider a proposal for $277,000 to renovate the CES building and purchase equipment to enable consolidation of Colebrook Academy into the elementary building.
Article Five on the warrant asks for $6,957,950, of which $2,831,605 would be raised by state and local property taxes. The total proposed budget reflects a $251,573 increase from 2018-19. The bulk of the increase from the current year comes from a $356,793 increase in special education due to the need for more classroom para-educators and an increase in out-of-district placements.
Additional increases are attributed to $32,500 for the office of the superintendent, $18,000 for students attending CTE programs in Canaan, and $16,770 from a scheduled increase in transportation expenses. Regular education shows a decrease of $146,787, coming mostly from retiring teachers whose positions will not be filled and other staff changes. The $277,000 appropriation for relocation of the high school to the elementary campus on Dumont Street is contained in Article Four. SAU 7 business administra tor Cheryl Covill noted that from that amount, $265,111 would cover the cost of physical renovations to specified spaces within the CES building and the remaining $11,889 would be used to purchase specialized bookcases for the library that can be moved when required, so the room can be used as a meeting space.
If Article Four is approved without amendment, it is estimated that the school district will save about $425,000, less the $277,000 expense incurred from the renovation and equipment purchase. This would alter the bottom line and the amount to be raised by taxation from $2,831,605 to an estimated $2,683,605. The annual school district meeting will get underway at 6 p.m. on March 7 in the Colebrook Elementary School cafeteria.
(Issue of February 13, 2019)
---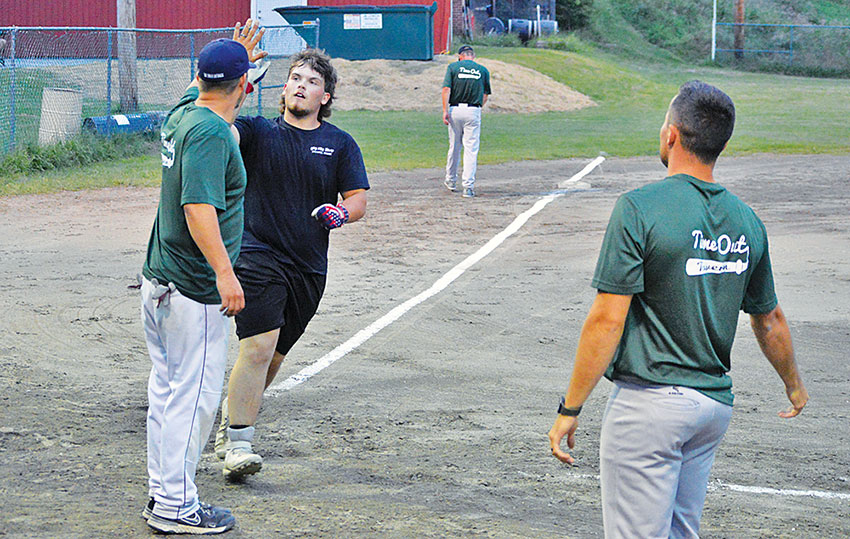 CENTENARIANS

Norma Underhill and her students Laylynn Sierad, Gianna Cristoforo, Jaylyn Young, Alyvia Jaimes and Mackenzie Gray dressed up in some great costumes for the 100th day of school in Pittsburg on Thursday, February 7. (Ann Gray photo)
---
Colebrook 250th Group Plans Year of Festivities in 2020


By Jake Mardin
With 2020 just over ten months away, the Colebrook 250th Celebration Committee is ramping up its plans for the year-long celebration.
The committee formed three and a half years ago, and has been meeting quarterly to discuss what they would like to see for the celebration. Committee chairman David Collins noted that the town's bicentennial celebration was held over a week in August of 1970, but when Lancaster held its 250th anniversary, they had a parade one weekend but also held events throughout the year.
Mr. Collins said he liked that concept, and felt that Colebrook could do the same by holding its own activities and joining forces with the many events that are already held throughout the year, such as the Kiwanis Winter Carnival and NH-VT Half Marathon, the Moose Festival and the Colebrook Academy Homecoming weekend.
One of the events that the committee came up with is the First Day celebration. On January 1 from noon to dusk there will be music at the Methodist Church and events for kids at the Tillotson Center. Mr. Collins said the committee is working with the Great North Woods Committee for the Arts to get bands for the day, and dusk will bring a fireworks celebration. He also said the group intends to plan an event for the end of the year. "Things are really starting to come together," he said.
The committee also has big plans for Independence Day, including a dance, historical walking tours and other activities. He said the group is working with the Kiwanis, and plans to hire three or four bands to play in the parade.
The committee is now meeting monthly, at 7 p.m. on the first Wednesday of each month in the Masonic Lodge above the Colebrook Public Library. Mr. Collins said members have been bringing plenty of ideas to the table, including a calendar and cookbook.
One of the committee's big tasks now is fund-raising, and Mr. Collins said that to keep the celebration family-friendly, there will be no admission charges or fees. One of the ways they hope to raise money is through sponsorship, and the committee has begun to contact local organizations and businesses. Sponsorships range from $350 to have an organization or businesses name on a street post banner (which will be placed along Route 3 and Route 26), to bronze, silver gold and platinum levels, which top out at $5,000. Rewards include logo placement on advertising and complimentary street post banners. Monetary and volunteer contributions are also needed.
The committee's next meeting is on March 6. Questions may also be directed to Mr. Collins at colebrooknh250@gmail.com or 603-344-5146.
(Issue of February 13, 2019)