SHOWING APPRECIATION IN CANAANT

The Kirk family displayed this poster on their front door to thank everyone who prepares and delivers meals to Canaan Schools students while they're being educated at home. It was there to greet the delivery folks on Monday, which was Super Hero Day of the school's Spirit Week. Courtesy photo)
---
Update from SAU 7 Superintendent After Extension of Remote Learning

SAU 7 superintendent Bruce Beasley provided the following update on Monday, March 30 for students' families and the public.
Community members are encouraged to check the "Infectious Disease and Preparedness" message at www.sau7.org for regular updates, and all principals will post information on their schools' Facebook pages as well.
New Assignments, Collection of Analog Work: A new collection of assignments will be available on Friday, April 3 from 7:30 to 10:30 a.m. This will be a drive-by pickup and a limited number of staff members will be on hand. There will also be totes available to collect all work that has been completed to date. Students who have been submitting assignments electronically need not return any hard copies.
Lunch Deliveries: "The great news is that we served nearly 400 meals on Friday," Mr. Beasley said. "This is deserving of a huge shout-out to those making it happen!" Beginning April 6th we are planning to move to a schedule of delivering three days per week. Families should expect to receive multiple lunches and breakfasts every Monday, Wednesday and Friday at the same locations and times.
Statewide Assessment (SAS) and SATs: All testing for the remainder of the year has been postponed or waived. "There is conversation taking place between the Department of Education and colleges about current juniors and their ability to take their SATs early next year and if that will impact college admission in any way," Mr. Beasly noted. "Commissioner Frank Edelblut is looking for ways to administer the state assessment in the fall and how it can be used as a tool for learning. Please stay tuned for more information."
Essential Personnel: Under the orders of Governor Sununu, only essential personnel should be continuing work at this point. Education employees are considered essential personnel, therefore the schools will continue to be open to staff for preparing and communicating purposes. Principals will be working to manage the number of staff in at a time as we will look to limit the number to 10 in most areas.
Office Hours: The main offices at each school continue to be closed to the public but are available from 8 a.m. to noon for phone calls and e-mail. Parents should feel free to contact the school if they have questions or are in need of something. The SAU 7 office will begin closing at 3:30 each afternoon starting March 30, and continues to be closed to non-essential personnel.
April Break: Schools in other parts of the state are waiving April vacation and planning to close school a week earlier in June, as soon as they can meet the time requirements that are defined by statute. "The SAU 7 administrative team has agreed that we will have our April break as scheduled, and we will continue to provide remote learning until May 4," Mr. Beasley said. "Please keep in mind that students will not have assignments, nor will teachers be available, during the week of April 27 to May 1.
End-of-Year Activities: "Each member of the administrative team is in hopes that we will return to school before the actual summer break comes around, as there are a number of year-end traditions that we really want to protect," Mr. Beasley said. "Things such as graduation, year-end awards assemblies, and prom are a few of the things that we really want to provide before dismissal. We also have to take into account summer learning opportunities and other summer events that we support."
"We are definitely in uncharted waters at this point," he continued. "When this order was originally made on March 15 by Governor Sununu I was really worried about the transition to remote learning. However, as a community of staff members and families we should be proud of the partnership that we have and the impact it is having on children. As I write this update, I am more confident than ever that we can do this and we can do it with a high level of quality.
This is a good time to thank our health care providers, first responders, police, 45th Parallel EMS, and anyone else that is going the extra mile during this pandemic. You are all heroes!"
(Issue of April 1, 2020)
---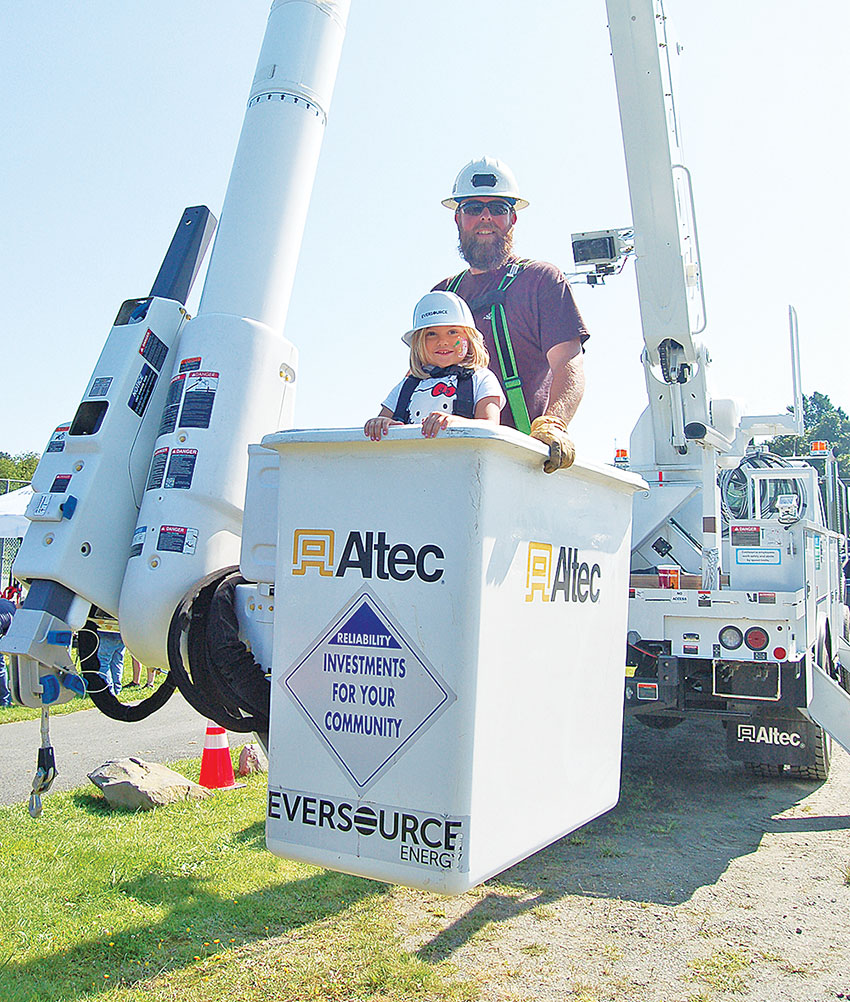 GETTING MEALS TO THE KIDS

The Stewartstown Community School halls are virtually empty, but the cafeteria is a busy place mid-morning when lunches and breakfasts are packed for delivery to students at their homes. Laura Schifferdecker, Arlene Allard, Kate Heckler-Lewis, Diane Maurais, Tammy Cross, Tonilyn Fletcher, Beth Howes, Yvonne Burrill and Mark Towle gathered for this photo just before the buses left on Friday morning. (Karen Harrigan photo)
---
Colebrook Sewer Department Says Flushed Wipes Clogging System
By Jake Mardin
The Town of Colebrook is reminding sewer users not to flush sanitizing wipes, which superintendent Brian Sullivan says are clogging the town's system.
Mr. Sullivan said workers spent two days on Colby Street last week dealing with the issue. On Thursday, workers were on Colby Street to deal with a sewer break, and after using a jet washer to clear out the 10-inch diameter pipe, they discovered a large number of wipes. They returned the next morning and filled three, five-gallon buckets of wipes that had accumulated overnight. He said the wipes, even those labeled as flushable, do not break down like toilet paper, which leads to pumps burning out.
Mr. Sullivan said that was just on one street and he suspects that other areas of town have the same problem. He said when they put the jet in the pipe, it wouldn't come out because of the number of wipes that were on it, and the crew had to move forward to the next manhole to get it. "I'd expect to see that in a line that hadn't been cleaned in ten years," he said.
There are five sewer stations in town. The main station is on Bridge Street across from the town garage entrance and has three pumps, while the other stations on Route 26, Edwards Street, Colby Street and Bill Bromage Drive, and each of those stations has two pumps. Mr. Sullivan said pumps have gone down on Edwards and Colby streets.
"This is really serious," he said, noting that pumps are expensive to replace and that overtime pay could be required for the sewer department workers. While the highway department has sent employees over to assist, it is taking them away from their normal duties. Town manager Sharon Penney said if the pumps continue to burn out, the sewer system could be shut down for several days and create a public health hazard.
(Issue of April 1, 2020)
---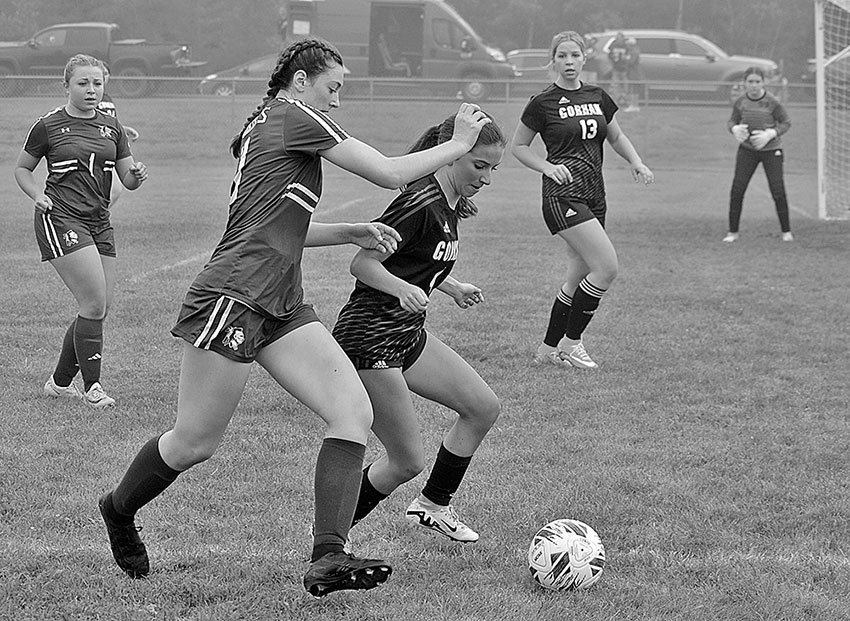 A LITTLE CARRIED AWAY

Lazerworks owner Dan Skousen was so enamored of his eye-catching ad last week that he's making a bit of a splash with it, installing a lighted billboard atop the store building and ordering everything from business cards to ball caps featuring the image. The planning board has taken notice, since he didn't have a sign permit, and the store's neighbors are a little miffed at the encroachment. "He's over the line," said one. (April F. Houle photo)
45th Implements Protocols, Modifies Ambulance in Response to Pandemic
By Jake Mardin
The 45th Parallel EMS has made some changes to become better equipped to deal with the coronavirus pandemic while continuing its normal level of coverage to area towns.
Chief Nathan Borland said one of the ambulances in the fleet has been modified, by removing all non-essential equipment out of the contamination zone, such as boxes where gloves and other items are stored. All non-essential supplies have been moved to cabinets behind glass to make decontamination easier. Chief Borland said they use a specific ultraviolet light to help disinfect any ambulance that is used for a call that poses a potential exposure risk. After every run the ambulance is decontaminated with a cleaning solution.
Starting this past Friday, all crew members are being checked for fevers and symptoms before starting a shift, and the results will be recorded daily in a logbook. Patients may see crews wearing masks, gloves, gowns, face shields or safety glasses for emergency calls and transfers that carry a high risk of COVID-19.
Chief Borland said everyone at the 45th Parallel EMS has N95 respirator masks, and while some items are on back order, he said they have managed to get the supplies they need. They are also using 3M masks with P100 filters, similar to what Dartmouth-Hitchcock Medical Center and other hospitals use.
"Our daily operations have not changed other than modifying the ambulance a little bit to make cleanup easier," Chief Borland said. "We are still staffed 24/7 and everyone is ready to roll."
(Issue of April 1, 2020)
---