A FAMILIAR SMILE IMMORTALIZED

Pittsburg artist Brenda Kenney was commissioned to paint this oil-on-canvas portrait of Dennis Joos of Stewartstown, who died in the 1997 shootings in Colebrook along with judge Vickie Bunnell of Columbia, and Troopers Les Lord of Pittsburg and Scott Phillips of Colebrook. The painting will be part of a permanent display in the town he loved. (Courtesy photo)
---
Portrait of Stewartstown's Dennis Joos Commissioned for Town Office Display
By Jake Mardin
A new portrait of the late Dennis Joos of Stewartstown, painted by Brenda Kenney of Pittsburg, will soon be on display at the Stewartstown town office.
The town's board of selectmen commissioned Mrs. Kenney to paint the portrait of Mr. Joos, a longtime resident of Stewartstown and the editor of The News and Sentinel. Mr. Joos lost his life in the shootings that occurred in Colebrook on August 19, 1997 while attempting to wrestle the gunman's firearm from him.
Mrs. Kenney based her likeness of Mr. Joos on a photograph that was on display at the town office. Selectmen wanted a more permanent tribute to him, and contacted Mrs. Kenney.
"I was honored they had considered me for the project," she said. "I knew of the emotional impact this very special painting would have, and I was very moved that they would ask me to be a part of it."
Mrs. Kenney said she has always been an "artist at heart," and said she "can't remember a time when I wasn't interested in drawing and painting, although my work has evolved a long way from paper and crayons to oil painting on canvas," she said. She took art classes throughout high school and at Plymouth State College, and began to sell her work professionally about 30 years ago. She has produced dozens of portraits, landscapes, floral and wildlife scenes that are held in several private collections throughout the country.
After talking with the selectmen about what they hoped to do, she put together a proposal. The board decided to go with a 12- by 16-inch portrait, and Brenda began laying out the painting on the canvas on May 30.
"The process of painting an oil portrait requires drying time between several thin layers of paint," she explained. "The very slight variations of hue and color tone, shadows and highlights all require patience and careful study. As with any creative endeavor, there are differences in which types of materials and paints are used. I use quality, professional-grade canvas and paints, and finish each painting with an acid-free protective varnish. I am confident the portrait will remain a tribute to Dennis' memory for many generations."
When people ask her how long it took to complete the portrait, she says "the only appropriate way to respond is 'the process from layout to framing took about 22 hours, and 30 years."
Mrs. Kenney said creating Dennis' portrait "was an emotional full circle for me." She didn't know him personally, but 20 years ago had painted a portrait of Leslie Lord of Pittsburg--also a victim of the same incident--that is dedicated to his memory and hangs in the meeting room of Pittsburg Fire Department's Spirit Station.
"Having suddenly lost my own father just over a year and a half ago, I also knew personally how difficult it is to lose someone so close to you, and how very important it is to work through the loss until you are able to find the joyful memories and those precious moments that can bring peace and happiness back into your heart," she said. "I wanted this portrait to do that for everyone who viewed it. It was important to me that it reflected the happiness and caring spirit Dennis had left in the hearts of his family and everyone who knew him."
She said painting someone's portrait "is a very intimate process," and the artist gets to know her subject on a personal and spiritual level. "In a way, painting Dennis' portrait was therapeutic for me too, and there were so many times I felt myself smiling as I watched his own smile emerge from the canvas," she said. "I have often said there is a story in every painting. But the story of Dennis Joos, his bravery, the essence of the life he lived, the way he touched so many others and the radiance of his smile is so much bigger. His life story far outshines the simple reflection captured in his portrait. I hope it will bring many warm and loving memories to all who view it and to all who knew him."
Selectman Allen Coats said the town is creating a permanent display that will incorporate the portrait and the 1997 article from The News and Sentinel. It will also include a quote from Cicero: "Poor is the nation that has no heroes, but poorer still is the nation that having heroes, fails to remember and honor them."
More of Mrs. Kenney's work can be found on-line at www.brendalbkenneyfineart.com or on Facebook at Brenda L.B. Kenney Fine Art.
(Issue of August 15, 2018)
---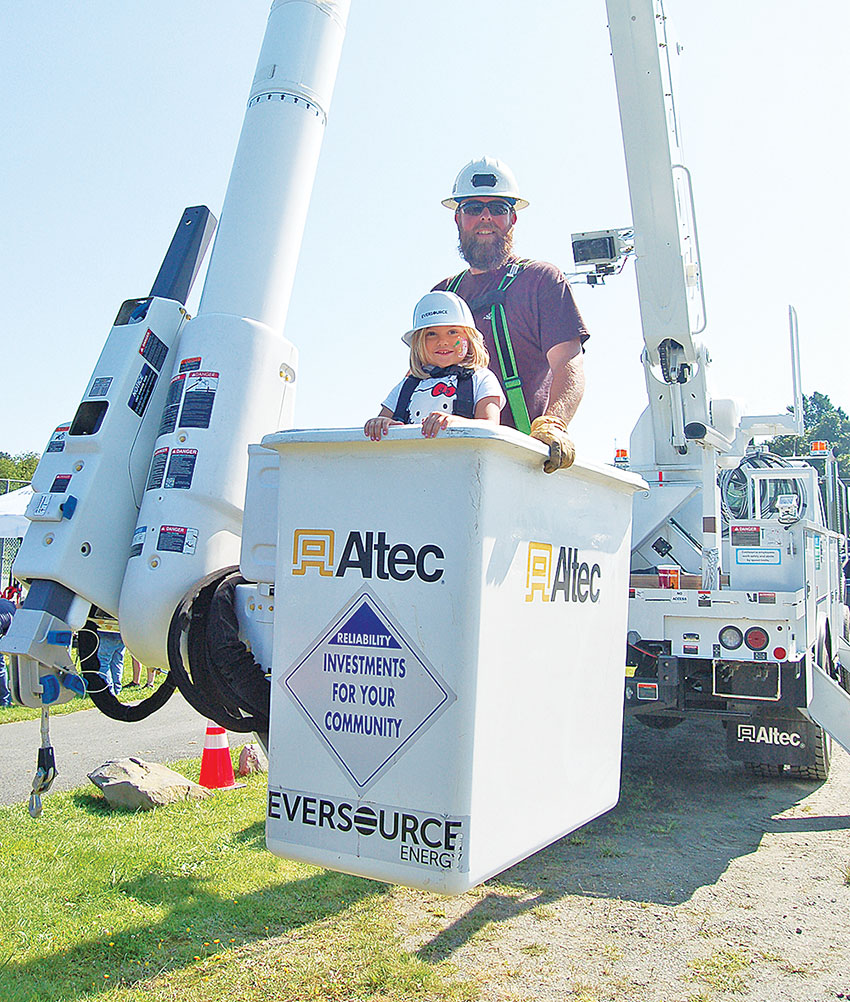 A GREAT DAY TO CREATE

Coaticook Art and Connecticut River Artisan Group members Pat Klinefelter, Pam Choquette, Peggy Deyette, Suzanne Martin, Evie Moder, Barbara Nedd and Jean Pierre Pelletier participated in the plein air paint-out at Quimby Country in Averill this past Sunday, August 12. (Courtesy photo)
---
Northern Pass Appeals Siting Decision to New Hampshire Supreme Court
By Jake Mardin
The next phase of the battle over the Northern Pass transmission line project will be fought at the N.H. Supreme Court, to which Eversource filed an appeal on Friday.
The N.H. Site Evaluation Committee denied Northern Pass' application for a Certificate of Site and Facility in early February, stating it had failed to demonstrate that the project "would not unduly interfere with the orderly development of the region, having given due consideration to municipal views and regional planning commissions and municipal governing bodies."
The certificate was required for the transmission line to be built in the state. Eversource appealed to the SEC for a rehearing but was again denied, setting up the appeal to the state's high court.
"While a few significant regional projects are moving forward that will help fill [the] growing energy need, they are in the early stages of permitting," said Eversource New Hampshire President Bill Quinlan. "In contrast, Northern Pass has already secured most of the permits required to begin construction. We remain fully committed to making this important clean energy project a reality for customers in New Hampshire and the region."
In its appeal, presented by attorneys McLane Middleton, Eversource states that "expediency was not a concern" in SEC's proceedings until final deliberations were held. "Principles of law, of precedent, of fairness and reasonableness were all casualties of that expediency," the filing states. "Based on this process, and these orders, future SEC applicants considering wheth-er to invest millions of dollars developing an energy project would be wise to consider certain facts. There is no certainty that SEC subcommittees will evaluate an application against all statutory standards. Future applicants will need to prepare and present their applications in a regulatory vacuum where key terms are undefined, and where the SEC rules offer no guide." Eversource states that "any reasonable applicant would conclude from these orders that it is simply not worth the enormous investment or risk to pursue an energy project in this state when the SEC may vote 'no' based on ad hoc standards, applied without definition or any objective basis, and on a process that even this SEC conceded is 'subjective.'"
"This is the clear case in which an agency's decision is so far outside the bounds of reasonableness that it calls for a reversal by this court," the filing states. "Unless this court accepts this appeal and reverses the orders, no energy developer will ever have confidence that the SEC will fairly evaluate an application."
In a press release, Eversource expressed its position that a favorable ruling by the court will enable the project to return to the SEC for further review in 2019.
Project opponent Jack Savage, vice president of communications and outreach with the Society of the Protection of New Hampshire Forests, said an appeal was likely. "Northern Pass was a fundamentally flawed project and we believe the SEC made the right decision to deny a permit and were right to deny the motion for rehearing," he told the Union Leader. "We will continue to defend New Hampshire's landscapes at the state Supreme Court from the too many, too high towers of Northern Pass."
(Issue August 15, 2018)
---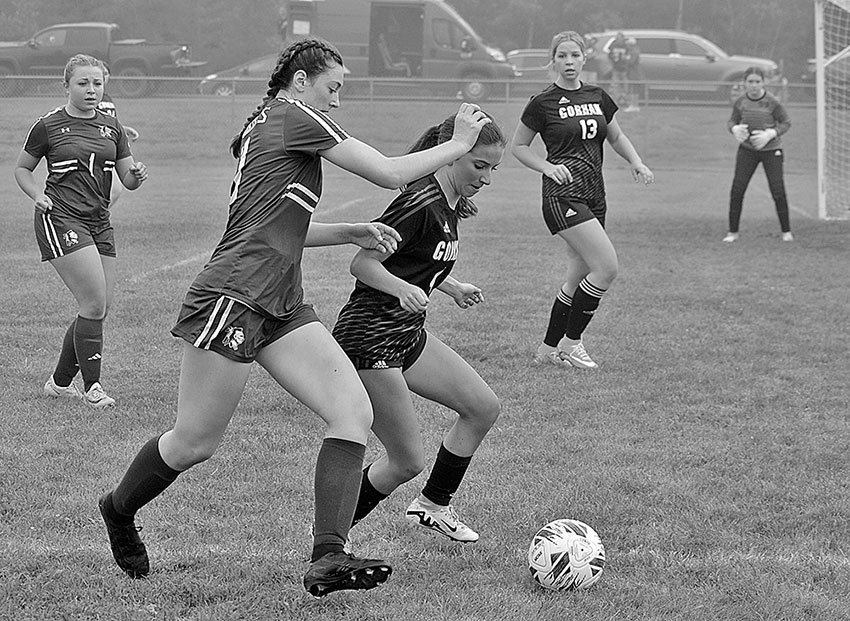 SELFIE AT THE 60TH

Channel 22 weatherman Sean Parker and his wife Jessica Lynn pose with Jackson's Lodge owner Gloria Jackson (center) during the 60th anniversary celebration on July 29. Sean is a lifelong camp owner on Lake Wallace, as were many who attended the festivities. (Courtesy photo)
---
Jackson's Lodge Celebrates 60 Years of Family Hospitality on Lake Wallace

On Sunday, July 29, Jackson's Lodge hosted a 60-year anniversary celebration barbeque for alumni and current cabin guests, employees, neighbors and family members. Owner Gloria Jackson said she scheduled it this week "because many of the families who have been coming for generations are here now. There are many memories!"
On the eastern shores of Lake Wallace in Canaan reside a historic lodge and lakeside log cabins on the border with Quebec and just west of New Hampshire. Built in the early 1920s and originally known as The Marshall Camps, this sportsmen's destination once offered fishermen and their families rest and relaxation while they enjoyed some of the best trout and landlocked salmon fishing in all of New England.
On May 24, 1958, Elmont Jackson, a renowned logger and resident land owner, purchased the Marshall property with the intent of providing a family business to be run by his wife Audrey (Gemmel) Jackson and their six daughters "to keep my girls busy." They all had a hand in running Jackson's Lodge and Log Cabin Village for close to three decades.
In 1986, Elmont and Audrey's daughter Gloria Jackson purchased the property from her parents, and has continued the time-tested traditions of Jackson's Lodge.
Today the lodge and cabins provide an atmosphere reminiscent of those early days, and Jackson's Cafe offers a dining experience that harkens to the mid-1950s when Audrey Jackson provided her guests with the American plan.
Back then, the cabins did not have kitchens, and Audrey served breakfast, lunch and dinner to her patrons in this cozy space. With original tablecloths (today protected under glass), antique wood-burning cook stove, Edison hand-crank phonograph, and the original artifacts that grace the walls, windowsills and ceiling fixtures, Gloria stewards this tradition by showcasing original dining room memorabilia.
The 60th anniversary gathering was nostalgic for many there. Eric Blanchard of Santa Clara, Calif., worked summers at the Lodge as "office boy" from 1963 to 1967. "We learned how to work here," he said. "The Jacksons worked with us. We became part of the family." Mr. Blanchard went on to become president of Sturm, Ruger & Co., Inc., one of the nation's leading manufacturers of firearms for the commercial sporting market.
Gloria and her partner Mark Leveillee strive to provide their guests with a restful time in which to disconnect, find peace and enjoy the natural environment. The rest of the story can be found at www.JacksonsLodgeVT.net.
(Issue of August 15, 2018)
---